Liquid Organza Wedding Dresses Are Bringing The Wet Trend To Bridal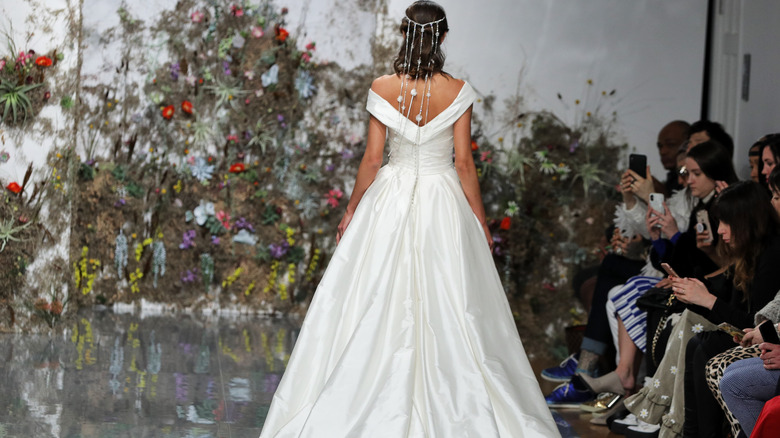 Thomas Concordia/Getty Images
It's not every season you see a trend jump from industry to industry as the wet look trend has done. From wet beauty to wet hair, everyone is currently obsessing over the idea of bringing water into their everyday life. The commotion over the wet trend has become so grand, in fact, that it's now hitting the wedding chapels. Although weddings are typically about personal taste over trends, the wet trend has found itself as the inspiration for many wedding dresses. Apart from being a high-fashion staple, wet wedding dresses provide a sleeker look compared to gowns. For the brides looking for something more chic and trendsetting, the wet bridal look is a must to consider.
Luckily, liquid organza has become the easiest way to get this exquisite bridal wet look. With a strong sheen to it, liquid organza gives the ultimate water effect, making it seem as if you just appeared from the ocean. Liquid organza is a fabric made out of silk, giving it a soft and dreamy draping. Although bridal trends can come and go, there's no denying that liquid organza wedding dresses serve as a reminder of all things mysterious and magical.
The liquid wedding dress craze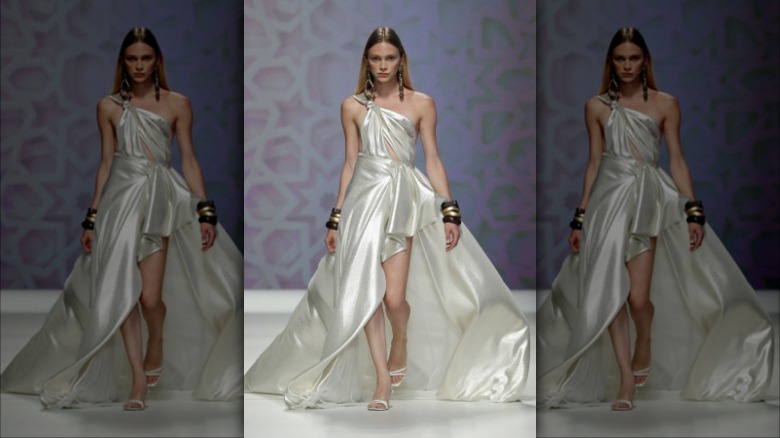 Estrop/Getty Images
Although we don't see fashion trends jump from a traditional fashion runway to a bridal runway that often, the wet look trend has managed to make everyone a fan. The admiration for the liquid organza wedding dress has become popular enough to amass over 20 million views on TikTok thanks to its romantic and enchanting look. Even though it may seem as though this is another passing wedding trend, the liquid organza fabric has appeared in previous fashion trends, making it certain it remains a sought-after texture. Apart from keeping you on-trend on your big day, a liquid organza wedding dress drapes around the body in a form-fitting way. Even if you opt for a bigger ballgown, the draping on this type of dress will still beautifully accentuate you.
As we saw on the runways, liquid organza can also give your dress an extra sparkle and shimmer that is almost iridescent under the lights. If you're looking for something with an even more romantic feel to you, you can reach for a dress with a high slight. Not only can a slit help you feel more confident, but it'll also move majestically as you walk. You can also incorporate liquid organza in your sleeves or as other smaller details.
Getting the wet look on your wedding day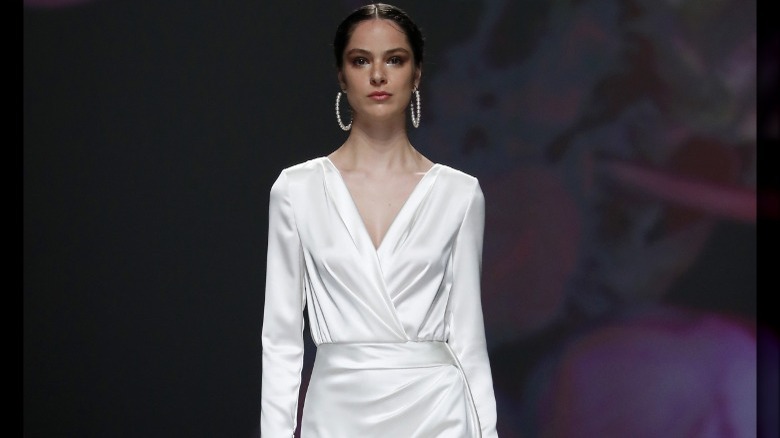 Estrop/Getty Images
Along with this high-shine and high-movement dress, you'll need to create a look surrounding the trend that will flow cohesively. Along with a liquid organza dress, you can opt for a sleek and slicked-back hairstyle, which will accentuate the wet look to its fullest potential. For example, sweep your hair completely back with a styling product, which will keep your hair looking wet and glossy all day. You can also go with a sleek low-bun to get the same wet effect on your hair.
To match your liquid organza dress and hairstyle, you'll need to finish off your look with a glossy but glam look. Since the liquid organza dress has plenty of shine and shimmer, you don't need to worry about adding any extra sparkle to your look. Stick with glossy formulas and finishes for the complete under-the-sea look, and keep it natural to give you a cohesive and elegant modern wet look. For a summertime wet look, make sure to use bronzer for an under-the-sun beach vibe that'll make for gorgeous wedding photos.