The Genius Styling Hack That Can Help Cover Up Budding Hair Loss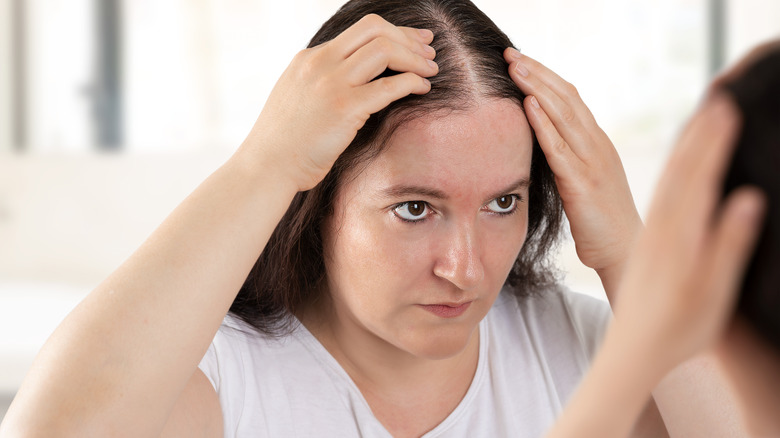 Cunaplus_m.faba/Getty Images
Hair loss affects both men and women frequently. Two-thirds of men in the U.S. suffer noticeable hair loss by age 35, and by age 50, 85% of men can expect considerably thinned hair, per WebMD. Meanwhile, Hair Loss Doctors claim that women make up 40% of all alopecia patients, and 25% of women suffer from hair loss. This can be a result of different factors. According to the American Academy of Dermatology, hair fallout can be caused by genetics, childbirth, cancer treatment, or tight hairstyles. 
Regardless of the causes, hair loss can adversely affect a person's life quality and interpersonal relationships, especially a woman's. It's not uncommon to see a woman with alopecia suffering from a negative body image and an unsatisfactory social life. If you're noticing early symptoms of hair loss, speak to a trichologist or a dermatologist for advice on hair loss treatments and lifestyle adjustments to help manage the condition. In the meantime, you can also find solace in knowing that you have options when it comes to living with hair loss. Getting a smooth bald shave or a wig is not the only way to cope with thinning patches of hair. Styling your hair the right way can also take the focus off the balding spots and make your locks look fuller. 
If you have budding hair loss, here's a styling hack that helps you confidently cover up your thinning area and navigate your everyday look. 
Change your hairstyles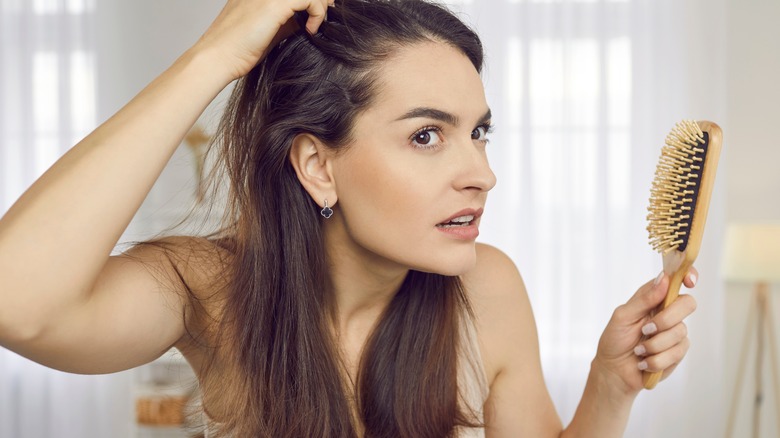 Studio Romantic/Shutterstock
If hair thinning is only happening on a small part of your head, you can easily alter the look by changing your part to the right or left to cover up the thinning area. A center part might highlight the angularity of your face, but it shows your hair lying flat against your scalp and exposes the wide hair part. While you're waiting for new hair to grow, opt for a side part. Lumping your hair together on one particular side can easily create the illusion of density. For added hair volume, wash your hair with a volumizing shampoo and spritz a volumizing spray on the thinning spot.  
If your hair is thinning in the front and there's not much hair to create a side part with, clip a hair topper that merges into your natural hair to boost coverage. Aside from changing your part, you can achieve a fuller look by getting a haircut or keeping the lengths above the shoulder. Longer strands tend to lay limp against the scalp and highlight thinning patches. If your hair lacks volume, get a layered pixie, a textured lob, or a blunt bob to add thickness to the cuticles. A thick fringe like blunt bangs or swept bangs also makes your hair strands look thicker. If you're thinning in the crown, brush half of your hair back and gather the tresses loosely into a bun for a casual half updo.  
Use a hair accessory or a spray-on concealer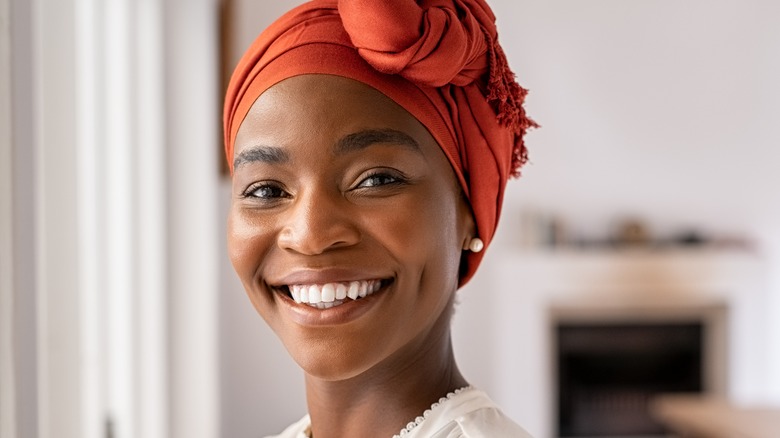 Ground Picture/Shutterstock
Investing in hair accessories is probably the easiest way to cover up budding hair loss with style. For instance, a lightweight scarf can be a security blanket and a time saver for your hairstyles all year round. 
Headscarves are ever-stylish, and there are many ways to style them. You can fold your scarf around the front of your head like a headband and tie the ends into a chic bow at the nape of your neck, or place it over your head and tie the two ends into a knot under your chin à la old-glam babushka. For a youthful Coachella vibe, wrap the scarf over your head like a bandana or a turban — like how Coachella attendees protect their hair from sand storms. Scarves come in a variety of designs, so you don't have to worry about having a style rut. Aside from scarves, hats are an excellent way to cover hair loss while protecting your scalp from damaging UV rays. 
If hair accessory is not your cup of tea, you can try to cover hair loss with a tinted spray-on concealer, which includes pigment that mixes easily with your natural hair to create the illusion of thickness. Alternatively, you can apply eye shadow in a complementary hue to your natural hair color to mask the balding spots.