How To Make Jewelry Stand Out On Bare Skin This Summer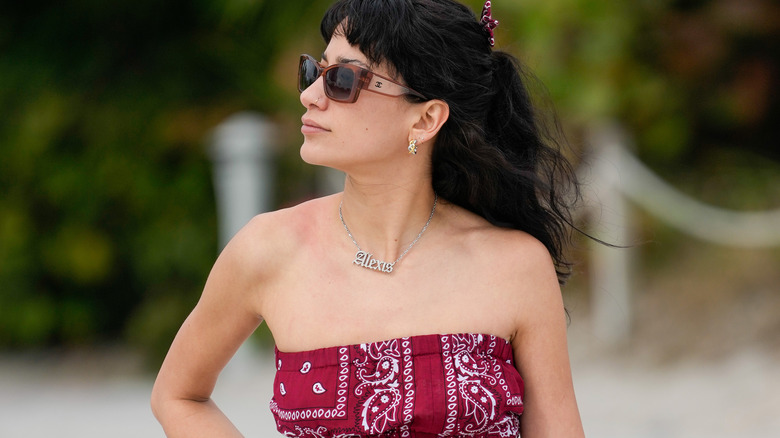 305pics/Getty Images
For many people, wearing jewelry is a form of self-expression or art, a token of femininity, or a symbol of something important, such as a marriage. And if you wear jewelry because you want it to be seen, you'd probably say summer is the best time to rock it, since it's the season of low-cut tops, short sleeves, and updos.
Nowadays, there are dozens of different styles and designs of necklaces, bracelets, rings, and other forms of jewelry. If you want yours to stand out on your bare skin this summer, sometimes you have to be strategic about how you wear it and which styles you choose. 
That doesn't necessarily mean you have to always opt for the big, gaudy, or expensive jewelry. In fact, you can make your jewels get noticed, whether you opt for costume or fine gems. Being mindful of the design, colors, and shapes of your jewelry, and how you wear your hair and nails, can make the difference between having your pieces blend in or attract attention.
Sport an asymmetrical necklace design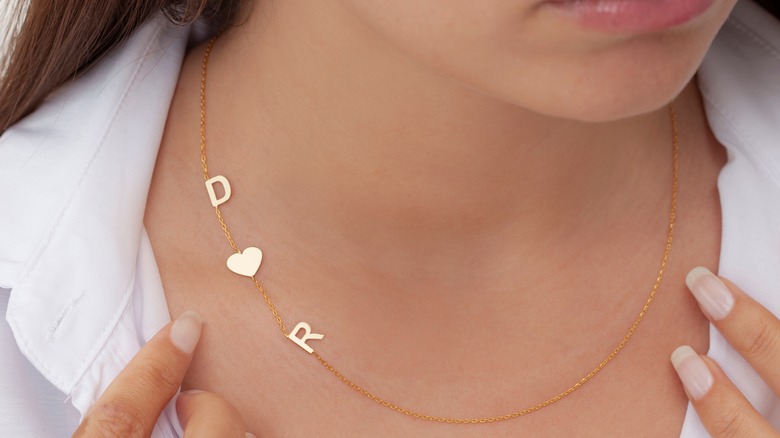 1jewelry/Shutterstock
We've come a long way since classic, symmetrical necklace styles. While these options are still popular, the non-traditional asymmetrical ones can sometimes make someone want to look twice because of their unique attributes. Aim for a necklace that features a focal point that's not at the lowest point of the chain, or one that has a specific design on only half of the chain.
Choose jewelry with familiar shapes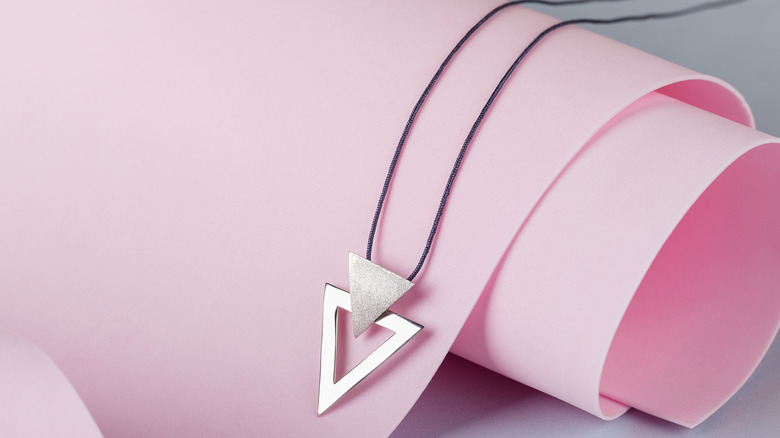 TorriPhoto/Shutterstock
Most of us learned our shapes when we were very young. We didn't know it then, but shapes are essential in how we perceive objects around us. There are even studies about the psychology of shapes, per Tubik Blog. When it comes to jewelry, certain silhouettes can send different positive messages to different people. They can also create an alluring, outlining effect against the skin, if they're open-shaped.
Bring out the bold colors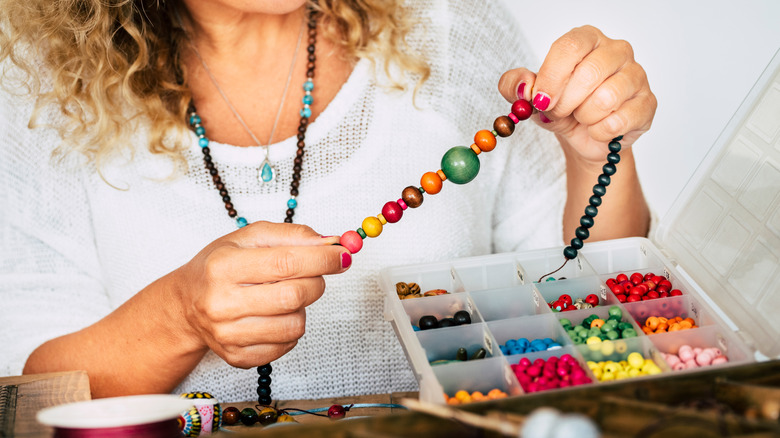 simona pilolla 2/Shutterstock
Regardless of what shade of beige or brown your complexion is, incorporating a mixture of bold colors can make your jewelry pop against your bare skin. You'll likely find more bold color options in the costume category, since there's a larger variety of materials used to make fashion jewelry than fine designs. Whether it's a couple of pink and green wooden bracelets, or a pair of peacock-colored earrings, have some fun with your selection.
Wear your hair up or back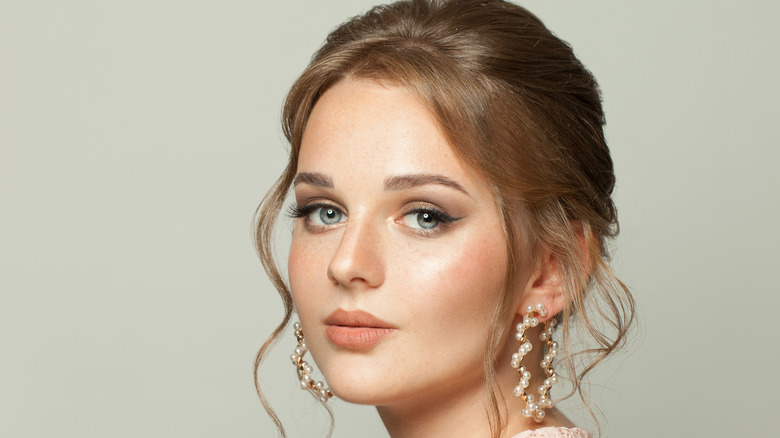 Artmim/Shutterstock
Have you ever worn a nice pair of earrings that nobody noticed behind your long hair? Time to switch things up, because summertime means updo time! If you have a pair of earrings or a necklace that you want to show off, tie your hair in a high, or low ponytail, or a high bun. You can also braid it in boxer braids, or wrap it in space buns. This will expose more of your chest and neck, making your jewelry more prominent.
Choose a layered necklace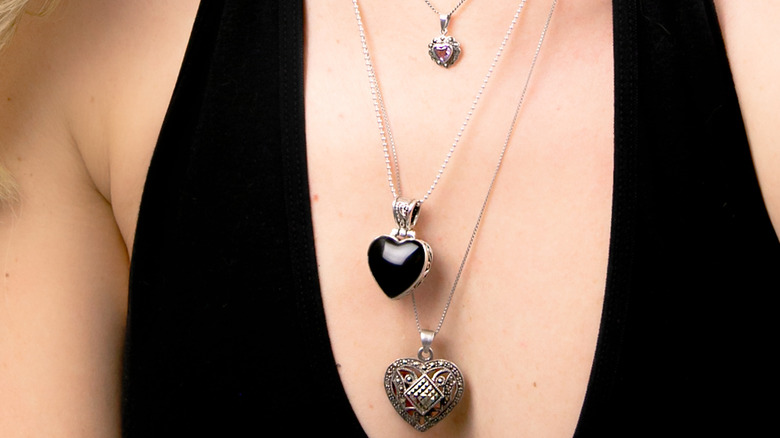 Lindsey Michelle Elliott/Shutterstock
A layered necklace can consist of two or more chains of varying lengths, which creates a dynamic look. Many designs consist of some sort of pendant or charm at the lowest point of one or all of the chains. You'll also find styles that have multiple charms on them, creating an even more dynamic appearance that will be hard for others to overlook.
Get your nails done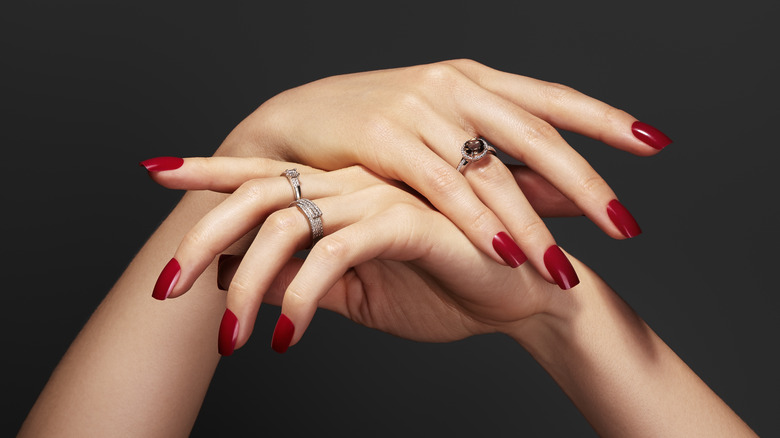 marinafrost/Shutterstock
Perhaps the jewelry you want to show off is on your fingers or wrists. A nice gel manicure or fresh acrylic nail set is likely to draw attention to your hands, which means your rings and bracelets will also get noticed. But you may not even need to do anything special with your nails if your jewelry is a wraparound ring, or bracelet filled with charms, since these styles are likely to get noticed all by themselves.
Aim for jewelry with unique or large designs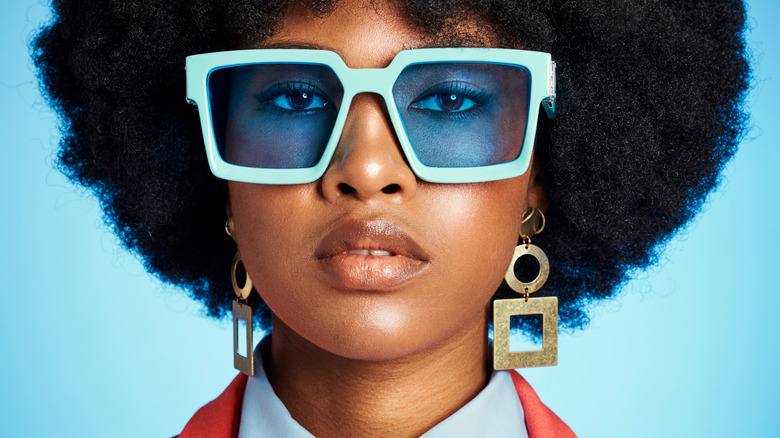 Delmaine Donson/Getty Images
With so many different tools combined with artistic and creative minds, you can find unique jewelry designs that you couldn't find decades ago. One example is the style of earrings with a simple, small design on the front portion and the more decorative area on the back, which hangs from behind the ear. There are also bracelets that connect to rings, and custom necklaces that can say pretty much whatever you want. Large jewelry designs are also sure to stand out against your exposed skin.