An All-White Outfit Is The Trendiest Way To Take Advantage Of Summer (& Beyond - Sorry, Labor Day)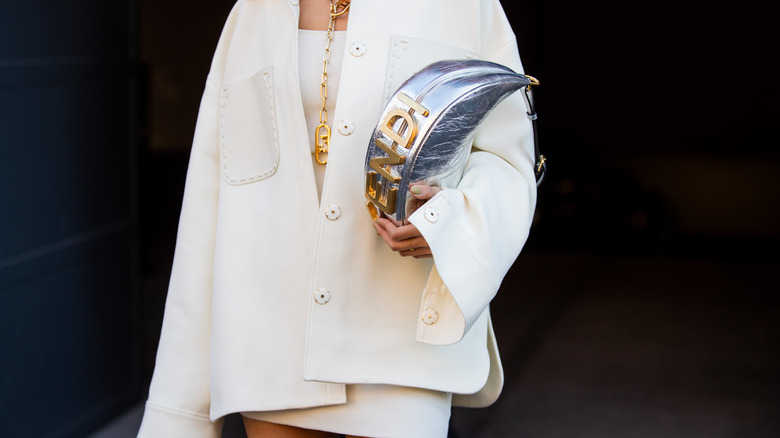 Christian Vierig/Getty Images
Although there's a saying that you can't wear white after Labor Day, fashion doesn't seem to take it into much consideration. Although black summer looks are currently ruling street style and social media, there's always an opposing movement in the works. All-white outfits are hitting the mark as one of the best ways to take on the warm weather crisply and elegantly. With terms like quiet luxury taking over the fashion industry, many are looking to low-key ways of showing off their style. Monochromatic looks are the best way to remain elegant without having to spend time overthinking each piece. An all-white look is a no-brainer when it comes to summer because of the strong correlation we have with seasonal whites.
White has always been a summer staple due to its freshness and crispness. Not only does it not absorb heat as much as black does, but it's also perfect to help pop that summer tan you've been working on. If you're looking to highlight your natural tone and make your skin glow, you can't go wrong with wearing white. Monochromatic looks can come in many forms, giving you the option to choose the one that fits your style the best. Add some pops of color to your accessories and you have a foolproof formula for the hot weather.
White shorts and top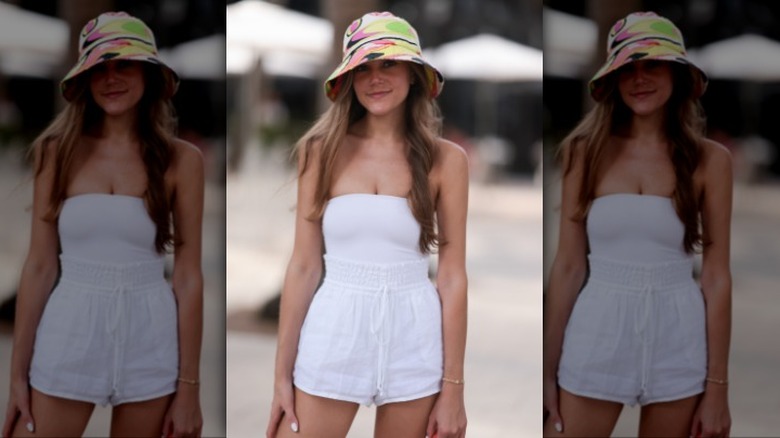 Jeremy Moeller/Getty Images
There's probably no better casual look for the summer weather than a matching white top and shorts combination. The tiny bottoms will give you some of that extra leg to show off while keeping you cool with the rising temperatures. Your white top can remain casual for a more carefree and unpolished look. Reach for cotton or linen tops to balance out white denim shorts. On the other hand, opt for structured tops to counterbalance any loose pair of shorts.
White vest and bottoms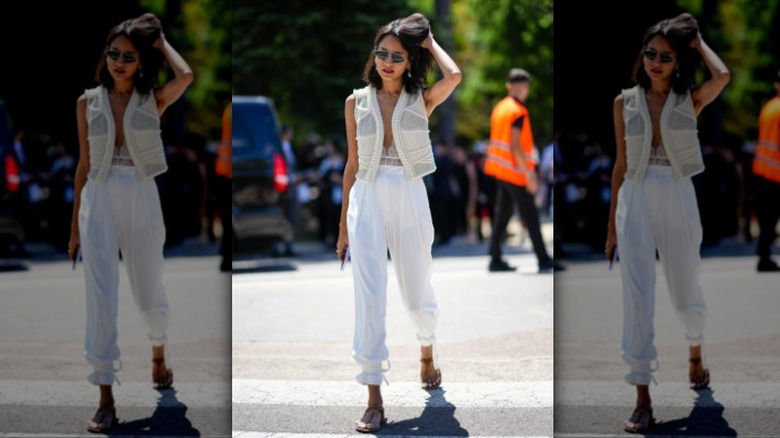 Edward Berthelot/Getty Images
The linen vest is set to become the star of the summer season and there's no stopping it in its tracks. A white linen vest is a perfect piece to add another layer of texture to your monochrome white outfit that can give it more interest. Because monochromatic outfits can often fall flat with one tone, it's key to add different layers and textures to give them more dimension. A white linen vest is lightweight enough to wear during the warm weather, but will add plenty to your all-white looks.
White maxi dress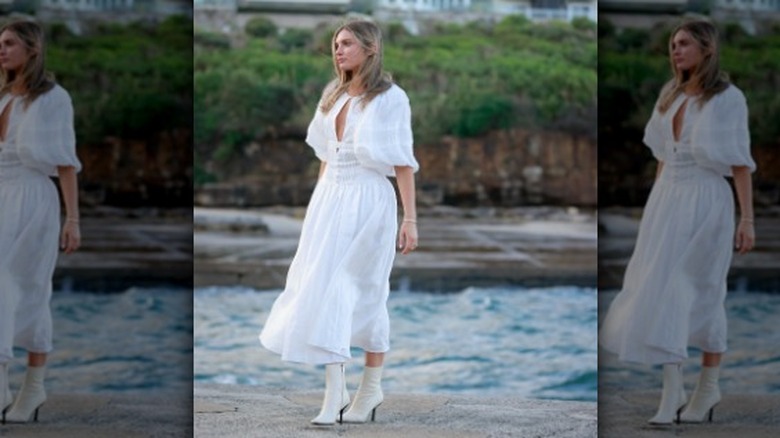 Hanna Lassen/Getty Images
You can't go through a summer season without a proper maxi dress outfit. A white maxi is the perfect piece to take you to those formal or dressier events, without suffering under the heat. With a breezy white version, you can get the perfect balance of elegance and bohemian style. Whether you go with a flowy maxi dress or a form-fitting option, these pieces are made for special events or simply to add extra style to your day.
White jumpsuits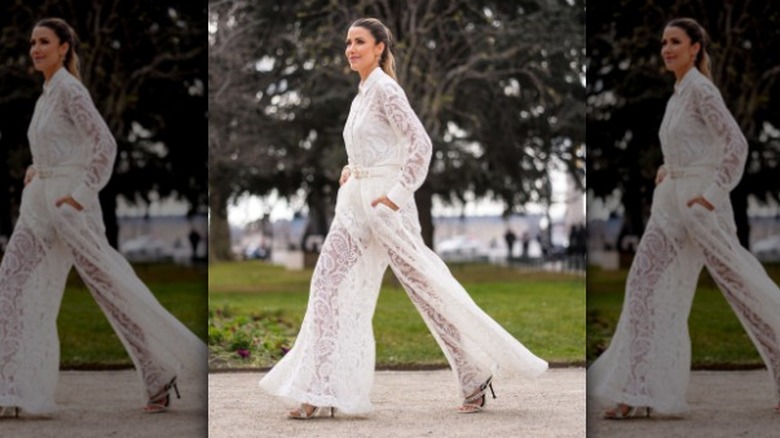 Edward Berthelot/Getty Images
Perhaps the easiest outfit to wear and style is a jumpsuit. It is the perfect item if you're looking for an easy look to pull together without having to spend much time. Simply pull on a white jumpsuit and add your favorite accessories for a chic and modern look that doesn't take long to put on. Although they aren't always the most practical option for certain activities, they're a built-in formal and casual option that can take you almost anywhere this summer.
White pants and top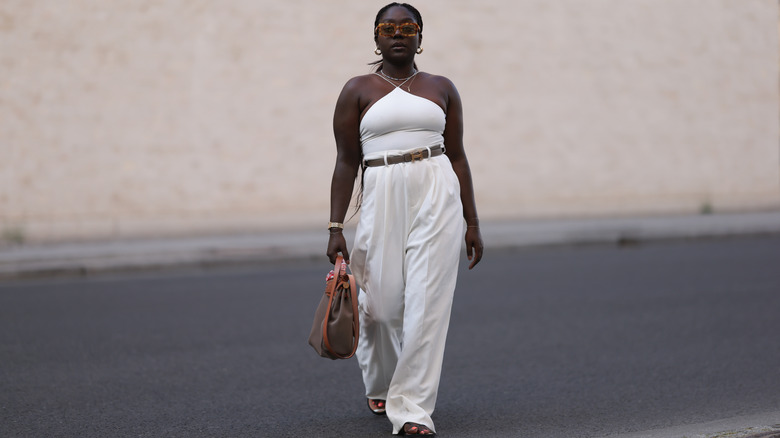 Jeremy Moeller/Getty Images
Ever since workwear became our new favorite minimalist capsule wardrobe, we've seen trousers and blazers become more essential for our closets. Even though pants aren't always the first option in the summer season, they can be equally chic and breathable. White linen or cotton trousers can still be lightweight enough to keep you cool, but stylish enough to pair with your white tops. An oversized and breezy pair of white trousers and a form-fitting white top is the best combination for a summer-ready, street-style outfit.
White Bermuda shorts and blouse
One of the '90s staples to most impact our summer wardrobes has been the Bermuda shorts. These longer-length shorts provide extra coverage and a more vintage style to your outfit with no extra work. Just like regular denim shorts, a pair of Bermuda shorts can add some casualness to your white monochromatic look. Add a dressier white top for a mix of dressed up and dressed down that will become your favorite formula for the summer.
White minidress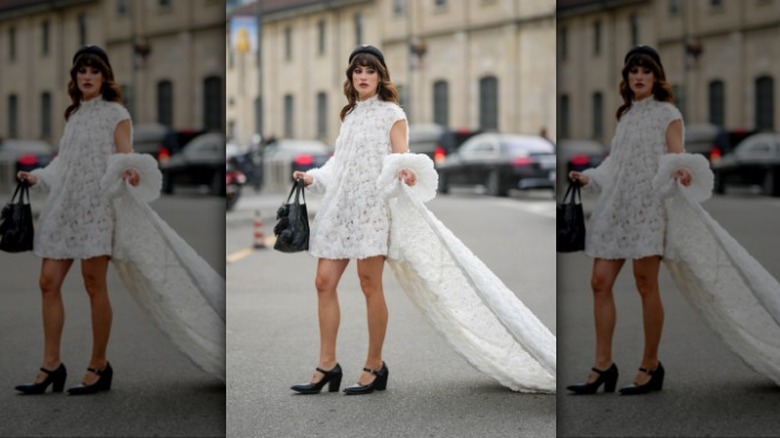 Edward Berthelot/Getty Images
We all know the importance and history behind the little black dress. This piece is quintessential for any wardrobe as it can serve various events and situations without much effort. However, when it comes to summer fashion, the little black dress takes a backseat to the little white dress. A white minidress is the perfect summer piece that can serve the same purpose as your black dress, but with the cooler and fresher appearance of a milky shade.
White denim jeans and top
We already know that a going-out top and jeans were the go-to for the '90s, well it looks like a pair of white denim jeans and a white top are about to be your go-to for summer. With the white shade your denim jeans won't hold as much heat as darker colors, making them perfect for a sophisticated summer look. Add a breezy matching top for a flowy counterbalance to your structured white denim. White denim jeans can be risky, but they are well worth it.