26 Date Ideas To Get You And Your Partner Outdoors This Summer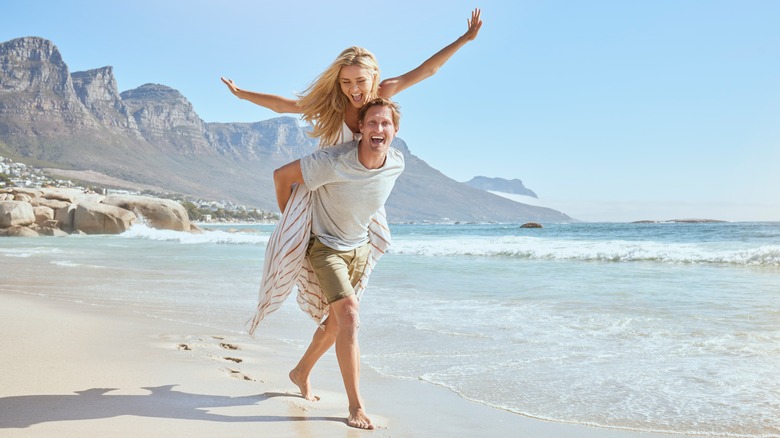 PeopleImages.com - Yuri A/Shutterstock
Ah, summer — the season of beach vacations, copious amounts of ice cream, outdoor brunch, and sunshine galore. You're not alone in your love of summer. Warm weather calls for lots of fun activities, and we wouldn't be surprised if you already have a plethora of things on your summer to-do list. But there's one thing that too often falls to the wayside as you're planning your summer adventures: summer date night ideas for you and your partner.
It can be super easy to fall into a routine when it comes to date nights. Maybe you and your partner love your Friday night movie night or look forward to Sunday night dinner all week. There's nothing wrong with that at all, but this summer, why not switch it up a bit and try something new? There are plenty of outdoor summer date options for you and your partner to take advantage of, and you might find a new favorite activity along the way. If you're in the market for some summer date night ideas, look no further. Here are 26 of our favorite date ideas to get you two outdoors this summer.
Have an outdoor movie night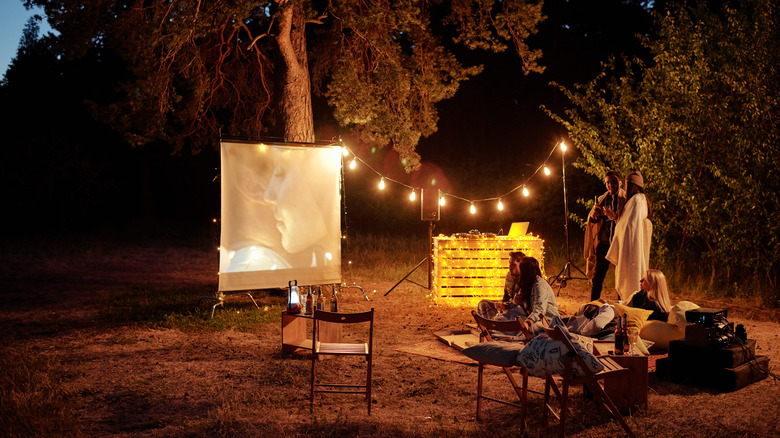 Pressmaster/Shutterstock
Again, maybe your ideal date night is watching a nostalgic movie and munching on some popcorn. Maybe you're so attached to this date night that you're hard-pressed to give it up for anything. We're here to tell you that you don't have to give it up — simply take your movie date night routine and take it outdoors!
Grab a cheap outdoor projector and screen set and set them up in your backyard or outdoor patio. If you want to make the night extra special, go the extra mile and decorate. Add some hanging string lights and pull out some outdoor blankets and pillows for maximum cozy vibes.
Feeling extra? Shop around for an outdoor inflatable couch to lounge on during your movie night. Of course, if you don't want to do all the setup, it's likely there's a drive-in movie happening somewhere near you. Take your partner there for an old-fashioned, still romantic movie date night instead of setting up your own.
Go on a picnic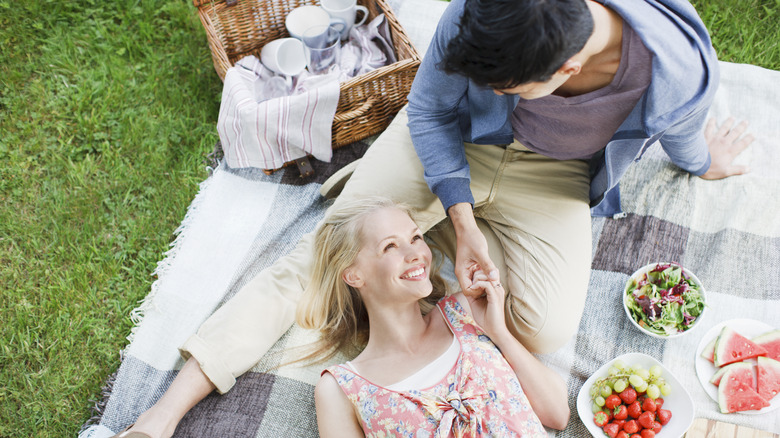 Paul Bradbury/Getty Images
What's more fun than deepening your connection by cooking a meal and eating together? Taking it outside, of course! We love summer because it's picnic season and there are few things more fun than sitting in a park and people-watching as you chow down on your favorite foods.
Parking yourselves on a picnic blanket with your partner can also make for a surprisingly romantic affair — bonus points if you put your phones away during this date and just spend quality time together. You can also invest in a cute outdoor picnic blanket to sit on and bring a little picnic basket with all the fixings, like plates, cups, silverware, and of course, all your food.
Fresh fruits and salads are fun and easy picnic options, but you could also grill up some chicken and pineapple skewers to take with you in a pinch. If you're looking to make your picnic date as easy as anything, grab some takeout on your way to the park in lieu of making your own food. Either way, you're in for a delicious meal with your favorite person. 
Take a day trip out of the city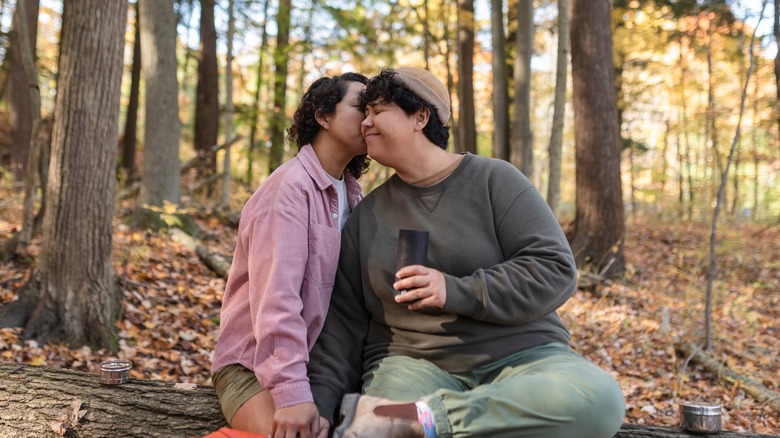 lucyluphoto/Shutterstock
If you live in a city, summer might have you (and your partner) itching to get away from the hustle and bustle. Sometimes you just need to slow down and have a few days to breathe. If you two have been feeling overwhelmed or stagnant lately, a date trip outside of the city could be just what you need.
Getting out of the city is a wonderful opportunity to immerse yourself in nature, especially if your home city doesn't offer a lot of green space. If you and your partner are more on the active side, a trip out of the city is a great time to go on that hike you've been longing to go on. Camping is another great option that'll get you outdoors.
You could also opt for a chill beach vacation on a quiet part of the coast. Even if you can't make it a multi-day excursion, there are plenty of things you can do on a simple day trip out of the city. Go to the famous national landmark you've been meaning to visit, or just go on a quiet drive through the country with the windows down.
Or take a day trip into the city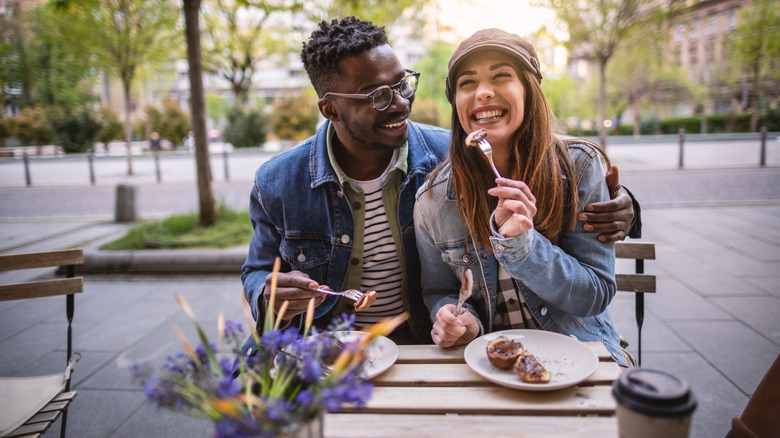 Milosstankovic/Getty Images
On the other hand, maybe you call the suburbs or the country roads your home, and you want to check out some city sights for a change. Lucky for you, summer is the perfect time to do so, and there are tons of outdoor date options for you and your partner to enjoy. 
If you're looking to build the perfect city day date, there are some elements to consider. Start off your day by grabbing coffee and a pastry at a café, and take your time to sit and enjoy it outside while people-watching and taking in the excitement of the city.
From there, you could check out the city's favorite park or, on scorching hot days, head into a museum. Shopping is also a popular city day option, too. Round out your excursion by treating yourselves to a late lunch or dinner before heading back home.
Go camping in your backyard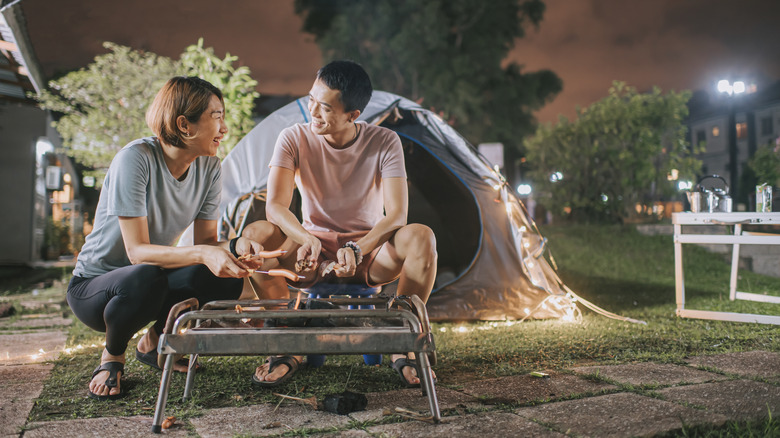 Edwin Tan/Getty Images
Camping is a popular summer activity option, but let's be honest: Sometimes it's a huge hassle, and we don't blame you if you don't love being away from the comforts of your own home. When you want to go camping but aren't a fan of completely roughing it, there's a simple solution! 
Just set up a tent in your backyard to spend a night outdoors while still keeping all your domestic comforts close at hand. Backyard camping is one of our favorite things to do at home during the summer. It's versatile and easy to customize to just what you and your partner are looking for.
You could make dinner in the kitchen and eat it outside or set up a campfire and cook some burgers or hot dogs. S'mores roasted over a campfire and paired with some red wine make for a great dessert, and you can even set up an outdoor projector and screen to have a movie night before crawling into your tent to get some shuteye.
Go stargazing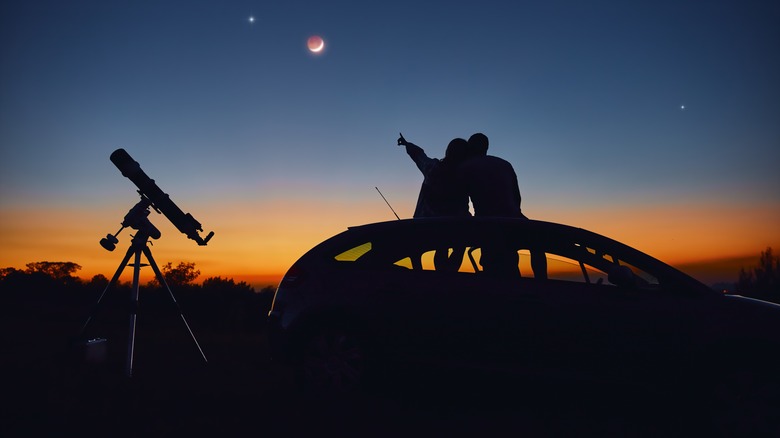 AstroStar/Shutterstock
There's something ultra peaceful about being outdoors on a summer evening, making nighttime a great time to get that summer date in. If more outdoorsy options aren't appealing, feel free to go for something lower-key, like stargazing. And before you ask, no, you don't have to be an astronomer to stargaze — simply get in the car and head out to an area with low light pollution.
Pack a telescope if you happen to have access to one, but if you don't, it's not a necessity. Depending on where you're located and when you stargaze, you could be looking at a myriad of different constellations, stars, and planets in the night sky. There are plenty of different apps you can download that will help you identify exactly what you're seeing, like SkySafari or SkyView.
Of course, you don't need to be able to name everything you're looking at — there's plenty of joy to be found in simply looking at the night sky and enjoying intimate conversation with your partner.
Volunteer together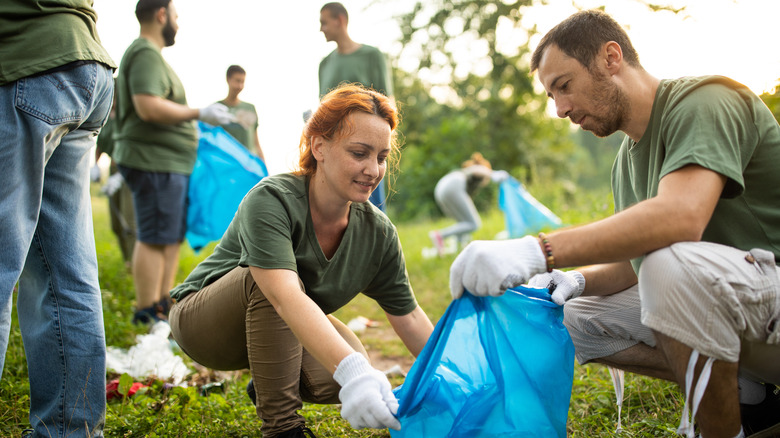 Miodrag Ignjatovic/Getty Images
There's a good chance you and your partner are finding yourself with more free time in the summer than you have during most of the year. This makes summer a great opportunity for both of you to get involved in giving back to your local community.
There are probably plenty of organizations near you looking for summer volunteers, and even donating just one day of your time can make a huge impact in your community. Check-in with your local community gardens and see if they need volunteers to help plant, harvest, or pull up weeds.
This is also a great opportunity to meet any community needs you see that may not be getting taken care of already. For example, why not get a group together to clean up litter or cook some meals to donate to your local homeless shelter? Doing these things with your partner can also help strengthen your bond as you give back to your community together. 
Do an outdoor fitness class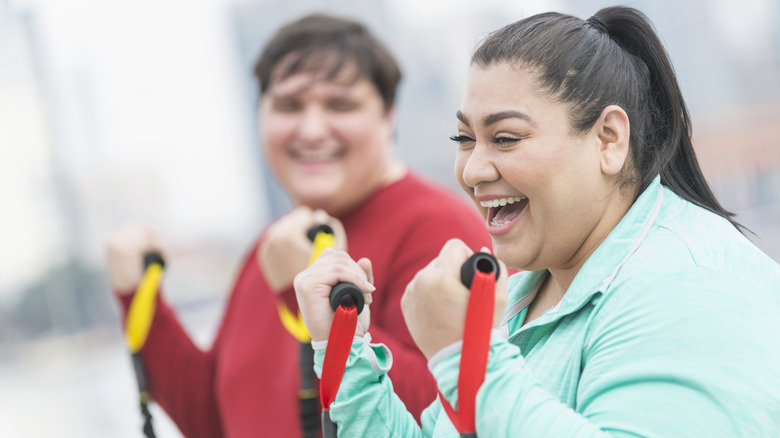 Kali9/Getty Images
Do you and your partner love to work out together? Maybe you're regulars at your local gym, or perhaps you've even taken the plunge and signed up to do a fitness class together. Even if the two of you aren't particularly into physical activities, we bet an outdoor fitness class during the summer could change your mind — and it just might be the perfect summer date idea, too.
If you and your partner are gym rats, chances are an outdoor fitness class is already on the books for you. If you're not, go ahead and sign up for one! Summer is a great time to find any number of fitness classes offered outdoors, from yoga to HIIT workouts and even kickboxing.
Don't typically like working out? Give it a try! Something about working out in the fresh air can be very refreshing, and you'll probably end the workout class feeling both exhausted and super satisfied with what you've accomplished.
Find a restaurant with a patio to eat on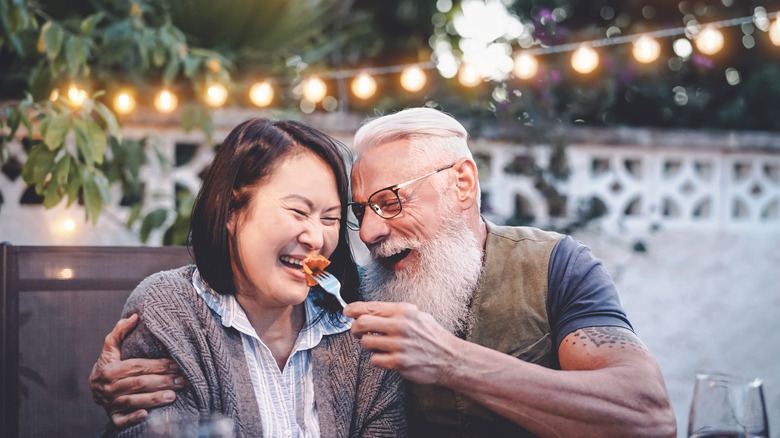 AlessandroBiascioli/Shutterstock
Personally, we think it's a little criminal to eat indoors when the summer weather hits. There's nothing more relaxing than eating on an outdoor patio during a breezy summer evening, and if this is the energy you're craving this season, a date night at a restaurant with a patio could make for the perfect romantic evening.
Fortunately for all palates, there tend to be plenty of options for dining al fresco. If you're looking for a quieter, more intimate date night, opt for a romantic evening dining outside at a more upscale restaurant in your area, where you're unlikely to be disturbed by a lot of noise.
On the other hand, if fun vibes and pub food are what you're after, you may be in the market for a night at your local brewery. However you do it, eating outdoors is sure to make for a great date night for you and your partner — in fact, we'd be surprised if you haven't already made it part of your routine this summer.
Go on a bike ride together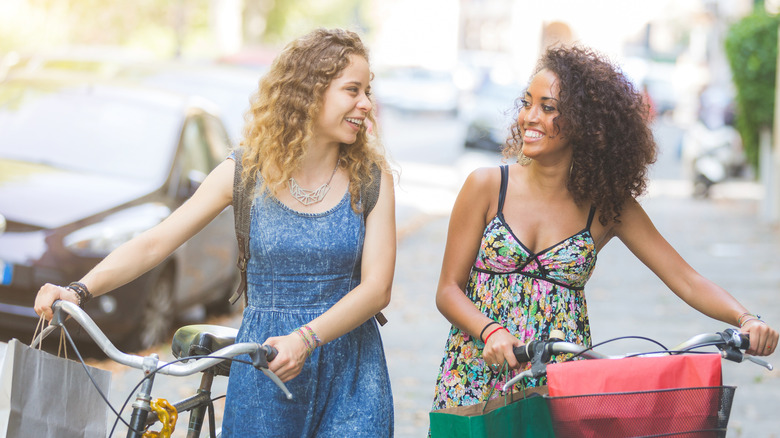 William Perugini/Shutterstock
Fortunately, for those who don't embrace group exercise as a regular activity, outdoor fitness classes aren't the only way to get active outside this summer. If you and your partner want a fun date that you may not regularly do otherwise, rent a pair of bikes and ride around the city.
If you like it enough that you both end up buying your own bikes and making this a regular event in your date rotation, go for it! Bike rides offer a great opportunity to see your local sights at a slower pace than if you were on a driving tour, but you can still cover more ground than if you spent the day walking around.
If you live in a city with lots of landmarks, take a day to bike from spot to spot, and top it off with a visit to your favorite ice cream shop. Maybe you've been meaning to check out the local parks — some of them probably have bike paths you could ride down. You could also bike down the boardwalk if you live by the beach or an urban riverfront. 
Visit your local farmers' market
DC Studio/Shutterstock
Summer is a great time to indulge in your favorite outdoor activities, but it's also a great time to take some indoor errands outside, like grocery shopping. Produce is abundant in the summertime, and we bet there are some food stands and farmers' markets near you that are selling fresh, locally grown produce.
One fun date idea is to take your partner to a farmers' market and decide what you'll make for dinner based on what produce you can find there. Turn locally grown tomatoes and basil into a delicious pasta sauce, or buy spinach and berries to make a yummy side salad.
Sneak off to a flower stand when your partner isn't looking and surprise them with a bouquet. At larger farmers' markets, you'll probably find other stands from local craft or drink vendors, making it the perfect place to treat your partner to a little gift while getting some produce shopping done. We call that a win-win.
Spend a day at the winery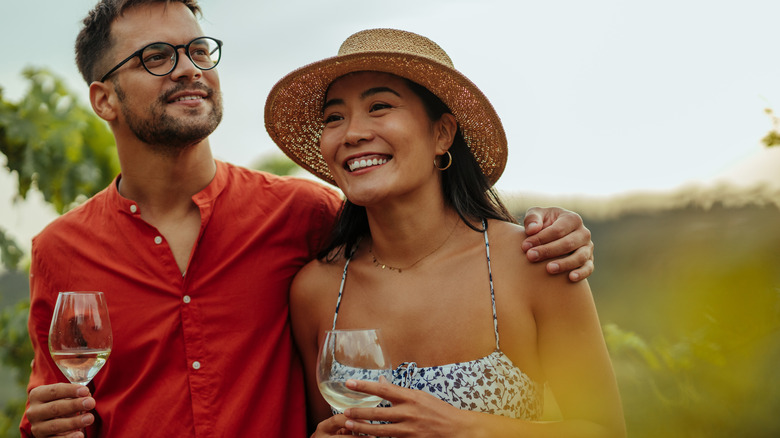 Dimensions/Getty Images
If you live in or near wine country, there's really no excuse not to take advantage of it — especially in the summertime. A day at the winery with your loved one is an oft-overlooked summer date idea, and if you don't already have one on the books for this season, it's the perfect time to plan it.
When selecting the winery, decide what kind of atmosphere you're going for and go from there, or look up their offerings and decide where to go based on what wine you typically drink. Many wineries offer tastings, but you may have to book them in advance, depending on the location, so look into that before you go.
If you're just looking for a low-key day with some glasses of wine, likely, you can just walk in. If your winery tends to be busy, you could either make time to go on a weekday or bring some blankets to sit on in case no tables are available. If you're allowed to bring food in, make it a budget-friendly date by packing your own cheese, crackers, and grapes.
Go out on a boat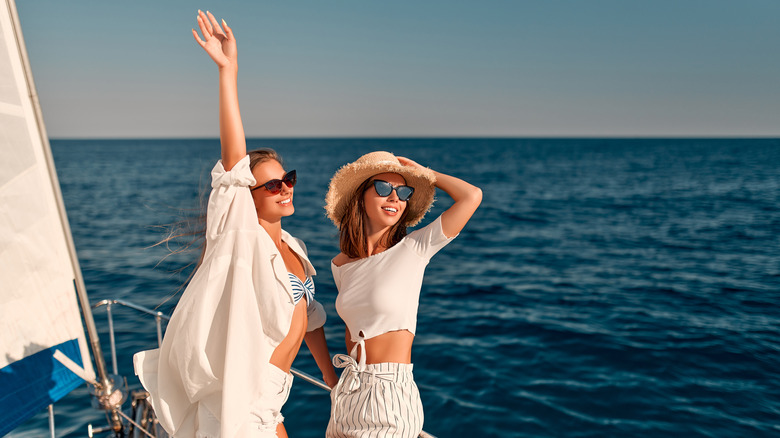 4 PM production/Shutterstock
If you're prone to seasickness, this may not be the best summer date idea for you — but if motion sickness isn't an issue, look into renting a boat for a day with your partner. Boating can be either active or relaxed, depending on your preference.
Plus, it's the perfect date idea for when you want to spend the day at the water without necessarily getting wet. If you're more on the active side, your boating date could be as simple as renting some kayaks or a canoe and paddling down your favorite river.
Paddle boats are a popular rental option if you live near a larger body of water. On the other hand, depending on where you live (and your budget), you could rent a sailboat, a larger motorboat, or even a small yacht for your excursion. Pack a picnic basket with wine and your favorite snacks, and you're in for a summer date you won't forget.
Get an outdoor couple's massage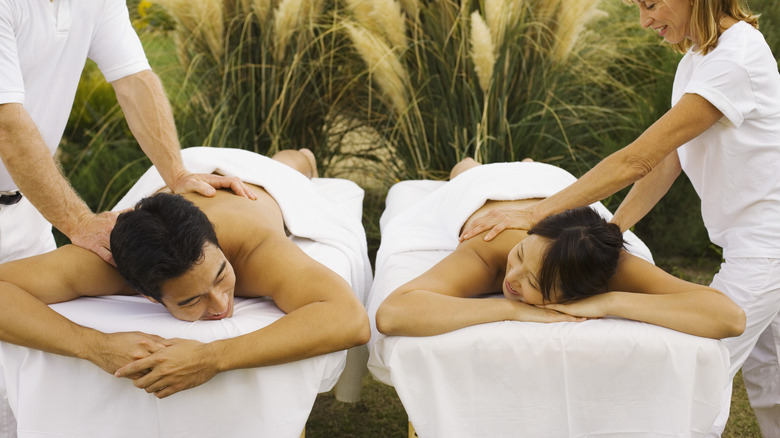 Jupiterimages/Getty Images
Fans of comfort and luxury are sure to love this summer date idea. If you want to do literally nothing except relax with your partner on your next date, an outdoor couples spa treatment or massage could be just the right fit.
Outdoor couples massages are most likely offered at a spa near you, but if a day at the spa doesn't sound like your cup of tea, chances are there's a massage studio offering outdoor massages. A couples massage is a great, surprisingly intimate date option. Even though you aren't massaging each other, the relaxation you'll both feel after could easily lead to some intimacy.
Aside from that, getting a massage outdoors enhances an already incredibly soothing experience. There's something serene about getting a massage, feeling a slight breeze, and listening to the wildlife do its thing, making this the perfect do-nothing date idea for any couple. 
Spend the day at a theme park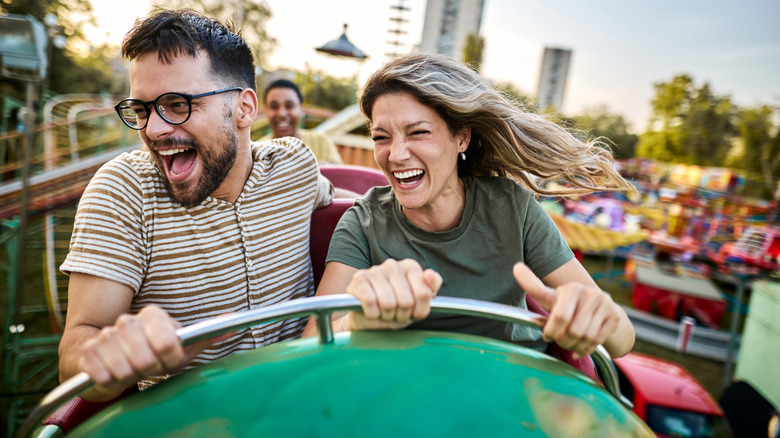 Skynesher/Getty Images
On the other hand, if you and your boo are chronic thrill-seekers, do-nothing dates like an outdoor massage may not do anything for you. Sure, the two of you could go skydiving or bungee jumping to satisfy that adrenaline itch, but those options are both expensive and can be hard to find, depending on where you're located.
To satiate your inner adrenaline junkie, why not throw it back to your childhood and head to your local amusement park? We wouldn't be surprised if it's been a minute (or several years, actually) since you've been to an amusement park.
Chances are, there are new roller coasters you've never been on, or at least some new attractions you haven't seen yet. Ride on coasters to your heart's content, and then play carnival games to win prizes for your loved one. Sure, theme park food and drinks are overpriced, but we think this is an occasion that calls for a little splurging. 
Garden together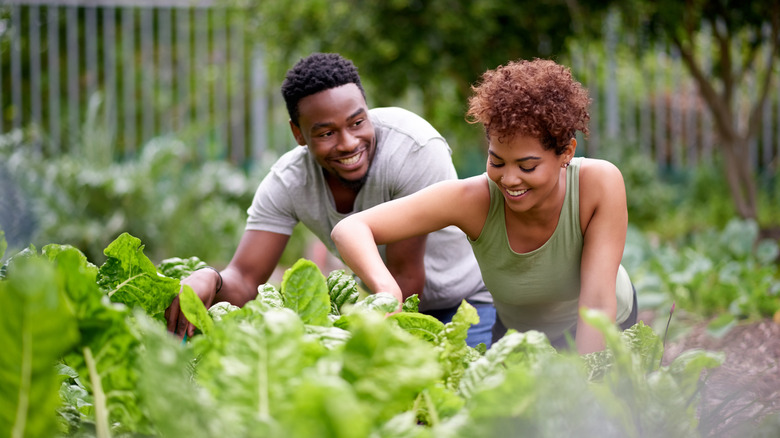 Tassii/Getty Images
Maybe you're looking for less of a one-time date than something you can do on an ongoing basis with your partner this summer. You're in the market for a project that can last all summer long. If that's the case, making an outdoor garden in your backyard could be the perfect date project for you.
Don't have space in your yard? Check your community to see if there are any community gardens the two of you could get a plot in. Gardening is a great mindfulness exercise, and when you do it with your partner, it gives you both a chance to enjoy some serene activity that'll also bring you closer together.
Not to mention, gardening can be hard work, especially when you're just getting started, so you can use gardening as a chance to get some physical activity in with your partner. The type of garden you have is up to you — you could plant some crops of veggies, or if you're more into creating a beautiful landscape, populate your garden with some flowers and pollinator plants. 
Take some books to the park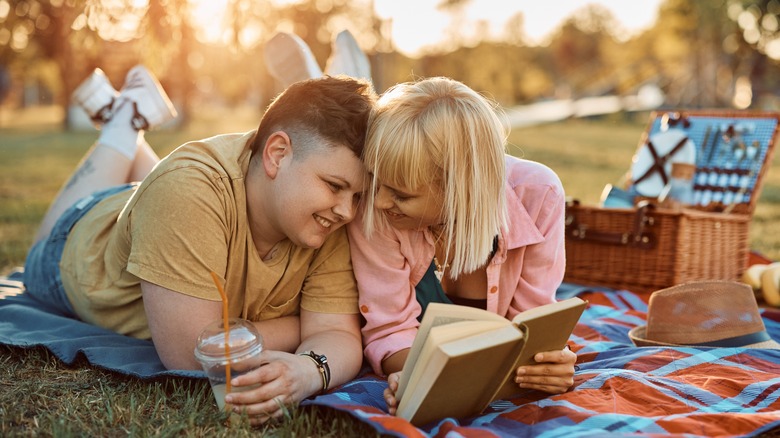 Drazen Zigic/Shutterstock
Are you and your partner the type of couple who loves to do your own things with each other? Maybe the two of you need some time to just be together without having any long conversations or being super active. On those days when you both need to take a step back and relax, why not head to your favorite park and read together?
You could keep your reading excursion simple by just bringing a blanket and a couple of books. Or, if you want it to be a more special date, go the extra mile with it. Pack a little picnic basket with some refreshments to drink and snacks to munch on.
Plus, you don't have to read the whole time. Pack some games to go along with your book date for when you're both ready to take a break and have some fun together. 
Treat yourselves to some ice cream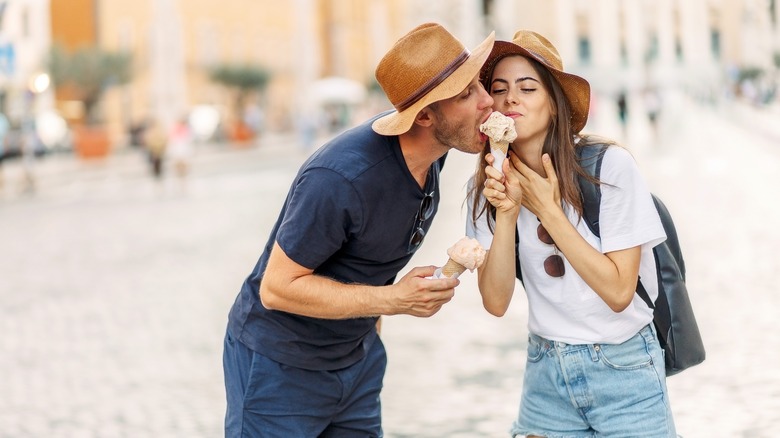 Aleksandrova Olga/Shutterstock
Are you in the market for a quick, easy summer date that you can do on a moment's notice, with no planning required? We all need these easy date ideas every once in a while — sometimes you're so busy that you don't have any time to plan anything until the last minute.
When you're craving a quick and easy summer excursion with your boo, few things are more satisfying than a quick trip to your local ice cream parlor. You could just go to one ice cream spot and get a single cone, but if you're feeling particularly extra, make a big outing out of it.
Get your favorite flavors from a few local ice cream shops and do a little taste test with your partner. Or, if you really trust them with anything, go ahead and order for each other. You might be pleasantly surprised by what you get!
Host a barbecue together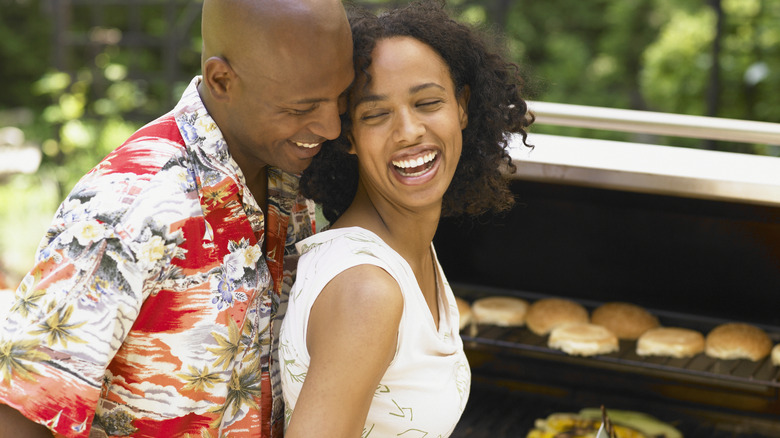 Lwa/dann Tardif/Getty Images
Do you and your partner have a close-knit friend group? If so, you're probably happy for any excuse to get together with them this summer. Maybe you've already had a few group hang-outs, but if you're in the market for another one, go ahead and host a barbecue with your partner this summer.
Hosting an event with your significant other is a great way to get to know how you work together. You might find yourself divvying up duties or doing most of the planning and prep together. However you end up doing it, you'll definitely get to know each other better. Need some fun, off-beat barbecue ideas? Go ahead and theme it if you want!
Have everyone show up in mismatched clothing or dressed like a grill dad. If cooking isn't your thing, you can still host by providing the space and atmosphere and making it into a potluck, where all the guests will contribute a dish.
Learn how to make great summer cocktails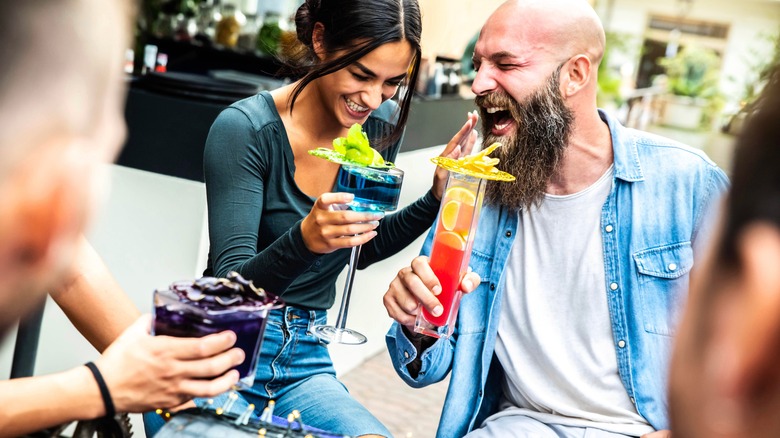 DavideAngelini/Shutterstock
If you and your partner are avid cocktail connoisseurs, this is the date idea for you. Become your own bartenders by practicing making cocktails together. It sounds like a simple idea but can be surprisingly fun, depending on how extra you want to be with it.
If you're new to cocktail making, get a beginner's bar tool set before you start. It's also a good idea to have a mixology book or two on hand when you're ready to get going. Head to the liquor store together and grab some basics, like vodka, gin, triple sec, lemons, and limes.
If you have a local market or garden you can get fresh herbs from, that's a bonus, as herbs like mint and rosemary make a great garnish to many cocktails. From there, go home and start mixing! Learn basic drink ratios from the cocktail book, and once you have that down, feel free to go rogue and start making your own concoctions together. 
Or just do happy hour at a rooftop bar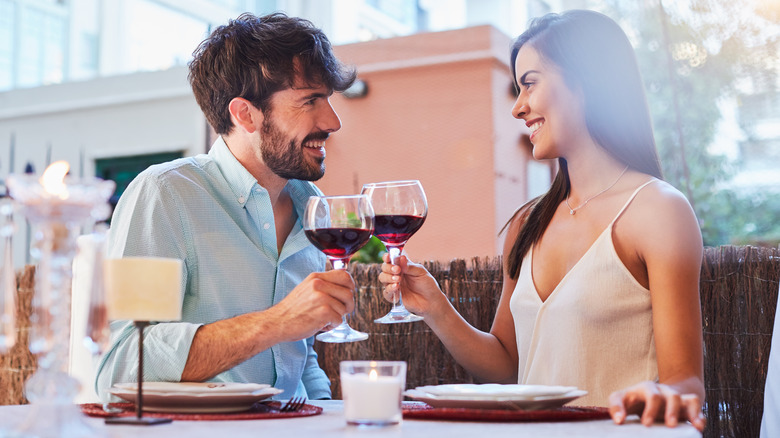 Tempura/Getty Images
Of course, if you don't want to mix your own drinks, we won't make you (though we think everyone should try at least once). Sometimes you just want to experience the joy of having a drink with your partner without working for it. We get it, and when that's the mood you two are in, a rooftop bar is sure to fit the bill.
If you don't have a rooftop bar near you, this is a great opportunity to head into the city and check one out. We love rooftop bars simply for the vibes — they tend to offer a mature atmosphere that's easy to relax in, and the views from the rooftop will give you and your partner plenty to talk about (especially if you're avid people watchers).
Bonus points if you find a rooftop bar with happy hour pricing and can go mid-afternoon. If you want your rooftop bar experience to feel particularly bougie, check out pictures of the venue first. Some boast lounge seating, while others stick to simple tables and chairs. 
Visit your local state fair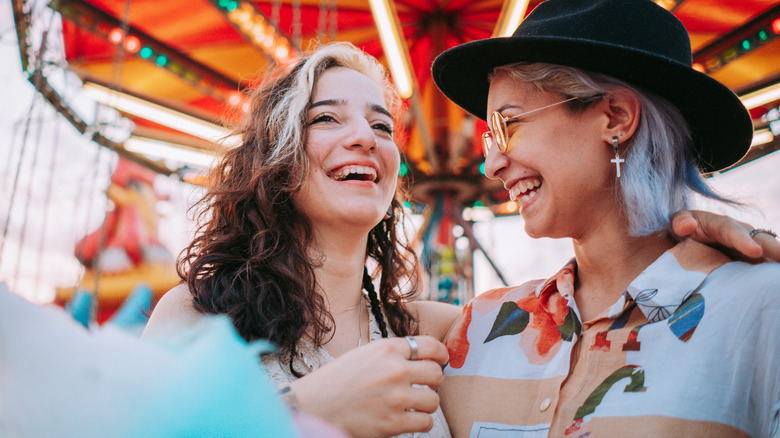 Nikola Stojadinovic/Getty Images
If you're lucky enough to live near your state's fair location, we hope you've already taken advantage of it. State fairs make great date options as a lower-key alternative to an amusement park, and we love the unique character each state's fair has to offer. 
If you live within driving distance from one of the U.S.'s bigger state fairs, like the ones held in Minnesota, Texas, or Wisconsin, go ahead and make the lengthy drive — we bet it's worth it. However, we'd venture a guess that there's plenty to do at your state fair, even if it's small.
Play some fair games and try to win a prize for your honey, or enjoy spending your time eating fresh-popped popcorn and visiting any animals that may be present. Many state fairs will have local produce you can buy too, and if all else fails, there's always people-watching to keep the two of you entertained. 
Go to an outdoor concert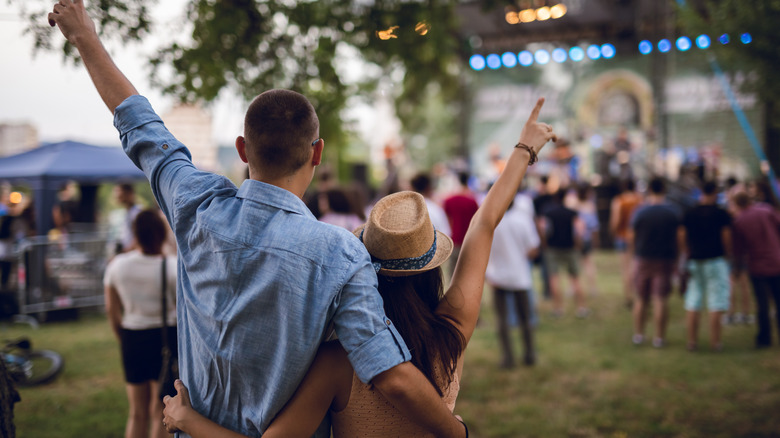 Urbazon/Getty Images
Music aficionados, this one is for you! Summer is the season for outdoor concerts, and we wouldn't be surprised if you and your partner already have tickets to see your favorite touring band. After you do it once, an outdoor concert may very well become one of your favorite dates to go on. 
Whether you're going to a country concert or to see your favorite rock band, we have a few tips to make your outdoor concert date as fun as possible. First, if you'll be sitting on a lawn, get there and set up a blanket (or some chairs) early to make sure you can find space to sit — outdoor concerts can fill up fast!
If the venue lets you bring food, you can use the opportunity to pick up a pizza from your favorite local pizza joint and bring it to enjoy during the concert. For an extra throwback moment, bring a disposable camera and take pictures of your evening together. 
Take your favorite games out of the house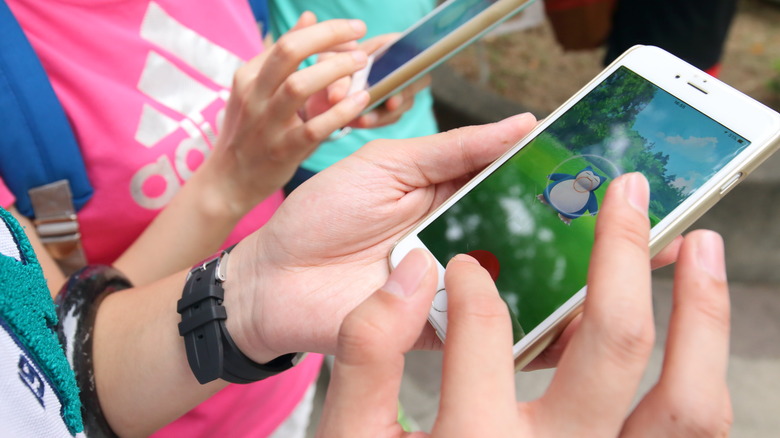 Mikekwok/Getty Images
If you and your boo bond over your shared love of games — board games, video games, or anything in between — taking it outside is a fun way to continue your hobby while enjoying the summer air.
A game date can look like many things depending on your preference, making it super easy to customize. Do you like playing cards together? Grab your favorite card game and some snacks, and head to the nearest park for a day of playing your favorite card games on a blanket or a picnic table.
You could even learn a new one if you're getting bored with what you usually play. If you're a more avid gamer with a collection of board games to choose from, pick one that takes a while to play while you watch the sunset together. Or, to get your steps in, download "Pokémon GO" and capture and battle Pokémon through town with your love.
Try museum hopping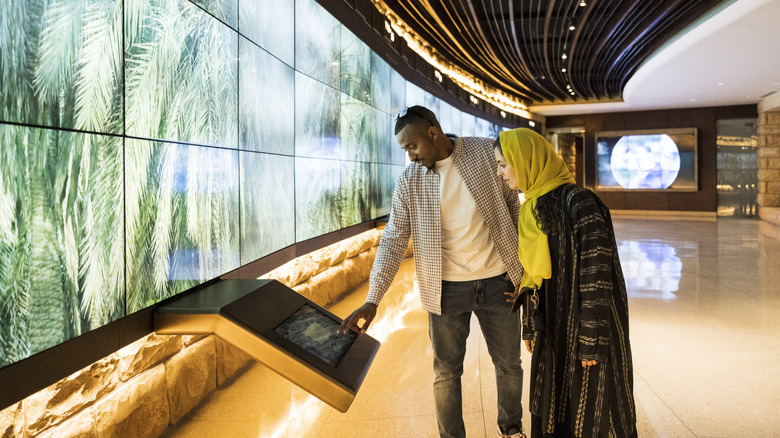 Johnnygreig/Getty Images
There are days when you don't want to be directly under the sun all day, yet, you want to get out of the house and enjoy the summertime activities with your boo. If that's the case, head into the city and check out a local museum you haven't been to yet, or one you haven't visited in a while. Chances are they'll have some new exhibits for you to check out.
Even if you don't live close to any large museums, you probably live within driving distance of an aquarium, a small town museum, or a local factory that offers outdoor tours. Use your excursion as an opportunity to learn about something you don't know much about by visiting one of these places with your partner.
If you're lucky enough to live near an interactive science museum, even one that's geared toward children, you'd probably have a blast playing and learning from all the interactive exhibits it offers. 
Become plant parents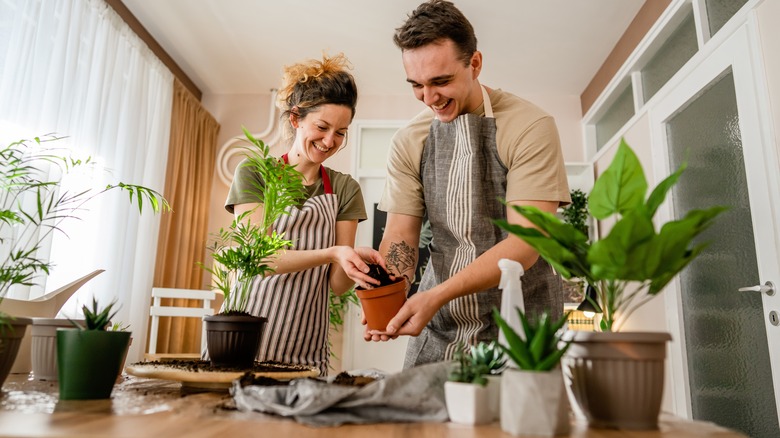 Miljan Zivkovic/Shutterstock
This one is an especially great activity if you and your partner have recently moved in together or if you're looking to bring more of the outdoors inside. Set aside a day to become plant parents together. Start by going to your local nursery and buying some houseplants, pots, and soil.
Don't know where to start? You can do a quick web search of easy indoor plants for beginner plant moms or check with the staff at your local nursery or garden center — they'll definitely be able to point you in the right direction. Once you have picked out your plants and pots, head home and have fun potting and arranging them with your partner.
Take into consideration whether your plant needs lots of light when choosing which windows to place them in, and you can even hang some cascading plants from the ceiling. This is a great chance to get some experience doing interior decorating with your partner, and plants are sure to make your space feel even more homey.