Tips For Rocking The Extra Large Handbag Trend (Because Bigger Really Is Better Sometimes)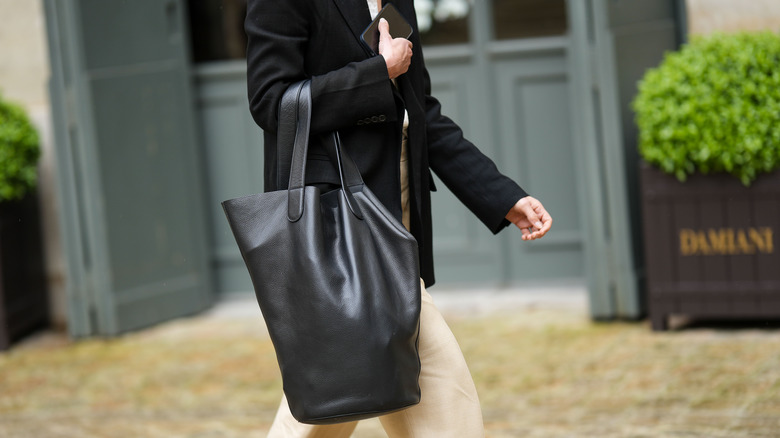 Edward Berthelot/Getty Images
Recently, the handbag has transformed from a practical tool to carry all of your items into another piece of your outfit. Long gone are the days when you can simply pick any bag to carry your cards, keys, and phones to walk out the door. Nowadays, even your handbag has to match your look to carry a cohesive vibe throughout. However, with this new standard of bag set, we've seen some impressive handbag trends shine through. With trends like novelty handles or vibrant colors becoming more common, it's no shock that the handbag has changed in the last couple of years.
Along with design and color, there's another factor of the handbag that has increased drastically, its size. Handbags used to be small and able to fit almost anywhere (remember the micro mini bags?). However, nowadays more brands and designers are upping their size for something that's equally practical as it is fashion-forward. These extra-large and oversized handbags aren't your typical ones, they're almost comically large but still hold value. Not only can they quite literally carry all of your belongings, but they add some haute couture to your everyday style. Don't fret about their big size, these oversized handbags give us plenty more excuses to buy more things to go into them.
Fabric totes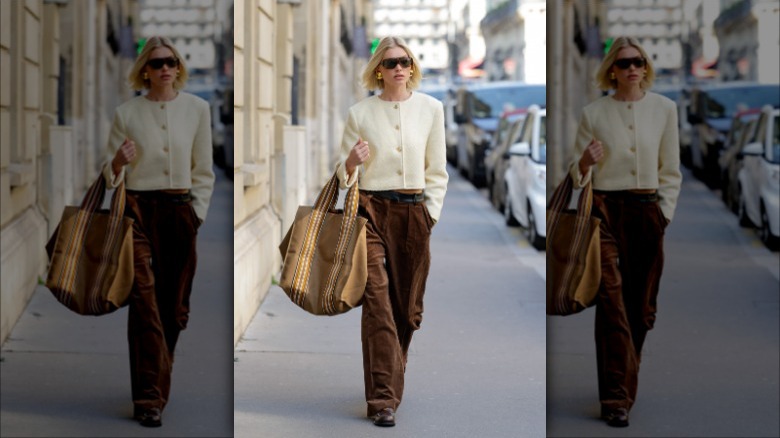 Rachpoot/bauer-griffin
A fabric tote is every bohemian fashion lover's dream accessory. The roughness of the fabric can help give your outfit more chicness and style. Giving these totes an increase in size will only make them even more unique and special against your boho-inspired looks. Pair these bags with your flowing and fresher outfits for the ultimate cohesive look. A fabric tote may not be the strongest material out of all the totes, but it will give you an extra texture you weren't expecting.
Canvas bags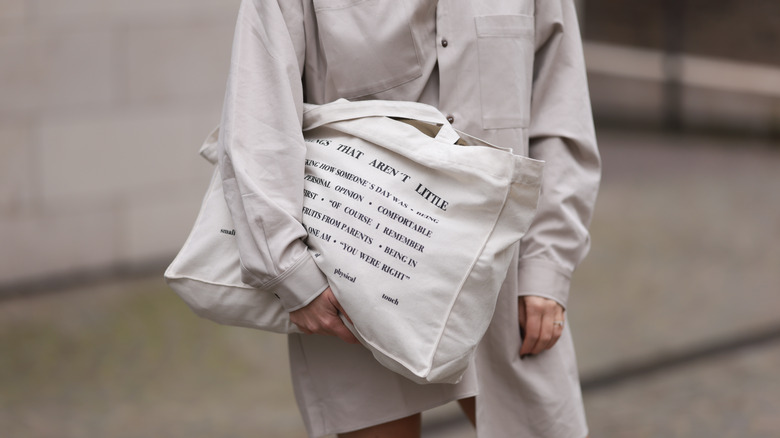 Jeremy Moeller/Getty Images
Canvas bags hold plenty of practicality and simplicity. Not only are they sturdy enough to carry large quantities, but they're flexible to squish anywhere. Recently, the canvas bag has become quite the favorite for those looking for a bag that's both strong and practical for any outfit. An extra large canvas handbag will give you more space to carry around all of your essentials and is perfect to wear to run your casual errands. Instead of worrying about which handbag matches, a canvas bag can easily fit with any look.
Oversized statement bags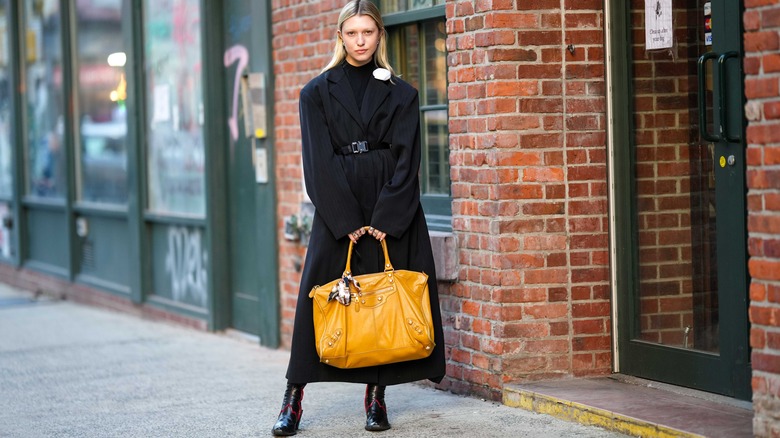 Edward Berthelot/Getty Images
Oversized bags are already a statement in themselves. There's no denying that seeing an extra large bag on the street is cause for a double-take. However, pairing this large size with a bold hue or print can give you just the right amount of fashion that your accessory needs. Bold hues are bound to bring together looks that could potentially fall flat. Use your large bag to break up monochrome outfits to give you an extra visual appeal.
Oversized leather totes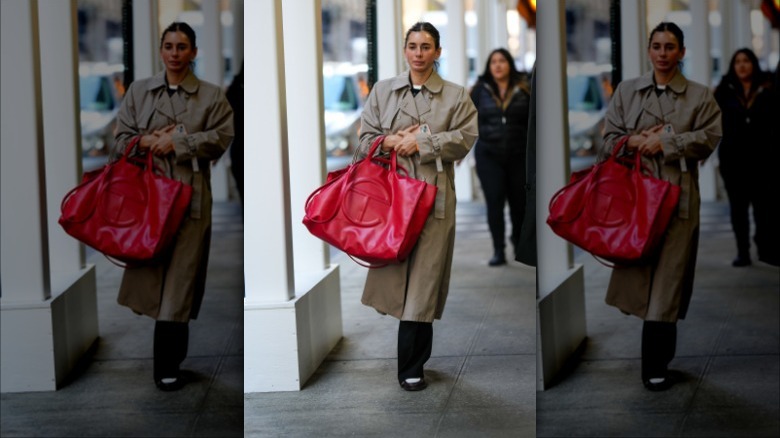 Edward Berthelot/Getty Images
Totes in general have seen a renaissance for their practicality and space. Giving them a boost in size makes them even more appealing as a fashionable way of carrying all of your belongings. In specific, leather totes can help give your outfit an extra chic touch with its leather texture. Leather is one of those fabrics that can instantly elevate your look without trying. Give your extra large tote the leather treatment and you'll instantly adore how it looks against all of your outfits.
Oversized puffy bags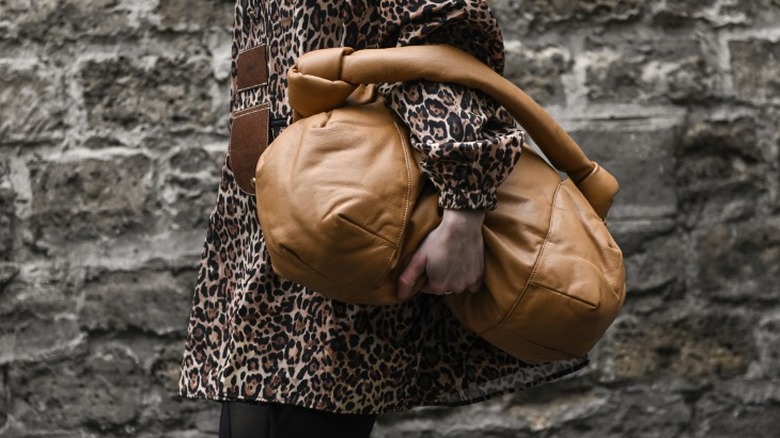 Daniel Zuchnik/Getty Images
We've seen puffy bags take center stage thanks to brands like Bottega Veneta that have cashed in on the design. With puffier bags becoming the norm, there's no reason why an extra large puffy bag can't make it into your wardrobe as well. These voluminous pieces can not only hold plenty, but they're trendy items that will make your accessory look more high-fashion than random. Pair it with a sleek and modern outfit to accentuate the size and have it shine.
Oversized clutches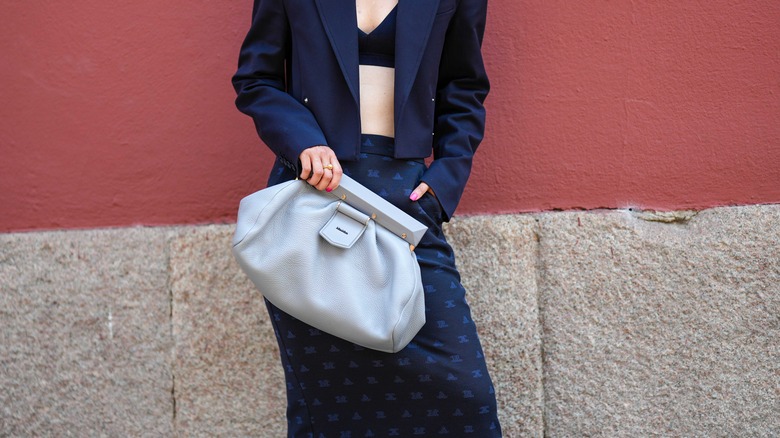 Edward Berthelot/Getty Images
Clutches are the perfect going-out bag that can hold your keys and cards on a night out. However, they don't always fit all of your essentials, nor do they create the high-fashion statement you want. Give your clutch an extra boost by increasing its size to extreme lengths. These oversized clutches pair perfectly with all of your formal looks and will give you a small hint of haute couture without completely distracting from your outfit.
Oversized shoulder bags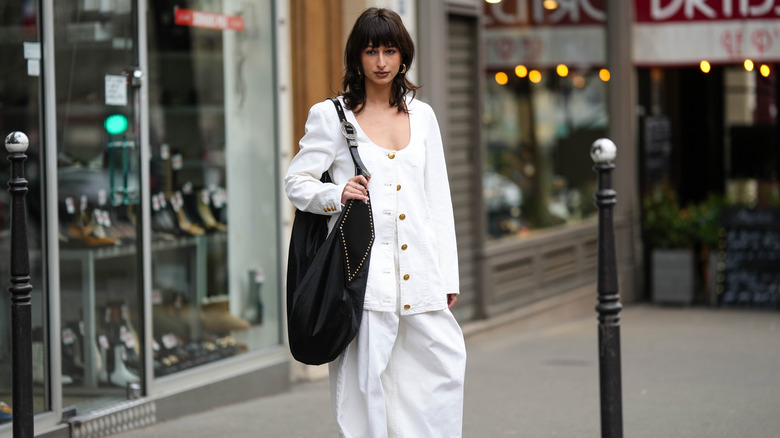 Edward Berthelot/Getty Images
An oversized shoulder bag may give the same vibe as carry-on luggage, but it can be equally as useful. Not only can they comfortably fit everything you need, but they'll give all of your looks an extra touch of fashion. Pair a large shoulder bag with minimalist or monochrome looks to have it pop against your outfit. This piece doesn't need to seem gimmicky, as long as you keep the rest of your ensemble sleek and modern. Keep your shoulder bag sleek as well for an accessory you can use year-round with any look.