Glazed Eyeshadow Brings Hailey Bieber's Hair & Nail Trend To The Face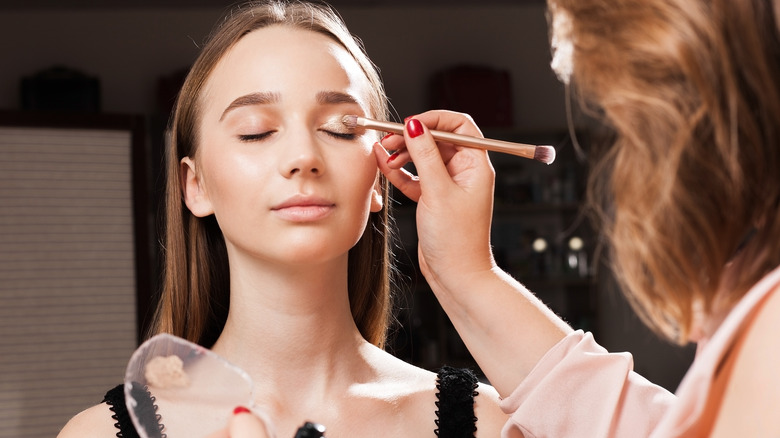 OlegMemo/Shutterstock
You've heard of glazed nails and may have even heard of glazed hair, but there's aother Hailey Bieber-inspired trend to look out for — glazed eyeshadow. Like other glazed styles, glazed eyeshadow aims to give your eyelids a delicate shimmer reminiscent of the sheen of a freshly glazed donut.
Advertisement
Sparkly eyeshadow isn't anything new. After all, who among us hasn't grappled with an eyeshadow brush full of glitter? But this trendy twist on shiny eyelids has a calm, almost natural vibe that brings sparkly eyeshadow into the daytime. Glazed eyeshadow is achieved with pastel iridescent shades, ideally applied with a damp beauty blender for a glowing, wet finish. Opt for eyeshadows with small glitter particulates for a smooth, seamless effect.
A light, glazed eyeshadow may be the most fun and creative summer makeup idea thus far. And once you have the proper eyeshadow shades at your disposal, your styling options are limitless.
Glazed eyeshadow with cool pastels
When trying out the glazed eyeshadow look for the first time, cool pastels are a good shade to start with. The cool tones help emphasize the sparkle in the eyeshadow without requiring much product, which is useful when attempting a somewhat minimalist makeup effect. For a brighter pop of color, start with a matte base of your favorite cool pastel and layer a thin layer of shimmer on top. You can use a translucent shimmer eyeshadow, a lightweight highlighter, or an eye gloss to get this effect.
Advertisement
Glazed eyeshadow with winged eyeliner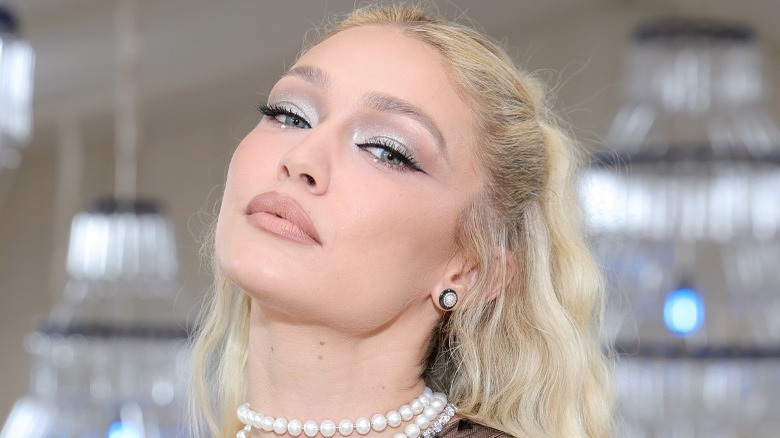 Kevin Mazur/mg23/Getty
Play up the drama of glazed eyeshadow with winged eyeliner. If you're looking for more definition than a pale iridescent shade provides, black liquid eyeliner is a great way to add structure to your eye makeup and give a flattering lift to your eyes. Gigi Hadid's Met Gala makeup offers an excellent example of how to pull off the soft shimmery vibe for an evening affair, pairing a dainty silver eyeshadow with an ultra-precise eyeliner wing.
Advertisement
Bronze glazed eyeshadow
If your coloring leans warm or you simply prefer warmer tones, you can also experiment with warm glazed eyeshadows. A bronze or copper base with a hint of green or gold sparkles gives you a beautiful, lowkey glazed effect that will leave some people wondering if your eyelids just have a natural glow. Keep the shimmer on the lid for a more subtle aesthetic, or bring it up to your brow bone to incorporate it into an uber-bronzed makeup look.
Advertisement
Add depth to your glazed eyeshadow
If you're worried about a plain glazed eyeshadow aesthetic looking too flat against your eyes, don't hesitate to use darker matte shades in the outer corner and crease of your eyelid. Depending on your eye shape and the level of pigmentation around your eyes, a dark neutral shade may be the contrast you need to give the glazed eyeshadow the dynamism you desire.
Advertisement
Monochrome glazed eyeshadow
When in doubt, stick to one shade for your glazed eyeshadow. Select a lightweight sparkly eyeshadow in a color that flatters you — matching warm or cool undertones is the easiest method, but you can also choose one of your favorite go-to shades. For the best results, prep your eyelids with an eyeshadow primer. However, some primers already have a little sparkle in them, like the Urban Decay Sin Eyeshadow Primer Potion. After prepping your eyelids, brush a smooth, thin layer of eyeshadow across your eyelid. The results are an effortlessly glowing, glazed eyeshadow.
Advertisement