'Double Bag Trend' Turns Having Too Much Stuff For One Purse Into Fashion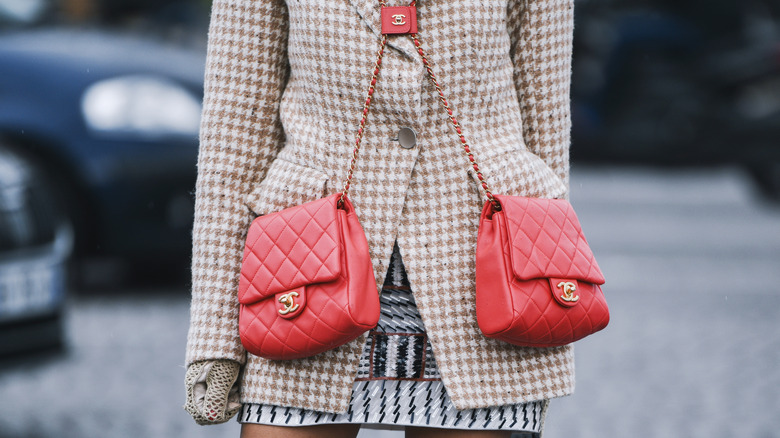 Creative Lab/Shutterstock
There's no denying that comfort has taken over the fashion industry. Previous handbag trends, like the micro purse trend, made it more important to cater to aesthetics rather than logistics. Thankfully, that's all changing, with practicality at the forefront of one of the newest handbag styles.
The "double bag" look may seem more chaotic than helpful, but it's certainly one way of solving the primary issue of not having enough space with just one handbag. Most fashionistas are pulling off the double bag aesthetic by purchasing a second bag, but you can definitely nail this trend with items that you already own. Alternatively, you could purchase one bag with two compartments, so it looks like you've got double the accessories for the price of one. 
Whichever way you go, this trend isn't as easy as picking up two bags and carrying them around with no thought. To look chic rather than over the top, you'll need to pick and choose the bags that complement each other, best match your look, and still carry everything you need with ease.
Crossbody and tote combo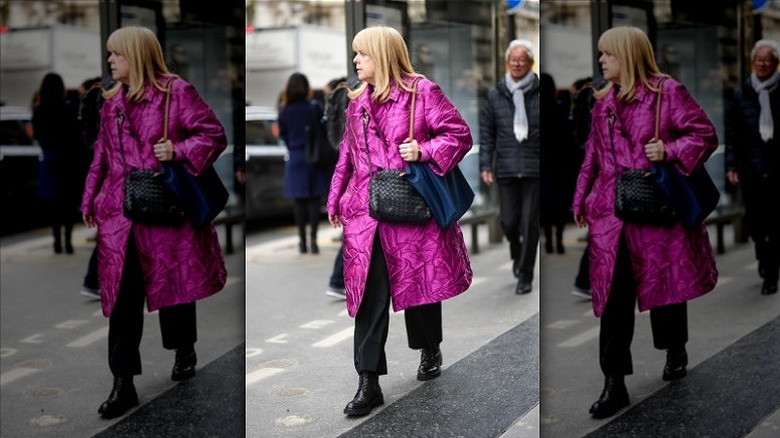 Edward Berthelot/Getty Images
You can't deny that both the crossbody and the giant purse or tote bag are two staples of the accessory world. Tote bags are your practical piece that can carry numerous items at once. However, the crossbody is the most versatile go-to bag to complete any outfit. Together, these accessories can give you a chic boss lady look that will have everyone wondering what meeting you're running into. 
Pair a tote with a phone bag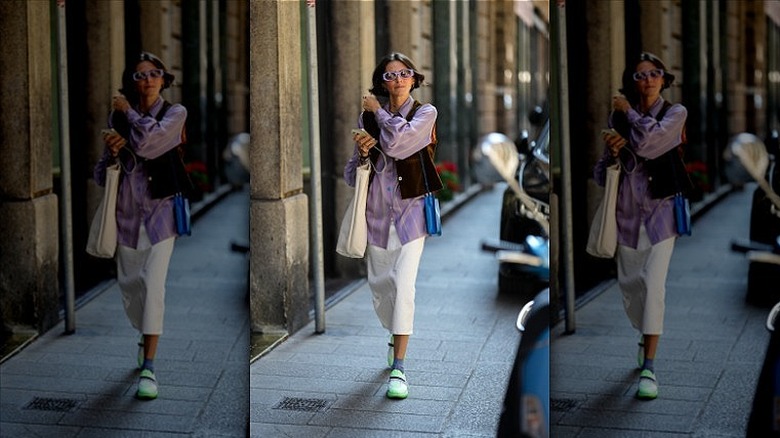 Edward Berthelot/Getty Images
We already know that a tote is a chic and practical bag that can hold all of your necessities. However, it's very easy to lose your most valuable item in the chaos — your phone. To solve this issue, the phone bag can be the perfect item to help you keep your phone close by without having to dig through all of your old receipts in your tote. 
Double bag design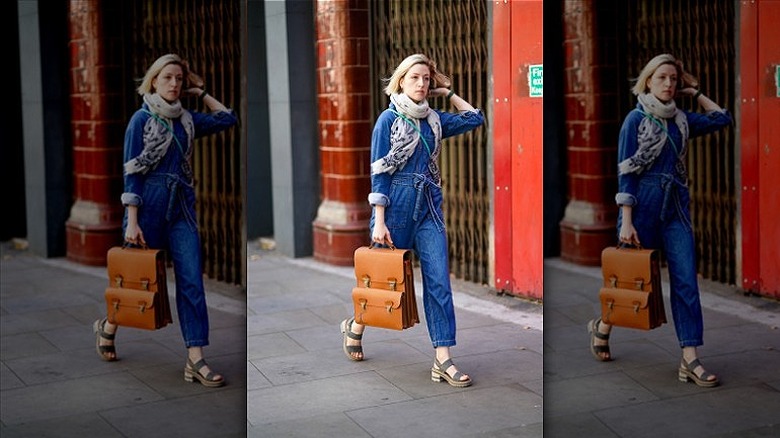 Edward Berthelot/Getty Images
There's no easier way of getting a double bag look than going with a bag that comes with two built-in pouches in one. These will typically have one bigger bag with a smaller bag attached in the front of the main piece. This is the perfect way to compartmentalize your items and keep everything organized. It can also make carrying two bags easier since they'll be connected by one handle.
Double bag vests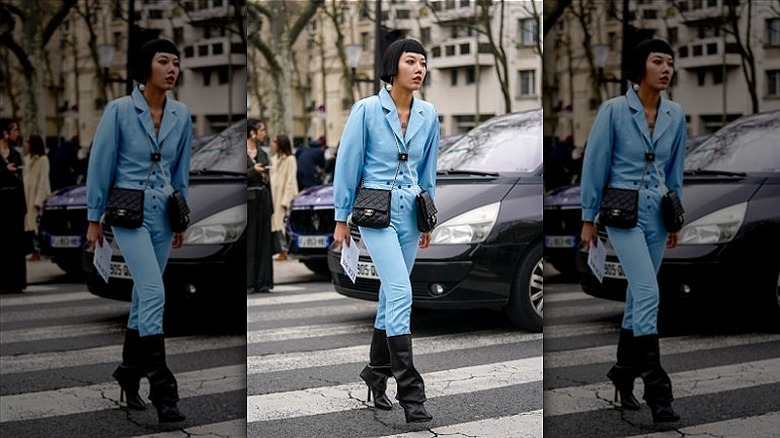 Edward Berthelot/Getty Images
Chanel is all over the double bag trend, having blessed the fashion world with "the double bag vest," a look which is made by wearing two crossbody bags like a vest. Wearing them together as one body chain, you get the practicality of two small pouches without the feeling of carrying two bags. Like the phone bag, this option keeps you hands-free and with all of your valuables nearby.
Wear a handbag with a net bag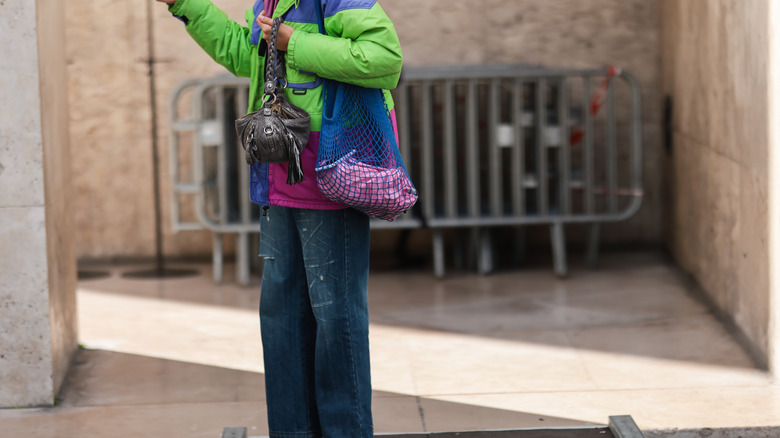 Jeremy Moeller/Getty Images
Mesh bags have taken the fashion industry by storm recently with their simplicity and lack of actual material. Made typically with organic material like straw, mesh bags have become staples for warmer weather vacations or simple errands that only involve your phone and keys. Although mesh bags are aesthetically gorgeous, they don't always offer the convenience and privacy of a handbag, so pairing these two pieces will fulfill your logistical needs while giving you your dreamy accessory.
Mix nylon carry bags and crossbody bags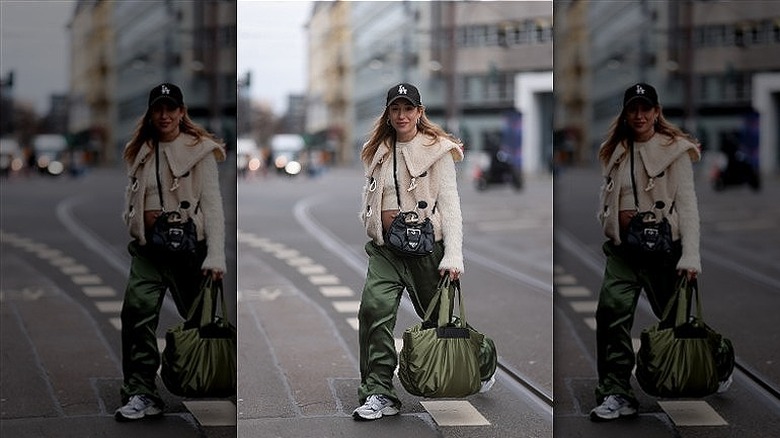 Jeremy Moeller/Getty Images
We might be used to seeing large nylon bags as part of our gym routines, but they're coming back to help give us more space for all of our day-to-day belongings. Instead of using nylon bags strictly for workouts or day trips, accept that they're also the perfect vessel for larger items you may need to carry regularly. Add a crossbody bag to keep your smaller items like your wallet, keys, and phone close to you.
Double shoulder bag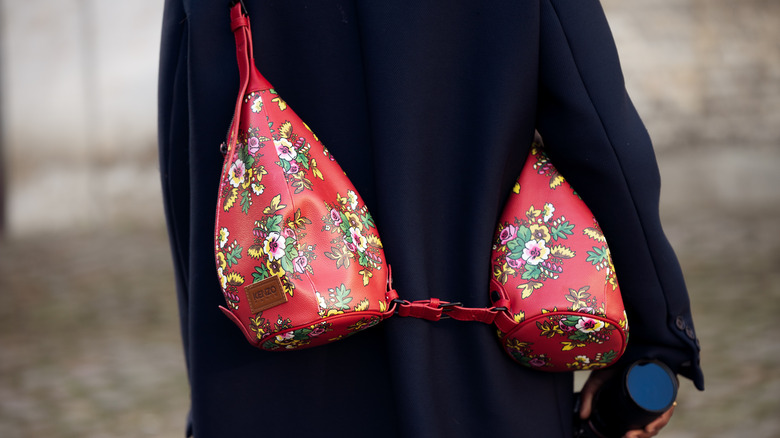 Raimonda Kulikauskiene/Getty Images
Just like the double bag vest, other designs keep your hands free with double the space. Many of these are worn like shoulder bags but contain two pouches instead of just one. With the extra space, you can fit more items in just one design. Besides the practicality, these unique pieces will add an unexpected twist to all of your looks.