17 Outdated Sandal Trends We're Bidding Adieu To This Summer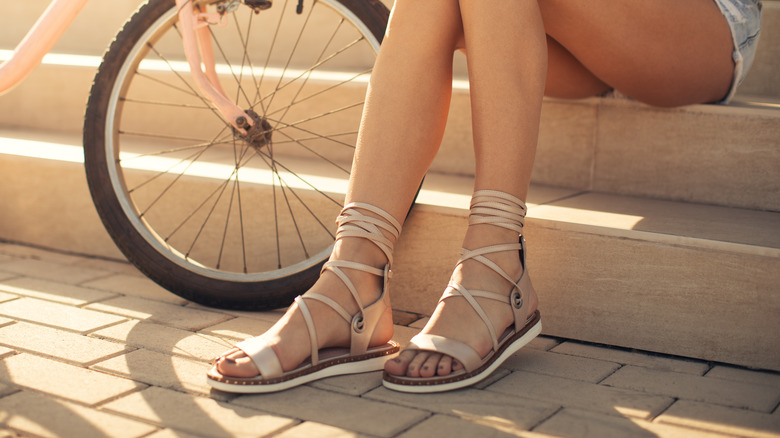 Miljko/Getty Images
Sandals might be the most popular shoes to wear during the summer season, but that doesn't mean you should be stuck wearing outdated sandal trends that aren't in style. Sandals that were all the rage last year and the year prior might not make the cut this time around.
Taking note of which sandal trends should be tossed aside might be easy based on what your favorite celebrities or influencers wear whenever they snap pics of themselves hitting the beach, spending the day by the pool, or simply running errands during their free time. But if you don't follow trends that closely, we're here to help.
The sandal trends that are totally fashionable right now include the versatile fisherman sandals, dad sandals, saturated slides, cut-out slide sandals, and crochet stitch sandals. You certainly have many options when it comes to picking out breathable footwear that will have you looking chic wherever you're headed in the hot summer heat. When it comes to outdated sandal trends, though, try to avoid any that aren't up to your standard by bidding them adieu.
Gladiator sandals
Gladiator sandals had their time to shine for several years. At first glance, they'll typically remind you of ancient Greece (hence, the sandals' name). In 2023, though, it's time to put them at the back of your closet, as this style is calming down in popularity. It's possible they'll rise in favor again someday in the future, but for now, it's alright to give them a break.
Clogs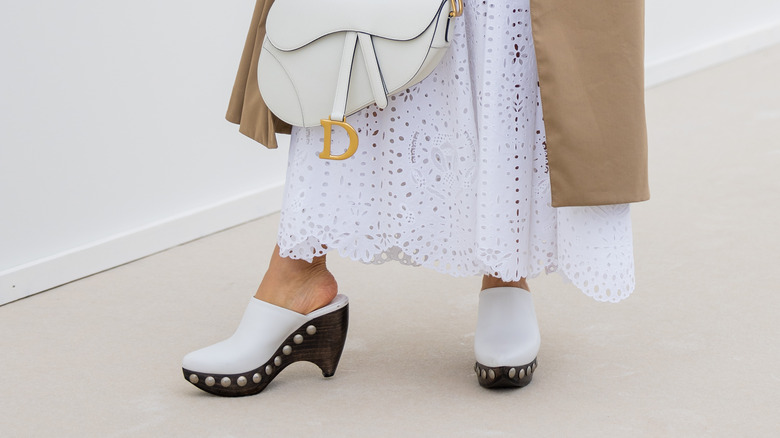 Christian Vierig/Getty Images
There's a lot of simplicity that comes along with wearing a basic pair of clogs during the summer season. Unfortunately, clogs might be a little too simple this summer compared to other options. If your heart is set on wearing simple shoes in hot weather, fisherman sandals and dad sandals are trendier alternatives.
T-strap sandals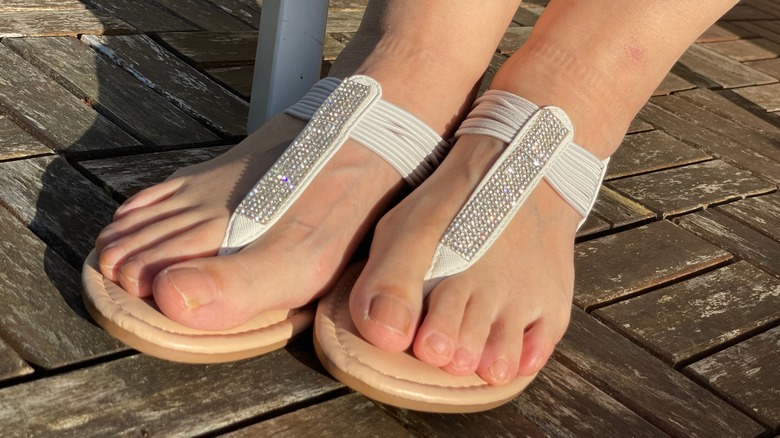 CB 3762 Studio/Shutterstock
T-strap sandals are designed to emulate the appearance of the letter "T" on top of your foot. T-strap sandals are outdated in 2023 because some would argue that they've been worn so many times that they just don't look special anymore. Sandals with different shapes and designs on top of your feet are way more interesting to admire.
Neon-colored sandals
It might be time to give neon accessories a rest when it comes to your fashion choices. For many, neon (as a whole) hasn't been the most appealing color scheme over the years. It can be incredibly obnoxious and visually loud. Tuck your neon sandals aside until it's time for a sprightly festival or eccentric concert.
Fuzz-padded sandals
Fuzz-padded sandals are pleasant to wear in theory but not so pleasant to wear in practice — especially during the sweaty summer months. When you wear your favorite pair of fuzz-padded sandals for too long, they quickly get filled with dirt and muck, making them less visually appealing than ever. Sandals will always stay cleaner-looking if they aren't padded with fuzz.
Crocs
If you forget to pack your favorite pair of Crocs for a beachside vacation, that wouldn't be the worst mistake in the world. Sure, Crocs have always been known for being incredibly comfortable. When it comes to how stylish they are, though, they've never been recognized for being aesthetically pleasing.
Velcro sandals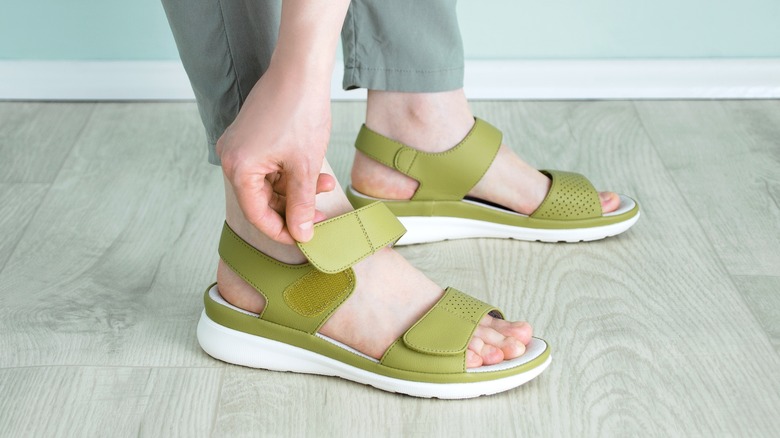 Yuliya Alekseeva/Shutterstock
Anyone looking to wear summer sandals that are easy to take off and on can depend on velcro sandals to make that happen. The main problem to look out for with Velcro sandals is that they're a tad outdated and err on the side of childlike. They can give elementary-school-kid vibes, even if you're an adult.
Excessively laced-up sandals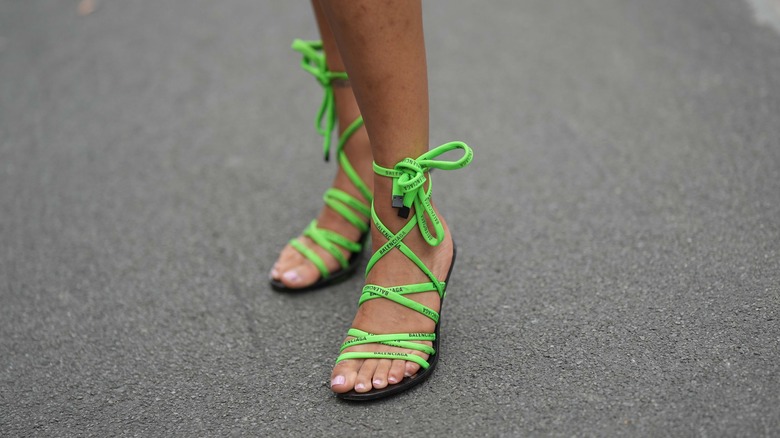 Edward Berthelot/Getty Images
Excessively laced-up sandals might look pretty cool at first glance, but they take too long to put on. This summer, we're seeing a major shift toward comfortability and practicality. When you're on your way out the door, lacing up your sandals would feel like an inconvenience — and your shoe choices shouldn't hinder your summer plans.
Leather sandals
No one is denying that leather sandals are out of style in terms of fashion. However, they're not the most comfortable shoes to wear in the heat since they'll make your feet feel a bit slippery once they start sweating in warmer temperatures. You may want to avoid leather sandals unless you want to slide around with each step.
Clear sandals
Clear sandals are versatile since they can go along with any outfit you wear, regardless of color. Still, fashionistas have sported this summer sandal for the last decade, and we're seeing it drop significantly this summer. They'll likely pop back up in popularity in the future, so don't toss them in the donation bin just yet.
Animal print sandals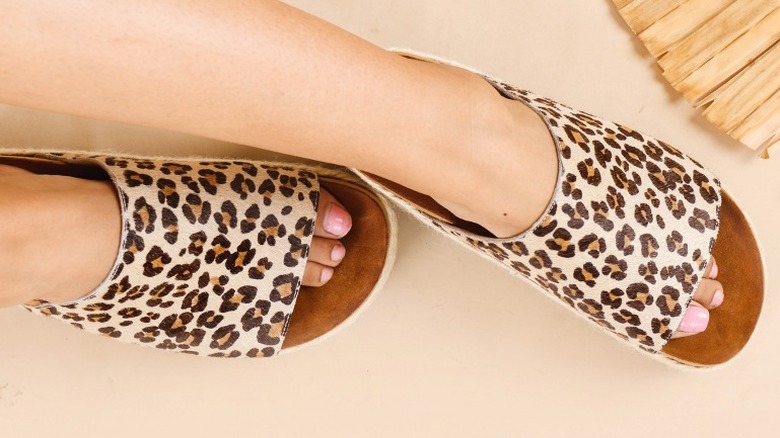 Wirestock/Getty Images
In the same way you might be second-guessing your desire to wear an animal print miniskirt to a club, animal print sandals aren't super trendy this summer. While animal print accessories can look fierce in some cases, they have the potential to look tacky in others if not styled correctly. If you're looking to incorporate print into your wardrobe, reach for a fashion-forward floral print sandal instead.
Overly embellished sandals
Overly embellished sandals are no longer in style in 2023. Instead, we're seeing a more relaxed shoewear vibe hit the spotlight. When the embellished detailing of your sandals starts falling apart or rubbing off with each step, these sandals can leave you looking unpresentable. The more decorated your sandals are, the more at risk you are for dealing with missing gems, rhinestones, and crystals.
Platform flip-flops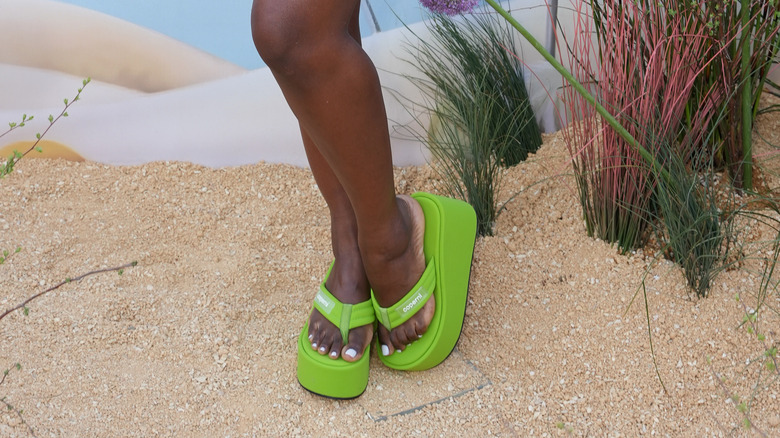 Gonzalo Marroquin/Getty Images
Platform flip-flops were all the rage for several summers in a row, but it's time for them to take a backseat for a bit. Despite the fact that you might think platform flip-flops are super cute, they're rarely ever comfortable enough to wear long-term. Getting stuck in a pair of these on the beachside trek is a nightmare.
Cork sole sandals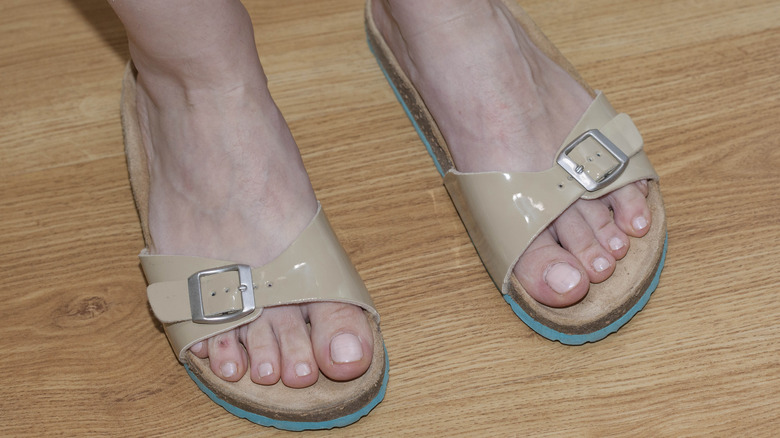 OKcamera/Shutterstock
Cork sole sandals had their moment in the spotlight within the last few years, but this year, the style is taking a huge halt. A major factor you have to consider with these shoes is the comfortability factor. While cork sole sandals are pleasant on cooler days, when your feet sweat in the summer months, an imprint of your feet gets stuck in the cork sole top for everyone to see whenever you slide out of the sandals (it's usually never a pretty sight).
Closed-toe sandals
Megan Betteridge/Shutterstock
The closed-toe sandal has its place, but this summer, we're bidding farewell for the simple fact that they create missed opportunities for you to show off that at-home salon-worthy pedicure you've perfected. During summertime, making sure your pedicure is always on point is crucial to those who care about putting their best foot forward.
Micro-wedge sandals
If you're going to be rocking wedge sandals, make sure the wedges on your sandals are substantial enough to stand out as you strut around. Micro-wedge sandals missed the mark this summer since they're not tall enough to give you extra height and are not flat enough to fit the trendy comfortable vibe this season.
Basic thongs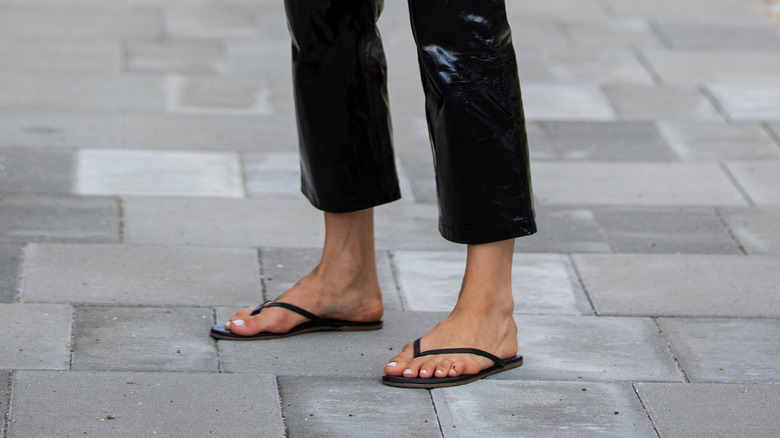 Christian Vierig/Getty Images
What can we say? Basic thongs are boring compared to alternative options. You'll have more fun wearing sandals that actually make a fashion statement than you'll ever have when you wear a pair of basic thongs. Think of your basic thongs as a last resort for footwear choices this summer.