Viral 'Wrong-Shoe Theory' Is The Simplest Way To Make Outfits Instantly Cooler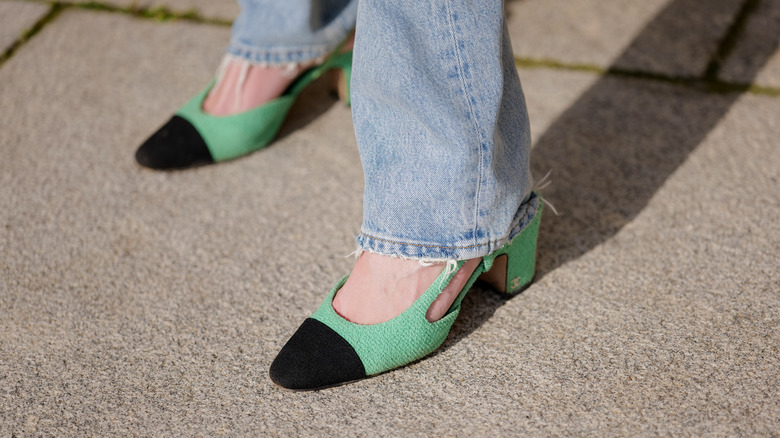 Edward Berthelot/Getty Images
Ever wanted to do something out-of-the-box, or the opposite of what everyone else expected? This reflects a desire to stand out from the crowd and assert our individuality. And while dress can be used to show we belong to a certain group, there are times we use it to express our uniqueness. This is what the "wrong-shoe theory," which was created by stylist Allison Bornstein, is all about. What's more, Tiktok content creator Toiby vouches for the theory, opting for the unexpected shoe choice when assembling her outfits. Instead of wearing a shoe that feels like the "correct choice", says the influencer, she enjoys "subverting" expectations and going with a shoe in a "different genre" to make her outfit more interesting and "dynamic."
It isn't surprising that the 'wrong-shoe theory' has gained steam — given the wider countercultural move towards non-traditional, high-end styling. A number of influential fashion brands have popularized the "ugly" fashion movement which draws inspiration from street style and youth culture and is said to be a type of "parody" on glamour (via Textile & Leather Review). Likewise, Joanne Entwistle, author of The Fashioned Body, says youth subcultures are savvy at influencing their group to adopt certain styles of dress, often "subverting the meaning" of the clothing in the mainstream. So, if wearing the wrong shoe choice appeals to your subversive creativity, check out different ways of styling "wrong-shoe" clothes combos.
Rugged boots with a summer dress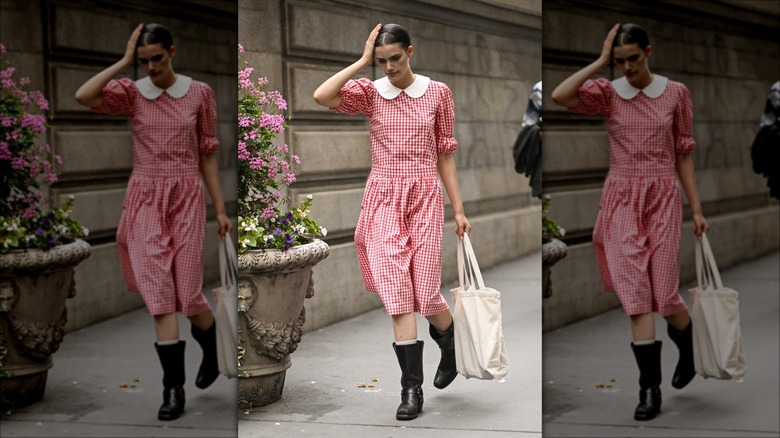 Daniel Zuchnik/Getty Images
Typically a gingham patterned summer dress with a peter-pan neckline conjures up images of sophistication and romance. It's perfect paired with a dainty ballet flat, or a chic kitten-heeled mule. But if you're not looking for perfect, and want to give the look a good dose of unrefined energy, try a rugged boot. It breaks up the pretty and makes it more practical.
Sneakers with a fancy frock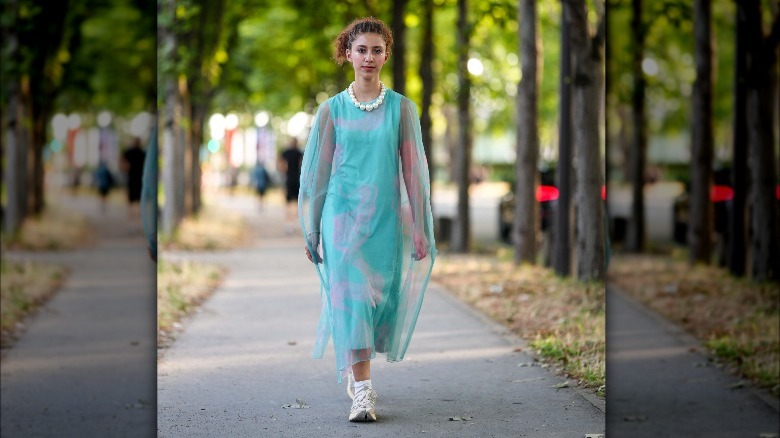 Edward Berthelot/Getty Images
Heels and fancy dresses are meant for each other. But sneakers have since elevated. Once relegated to locker rooms and outdoor hikes, sneakers can now be spotted in formal settings. Worn with a formal dress, the athletic shoe gives to-and-from-the office vibes, popularized by professional women in the 80's. They're comfortable, and infuse formal wear with a cool, urban aesthetic.
High-heeled open-toe strappy sandals with ankle socks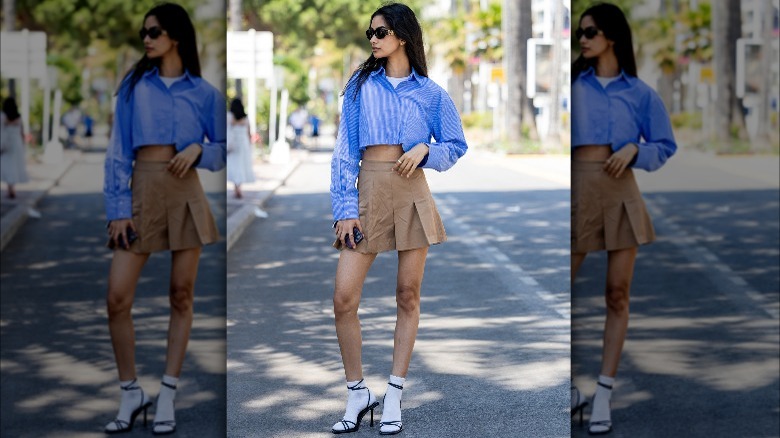 Christian Vierig/Getty Images
Wearing ankles socks with open toe shoes used to be a definite "don't" back when "dos and dont's" were a thing. Instead, it is much more fitting to wear loafers or some other 'sensible' shoe with ankle socks and a preppy-inspired ensemble. But pairing the look with sexy strappy open-toe sandals takes the look in a whole other direction. The allure is echoed by the pleated miniskirt and buttoned-down cropped top.
Pointy-toe mules with baggy jeans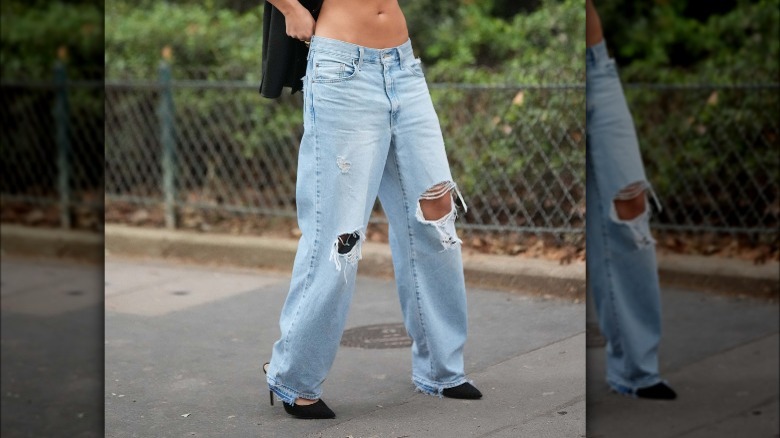 Edward Berthelot/Getty Images
If baggy jeans makes you think of basketball sneakers and baseball caps, you're not alone. But pairing oversized, ripped jeans with pointy-toe mules adds a little elegance to street-inspired gear. One way to make the look less discordant is to pair it with another formal element. The black blazer synchronizes the heels with the baggy jeans.
Loafers with bike shorts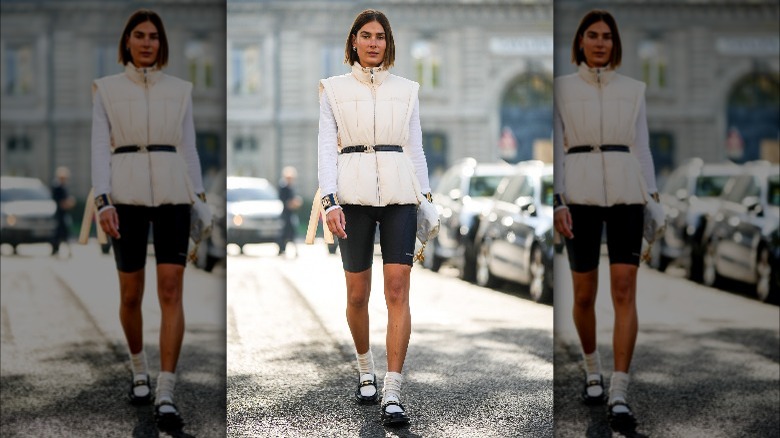 Edward Berthelot/Getty Images
Bike shorts, the ultimate athletic wear, are usually worn with sneakers. But since these knicks crossed over to day and evening looks, they've been paired with a wider variety of shoe styles, like heels and strappy sandals. However, loafers, a minimal, preppy shoe as mentioned above, adds a refined look to these dare-to-wear shorts. With a belted puffy vest and chain strap bag, the bike shorts and loafers combo creates a modern, downtown look.