'Faux Perm': The Hair Trend Taking Volume To The Next Level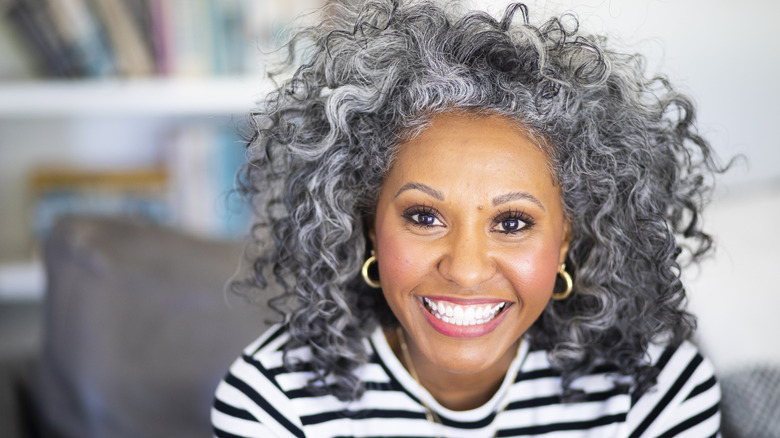 Adamkaz/Getty Images
Curls are having a moment right now. They were popular in the '80s and have since found a place in the world of contemporary beauty. There are many different types of curls, including beach waves, loose curls, and ringlets, and they look great on hair of any length, thickness, or color. People are also embracing the natural changes in hair color that come with aging, including silver, gray, and white. Overall, natural looks are driving the trends in hair styling these days.
As more people accept their curly hair, others are interested in trying curls even if their natural strands are straight. Maybe you don't want curls yet, but you'd like your wavy or textured hair to look fuller. No matter what makes you desire bouncy curls and volume, you can use a "fake perm" to achieve it. Think of the approach as your "Hairy Godmother."
There are many ways to try out curly hair before fully committing. You might like these "fake" methods so much that you won't need to use the chemical-heavy process of real perms, which can have side effects like hair loss and damage to the scalp, according to WebMD. So why not avoid these scary outcomes and go chemical-free with one of the many fake perm options?
Clip-less curling wands give you a full day of fuller curls
Achieving a faux perm at home is much easier than it may seem. You can even involve a friend for a fun and entertaining experience. One way to achieve temporary curls is to use a clip-less curling wand to create the desired effect, whether it be tight ringlets or voluminous waves. This method can last for up to a full day if you care for your curls throughout the timeframe.
Protecting your hair is a priority when attempting this at-home salon endeavor. Purchase quality heat protectant and curling serum to avoid damaging your tresses. Applying volumizing mousse to wet strands and partially drying it with a heated blow dryer can also help achieve the desired fullness.
When you are ready to start curling, a clip-less wand is the easiest and quickest tool to use. If you are new to the tool, wear protective gloves or sleeves as the lack of a clip can make the wand unruly and easily slip. Avoid using chemical-ridden hairsprays, as they can cause crusty buildup on your hair. Instead, use keratin spray to maintain the integrity of your curls and the strength of your strands.
Heatless overnight curlers are low maintenance
If you prefer low-maintenance routines or just need a few extra minutes in your day, heatless overnight curlers, which are sometimes called bendy rods because of their bendable nature beneath the silk or satin overlay of fabric, are a great option.
Start with damp hair the night before and pull out your set of heatless rollers. Then, spiral your hair around the tool until you're satisfied. As you reach the end of your hair or your desired curl placement, use scrunchies to secure the bendy rods into place. Finally, wrap your head in a towel or overnight scarf before heading to bed.
To make your curls look even better, apply curl-enhancing cream, serum, or volumizing mousse before winding your hair around the rods. In the morning, carefully remove the styling tool and reveal your crisp corkscrew curls. For beach waves, use your fingers to gently loosen the curls or run a brush through your hair for looser, fuller locks.
You can also create heatless faux perm styling using other heat-avoidant means, such as velcro hair rollers or curl-enhancing products like curl mousse and Argan oil-based hair perming cream. Just be careful not to apply too much curl-enhancing cream or mousse, which can make your hair overly oily.
Crimp and curl combinations for lookalike perm ringlets
Achieving a look that is more in line with authentic perms from the '80s can be done through a dual-tool faux perm process. While clip-less curling irons and overnight heatless curlers require only one product to produce results resembling a perm, TikTok user stone.cold.dankrupt shared a hack that gives more variation and texture to her faux perm than single-tool processes provide.
To create the hairstyle, she used a crimper and a single-barrel curler. To get the same look, first, divide your hair into sections and then divide each section into small segments about an inch long. Then, use the crimper on a one-inch section of hair and the barrel curler on the next inch-long section, alternating between the two tools until all sections are curled or crimped in an alternating pattern. The end result is a mix of curly and wavy textures reminiscent of the '80s.
Pin curls carry class and historical significance
Talking about perms often reminds us of the '80s, a time when people would rollerblade and wear colorful exercise leotards. During this period, permed hair was very popular and was often styled loosely with colorful scrunchies, which are also making a comeback in today's hair fashion. However, before the Jazzercise workout sessions were sold on VHS tapes, the first half of the 20th century saw a shortage of resources, materials, and goods. As a result, hair styling became low-maintenance and relied mostly on hairpins to create what is now known as pin curls. Pin curls are suitable for all lengths of hair and are a better choice than barrel curlers, including the triple barrel wave tool, for short hair.
To create pin curls, all you need is a set of hair clips, such as bobby pins or sectioning clips, and then you're ready to roll – pun intended! Begin by applying a conditioning curl-setting spray or serum throughout your hair. Comb out any knots, and then partition your hair into the width of your desired curls. In a true DIY manner, curl your hair entirely on your own by swirling strands with your finger or a guiding tool. Then, at the base of the rolled hair, clip the curls at your roots. Keep the curls in place overnight, for several hours while you relax on a weekend afternoon, or for your preferred duration.