Satin Pants Are The Cool-Girl Way To Keep It Light In The Summer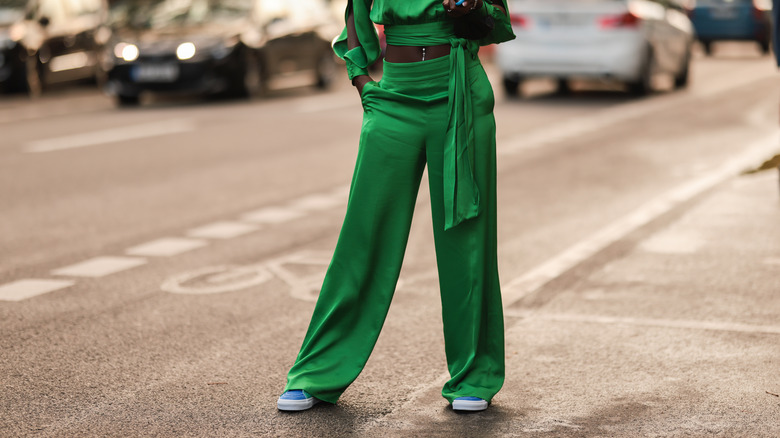 Jeremy Moeller/Getty Images
If you're looking to dress up in the summer, you can't go wrong with a little bit of satin. While we already know that fabrics like linen and poplin offer sophistication and lightness, satin provides something different: shine. Satin is a beautiful fabric that looks and feels luxurious, no matter how you wear or style it. Adding it to your outfit in the summer is a must if you want to feel dressed up without having to pile on more layers. The benefit of satin is that it's generally lightweight, meaning you won't sweat as much under pieces made from it. While there are many ways to wear satin, you can't go wrong with a pair of satin pants for your summer wardrobe.
Not only are many satin pants breathable and airy, but they can also pair with almost any top or blouse. These versatile pieces come in various designs, making them easy-to-style options that will work in most wardrobes. Although shorts and skirts reign supreme in the summer, sometimes you need something that provides more coverage. This is especially true if you're planning to attend summer formal events. Satin pants cover all the bases and can easily transform from chic daytime pieces to stylish nighttime items.
High-waisted satin pants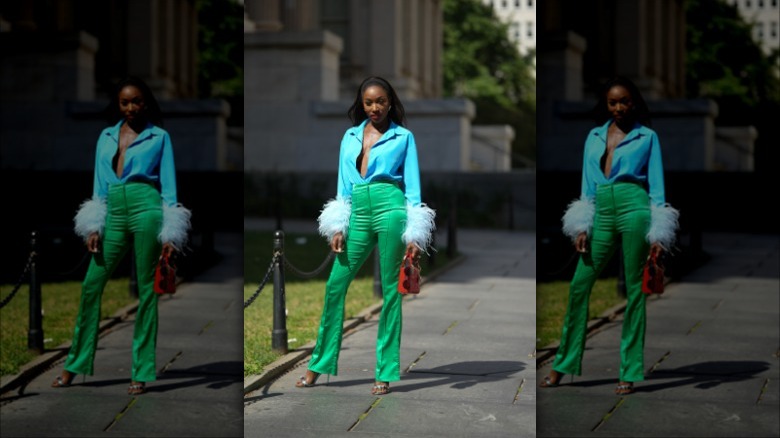 Edward Berthelot/Getty Images
Although low-waisted pants are currently having their "it-girl" moment in fashion, there's something to be said about pants with a high waist. They give the illusion of longer legs and a sleek, modern look. Adding satin fabric turns them into the perfect formal piece for all your summer events. Moreover, since satin is a lightweight material, you can stay fresh and cool during those events.
Satin cargo pants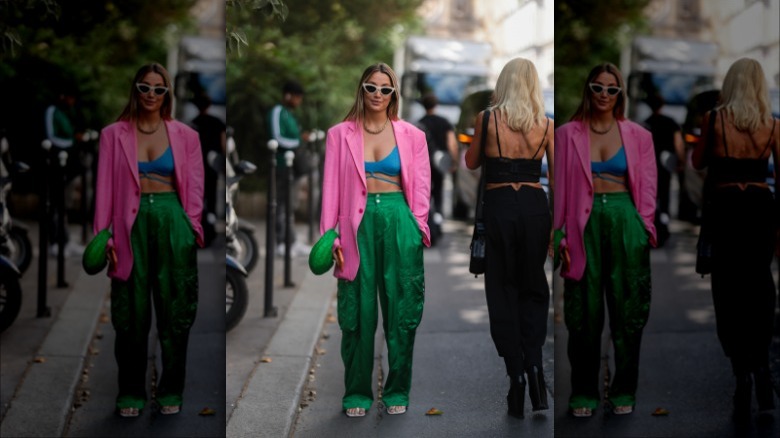 Jeremy Moeller/Getty Images
Cargo pants are another trending style taking over the summer season. Instead of opting for typical cargo shorts, add some shine to your bottoms. Cargo satin pants are a unique blend of silky fabric and a more masculine design, making them ideal for a fashion statement. These two factors also make them a perfect piece to have in your wardrobe, whether dressing up or down.
Printed satin pants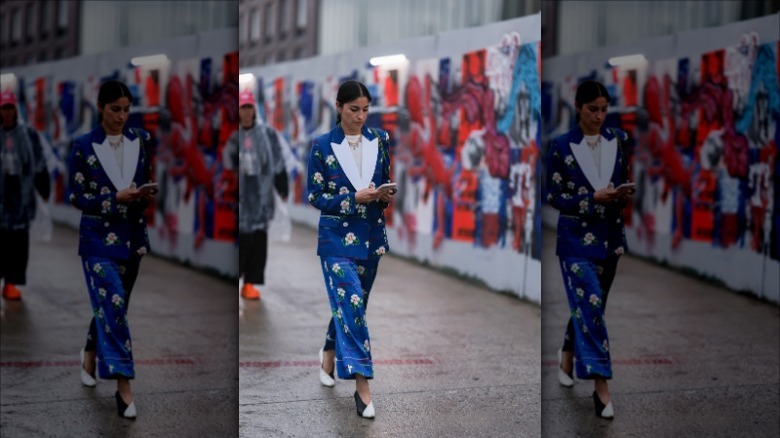 Jeremy Moeller/Getty Images
Prints are everywhere during the summer season, as they offer an easy way to incorporate a fun and bold element into your outfit. Printed satin pants are particularly exciting, as they provide a high shine to an already eye-catching pair of pants. A fun print on satin pants can give you a unique look and add more flash to your bottoms. Although satin pants are amazing on their own, going with a print can infuse your overall vibe with more personality.
Neutral satin pants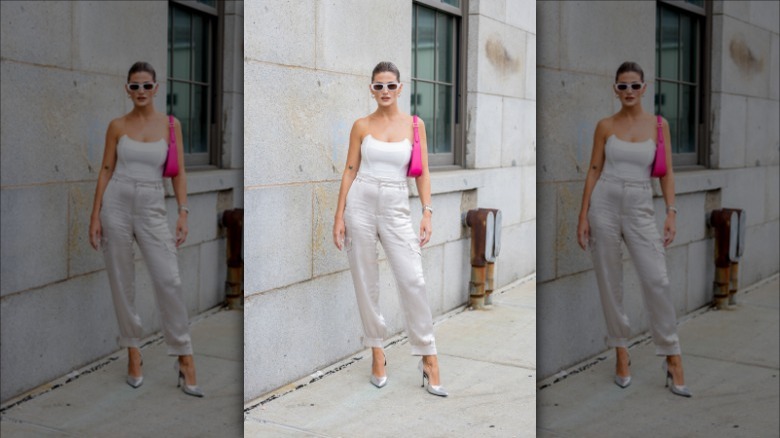 Christian Vierig/Getty Images
While wearing bold colors and designs can be fun, neutrals are currently in style for summer. Trends like summer whites and summer blacks are taking over because they maintain a sleek and modern look in the heat. Since we already know that satin can keep you cooler during the warmer months, pair it with a fresh neutral color. Any monochrome neutral outfit with a pair of satin pants will provide a different texture that will radiate under the summer sun.
Baggy satin pants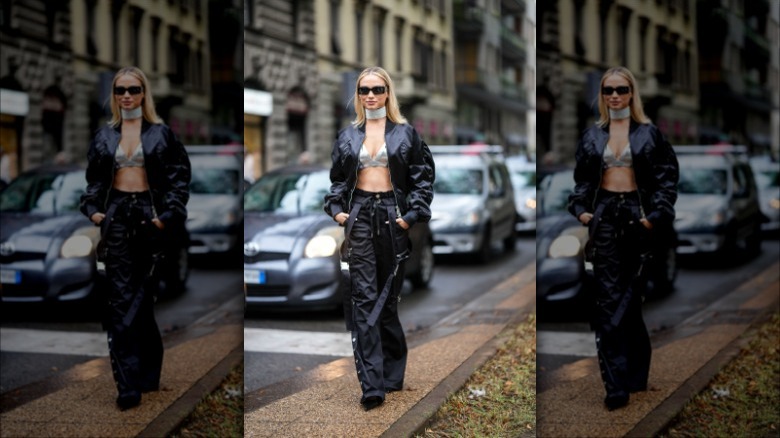 Edward Berthelot/Getty Images
As baggy pants supplant skinny jeans, don't miss out on the trend with your satin pants. While form-fitting satin pants can still look chic, an oversized, baggy pair will give you a laid-back, luxurious feel. Baggy satin pants are an easy way to create the illusion of being on a tropical vacation, even if you aren't. With this relaxed fit, you can create carefree yet stylish looks all summer long.
Distressed satin pants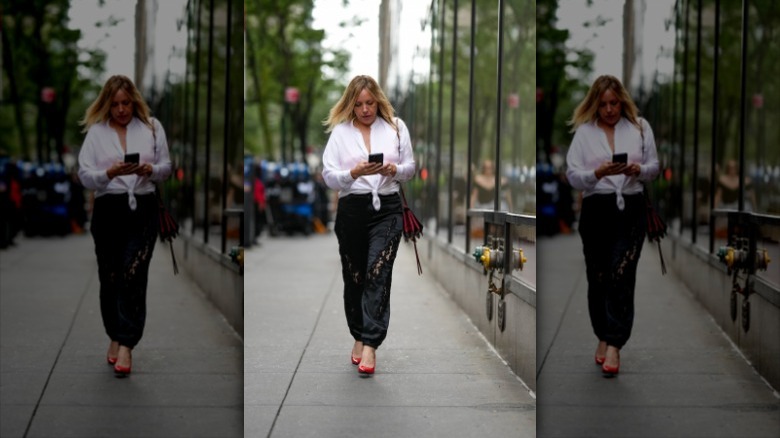 Edward Berthelot/Getty Images
Although we are accustomed to seeing satin in its pure form on pants, you can add accents and details to make it pop. Distressed detailing on satin is usually unheard of due to the delicate fabric, but it is completely possible. Satin distressed pants offer a lightweight, wearable fabric with the same feeling as distressed denim jeans. Unlike most satin looks, these pants provide an edge and a less feminine feel to your outfit.
Bold satin pants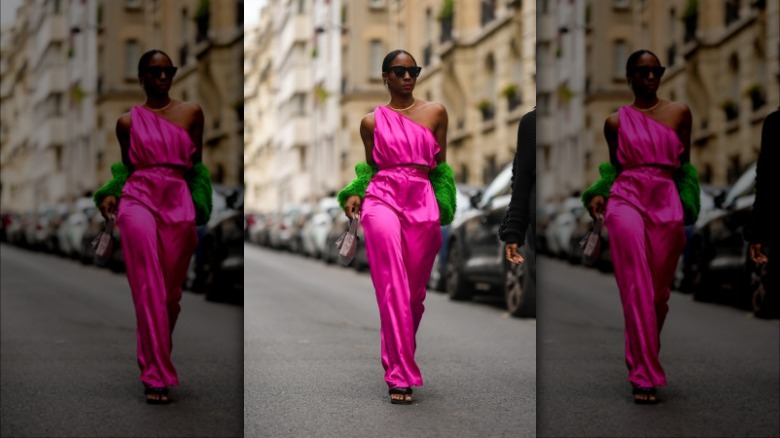 Edward Berthelot/Getty Images
Incorporating bold colors or designs is essential for a summer wardrobe. Satin pants are a great way to add touches of neon or vivid shades to make your ensemble shine. When paired with a bright tone, satin makes it pop even more, giving it a shinier and more luxurious appearance. If you're hesitant about wearing a bold color in the summer, satin pants can elevate your look and give it a sophisticated element.