Underrated Halter Tops Are Perfect For Elevating Your Warm-Weather Vibe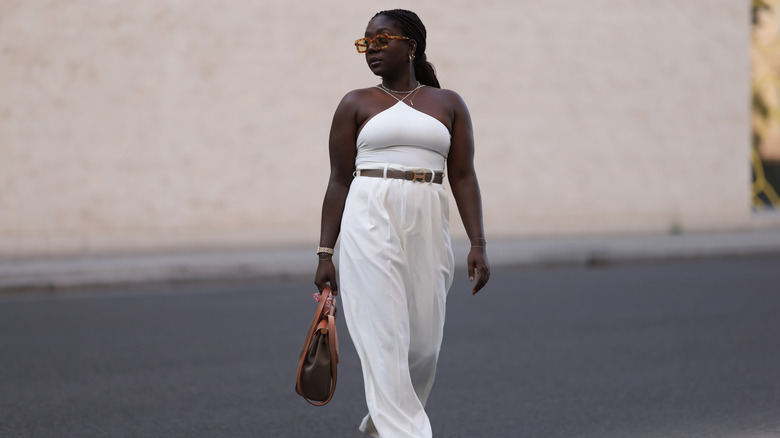 Jeremy Moeller/Getty Images
Halter tops, generally shirts with straps wrapped around the neck, have been a wardrobe staple for decades. They were all the rage in the '60s and '70s during the Youthquake and Civil Rights Movements when rigidity and stuffy undergarments were on their way out, and a "new informality" moved its way in (via Encyclopedia.com). Halters reflected the in-your-face casual, comfy, cool of that era, and still evoke those same feel-good vibes today.
Since fashion has a way of capturing the mood or spirit of the time, it's not surprising that halters have been popping up on our radar again when we've become even more relaxed in our dress (hello wearing pajamas as streetwear), particularly since the pandemic (via the McKinsey Podcast). Of course not all fashion is adopted by everyone, and you may be pleased to know that halters have since diversified. So if you're looking for a halter that captures your unique look and attitude, we've got your halter round-up.
Criss-cross halter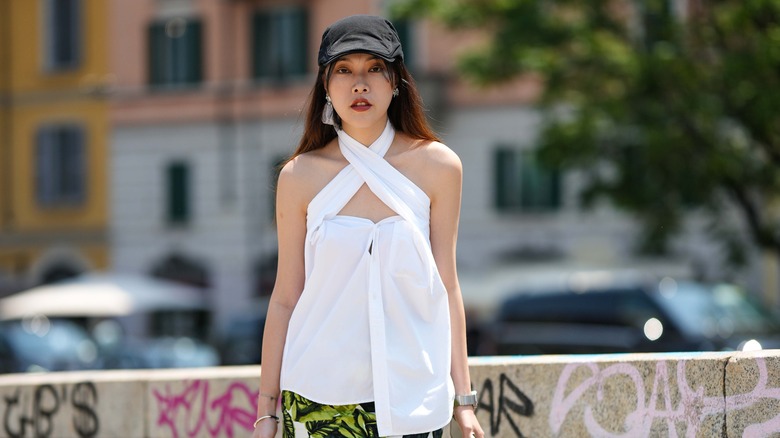 Edward Berthelot/Getty Images
Criss-cross halter tops come in a variety of looks to keep us fresh and fanciable during the hottest months. And a crisp, blousy buttoned-down style is great for both day and evening looks. Paired with a blazer, the look is more refined. With a baseball hat and a few buttons undone, it gives quirky street style.
Collared halter vest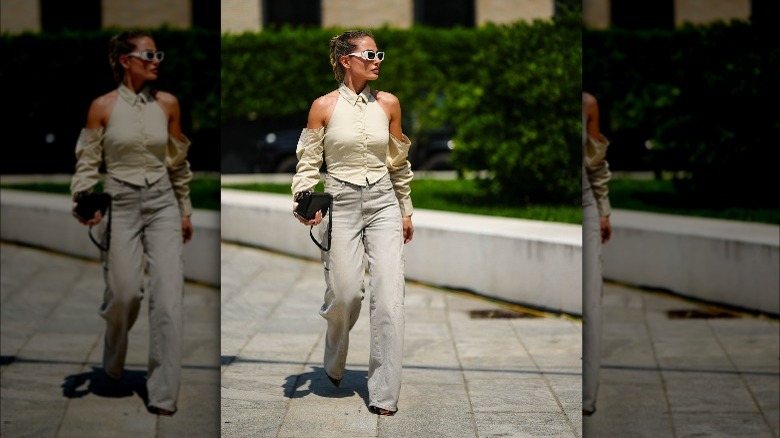 Edward Berthelot/Getty Images
Halter vests had a moment in the '90s, and now feel fresh again thanks to the popularity of vintage fashion. With a collar, the halter vest is an alluring take on a classic collared shirt. Wear with matching pants for a polished look, or with jeans for a casual one. And if you're looking for a little extra drama, pair it with unattached sleeves.
Draped halter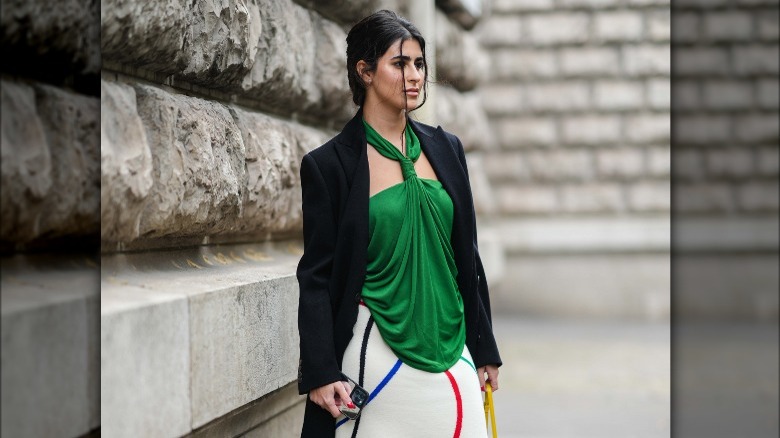 Edward Berthelot/Getty Images
Halter tops with draping add a dose of luxuriousness to your outfit. The knotted neck straps feel substantial, and when worn with a blazer, it gives the look of cut-outs. If you're open to a closely related style, try a scarf halter top. For a DIY version, tie a long panel of fabric around you to fit like a halter, and let the ends hang in a dramatic draping fashion.
High-collared halter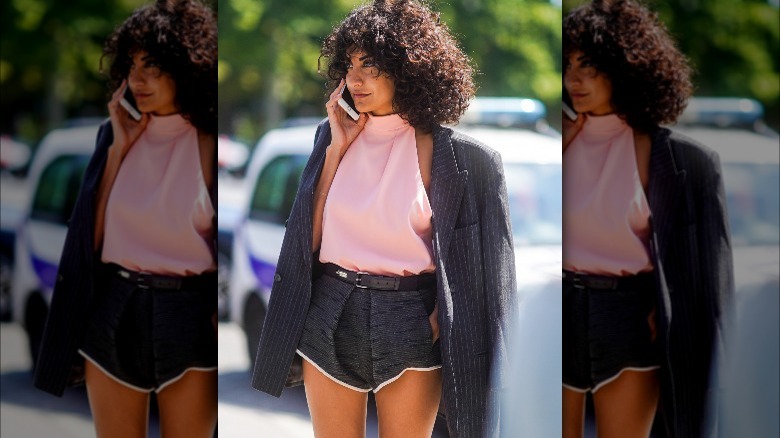 Edward Berthelot/Getty Images
High-collared halters give modest in the front and sultry in the back, and may be particularly appealing to those looking for a little extra cleavage coverage. A looser high-collared top with pleated shorts looks smart. Meanwhile, an oversized blazer plays up the proportions, and offers a peek-a-boo glimpse at the halter underneath.
Asymmetrical halter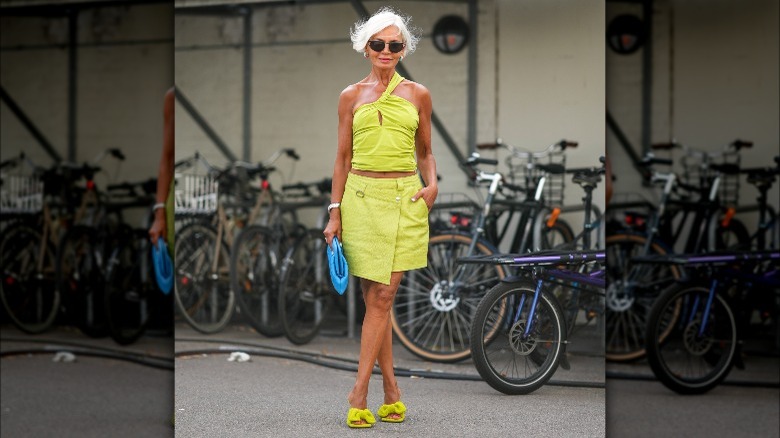 Edward Berthelot/Getty Images
An asymmetrical halter is a refreshing take on a traditional halter top. It functions like a tube top with extra support and a little more interest. Wearing it with an all-matching ensemble is a throwback look that feels modern again. And in all lime, it's sure to make your halter pop.
Sweater halter top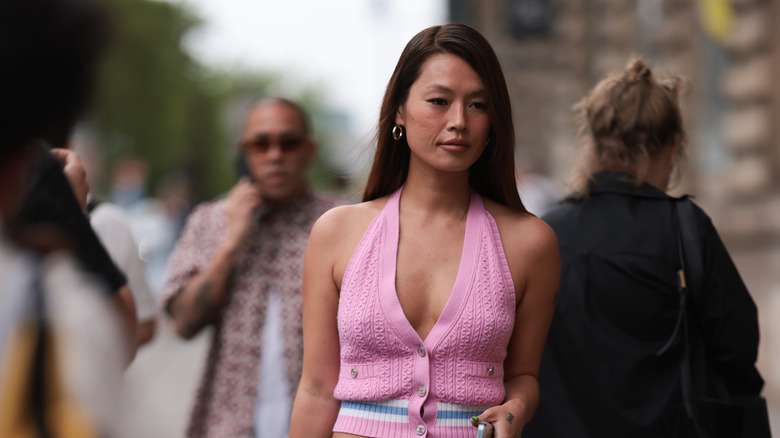 Jeremy Moeller/Getty Images
A sweater halter gives your strappy top a preppy vibe. Worn alone, it feels saucy, and when layered over a shirt, it continues to create an attractive silhouette. In fact, when you layer any top under a halter, it gives a hint of allure as the halter outline remains visible.
Plunge neckline halter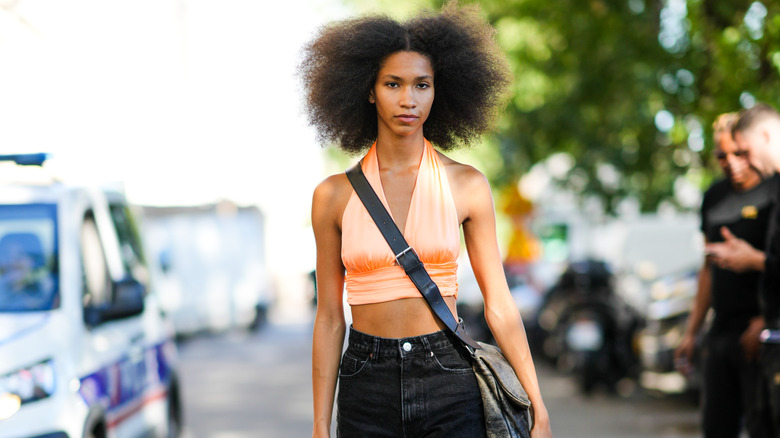 Edward Berthelot/Getty Images
A classic plunging neckline halter feels glamorous, particularly when it's silk or satin. Wear it cropped if you care to show a little extra skin, and possibly some belly jewels. If you want to give lounger vibes, wear the halter with jeans or a long skirt, and an over-the-shoulder satchel.
Peplum halter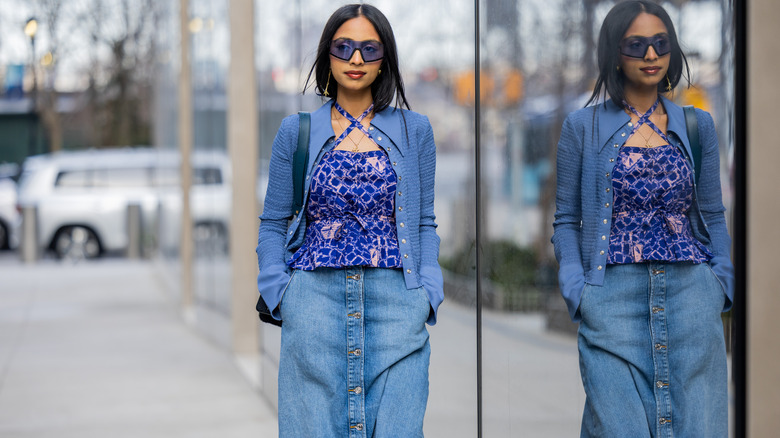 Christian Vierig/Getty Images
If you're looking for a little extra flirtiness, try a peplum halter. With both criss-cross straps and a peplum, the halter has increased styling potential. Details like a thin necklace underneath make the straps feel like less of a thing, and more easy-going. Pairing the halter with a long jean skirt gives the outfit an artsy look. You can also accentuate the straps and peplum by adding a sweater to give it even more of a cheeky feel.