Jewelry On Swimsuits: The Summer Trend Giving Goddess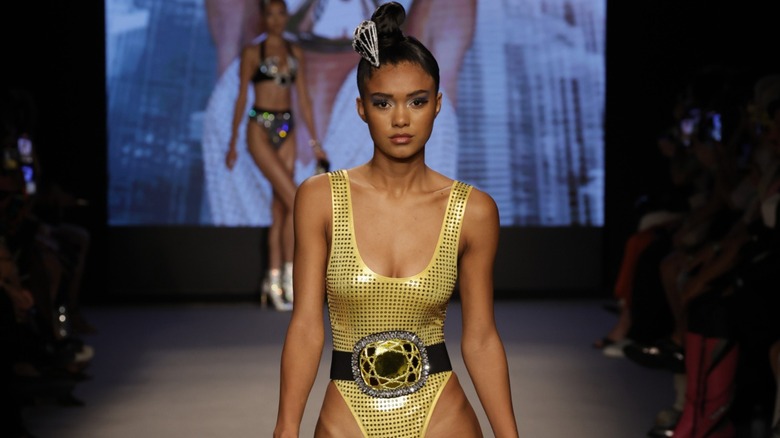 Frazer Harrison/Getty Images
Swimsuit trends tend to repeat each year. However, this summer, maximalist swimsuits are making a huge splash with a relatively unexpected new style. Jewelry is the answer for those looking to add some glamor and shine to their swimsuits, without having to get too out of their comfort zone. 
Although jewelry can mean anything from bracelets to rings, there are plenty of jewelry components you can look for to come as part of your next swimsuit. From metal detail to incorporated gems, there are a lot of jewelry aspects that can add flair to your typical beach style without requiring you to purchase extra accessories.
Jewelry on swimsuits is the perfect way of ensuring that even our beachwear looks as fabulous as our daytime outfits. If you're searching for something that screams high fashion, even at the pool, you can't miss the opportunity to add some bling to your swimsuit. And if you're not on board for eccentric swim looks, there are plenty of ways to make this trend sleek and modern.
Pierced swimsuits
If there's one piece that has embraced jewelry-infused beachwear, it's the pierced swimsuit. These swim garments aren't as wild as one may think, but they do give an extra dazzling touch to a classic design. Pierced swimsuits are typically one-piece suits that contain cut-outs, and are adorned with piercings. Mimicking that nose ring or ear piercing, these swimsuits are both fun and edgy. 
Subtle metal details
If mixing metal and swimwear isn't quite up your alley, you don't need to dive deep to rock this trend. Subtle metallic details in the straps or added accents are the perfect way of adding some metalwork to your beach look. These details can come in many forms, like gold or silver accents, or chain straps. Small but statement-making, these additions give your swimsuit an extra dazzle you can't get with more basic styles.
Chain straps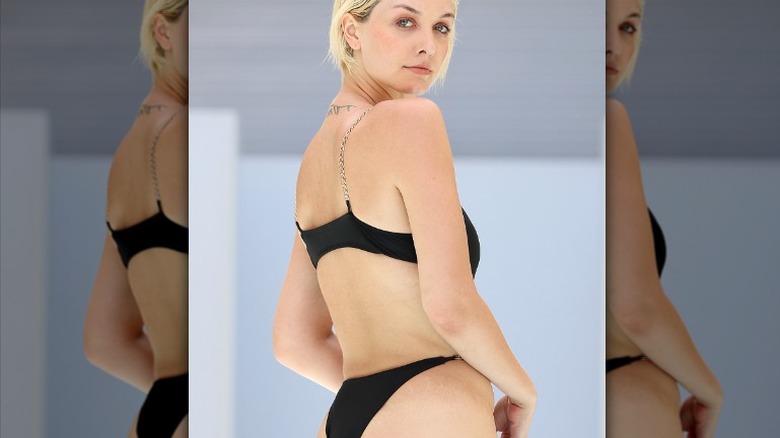 John Parra/Getty Images
Swimsuit straps made out of metal might not make for the most comfortable swimming experience, but there's no denying that this is an edgy and creative way to add some bling to your beach 'fit. These glitzy and glamorous accents are an easy way of creating a high-fashion moment in the warm weather.
Waist chain swimsuits
Waist chains are the perfect Y2K accessory to add to any look, including your swimsuit. While they may seem more like eccentric belts on your one-pieces, a waist chain is the perfect jewelry piece to give your swimsuit a more glamorous moment. These waist chains will typically come attached to your swimsuit, making it less likely they'll fall off in the pool or ocean. Even if they don't, you can easily add this accessory to any existing swimsuit you already own. Not only are these pieces a hot trend, but they also add some shine and a gorgeous retro touch to your swimsuit.
Bedazzled swimsuits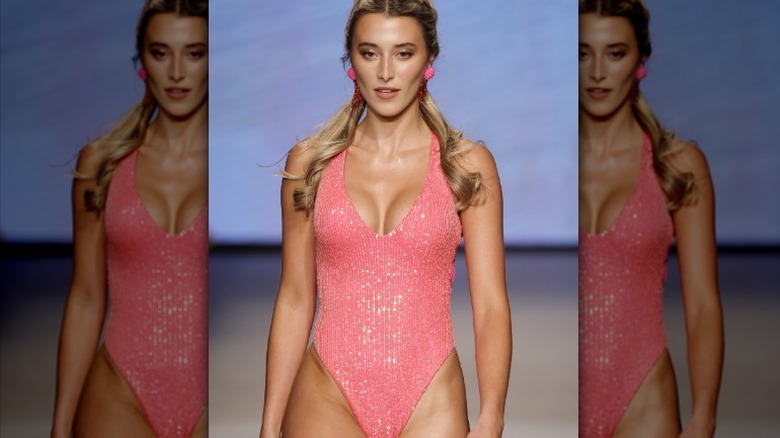 Frazer Harrison/Getty Images
Crystal jewelry has seen a strong peak in recent seasons, mainly due to its nostalgic vibe. The best way to evoke this same aesthetic in your beachwear is by going with a bedazzled swimsuit. Swimsuits with embellished or sparkly fabric will help give you the right amount of glimmer, even underwater. 
Gemmed belts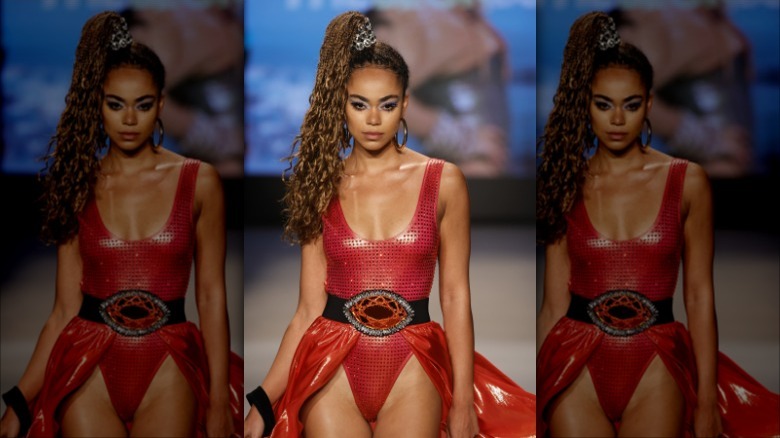 Frazer Harrison/Getty Images
Gems look fantastic when incorporated into a swimsuit as part of a cinching belt. Again, they're not the most practical to swim in, but embellished belts can secure other garments to your swimsuit, such as a skirt or sarong. Colorful gem belts add an even higher amount of flair, perfect for anyone looking to shine under the sun.