Worst Oscars Looks Of All Time (What Were They Thinking?)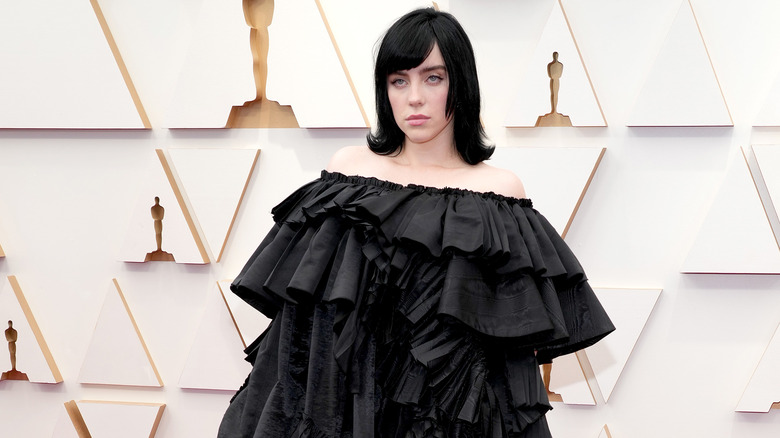 Kevin Mazur/Getty Images
Lights, camera, fashion! The Academy Awards are the grandest stage for the glitz and glamour of Hollywood, and over the years, they have given us some of the most iconic red carpet moments. But amidst all the fabulousness, let's not forget that even the A-listers are not immune to the occasional fashion faux pas. Yes, we're here to dish on the worst Oscar looks that have ever graced the red carpet. Now, don't get us wrong, the award show red carpet has given us some major fashion trends over the years. But not every fashion choice can hit the mark, especially at an event with hundreds of celebs.
The Oscars have truly seen it all, from dresses that resembled animals to outfits that seemed more fitting for an '80s prom than a prestigious awards ceremony. So, who are the guilty parties behind these awful missteps? We won't spoil all the surprises, but let's just say that even the biggest names in Hollywood have had their fair share of fashion crimes. 
From ill-fitting gowns to over-the-top embellishments, these fashion disasters have become legendary over the years, and some of them are so bad that they are somehow also good — make that make sense! Now get ready to gasp, cringe, and maybe even laugh out loud as we dissect the worst Oscar looks in all their glory.
Kristen Wiig's puzzling Valentino choice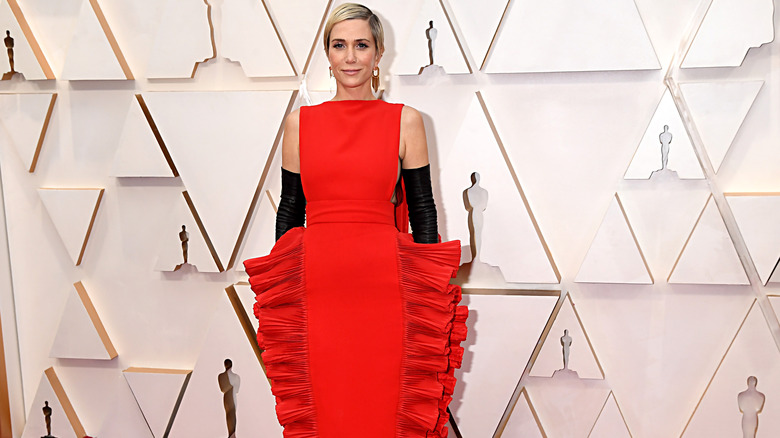 Jeff Kravitz/Getty Images
Kristen Wiig in her bright red Valentino dress at the 2020 Oscars had our jaws dropping, but not for the right reasons. While we appreciate a daring fashion statement, this look left us scratching our heads. The dress defied the laws of gravity, creating an unusual silhouette rarely seen at red-carpet events. And let's not forget the long black gloves. Now, gloves can certainly add a touch of elegance to an outfit, but these seemed to be at odds with the overall aesthetic, if there is even one when it comes to this look.
Glovegate: Lady Gaga's glamorous mistake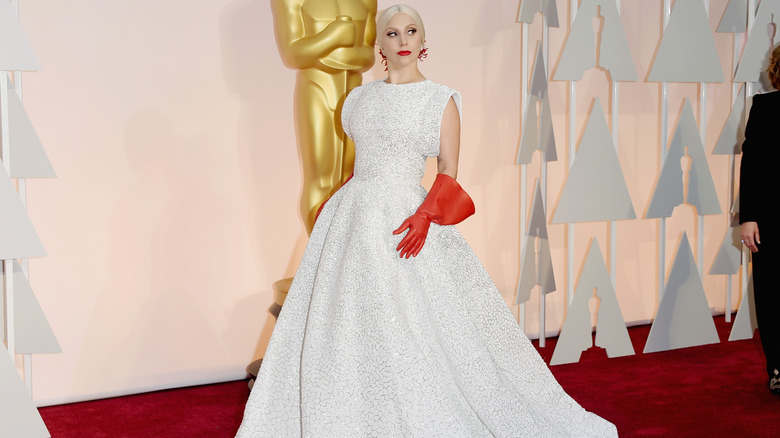 Jason Merritt/Getty Images
Let's rewind to the 2015 Oscars when Lady Gaga graced the red carpet in a glittery white gown by Azzedine Alaia. It was a vision of ethereal elegance, but alas, one element ruined it all: the star's red leather gloves. Done right, gloves can be a stylish addition, but these ones seemed to have a different calling in mind. Perhaps, scrubbing the dishes or giving the floors a good polish? While the musician's style is known to be avant-garde and boundary-pushing, adding the gloves to this look took the outfit from fab to drab.
The golden dress that aged Dakota Johnson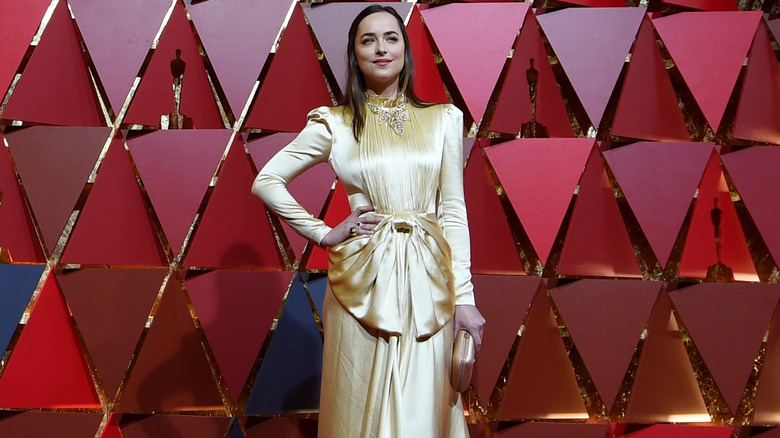 Kevork Djansezian/Getty Images
At the 2017 Oscars, Dakota Johnson stepped onto the red carpet in a golden high-neck satin Gucci dress that exuded a certain Old Hollywood charm. However, as much as we appreciate vintage-inspired looks, this particular ensemble had an unintended consequence: It aged the star herself. The golden hue and sophisticated design of the dress, while elegant, didn't quite align with Johnson's youthful and vibrant persona. It was as if she had transformed into an actual Oscar statuette, shimmering on the red carpet but lacking the fun energy we've come to associate with her.
Y2K chic or a Y2K fail? Kate Hudson's lilac number
Vinnie Zuffante/Getty Images
Kate Hudson's fashion choices have always had a touch of whimsy, and her 2001 Oscars appearance was no exception. She stepped onto the red carpet in a lilac dress by Stella McCartney; however, some might argue that the combination of the elaborate embellishments with the unique cape-like feature veered into costume territory. Nevertheless, it's important to consider the context, as the early 2000s were a playground for bold and eccentric fashion choices — and Kate Hudson's look certainly fit the Y2K aesthetic.
Colorful chaos: Faith Hill's Oscars controversy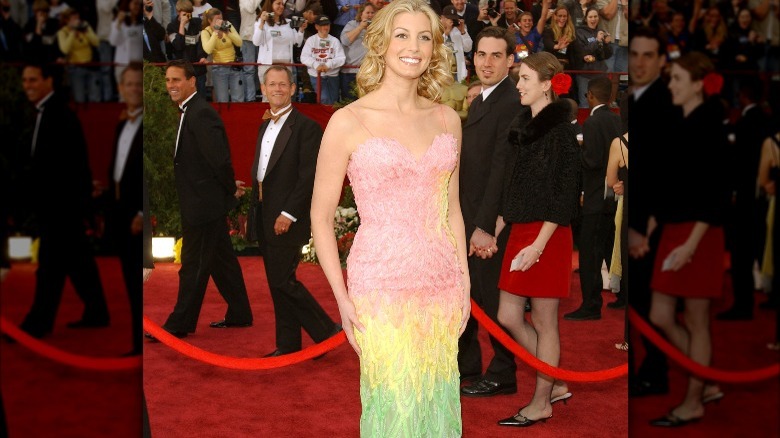 Frank Micelotta Archive/Getty Images
Faith Hill brought a burst of color to the 2002 Oscars red carpet with her pastel rainbow Versace dress. There's no denying that the vibrant hues looked amazing on her, but even so, the ensemble leaned towards the funky and casual side, raising a few eyebrows among the more traditional Oscar fashion critics. The dress was certainly more suitable for a daytime event or a music awards show rather than the prestigious Academy Awards ceremony.
Whoopi Goldberg's neon jumpsuit extravaganza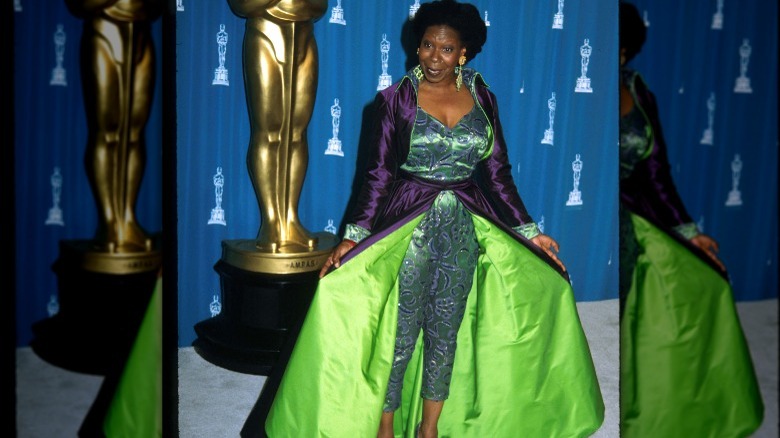 Barry King/Getty Images
Whoopi Goldberg made a memorable fashion statement at the 1993 Oscars with her unconventional choice: not only did the Hollywood legend wear a purple and green jumpsuit, but she also decided to combine it with a purple and lime green cape. And even though the colorful jumpsuit extravaganza has since become a memorable Oscars classic, it certainly still deserves a spot on the list.
Not even a blue satin belt could save Uma Thurman's look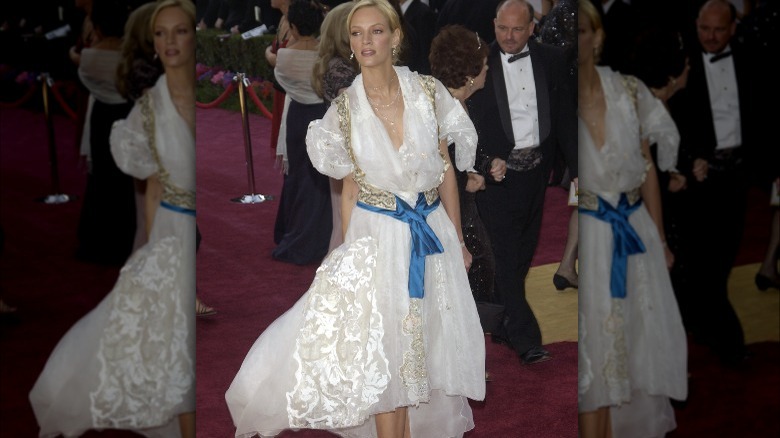 Featureflash Photo Agency/Shutterstock
Uma Thurman graced the 2004 Academy Awards red carpet in a dress from Christian Lacroix that might go down in history as the worst Oscar fashion choice. The dress featured a high-low hemline with cascading layers of tulle, reminiscent of a pirate's frock. Paired with a tight, embellished vest and a totally random blue satin tie around the waist, this look was all over the place.
Zoe Saldana's purple overload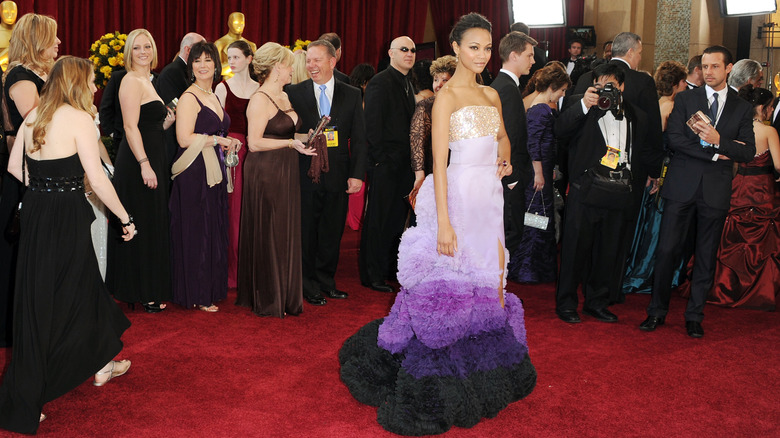 Frazer Harrison/Getty Images
For the 2010 Oscars, Zoe Saldana decided to go with a Givenchy gown that left most fashion critics divided. There's no denying that the star looks stunning in absolutely everything; on the other hand, not even Saldana could save this dress. To put it simply, too much was happening all at once. The top was adorned with shimmering sequins, while the bottom consisted of multiple layers of tulle, each in a different shade of purple, creating an ombré effect. Separately, all of these might have looked stunning, but together, it's giving us a hot mess.
Barbra Streisand's glamour gone wild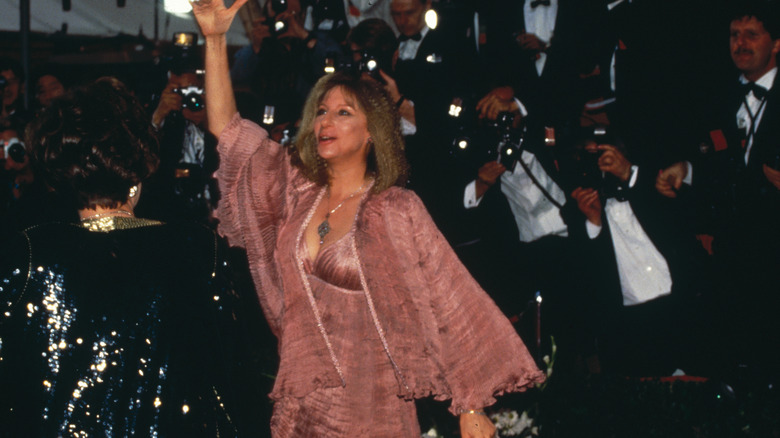 Miranda Shen/Getty Images
Hollywood legend Barbra Streisand is no stranger to making a grand entrance, but her appearance at the 1992 Oscars wasn't her best fashion moment. The star chose a dramatic dress by Patricia Lester; however, it was the combination of her jewelry choice and crimped hair — which certainly wasn't one of the best hair moments at the Oscars — that pushed the look into over-the-top territory. 
Kristen Stewart's punk rock shorts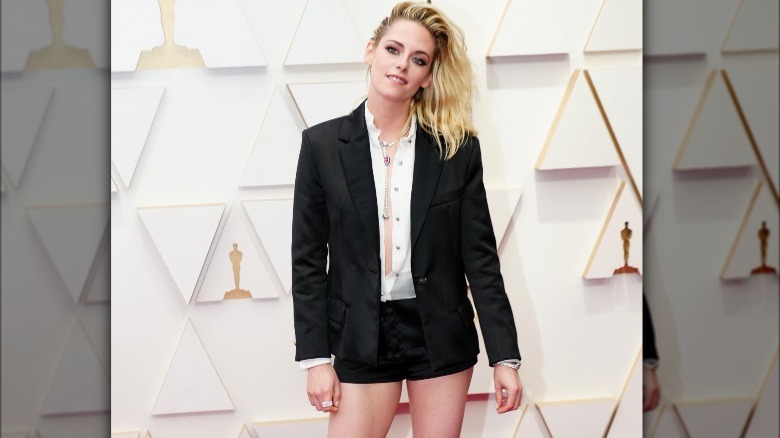 Jeff Kravitz/Getty Images
Kristen Stewart is known for her punk rock and androgynous style, which is why no one was surprised by her fashion choice at the 2022 Oscars. Sporting a black shorts suit from Chanel, she showcased her edgy persona on the red carpet. However, the combination of shorts and the glamorous event left most of us with mixed feelings, especially as there are many other punk rock ways to approach glam fashion. It was as if a punk rock rebel crashed a formal ball, which, now that we think of it, is kind of genius?
Celine Dion's backward fashion fiasco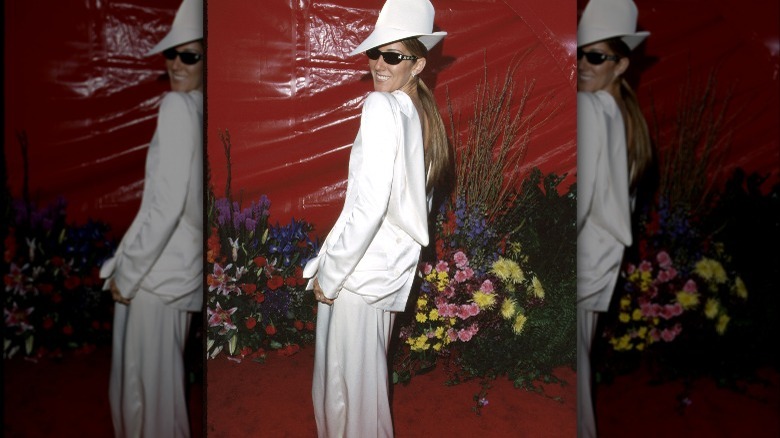 Steve Granitz/Getty Images
Celine Dion is one of the greatest voices of her generation, but when it comes to her fashion choices, she has certainly had some fashion faux pas. In 1999, the singer took a bold leap on the Oscars red carpet as she decided to wear a white tuxedo designed by John Galliano for Dior. That in itself isn't shocking, but the fact that she wore it backwards definitely made for an unusual red carpet look. And pairing it with a fedora and sunglasses certainly didn't help, either.
Sophia Loren: When fashion swirls go wrong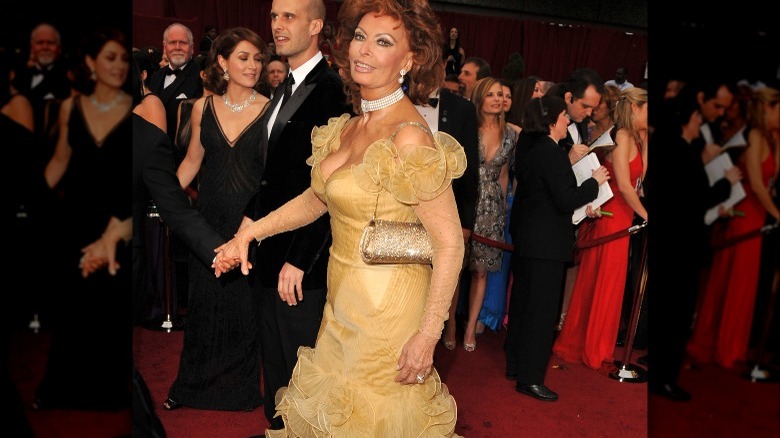 Steve Granitz/Getty Images
Sophia Loren, the renowned Italian actor, graced the 2009 Oscars red carpet in a yellow Armani gown that definitely wasn't everyone's cup of tea. The dress, adorned with plenty of tulle swirls, aimed to create a sense of drama and whimsy, but the execution fell short, resulting in a look that most will remember as a distraction from the star's beauty.
Sarah Paulson was drowning in fuchsia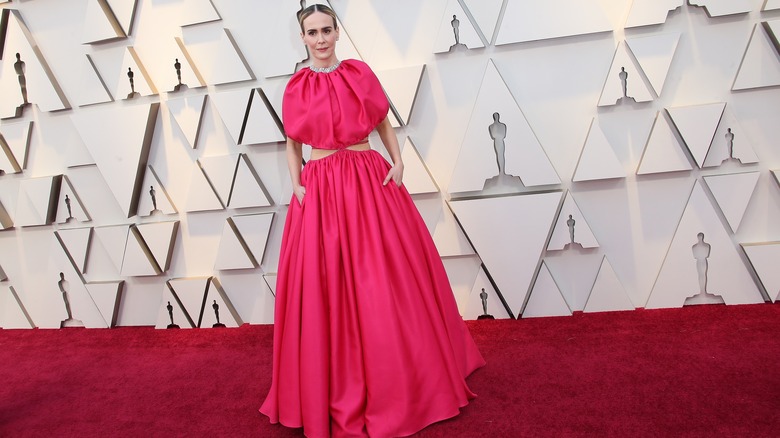 Dan Macmedan/Getty Images
Sarah Paulson took a plunge into edgy fashion at the 2019 Oscars, but if you ask us, that backfired. The star opted for a Brandon Maxwell couture creation in bright fuchsia, but instead of achieving a fashion-forward statement, the actor ended up getting lost and drowning in the look. While pushing fashion boundaries is important, it is also essential to ensure that the chosen look enhances the wearer rather than overpowering them — which is what happened in this case.
Sarah Jessica Parker's love-it-or-hate-it fashion choice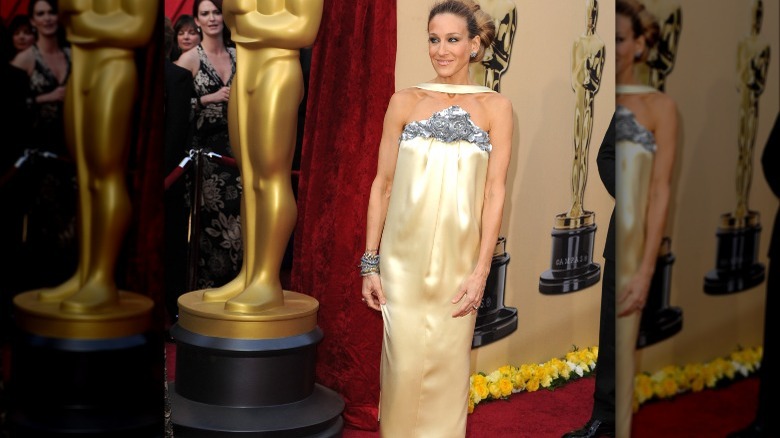 Steve Granitz/Getty Images
At the 2010 Oscars, fashionista Sarah Jessica Parker wore an outfit that some loved and others hated. As far as we are concerned, we are leaning towards the latter, as the Chanel Couture gown seemed rather uncomfortable to wear, making the "Sex and the City" star appear rather stiff.
Hilary Swank's prom dress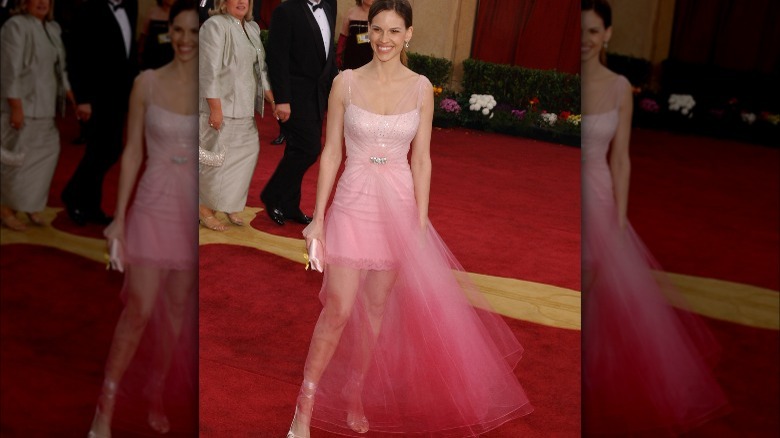 Frank Trapper/Getty Images
Hilary Swank's 2003 ombré pink Dior dress certainly had its own charm, but it veered more towards prom territory rather than the red carpet glamour expected at the prestigious annual event. The sheer fabric choice and the overall aesthetic of the dress made it seem a bit too youthful and less sophisticated, as the look lacked the elegance that often defines the red carpet at the Academy Awards.
Angelina Jolie's Morticia Adams moment: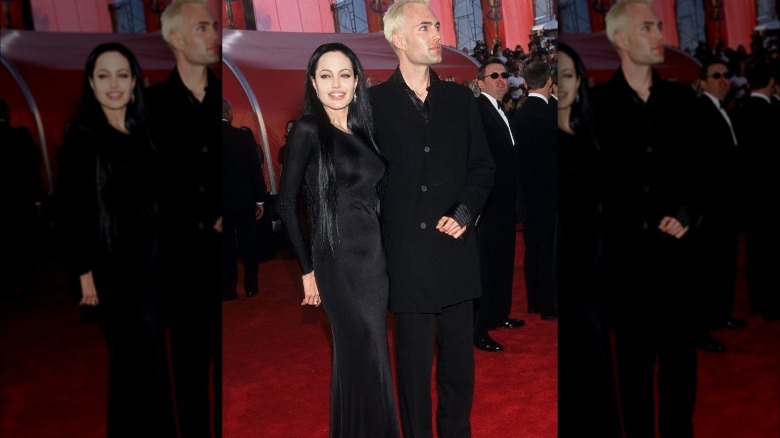 Kevin.mazur/Getty Images
Angelina Jolie's most head-turning fashion moment at the Academy Awards (apart from 2012 and the leg) was perhaps in 2000, when the actor wore a long-sleeved black Marc Bouwer dress. Jolie gave us major Morticia Adams vibes, and while we may not be the biggest fans of the outfit, we have to give it to her: this dark and gothic look is one of the most memorable Oscar fashion moments.
A sheer top and maxi skirt were Cameron Diaz's go-to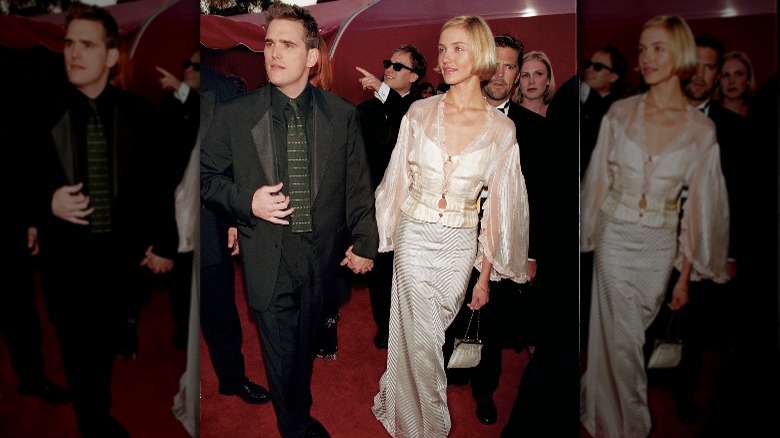 Frank Trapper/Getty Images
In 1998, Cameron Diaz walked the Oscars red carpet in a look that consisted of a sheer top and a long skirt. Now, while this outfit perfectly embodied the whimsical and carefree spirit of '90s fashion, it ultimately fell short of the expected level of glamour and elegance we're used to seeing at the Oscars. A look like this was definitely better fitting for a more casual red-carpet event.
Jodie Foster took '80s fashion to the Oscars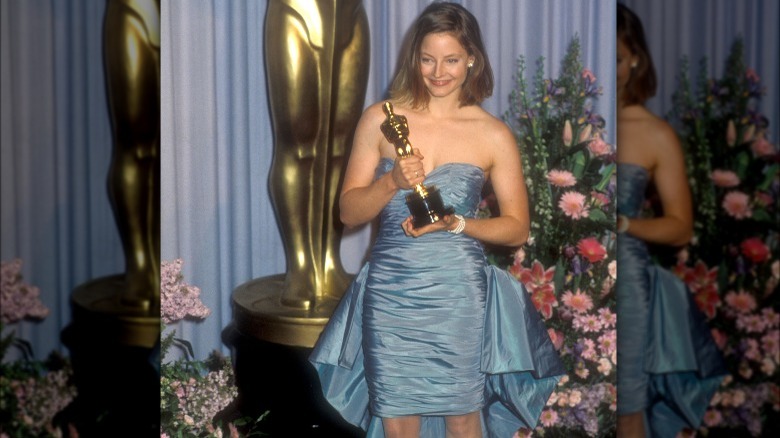 Barry King/Getty Images
For the 1989 Academy Awards, Jodie Foster decided to go with a blue strapless bodycon dress with side detailing that definitely leaned more towards a party dress than the expected glamour of an industry event. The '80s were notorious for bold and unconventional fashion choices, and Jodie Foster's dress embodied the era's signature style, which is why we're not too mad about this one. Nonetheless, it still deserves its spot here.
Charlize Theron's questionable flower detail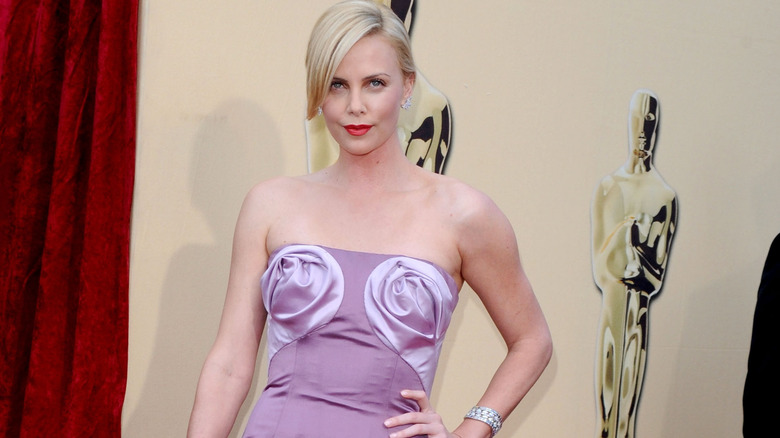 Jason Merritt/Getty Images
Charlize Theron encountered a slight misstep in her fashion journey at the 2010 Oscars. While she looked elegant in her Dior Couture gown, one detail caught our attention. The gown boasted intricate flowering details in the front, strategically placed to draw attention to Charlize Theron's greatest assets. The intention was clear, but the execution fell somewhat short. The floral embellishments seemed slightly off and failed to blend seamlessly into the overall design of the gown. Instead of enhancing the dress, the floral details became a focal point in a way that seemed slightly forced.
Kate Winslet was Pretty in Pink, but not quite Oscar-worthy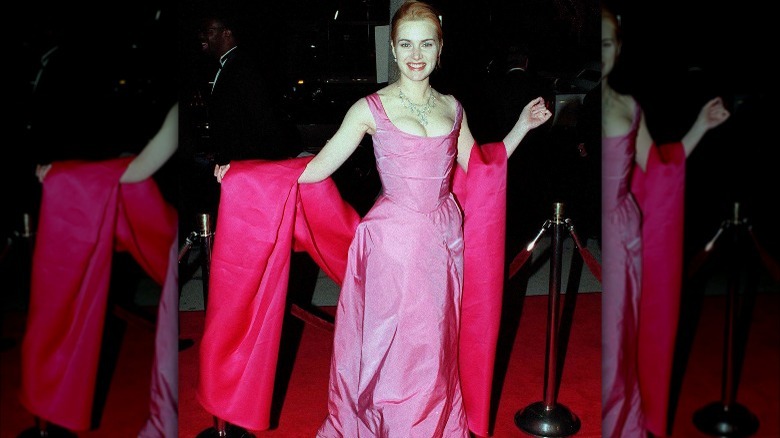 James Aylott/Getty Images
Kate Winslet attended the 1996 Academy Awards in a pink gown with ample cleavage and a magenta shawl draped over her shoulders. Unfortunately, the star fell victim to an overwhelming pink palette, and the fact that the shawl appeared wrinkly gave off an unpolished appearance — something we rarely see at such a prestigious event.
Mindy Kaling: When edgy meets try-hard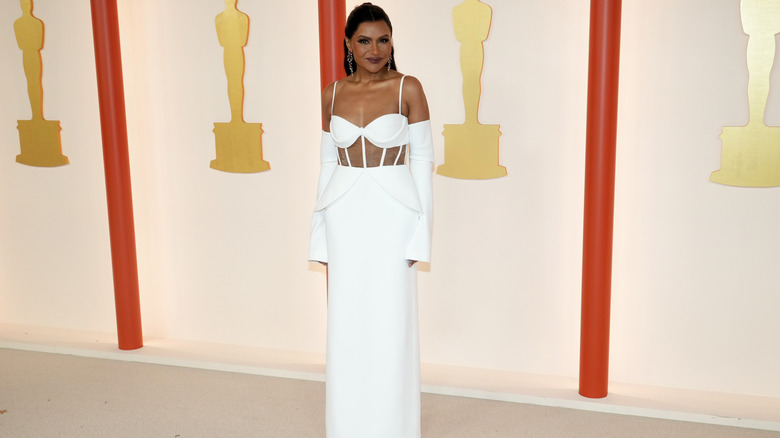 Jeff Kravitz/Getty Images
Oh, Mindy Kaling, our beloved funny lady, how it pains us that you made the list! At the 2023 Oscars, the star strutted her stuff in a white Vera Wang gown with a sheer midriff and detached sleeves. It was clear that Kaling was going for an edgy and cool look, but sometimes, trying too hard can leave spectators feeling a bit underwhelmed — and that was exactly the case here.
Jennifer Connelly's seemingly last-minute fashion choice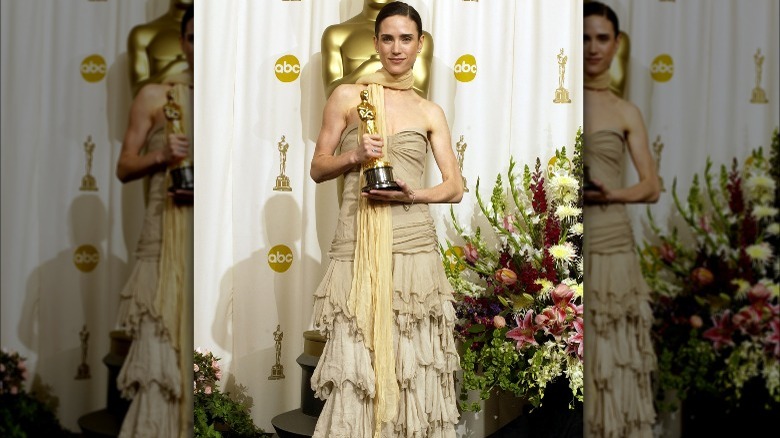 Steve Granitz/Getty Images
Sometimes celebs wear such mismatched outfits that it truly makes us wonder whether they pick what they are wearing to the Oscars half an hour before they leave for the event. One of those looks was Jennifer Connelly's 2002 Oscars outfit. For the occasion, the actor wore a beige gown and a so-not-matching scarf that had us scratching our heads. It was like she threw everything together at the eleventh hour and hoped for the best. Spoiler alert: it didn't work.
Tracee Ellis Ross' red dress needed more tailoring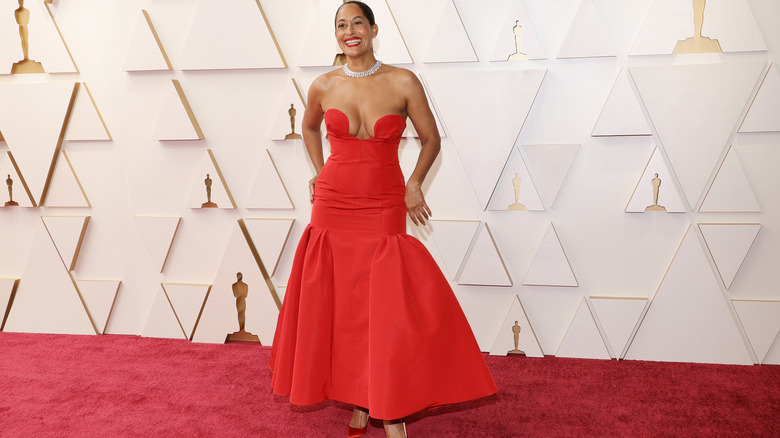 Mike Coppola/Getty Images
We had high hopes for Tracee Ellis Ross at the 2022 Oscars in that fiery red Carolina Herrera dress. The color was bold, and the design was eye-catching, but alas, the fit could have been better. It was like they almost got it right but missed the mark on the tailoring. In theory, that low-cut neckline should have been a showstopper, accentuating her stunning features and adding a touch of allure. But it seemed to fit a bit odd, which, in a case like this, either makes or breaks the look.
Tyra Banks's attempt at Disney Princess cosplay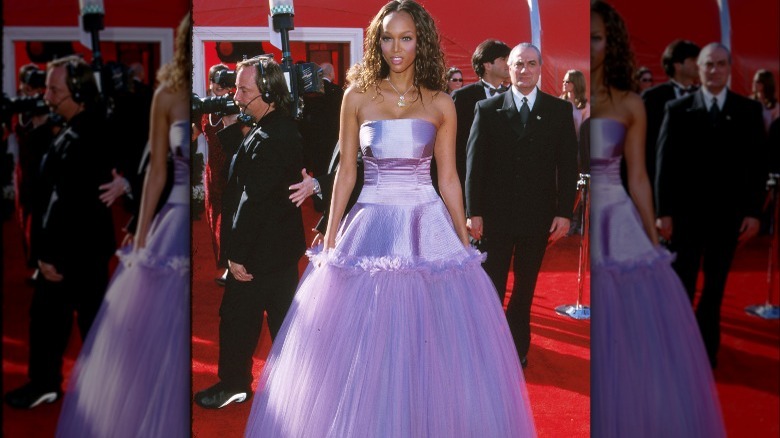 Steve Granitz/Getty Images
Tyra Banks might be a fierce and fabulous supermodel, but that doesn't mean she is a stranger to fashion fails. At the 2000 Oscars, the model wore a gown that veered into costume territory, giving us major princess energy. The silk corset paired with the fluffy tulle bottom created a clash of styles and fabrics that made us wonder whether Banks was attending the Oscars or auditioning for a Disney musical.
A confusing fashion cocktail from Florence Pugh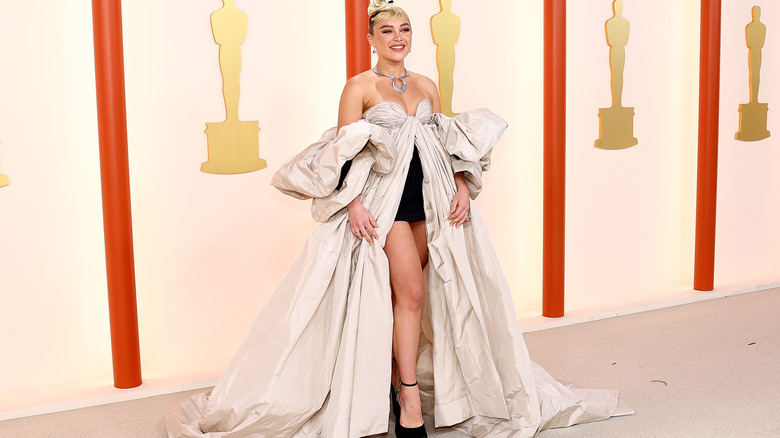 Arturo Holmes/Getty Images
Florence Pugh served up a red carpet look that had everyone doing a double take at the 2023 Oscars. In a bold move, she walked down the red carpet in a Valentino Couture ensemble that was a wild concoction of fashion elements. Picture this: hot pants, a top with a train, and ruffle sleeves. It was like a wild fashion cocktail that left us shaking our heads in both confusion and amusement.
Gwyneth Paltrow's gothic oops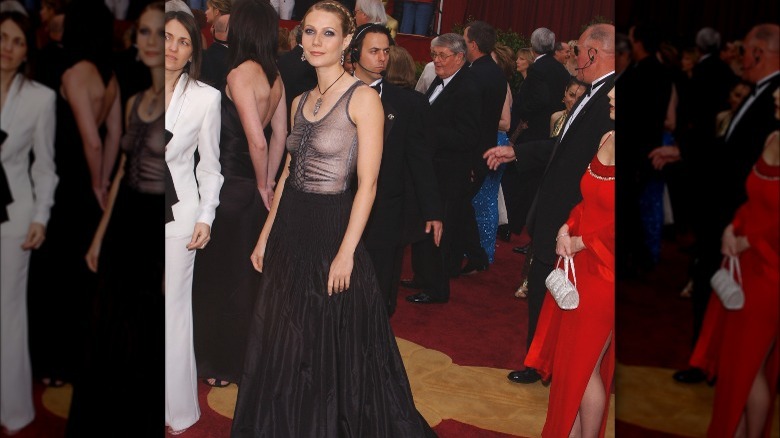 Frank Trapper/Getty Images
Decked out in an Alexander McQueen gown, Gwyneth Paltrow went for a sheer gray/beige bodice paired with a voluminous black maxi skirt for the Academy Awards in 2002. The result? A gothic vibe that may appeal to the Y2K fashion enthusiasts right now, but was certainly not well received back then. Gwyneth's Alexander McQueen creation is undoubtedly cool and edgy, but not Oscar red-carpet worthy.
Kirsten Dunst's ultimate red-carpet match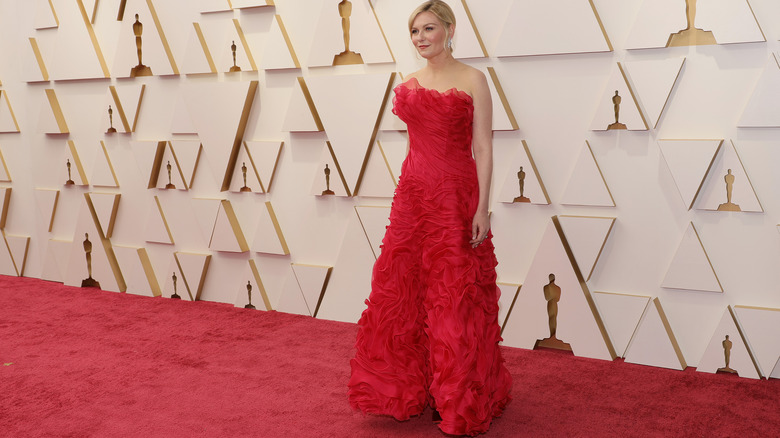 Mike Coppola/Getty Images
This red ruffled gown that matched the carpet so perfectly made us wonder if Kirsten Dunst was auditioning for the role of a human chameleon. Designed by Christian Lacroix, this fashion choice proved that sometimes, matching the carpet isn't exactly the red carpet goal. Kirsten's red ruffles may have been eye-catching, but they also left us yearning for a bit more contrast and drama.
Jennifer Hudson's bolero taking center stage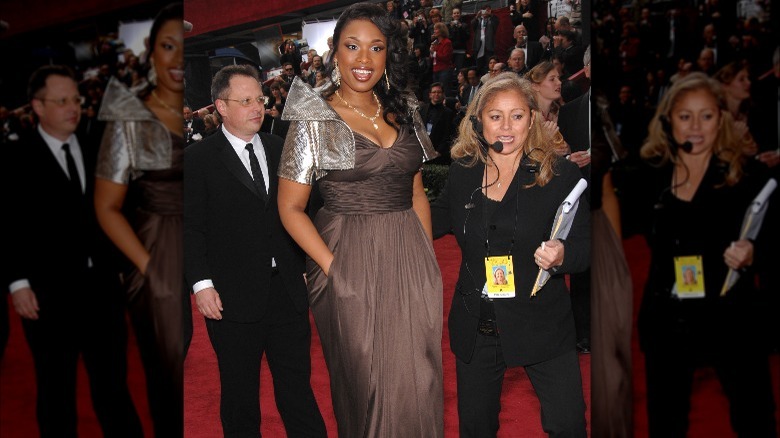 Featureflash Photo Agency/Shutterstock
In 2007, Jennifer Hudson wore a stunning brown Oscar de la Renta dress that gave us all elegance and sophistication we needed. This could have been a look for a "best dressed" list, but unfortunately, the fashion gods had other plans in store. Enter the metallic bolero, stealing the spotlight and leaving us wondering why it had to crash the party.
Michelle Williams: When sequins and gems collide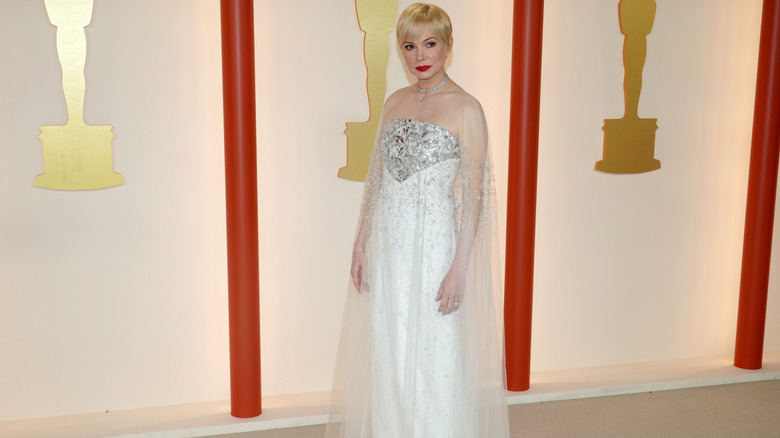 Jeff Kravitz/Getty Images
Michelle Williams's 2023 Oscar dress had the potential to be a show-stopping look. The sheer cape promised an ethereal touch and some innovation, but the Chanel Haute Couture gown ended up giving us a major clash of sparkle. The top portion of the dress shimmered with sequins which, on its own, was wonderful — but paired with the sheer cape and its gem embellishments, it was like a cosmic collision of sparkle overload.
Cher's showgirl look (feathered headdress included)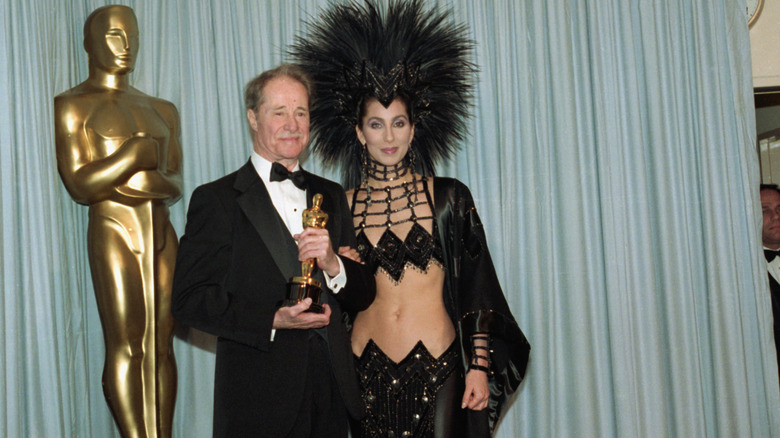 Bettmann/Getty Images
Hold on tight as we journey back to the 1986 Oscars and witness a moment that still leaves us dazzled and perplexed, even almost 40 years later. Now, we have to tread carefully here, as criticizing the iconic Cher's style is almost sacrilege. However, this ensemble simply missed the mark. The star opted for a feathered headdress that would make even the most glamorous showgirl envious. Designed by the renowned Bob Mackie, it looked like it would have worked better on a dazzling Vegas stage than the most famous red carpet in Hollywood.
Helena Bonham Carter's tulle tale gone mild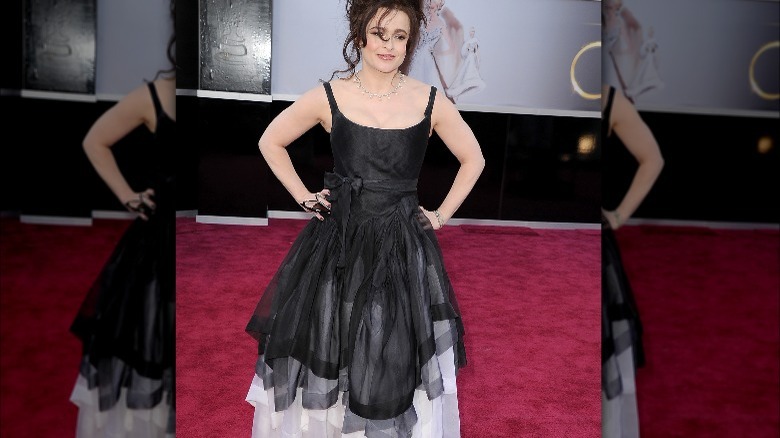 Steve Granitz/Getty Images
In 2013, Helena Bonham Carter graced the Oscars red carpet in a Vivienne Westwood creation that had us craving a pinch of her usual quirky charm. Don't get us wrong; the black and pink tulle dress was lovely. But when she appeared in this ombré-inspired tulle dress, it was a tad predictable, as ombré was incredibly popular in the early 2010s fashion scene. While many celebrities were jumping on the trend at the time, we were hoping that Bonham Carter would put her own whimsical spin on it, but she didn't.
Kelly Ripa's party in the back dress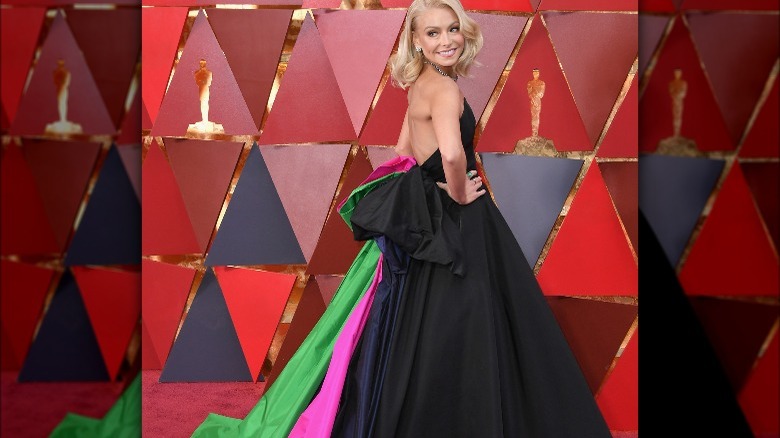 Neilson Barnard/Getty Images
Television personality Kelly Ripa is usually known for her chic and polished style, but her 2018 Oscars outfit was everything but that. The star wore a black gown that seemed simple and elegant from the front, but its green and pink hues collided in the back. Designed by the talented Christian Siriano, this gown attempted to redefine the concept of business in the front and party in the back, but if you ask us, this was a risk not worth taking.
Heidi Klum's generic bridesmaid dress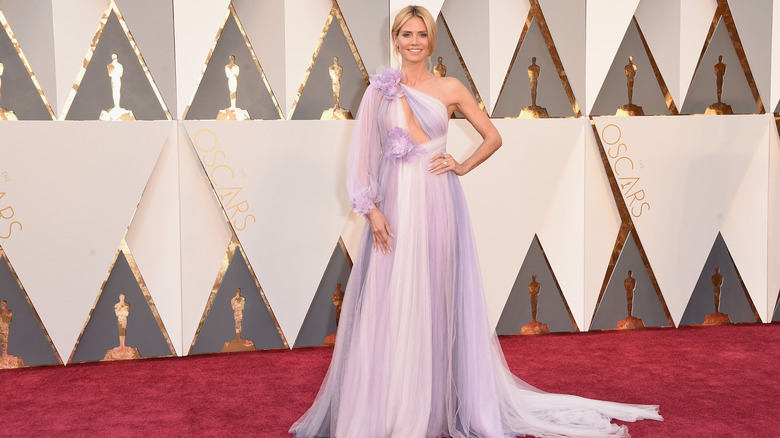 Jason Merritt/Getty Images
Ah, ombré. Once a trendy technique that took the fashion world by storm, it seems like it's been played out and overdone, leaving us longing for a breath of fresh style. Heidi Klum's 2016 Oscars dress, with its fading lilac and white hues, transported us straight into bridesmaid territory. Now, don't get us wrong, being a bridesmaid is a delightful honor, but the Oscars demand a touch of individuality and red-carpet magic that was definitely lacking in this particular Marchesa look.
Geena Davis: When prom meets goth at the Oscars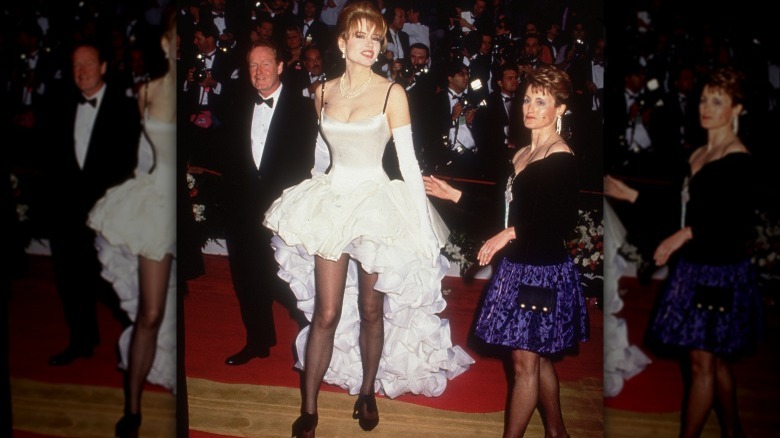 Miranda Shen/Getty Images
Geena Davis's 1992 Oscars look was a collision of '80s prom glamour and '90s goth vibes, neither of which really fit an Oscars red carpet. Now before you come at us, there are classy ways one can incorporate either of the two into an Academy Awards outfit, but Davis failed to do that. The star stepped onto the red carpet in a white high-low dress adorned with ruffles and swirls, paired with white gloves, black straps, and black tights and heels (adding a touch of '90s goth mystique to the mix).
Taraji P. Henson's clash of colors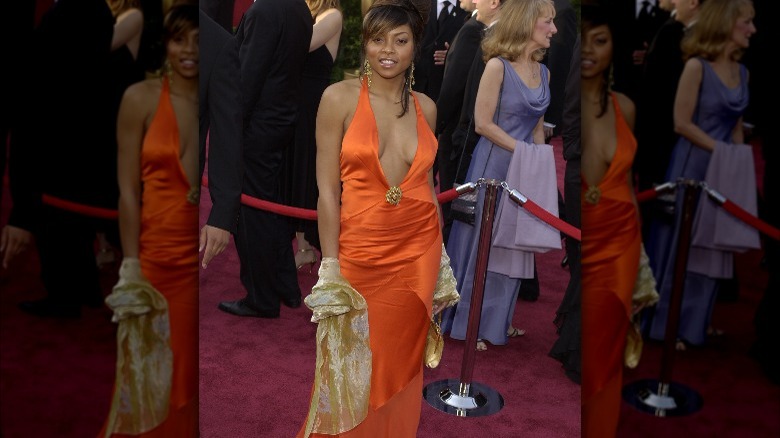 Frank Trapper/Getty Images
Taraji P. Henson is known for always bringing a burst of vibrant energy to the red carpet, but at the 2005 Oscars, the star's look failed to deliver. The actor wore a bright orange silk gown with a daring deep V-cut and a seductive sheer mesh bottom trim — but the culprit of why this look made it onto the list is the golden and white shawl that draped around the star's shoulders. Ah, the clash of colors that unfolded before our very eyes!
St. Vincent's pantless fit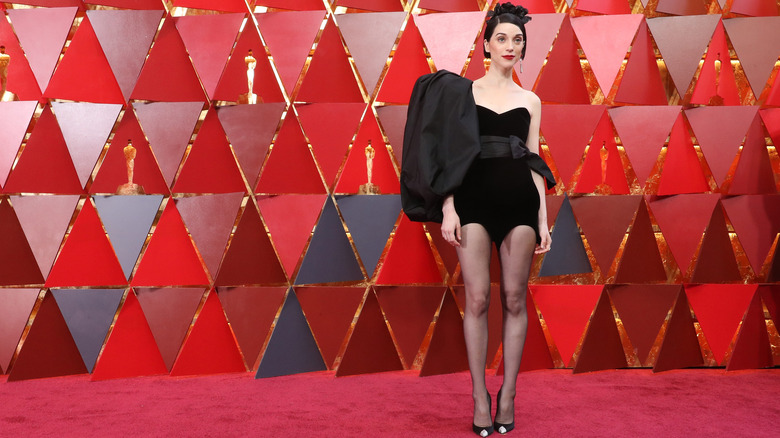 Neilson Barnard/Getty Images
Musician St. Vincent is known for her unconventional charm, which often translates to the red carpet. To the 2018 Oscars, the star wore a fun outfit from Saint Laurent featuring a single, voluminous pouf sleeve and a mini dress that was so short it seemed as if the lower half of her outfit just went on an impromptu vacation. Now, we admire her boldness and the audacity to challenge traditional fashion norms — but wearing something like this to the Oscars seemed like a deliberate bid to steal the spotlight and command all eyes on her.
Laura Dern's love-it-or-hate-it bustier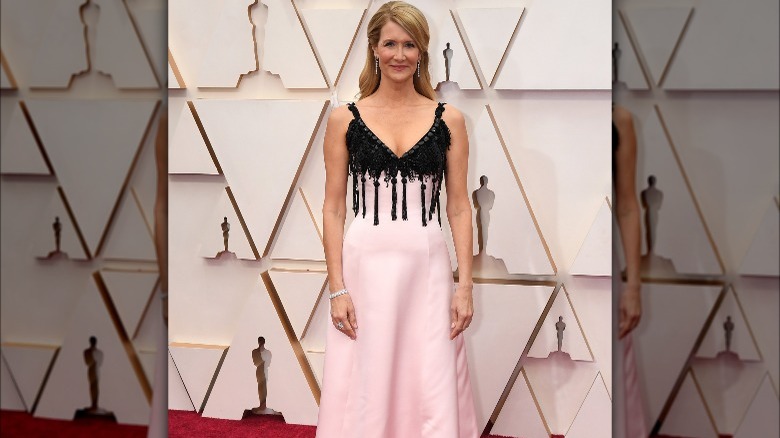 Jeff Kravitz/Getty Images
For the 2020 Academy Awards, Laura Dern decided to go with a light pink Armani dress with a black embellished bustier. Now, this particular style left us with mixed emotions, as the bold fusion of delicate and edgy felt a tad unauthentic. It was as if the dress itself was trying a little too hard to make a statement, overshadowing Dern's natural radiance and timeless beauty.
Linda Cardellini's hot pink explosion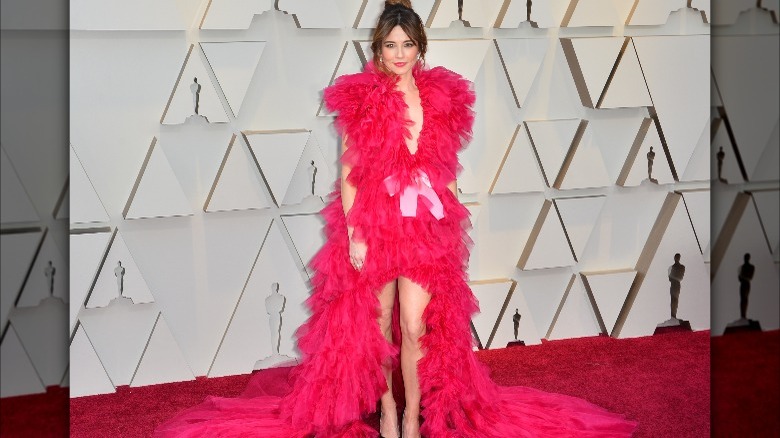 Featureflash Photo Agency/Shutterstock
In 2019, Linda Cardellini graced the Oscars red carpet in a hot pink explosion that left jaws dropping — and most of them not for a good reason. The star wore a fluffy Schiaparelli Couture dress, drenched in a vibrant shade of pink, with a baby pink satin bow cinching the waist. Now, Cardellini has never been one to shy away from making a statement with her fashion choices. However, as we explore the world of Worst Oscars Looks, we can't help but question the excessive fluffiness of it all.
When Björk's swan crashed the Oscars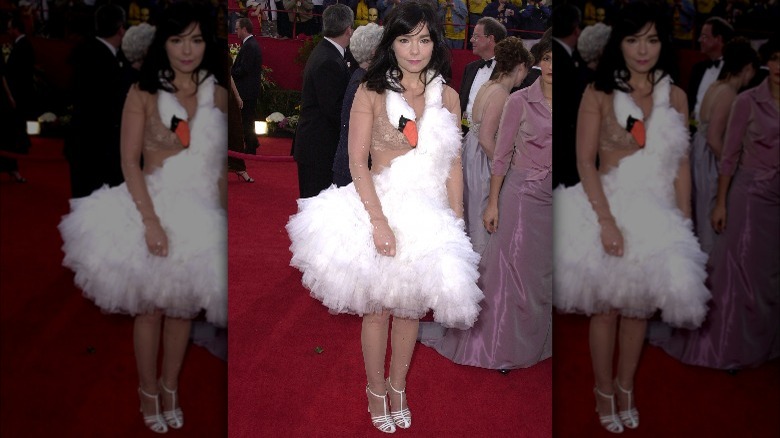 Steve Granitz/Getty Images
Known for her eccentricity and boundary-pushing style, Björk made waves at the 2001 Oscars with a dress that has to be seen to be believed. A puff of white tulle transformed into a voluminous skirt, and around the Icelandic musician's own neck, the long neck of a swan draped gracefully, creating a surreal ensemble that defied all conventions. Honestly, the Marjan Pejoski swan dress is a peculiar choice for an event like the Oscars. Still, Björk's audacious outfit captured everyone's attention, leaving us in a state of awe and bewilderment.
The gown that washed Ana de Armas out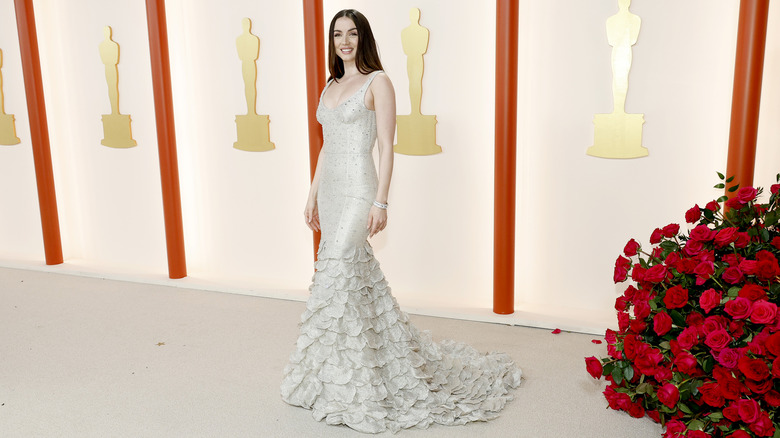 Mike Coppola/Getty Images
At the 2023 Oscars, Ana de Armas was draped in a silver Louis Vuitton gown that had all the makings of a show-stopping ensemble, but nevertheless fell short. The mermaid shape of the gown was undeniably striking, exuding a sense of elegance and glamour. The intricate design and impeccable tailoring showcased the label's signature craftsmanship. However, the light silver color washed her out, leaving her looking somewhat pale and lacking the radiant glow we've come to associate with her. Indeed, color is a powerful tool that can make or break a look.
Demi Moore's DIY fashion moment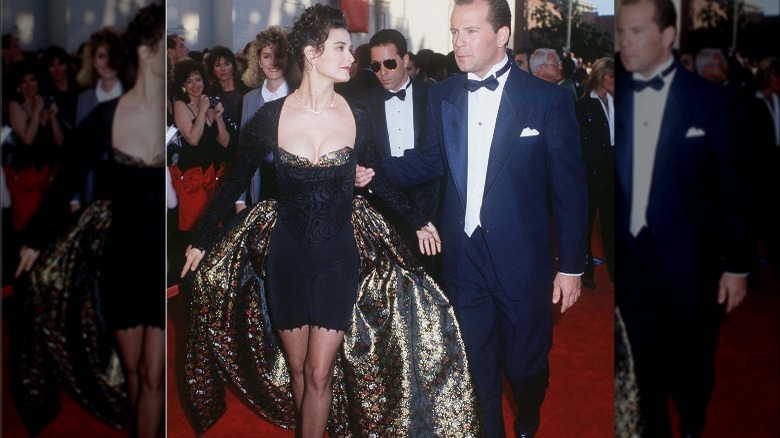 Barry King/Getty Images
Demi Moore is a trailblazer in every sense of the word. In 1989, she decided to take matters into her own hands and craft her Oscars look. Boy, was it a sight to behold: The actor opted for biker shorts paired with a corset adorned with metallic fabric accents. The daring combination exuded a distinct DIY vibe, but we have to hand it to Moore for her passion and courage. Designing your own look takes true dedication; wearing it to the biggest red carpet event in Hollywood is a whole other level of audacity.
Naomi Watts's snooze-worthy black dress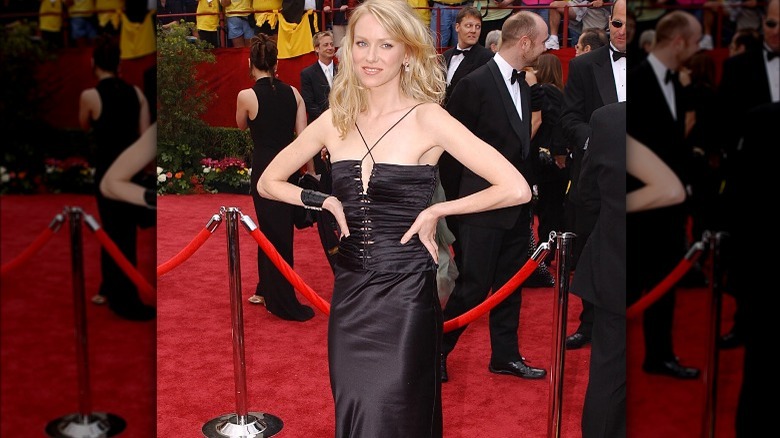 Jeff Kravitz/Getty Images
In 2002, Naomi Watts stepped onto the Oscars red carpet wearing a black Gucci dress that left us utterly uninspired. The gown, while elegant, was simply too safe and predictable for such a grand occasion. We expect drama, and we crave glamour — and unfortunately, this look fell short on both fronts.
Credit card couture: Lizzy Gardiner's Oscar look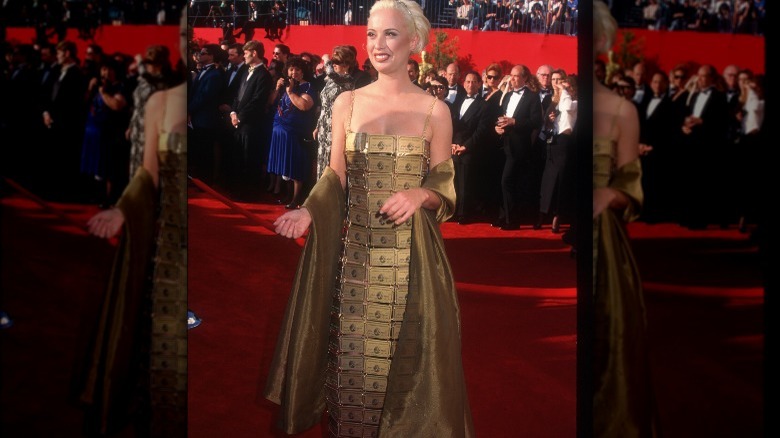 Barry King/Getty Images
Lizzy Gardiner certainly made a statement on the red carpet at the 1995 Academy Awards. Who needs a traditional gown when you can fashion one out of American Express gold cards, right? While we can't deny that her funky choice remains one of the most memorable looks in Oscars history, we have to admit it was a tad out of place. The dress, crafted from a collection of credit cards, exuded a certain eccentricity and quirkiness that would have been better suited for the Met Gala, where anything goes.
Kim Basinger's fashion mishmash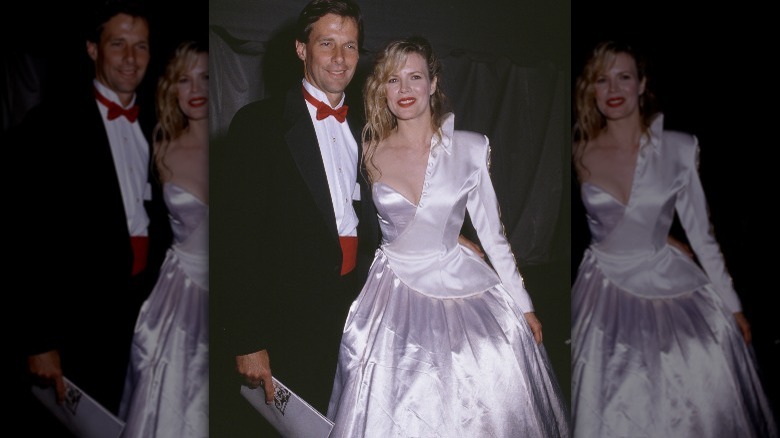 Michael Ochs Archives/Getty Images
In 1990, Kim Basinger graced the Oscars red carpet in a white ball gown skirt with one glove, half a blazer, and a whole lot of confusion. The pieces seemed mismatched — it was as if she took a fashion jigsaw puzzle and put it together all wrong.
Ruffle mania: Billie Eilish's oversized gown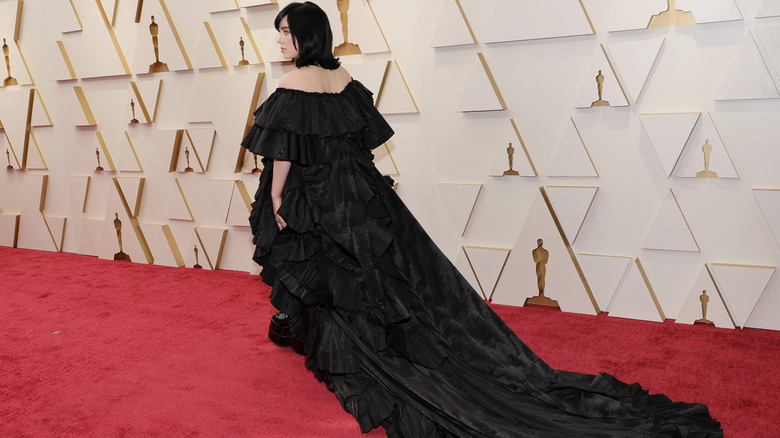 Mike Coppola/Getty Images
Billie Eilish is the queen of oversized fashion, and in 2022, she made her mark on the Oscars red carpet with a black Gucci dress that took the concept of "ruffles" to a whole new level. The dress was so excessively ruffled and oversized that it seemed to swallow her whole. The ruffles were like a cascade of fabric gone wild, overpowering her petite frame and drowning her in excess.
Nicole Kidman's underwhelming nightgown choice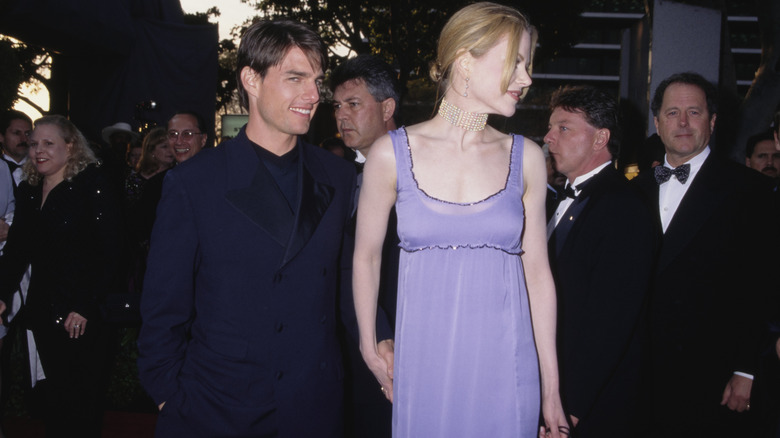 Michael Ochs Archives/Getty Images
Nicole Kidman made a daring fashion choice at the Oscars in 1996 when she stepped onto the red carpet wearing a purple Dior nightgown. While simplicity can sometimes be elegant, this particular gown seemed to veer into sleepwear territory — and it left much to be desired.
We're still decoding one of Sally Kirkland's Oscar looks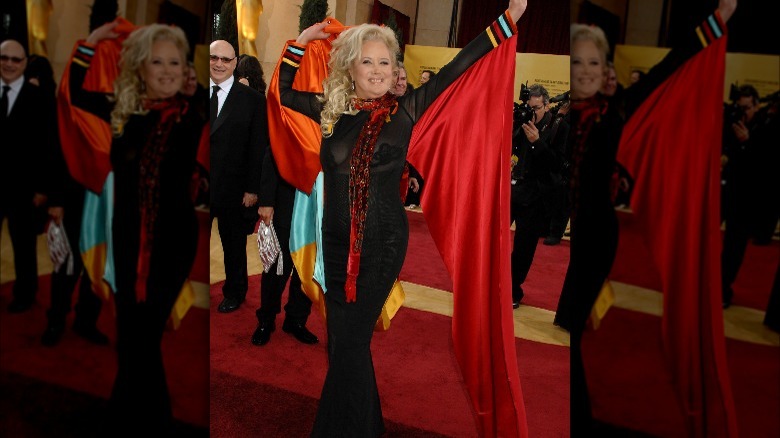 Jeff Kravitz/Getty Images
Where do we even start with this one? Sally Kirkland's outfit at the 2007 Oscars was a perplexing mix of very questionable fashion choices. The semi-sheer black dress, the colorful details around the arm, and the glittery skinny scarf around her neck all left us wondering exactly what look the star was going for. And as if that weren't enough, Kirkland also added a bright red satin shawl, which further contributed to the confusion.
Salma Hayek: Shine bright, but not too brightly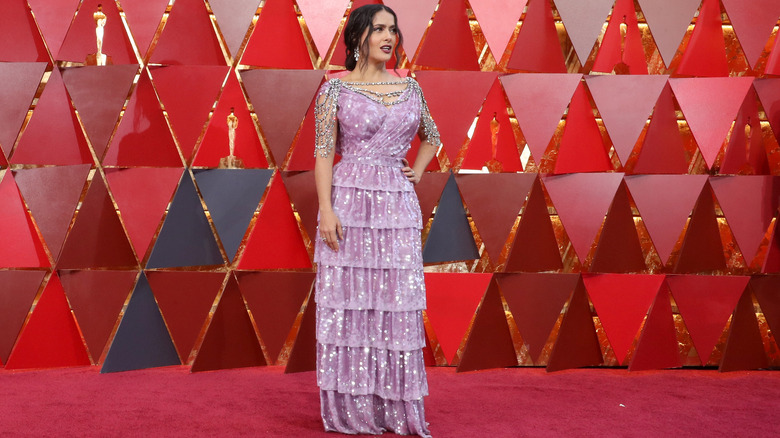 Neilson Barnard/Getty Images
Salma Hayek's Gucci lavender gown at the Oscars in 2018 had the potential to be a stunning red carpet moment, but it quickly became a case of too much of a good thing. The all-over sequins and blinged-out neckline were glamorous, but they ended up overwhelming the overall look.
Maggie Gyllenhaal's intricate gown with limited mobility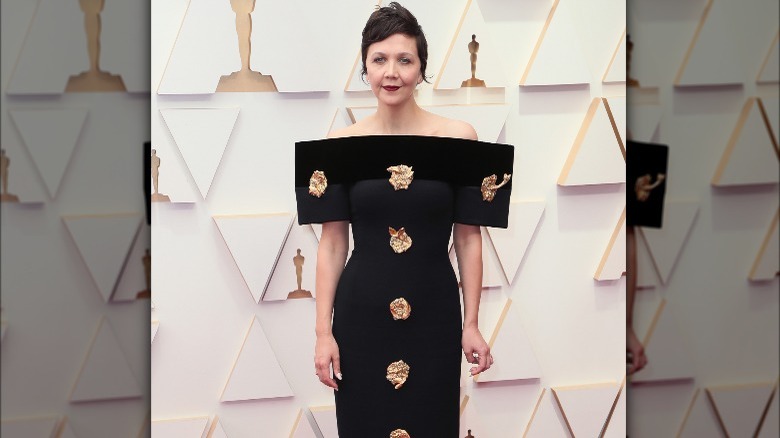 David Livingston/Getty Images
Maggie Gyllenhaal certainly made a bold statement with her black off-the-shoulder Schiaparelli Haute Couture gown at the 2022 Oscars. However, the gown, adorned with striking gold accents, seemed a bit stiff, appearing to limit the star's movement. Not to mention that the internet is a cruel place, and many were quick to compare the look to plenty of things — floor lamps and Minecraft characters included.
Maya Rudolph was lost in a sea of red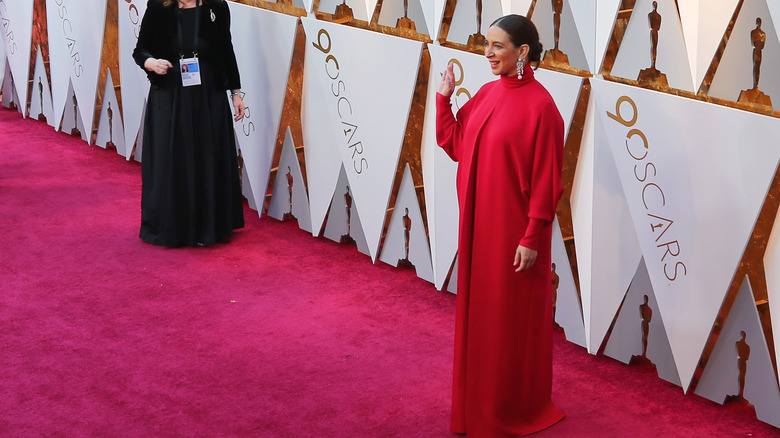 Neilson Barnard/Getty Images
We couldn't help but feel a pang of sympathy when we saw Maya Rudolph in her red Valentino gown at the 2018 Academy Awards. The turtleneck style may have seemed like a good idea, but it ended up swallowing the actor whole. The vibrant red color was meant to make a statement, but it was the overwhelming amount of fabric that stole the show. The voluminous silhouette and high neckline completely enveloped the star's frame, which is certainly a shame.