Socks Are An Unexpectedly Big Summer Trend, But Here We Are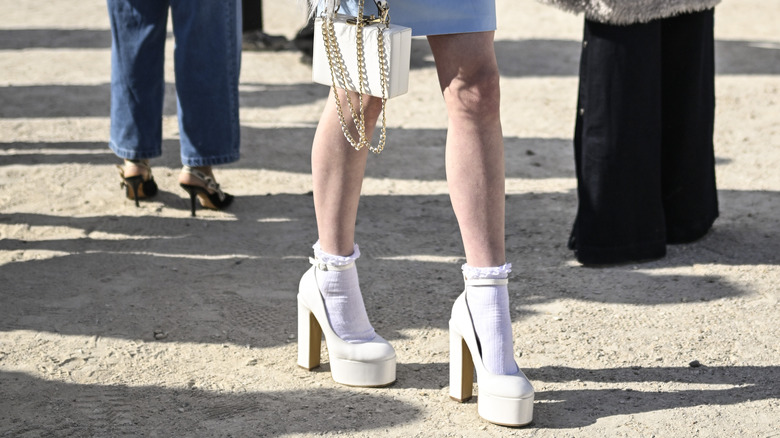 Daniel Zuchnik/Getty Images
There's a very surprising garment making its way onto runways across the world at the moment. Having notably created a remarkable presence at Milan Fashion Week in 2023, the simple staple of a pair of socks has been infiltrating high fashion and celebrity styles for months now with no sign of slowing down, according to Footwear News. Even celebrities like Hailey Bieber and the Hadid sisters have been seen sporting socks in both high-end, upscale frocks and while donning casual ensembles. While socks have been an essential item of apparel, you'll likely be simultaneously delighted by the newly stylish vogue sock trends are bringing with them from the runway down to retail markets while also slightly horrified — or very horrified, if we're being honest — at the comeback of pairing socks with sandals. Yes, you heard that right — socks with sandals. But don't fret just yet because the sock designs available today won't guarantee you a spot on the worst-dressed list. Rather, you may find yourself pleasantly charmed by the elegant elements of modern socks and the comfort delivered by pairs worth praising for their chic, modish craftsmanship. 
Sometimes being designated as accessories due to their elaborate color schemes, accouterments, and fashion designs, the socks of high style today aren't your typical solid white pairs that come in multi-packs. Contemporary styles are contending with other accessories and pieces of apparel, vying for expressions of individualism and personifying the unique personality of each wearer. 
Socks perfectly paired with preppy pearls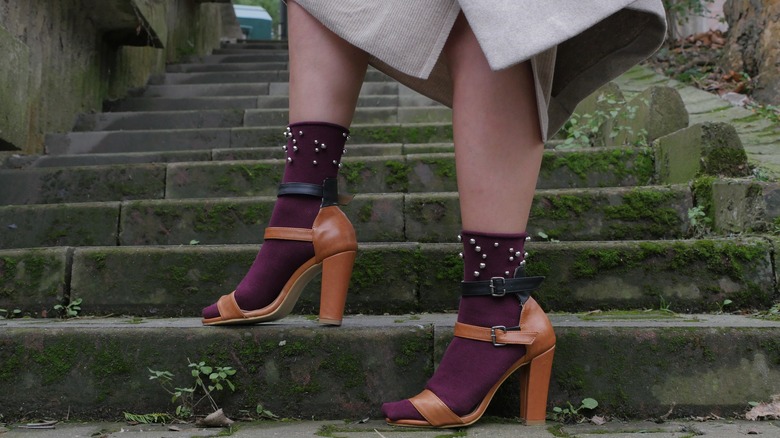 sebby72/Shutterstock
As mid-length socks rising to the mid-calves commence their moment in the spotlight, the extra amount of fabric, which can be displayed up your legs, allows for more room to be creative and elaborate with your unveilings. Having been worn by the likes of Harry Styles, the star so stylish it's in his name, socks with pearls are commonly made from an array of fabrics to choose from. To achieve contemporary comfort with elegant finesse, search for pearl socks made from fleece, velvet, and microfiber materials. 
Level up your sock game with heels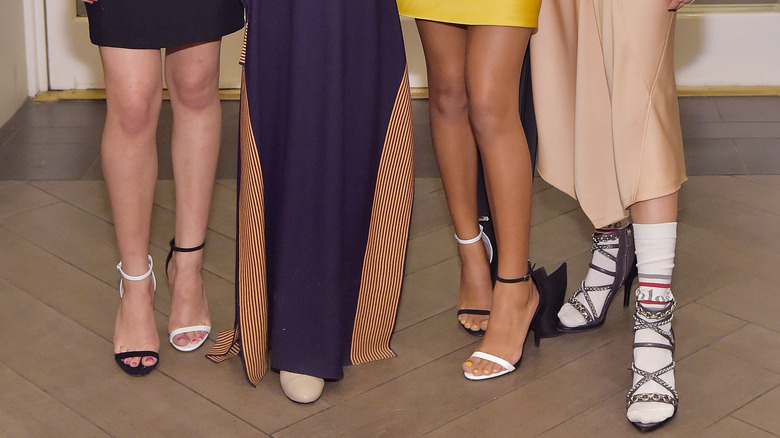 Stefanie Keenan/Getty Images
Socks may very well be one of the most fun, creative, and artistic garments to pair with any style. L'Officiel USA reveals that the trend of pairing socks with heels of all types, though the most comfortable pairings are with toeless heels or heels fully covered across the ends of your feet, isn't hinting at making its fashion departure any time soon. This means you might as well search for a pair of socks in your favorite color, design, or simply ones that make you smile.
Single color combinations produce refined statements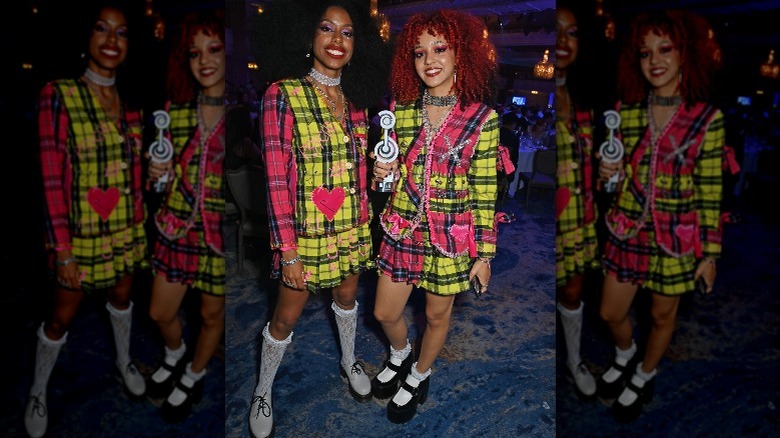 David M. Benett/Getty Images
Should you be handed a pair of brightly colored socks, perhaps even neon, there's a good chance you'd hesitate before pairing them with anything in your closet. The fun thing about the rise of socks in 2023 is that tonal and monochrome styles are adopting the trend, pairing brightly colored or neutrally toned socks with footwear in the same shade or similar hue of the color palette. Wearing understated ensembles with bright red socks and matching shoes, or a neutral dress styled with vibrantly green socks and shoes, creates duos destined to signal effortless finesse.
Socks with Barbie-foot heels create mystical aesthetics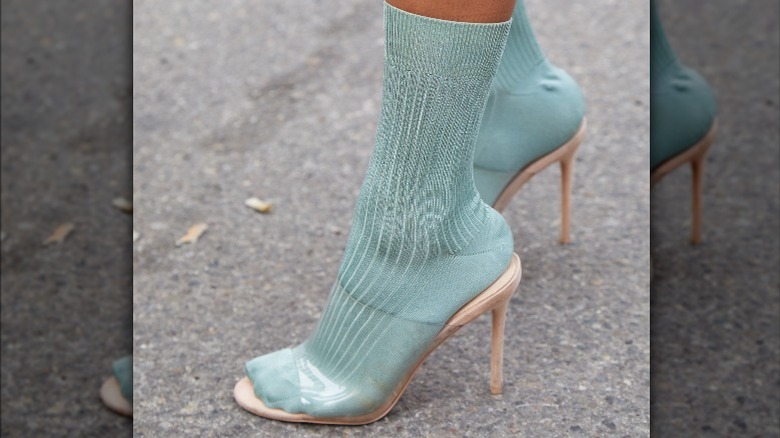 false/Shutterstock
In the most unlikely of fashion combinations to perhaps ever exist, the trending translucent high heels giving the appearance of Barbie's iconic always-arched feet, called Barbie-foot heels, look absolutely stunning when worn with socks. Yes, this is shocking, but the result is amazing. Socks slipped beneath clear or transparent heels made of acrylic and plastic provide the illusion of walking on air, or moreover, being exactly like Barbie and immortally capable of walking around with invisible heels on. This is the pairing no one was expecting, but it's a pairing worth wearing.
Thigh-high is never too high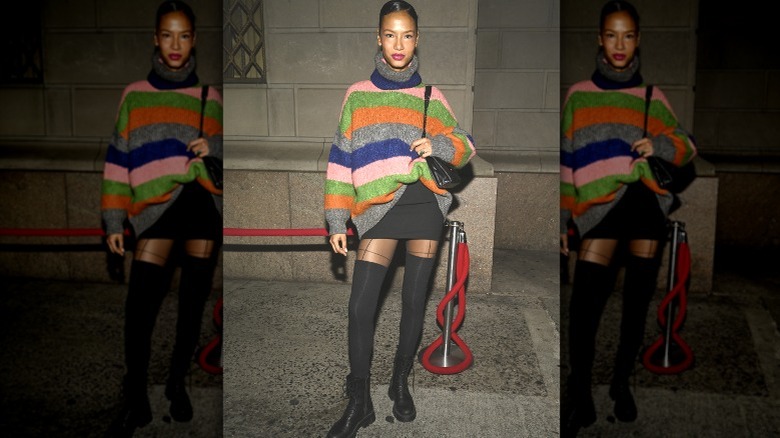 Daniel Zuchnik/Getty Images
In a throwback style to the era of Y2K, or long before in decades past when thigh-high footwear was all the rage, socks have taken advantage of their moment to join in on the classic thigh-high look. US Weekly shares that thigh-high socks include solid and netted tights, cotton and nylon opaque pairs, and sheer socks blending the modes of pantyhose and solid sock material. 
Satin bows give socks finesse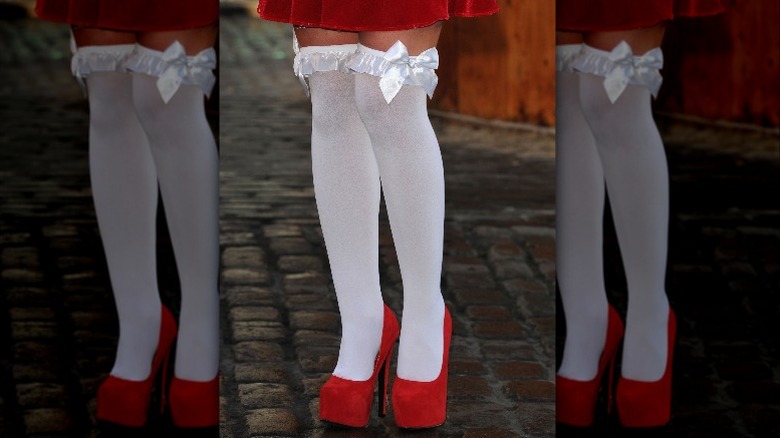 Eamonn Mccormack/Getty Images
In a twist on the classic style, socks made of netting, lace, and cut-out designs deliver power looks of poise, precision, and the right about of preppy influence, particularly when tied with a satin bow at the top. These non-traditional sock designs are perfect for elevated styles, such as a night out or a formal event. 
Simple socks are simply classic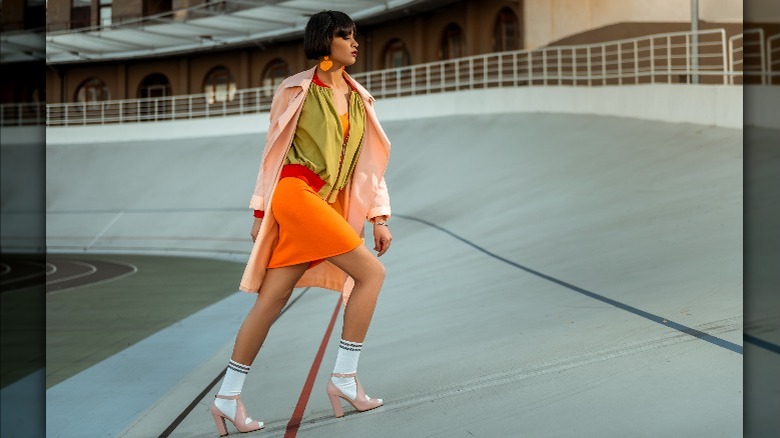 YAKOBCHUK VIACHESLAV/Shutterstock
Basics are better or, in many cases, the best way to pair trends to achieve an understated aesthetic. Ankle-length solid socks with the slightest bit of fringe or lace atop the seams can give you the exact amount of understated sock style you need to be cozy and modish. Throwbacks to the '90s, uncomplicated white, off-white, and neutral colors epitomize versatile sock fashion. Pair these simple sock designs with loafers, Mary Jane-styled shoes, or your favorite activewear pair of trainers, and you'll be ready to subtly signal the surge of sock style taking hold.
Blend trends for spectacular sock sights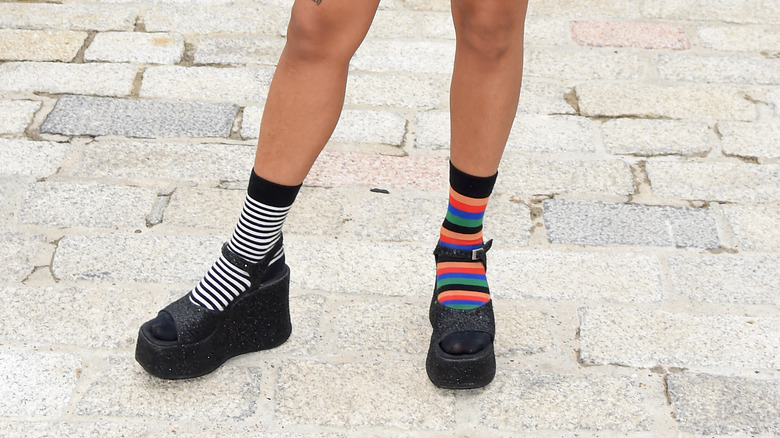 David M. Benett/Getty Images
Circling back to multiple sock-hopping trends, there are plentiful ways to curate fashion fusions using any length of sock. For instance, you might choose to pair pearl-embroidered socks with a pair of boots, going for a trio-trend win by combining monotone shoes and sock pairings that really let the pearls pop. You may find your perfect pairing in thigh-high socks with heels or colorful striped socks rolled neatly above loafers. For astrological inspiration, go with the Gemini trend of wearing mismatched socks, the perfect vibe if you're constantly losing socks in every laundry load.