How To Make A Bowl Cut Look Glamorous (Yes, It's Possible)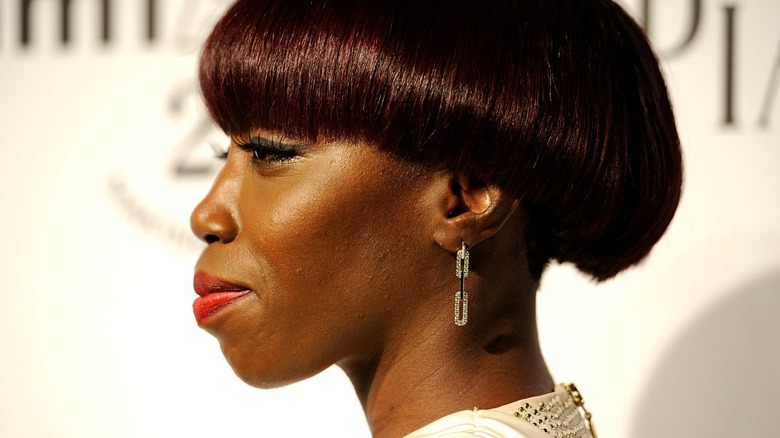 Frazer Harrison/Getty Images
If there's any hairstyle that can summon up an instant, collective trauma response, it may be the divisive bowl cut. If you weren't subjected to a bowl cut as a kid, here's the gist of the look: thick, super-blunt bangs that carry through the rest of the haircut in a continuous line. Essentially, your all-over hair length will only hit the same level as your bangs — or, in some variations, sweep gradually down to the nape of your neck. Can't envision it? Think Maya from "Pen15," Lloyd from "Dumb and Dumber," or Will Byers from "Stranger Things."
As the name suggests, this style was originally achieved by inverting a bowl over the victim's head, then trimming up all their hair until it followed the bowl's rim. You can begin to see why this cut has such a negative reputation. But, believe it or not, bowl cuts can not only be styled well — they can be downright glamorous. "The bowl cut is the purest extension of a bang," hairstylist Devin Toth tells Popsugar. "It's easy, it's fun, it's bold, and it's also celebrity driven. ...Even if you cut some texture into a bowl cut, it's still super thick-looking, which is cool and really in right now."
Ultimately, the success of this risky, make-or-break hairstyle all comes down to how you wear it. But if you're brave enough to take the plunge, there are many different ways to style bowl cuts for instant flair and sophistication.
Evoke vintage vibes with a long, blunt bowl cut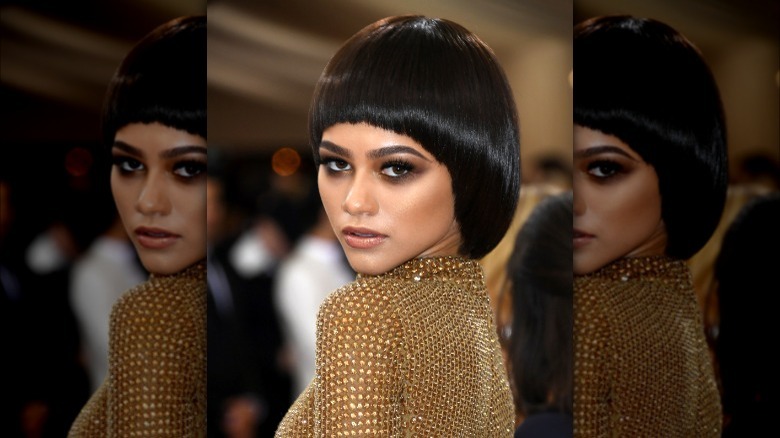 Larry Busacca/Getty Images
Nothing is quite so glamorous as a vintage look. But you don't always have to go for an elegant Audrey Hepburn aesthetic. Instead, why not bring back the best of quirky '60s style with a long and glossy bowl cut? The rounded shape of this mod staple creates a striking silhouette and adds character to any outfit. One caveat, however: This style can be tricky to dress down without seeming borderline frumpy. You'll probably want to match its eccentric energy with something equally over-the-top, whether that's a super-chic rhinestone gown or a bright and voluminous faux fur coat.
Make it modern with sharp edges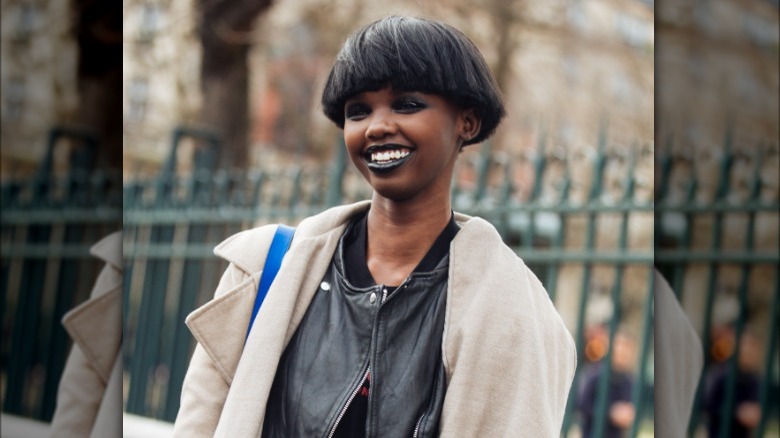 Melodie Jeng/Getty Images
If you don't want your bowl cut to skew too heavily toward nostalgia, you can modernize the look with razor-sharp edges. Instead of flaunting soft falls of hair, ask for a bowl cut with stark, clearly-defined ends. This crisp style pushes boundaries and shows off your bone structure with its distinct shape. Depending on your natural hair type, you may need to occasionally freshen up the style with a flat iron, but the effect is so worth it.
Add movement with a side-swept bowl cut
Most bowl cuts are characterized by their rigid lines and straightforward styling. However, you can also bring a little movement and subtle playfulness to a bowl cut by gently sweeping it to the side. By laying your hair at an angle rather than in a vertical fall, you can soften the cut's overall finish. This approach is also one of the easiest bowl cuts to dress down, making it perfect for anyone who wants to try out the style without committing to hyper-glam or over-the-top ensembles every day.
Dye it platinum for chic, expensive vibes
Let's be honest: Bleaching your tresses to a platinum hue can make almost any haircut look expensive, including the contentious bowl cut. A pale blond or even silver shade gives your bowl cut a surprising air of refinement, making it easy to dress up. Of course, to pull off this look safely, there are a few things you should know before going platinum blond. Shiny, healthy hair is key to pulling off a glamorous bowl cut that sits the way you want it to, so be careful that you don't end up with bleach-fried locks, instead.
Make it sultry with a glam, polished look
Often, the key to pulling off a chic bowl cut is actually in the rest of your look. As such, you can quickly add glamour to the cut by doubling down on a glam aesthetic everywhere else. Make your bowl cut the crowning glory on a head-to-toe ensemble by applying a sultry makeup look, rocking a cute manicure, and sliding into an outfit that makes you feel sexy and powerful. The fearlessness you'll be radiating will ensure that your bowl cut comes across as a fierce, intentional style choice.
Pair it with a mullet for an avant-garde twist
They say that a mullet is "business in the front, party in the back." But by combining the ever-edgy choice of a mullet with the equally eye-catching bluntness of a bowl cut, you can create a hairstyle that's fashion-forward from every angle. Though not for the faint of heart, this daring hairstyle oozes confidence, declaring your presence without having to say a word. And to make the look even more audacious, why not add some exciting color to the cut? The end result will be an avant-garde masterpiece sure to turn heads.
Add drama to make your bowl cut a statement