Your Mom's Old Birkenstock Clogs Are Actually The Shoe Of The Summer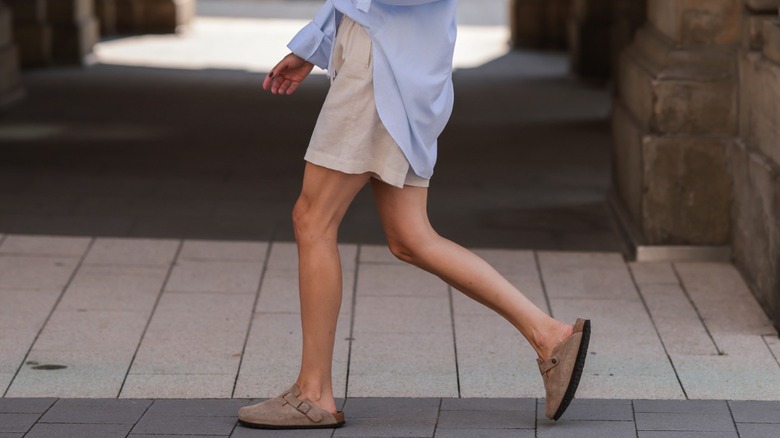 Jeremy Moeller/Getty
Everyone is loving a chunky shoe moment this summer – dad sandals are on the rise — and now an iconic shoe is joining the ranks as one of the biggest styles of the season: the Birkenstock Boston clog. The suede clog-style slides have been a big hit since Fall 2022, with reports that the shoes were mostly sold out and resale prices were surging. Once the "it shoe" for fall and then a stronghold of the spring clog trend, Birkenstock Bostons are truly proving their versatility by becoming a major favorite of summer streetwear style.
First released in 1979, Birkenstock Bostons are a classic for casual footwear, with a comfortable build and a simple, cozy design. While you can style these suede clogs for a quintessential late-20th century boho vibe, you can also make the shoes compatible with a preppy aesthetic or dress them up for a going-out ensemble. No matter how you like to rock your Birkenstock Bostons, they deserve a place in your regular summer footwear rotation.
Stay cool with linen
Before they became treasured items for TikTok influencers, Birkenstock Bostons functioned as loungewear, putting comfort well ahead of style. If you still like your Birks to serve as your relaxation shoes, try wearing them with a lightweight linen set. Linen is super breathable while having a high-end feel, which is perfect when you want to chill out and still look cute. You can keep the whole ensemble neutral with shades of beige, or add a fun pop of color with one of the brighter Birkenstock Boston color options, such as blue or green.
Birkenstocks with an edge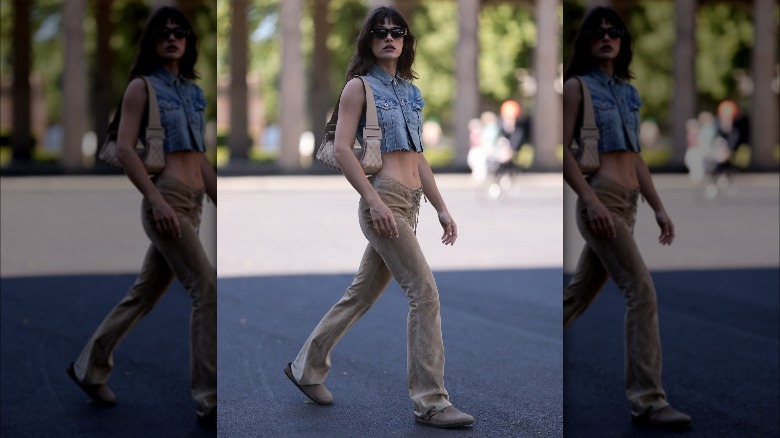 Jeremy Moeller/Getty
Birkenstock clogs are broadly associated with a laid-back, Bohemian vibe, but you can add more of an edge to your Birkenstock ensemble by incorporating rugged textures and bold silhouettes. A cropped denim top paired with your favorite pants will take your Birkenstock Bostons out of the '80s and into the world of contemporary streetwear. Make the clogs feel even more current by adding a few refined accessories such as sleek sunglasses and a stylish purse.
Business casual Birkenstocks
If your work commute involves walking, Birkenstock clogs are your new summertime bestie. If your work environment is a little too formal for Birkenstocks, just swap them out for heels once you get to the office. But, if you want to put the casual in business casual, try pairing clogs with an oversized blazer and straight-leg jeans, which flatter every body shape. An oversized blazer with jeans will have you feeling like you stepped out of an early "Friends" episode, while the Birkenstocks will add an extra touch of understated '90s style, giving you that cool-girl energy.
Dress it up with a skirt
With the right outfit, Birkenstock Bostons can have a surprisingly upscale feel. Granted, you won't be wearing these to a black-tie wedding, but the clogs are great if you love the stealth wealth aesthetic. When combined with more elevated pieces, Birkenstocks serve as a subtle nod to a quality, well-loved brand. So, wear your Birkenstocks with a midi skirt, cute top, and dainty accessories, and you'll fit right in while on vacation at a luxury destination.
Cute clogs for casual looks
For a casual shoe that supports your feet and goes with any outfit, Birkenstock Bostons are a worthwhile investment. With these shoes, you can create dozens of seamless summer ensembles. If you're feeling stumped on how to style Birkenstock clogs for warm weather, stick to a simple equation: shorts and an open button-up shirt. You may want to add socks to help ground the clogs against your bare legs, while the shirt will give a breezy, beachy look. Add a straw bag or tote, hat, and sunglasses, and you'll run your summer errands in style.