Rosie Huntington-Whiteley's Blush Application Trick Snatches The Face (& Will Be Your Go-To)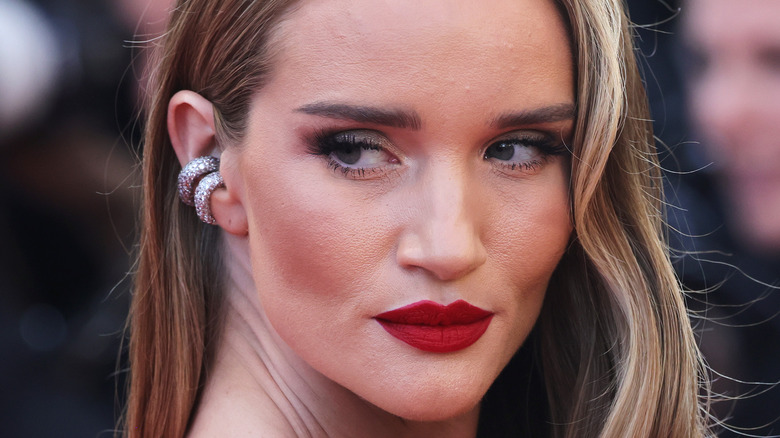 David M. Benett/Getty Images
Where would makeup be without TikTok? In a world with a myriad of beauty hacks, the social media app has given us an influx of ideas to take our makeup to the next level. One person who has stopped to give us a peek into her array of knowledge is none other than supermodel Rosie Huntington-Whiteley. The former Victoria's Secret model is the founder of Rose Inc., a cosmetic line in 2018. "I've always loved beauty, not just the products, but the entrepreneurialism and creativity," she explained to Elle. "And I often have top experts at my fingertips, through my work in front of the camera and as the founder and editorial director of my beauty website Rose Inc."
Not only has Huntington-Whiteley figured out which makeup looks work for her, but she has some of the best tips for applying blush. By applying her blush higher than usual, she creates the ultimate sculpted look.
How to apply blush like Rosie Huntington-Whiteley
Rosie Huntington-Whiteley recently appeared in a TikTok video with social media star, Kensington, to show how she gets a beautifully sculpted look using blush. When applying blush like Huntington-Whiteley, she turns to a cream blush to get the job done. She takes a dense makeup brush, and instead of applying it directly to the face, she prefers to let it warm up onto the skin. Makeup artist Kasey Spickard explained the reasoning for this to Makeup.com by L'Oréal, saying "Before applying to the face, I like to take my ring finger and swipe it into the cream blush in a circular motion, then swirl it onto the back of my hand to warm it up."
In the TikTok video, she then has Kensington apply the blush on top of her cheekbones as a hack for a perfect sculpt. She then recommends placing a bit of blush on the eyelids for an easy way to enhance your eyes without actual eyeshadow. From there, you can expect to look effortlessly snatched with just a little blush.
How to do your makeup like a supermodel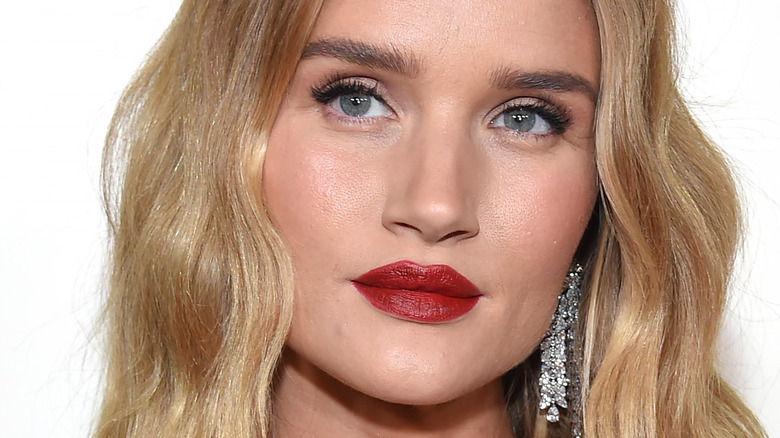 DFree/Shutterstock
Of course, with her years in the makeup industry, Rosie Huntington-Whiteley has to keep experts close to her. While talking to NewBeauty, Huntington-Whiteley's makeup artist Jason Hoffman explained that to create the stunning look for his client, he has a whole process before even applying foundation. "My current obsession is 'pre-lighting' the skin," Hoffman told the source. "I will apply a liberal amount of the Rose Inc. Solar Radiance Hydrating Cream Highlighter to the high points of the face and the apples of the cheeks. After, I go in and apply the Rose Inc. Skin Enhance Luminous Tinted Serum. The effect is truly ethereal and literally, lit from within."
Once the base of her makeup is on, Huntington-Whiteley mentioned in Kensington's TikTok that she applies her bronzer near the back of her cheeks. By doing so, she creates a starker contrast at the high points of her cheekbones, which results in the lifted look we all want.