Gluing Rhinestones To Falsies = The Lash Hack Giving Euphoria Vibes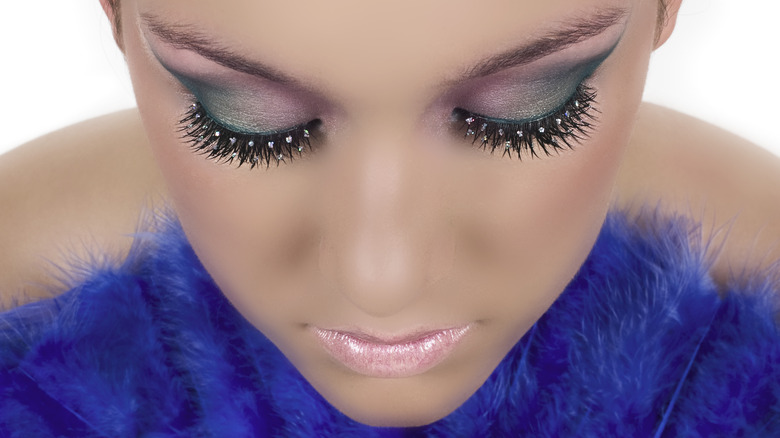 Brian Chase/Shutterstock
If you were totally captivated and inspired by the ethereal, glittery aesthetic of "Euphoria," you certainly weren't alone. The moody neons and gleaming rhinestones that shine across just about every storyline in the hit show are definitely something to be desired. And when it comes to false lashes, there don't seem to be many limits in the realm of creativity and exploration. Hardly anyone seems to bat an eye at the long, colorful, lush false lashes makeup enthusiasts are donning these days and we're loving the fullness of self-expression this trend lends.
All you need to upgrade your favorite falsies to a "Euphoria"-level aesthetic is some lash glue, tweezers, and a few shimmering mini rhinestones. This hack is all in the technique and the results have us experiencing major lash envy. If you're ready to take your lashes up a notch and tap into the celestial energy of the trend, gather your supplies and get ready to wow.
Choose the right supplies and prep your lashes
While you certainly can find false lashes with rhinestones already applied, taking a whirl at it yourself and choosing your layout, tone, and overall style is a lot more satisfying. To nail this trend, you'll want to find rhinestones that are light enough and won't weigh down your lashes. You can use your go-to lash glue and you'll want to prep your lashes as you typically do before applying falsies, such as curling your real lashes beforehand.
Once you've gathered your supplies and prepped your lashes, you'll apply small dots of lash glue to your false lashes before you apply them to your eyelids. You could do a minimal look, with just a few dots of glue for your rhinestones, or something busier with a full row or two of sparkling gems. Using tweezers, gently apply your mini rhinestones to the back side of the lashes, holding them down on the glue until they're solidly in place. Then arrange your color palette as you'd like — multicolored, silver, gold, or an intentional pattern.
Try the trend with makeup rhinestones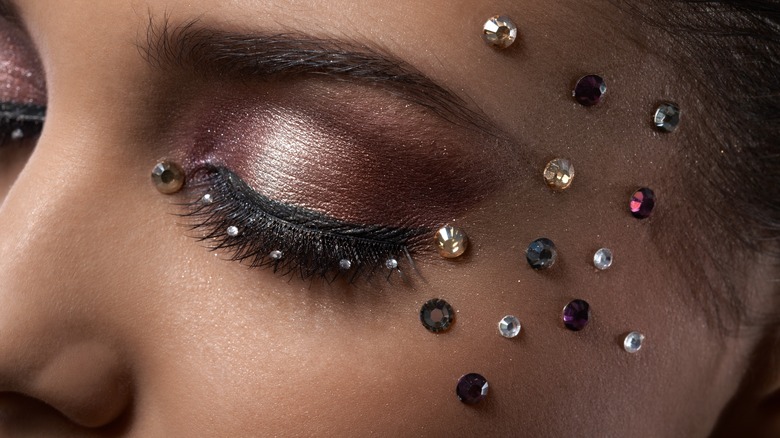 StockLite/Shutterstock
If you're tempted to blend this trend with some additional face gems, we're all for it. Whether you place them on the temples, eyelids, cheekbones, or brow bones, go all in, in full "Euphoria" form. You'll use a similar technique as you did when gluing your rhinestones to the falsies. If you're wondering how to make face crystals and gems stay in place, simply use tweezers to press the rhinestone to a small dot of adhesive and hold firmly until it's steady and in place, according to L'Oréal Paris. The dazzling effect of this duo is nothing short of dreamy.
You may be wondering how to remove the lash glue from your face and if it'll be a messy process, but the routine is fairly straightforward. You'll just need a gentle makeup remover to lift the glue spots and cleanse the area once you're done with your swoon-worthy look. If you have false lashes you can reuse, be sure to place them gently — rhinestones and all — in a safe spot for future use. You never know when a "Euphoria"-inspired moment may strike.