100 Years Of Bridesmaids Dresses
Static media / Shutterstock
While the focus of any wedding is and should always be the bride (or couple getting married, obviously), most wedding parties have a bridesmaid or three standing beside them. What these women wear, and what they have historically been forced to wear, has been a topic of fascination, humor, and occasional dismay for decades. According to Racked.com, a 1920 issue of Vogue designated the bridesmaid look to be "charming, yet not too charming; distinctive, yet not too prominent." Unfortunately, those rules have not always been the universal standard. 
Traditionally, bridesmaids weren't ugly dress wearers, bachelorette party planners, or assistants who helped the bride navigate the bathroom in her dress during the reception. The role of bridesmaid dates back to ancient Rome. The bride's attendants were required to wear the same outfit as the bride to confuse ghosts and evil spirits. Brides in cultures around the world also often had to travel long ways with their dowries to meet their groom. To confuse bandits and rival suitors, bridesmaids were tasked with looking like the bride to protect her and her wealth. These women also carried bouquets, not as a beautiful accessory, but to mask body odor.
Today, bridesmaids aren't decoys, servants, or protectors from the supernatural, but close friends and family members who love the bride. Over the last century, their duties have shifted alongside their style, borrowing trends from decades past and developing brand new ones that made a huge impact on bridesmaids fashion.
1920-1929: Flapper chic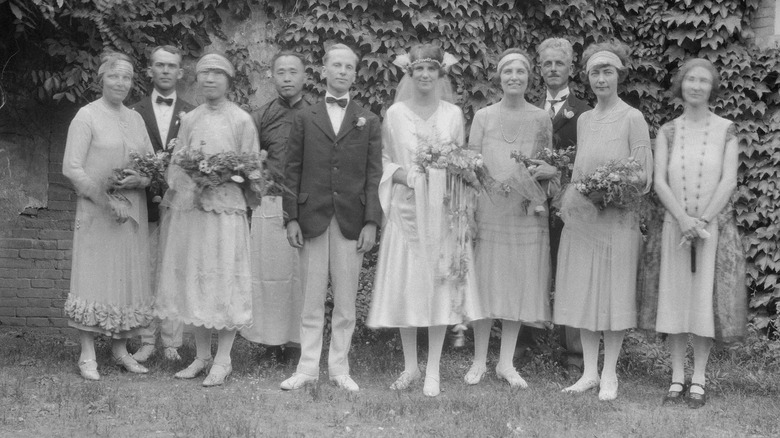 Duke University Rubenstein Library/gado/Getty Images
The '20s was a decade with many names: the Roaring Twenties, the Gilded Age, the Jazz Age, or the Mad Decade. Technology modernized at lightning fast speed, while literary, musical, and artistic icons dramatically shifted the culture away from the stuffy morality of the Edwardian era toward all things youthful, boisterous, and fun. Fashion too took its cues from the high energy and rebellious lifestyles sought after by the young, opting for relaxed, freeing silhouettes. Gabrielle "Coco" Chanel, a prominent French fashion designer, was a key figure of the era. She is known for introducing androgynous, loose-fitting fashion into the modern woman's wardrobe, and today is celebrated for her role in crafting the decade's iconic flapper girl look alongside designers like Jean Patou and Elsa Schiaparelli.
Bridesmaids dresses, like most women's fashion of the era, were directly influenced by the flapper girl. This stylish look ditched the stifling corset and ankle-length hemlines of previous decades for straight drop waists, low necklines, and short hemlines. The preferred silhouette also featured a flat chest, which many women achieved by binding their breasts. Dresses featured a variety of looks, from handkerchief hems to slip dresses. A particularly popular look for bridesmaids was the Robe de Style dress, a garment that featured the signature drop waist but with a full skirt. Most bridesmaids dresses were relatively plain and sleeveless to show off the arms. Bridesmaids of the era typically had short, bobbed hair which they sometimes accessorized with cloche or caged hats.
1930-1939: Hollywood glam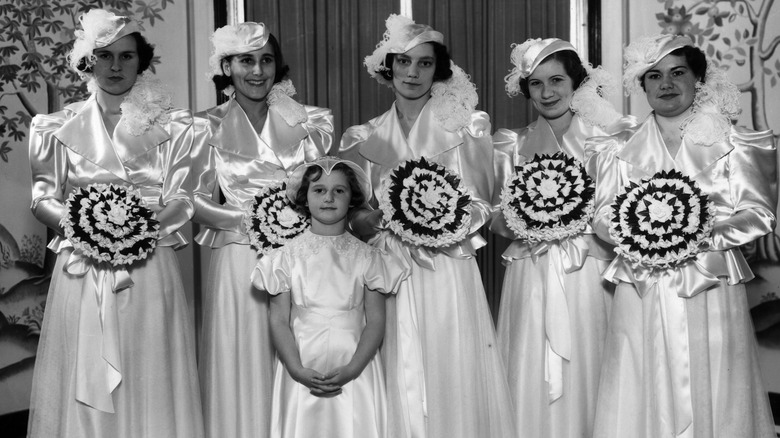 Sasha/Getty Images
In the 1930s, women's fashion began to leave behind some of its bold and rebellious ways for a modest, romantic, and elevated sophistication. The masculine silhouettes that defined the '20s began to shift into more conservative but extremely elegant looks that celebrated feminine curves. The Great Depression had an impact on bridal fashion in the early part of the decade, forcing brides and their bridesmaids to dress up in double breasted day suits or re-wear their best dresses. These garments often possessed elements of the Art Deco aesthetic from the '20s, but typically featured wide, padded shoulders, natural high waists, a modest neckline, and long, smooth skirts that reached the mid-calf.
However simple or informal bridesmaids dresses might have been in the early part of the decade, the influence of Hollywood glamour was particularly evident in the latter half of the '30s. The opulence and theatricality of rising Hollywood stars like Bette Davis, Joan Crawford, Josephine Baker, and Marlene Dietrich provided a needed sense of escape during tough times, and sent brides running to replicate their glamorous style in their weddings. Brides often dressed their bridesmaids in long dresses with puffy or full sleeves, many of which had a sleek, slim cut and came in high sheen fabrics like satin. Bridesmaids also wore pastel blue, pink, or cream, accessorized simple updos with Juliet caps, and carried bouquets of lilies or roses down the aisle.
1940-1949: Simplistic elegance
Minnesota Historical Society/Getty Images
Rationing during World War II forced a more restrictive and somber approach to fashion. Weddings were simple, informal affairs that often took place while soldiers were on leave. Men were married in their military uniforms while brides often wore borrowed dresses from friends or made their own dresses from silk or nylon parachutes. Many brides and bridesmaids simply wore their best suits, usually in colors that they could wear again after the wedding. The style of the time was modest and uncomplicated but supremely elegant, as seen in figures like Queen Elizabeth at her wedding to Prince Philip in 1947.
Hats were one clothing item that remained free from wartime rationing. Not only were these accessories seen as a fun and creative way to liven up drab or simple day-to-day ensembles, they became a fixture in a bridesmaid's outfit. These hats often matched the long, flowing dresses and came in a range of styles, including donut-shaped rings that ringed the head, and were decorated with trailing ribbons or fake flowers.
The puffy sleeves popular during the '30s began to fall out of favor in late-1940s wedding fashion and were replaced with cap sleeves or long fitted sleeves. As fabric rations began to lift, bridesmaids wore more decorative dresses with sweetheart necklines, peplums, or ruching as well. Like wedding dresses of the decade, the emphasis of a V-shaped waist was popular and helped bridesmaids cut an elegant figure at their friends' weddings.
1950-1959: Classic femininity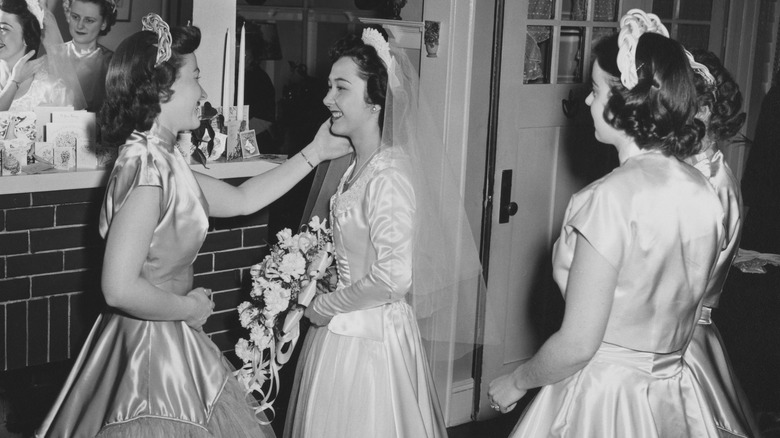 Archive Photos/Getty Images
With the hardships of the Great Depression and the devastating losses incurred during World War II slowly fading into history, the 1950s were a time of celebration, optimism, and prosperity for many young couples. Weddings were frequent, and the cultural shift toward family values and traditionalism was apparent in the resulting fashion. Both brides and their bridesmaids dressed in accordance with the fashion of the day, opting for formal garments that featured soft shoulder lines, padded hips, and wide tea-length skirts with ample tulle.
High-profile brides of the era like Elizabeth Taylor and Jackie Kennedy dressed their bridesmaids in daffodil yellow and pink respectively, two colors that became highly popular options for weddings throughout the decade. Soft pastels like lavender and mint green were also frequently seen, colors that complemented the bouquets of lilies, gardenias, and white or pink roses brides often chose. A fitted waist combined with a full skirt made from layers of crinoline was the signature silhouette of the decade, popular for its modest but flattering femininity. Most bride and bridesmaids dresses had sleeves, although bolero jackets were a popular choice that allowed women to get away with wearing strapless gowns. Headpieces were not uncommon, nor were matching accessories like gloves, simple pearl jewelry, pillbox hats, and shiny, close-toed pumps.
1960-1969: Playful and vibrant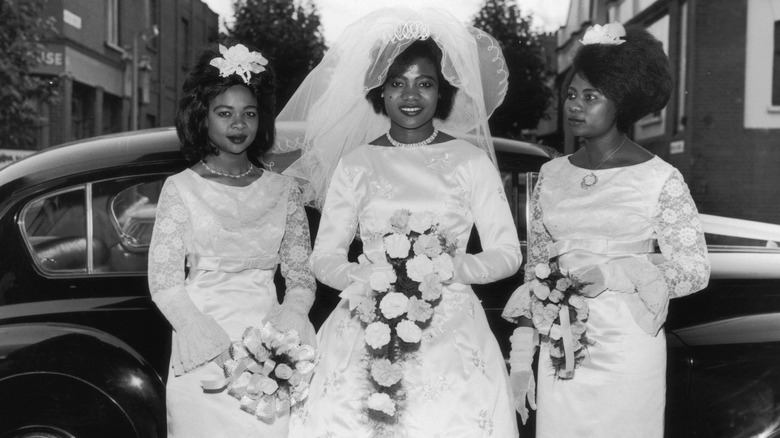 Val Wilmer/Getty Images
1960s women's fashion was a mixed bag of conservative elegance and playful, free-spirited vibrancy. Actors Mia Farrow and Audrey Hepburn inspired classic brides with their put-together elegance; entertainers like The Ronettes, Marsha Hunt, Cher, and Yoko Ono made rocker-chic a daring bridal choice to aspire to; and models like Twiggy and Brigitte Bardot influenced bridesmaids fashion with their mod mini dresses and signature hairstyles.
Bridesmaids' looks ranged from babydoll and empire waist dresses to stylish shift dresses in a range of earthy, vibrant, or pastel colors. For the first time, patterned fabric became an acceptable part of wedding fashion, with bridesmaids wearing floral and funky patterns in line with the bride's preferred aesthetic. Mini dresses were especially popular bridesmaids choices as well as color blocked dresses. Color blocked dresses were typically empire-waist dresses with a brightly colored bodice and a white or cream colored skirt, although some brides chose to dress their bridesmaids in alternating bright colors for a mismatched look. Headpieces ranged from simple headbands with bows to mini pillboxes with short veils accompanied by accessories like short gloves and floral corsages.
1970-1979: Bohemian romance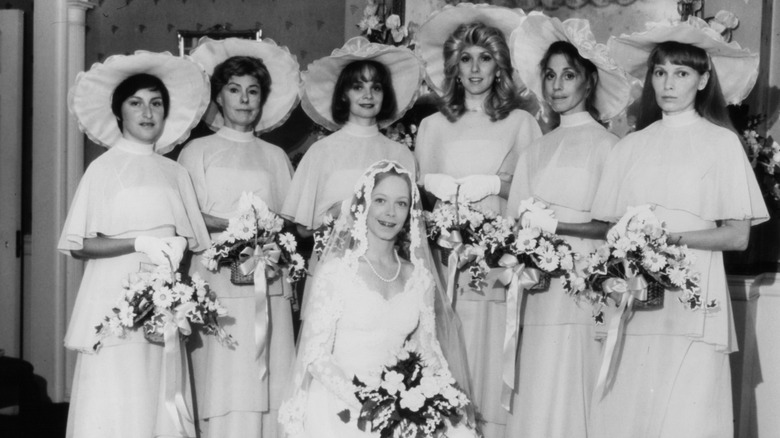 Michael Ochs Archives/Getty Images
Like the decade before, 1970s bridal party fashion can't be defined by a single cohesive look. Fashion was characterized by an eclectic mix of nostalgic and mainstream cuts, minimalist and maximalist, glamourous and casual. The hippie movement and its emphasis on loose fabrics, fun floral patterns, and outrageous colors showed up in bridesmaid fashion, as did embellishments such as bohemian lace, crochet, fringe, and floral embroidery. Radically chic bridal suits came back into style thanks to Bianca Jagger, while famous brides like Alana Hamilton and Farrah Fawcett opted for lacy, romantic boho style dresses that inspired a decade of brides.
Bridesmaids dresses were inspired by Renaissance-era fashion, featuring billowing sleeves and off-the-shoulder styles similar to those which brides often wore. More conservative brides dressed their bridesmaids in long-sleeved dresses with high necklines and ruffles, taking inspiration from the prairie dress trend that dominated the decade. Accessories for bridesmaids were as diverse as their dresses in the 1970s, but floral crowns were a universally adored addition. Not only did they add a touch of natural beauty to a bride or bridesmaids' ensemble, but they were also versatile enough for a glamorous affair or a rustic-chic ceremony.
1980-1989: Big, bouncy, and busy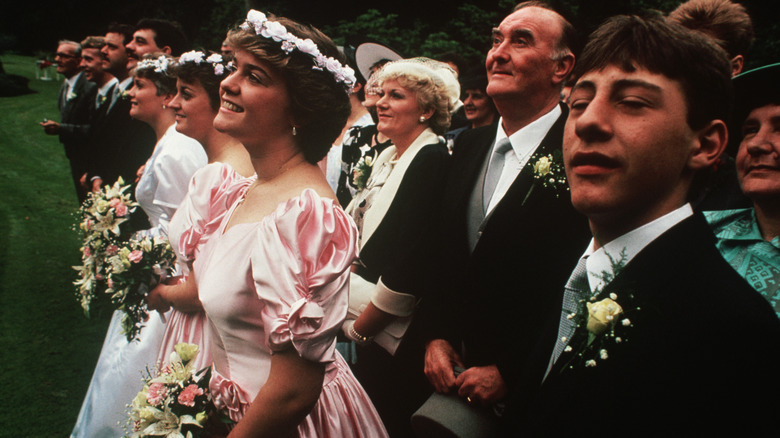 David Turnley/Getty Images
Every detail of weddings in the '80s, from the bridal gown to the cake, focused on making a dramatic statement. "Wedding dresses in the 1980s were all about volume, epic proportions, and regal lace," bridal designer Monique Lhuillier tells The New York Times. The incomparable gown Diana Spencer wore for her wedding to Prince Charles ushered in a worldwide demand for voluminous puff sleeves, flouncy skirts made of silk and taffeta, lace embellishments, and regal trains in bridal and bridesmaid fashion.
Bridesmaids dresses, while not as grand or show-stopping as '80s bridal gowns, were voluminous and busy in their own right. They also weren't meant to be beautiful. While bridesmaids in earlier decades often matched the bride in color or style, or at least closely complemented her look, the idea that no bridesmaid could be prettier or look better than the bride came into effect during the '80s. The dresses were often identical and came in unflattering cuts and fabrics. Laura Ashley floral frocks were a slight exception to this rule, featuring bold pastel floral patterns on prairie dress-style designs that many brides preferred. Shades of pink and blue were popular color choices for bridesmaids as well.
The signature puffy sleeve was a common denominator in bridesmaids' looks as were decorative elements like oversized bows, covered buttons, and pleated skirts. Bridesmaids were often asked to wear satin-wrapped headbands that lay across the forehead, large sun hats that matched their dresses, floral hair pieces, and gloves.
1990-1999: Moody minimalism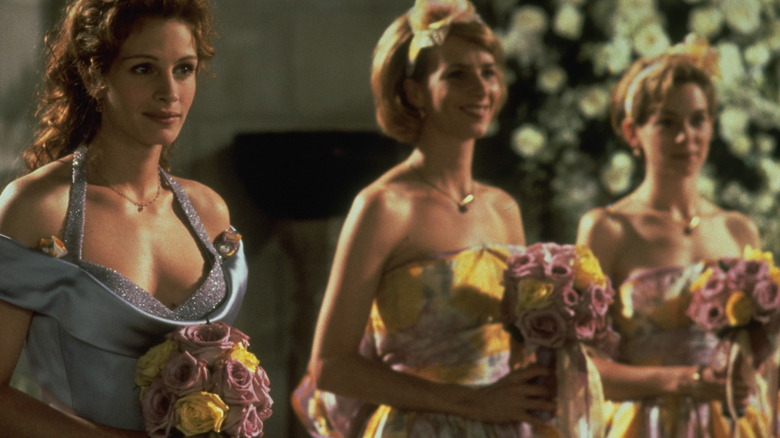 Ronald Siemoneit/Getty Images
The '90s saw a reprieve from the volume and busyness of the 1980s. Brides weren't interested in glittery appliques or poofy princess skirts with mile-long trains, preferring sleek and sexy looks for their big day. When it came to dressing their bridesmaids, brides thankfully preferred toned down, minimalist designs as well. Movies about weddings like "Father of the Bride" and "My Best Friend's Wedding" starring Julia Roberts (pictured above) were influential in wedding and bridesmaid fashion decisions, and designers like Jessica McClintock rose in popularity.
Pre-Y2K, bridesmaids were asked to match the other members of the bridal party in every way. There was little to no deviation between hair, makeup, jewelry, and accessories. The beginning of the decade saw bridesmaids dressing in moody, reserved color palettes like navy blue, black, and burgundy, while the latter half of the decade lightened things up with shades of lavender. While brides often dressed in satin slip dresses or slinky silk crepe ensembles, bridesmaids wore heavier garments in velvet or brocade, often with off-the-shoulder sleeves, spaghetti straps, or halter tops. Slightly draped necklines were also popular.
2000-2009: Sleek and simple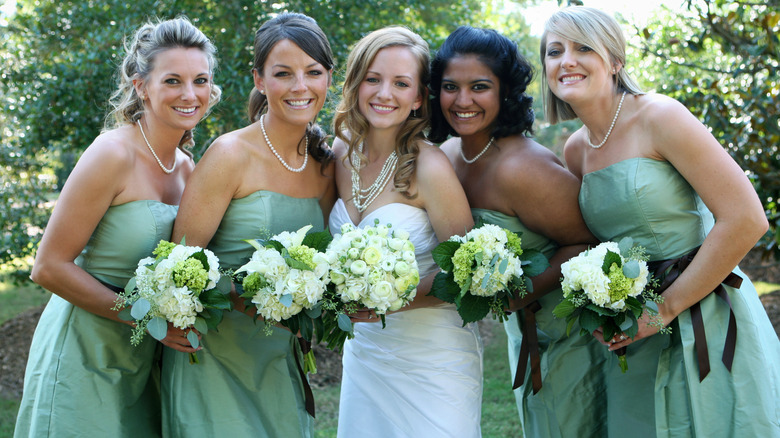 Kirin_photo/Getty Images
Bridesmaid fashion in the early and mid-aughts lightened up significantly when compared with its '80s and '90s counterparts. Although many of the trends that began in the '90s carried over in subtle ways into the new millennium, gone were the dark, heavy fabrics and overly accessorized ensembles. Some nostalgic brides dressed their bridesmaids in empire-waisted, full-length gowns with beaded busts and elbow-length gloves, but the majority wanted to achieve a different vibe for their weddings.
Brides were more open to sleek and simple looks for their bridal party, favoring strappy or strapless dresses with square, sweetheart, or softly draped necklines. Halter tops became a fixture of bridal party fashion as well, often accompanied by ruching or softly pleated details in the front. Flowy, fluid, and simple bridesmaids dresses were in vogue, as seen in multiple occasions on popular TV shows of the era like "Friends," "The O.C.," and "Desperate Housewives." Shiny satin and chiffon were common dress fabrics. Brides of the early 2000s also loosened the reins on their color choices, creating palettes with multiple colors and even highlighting the Maid of Honor by having her wear a dress in a different shade altogether. Blues, pinks, scarlet, and deep purple were common. Little black dresses — which could, theoretically, actually be worn again — also became trendy.
2010-2019: Mismatched, rule-breaking beauty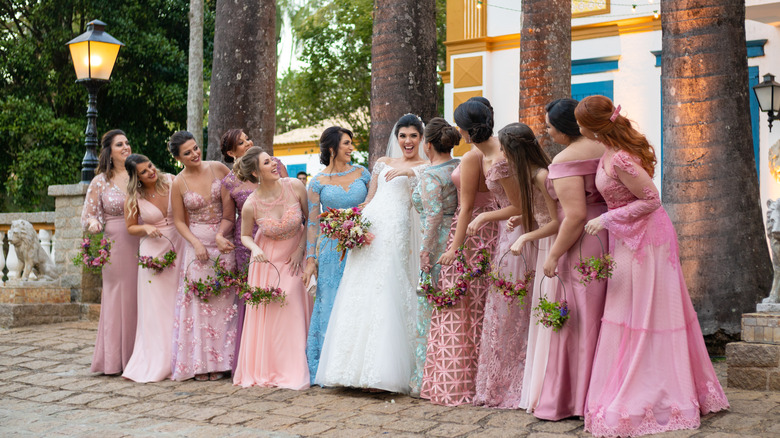 Fg Trade/Getty Images
This period of wedding fashion history saw some incredibly influential, culture-shifting weddings, both in real life and on the silver screen. After the 2008 release of "Sex and the City: The Movie" showcased Carrie Bradshaw's best pals sporting stunning formal gowns in different colors, cuts, and styles, brides began to adopt the purposefully mismatched look in their own weddings. The idea that a bridesmaid had to match her counterparts, even if the chosen dress or color didn't suit her, was no longer the standard. Brides wanted their bridesmaids to look and feel beautiful in dresses they helped pick, often putting together bridal parties wearing different lengths and styles. Selecting a single color and encouraging bridesmaids to choose a dress within that color family also became popular.
The royal wedding of pop culture icon Kate Middleton and Prince William in 2011 also had a major impact on bridal fashion of the decade. While Kate Middleton's stunning Alexander McQueen gown had brides starstruck in front of their TV screens, it was her bridesmaid Pippa Middleton that changed all the rules of what a bridesmaid could wear and how she could look. Not only was her dress ivory to match her sister's, the full-length gown featured a figure-hugging silhouette, a flowy cowl neck, and cap sleeves with delicate lace trim. Brides loved the clean, ivory aesthetic and questioned whether it mattered if their bridesmaids shied away from white, a color typically reserved for the bride.
2020s: The modern, individual bridesmaid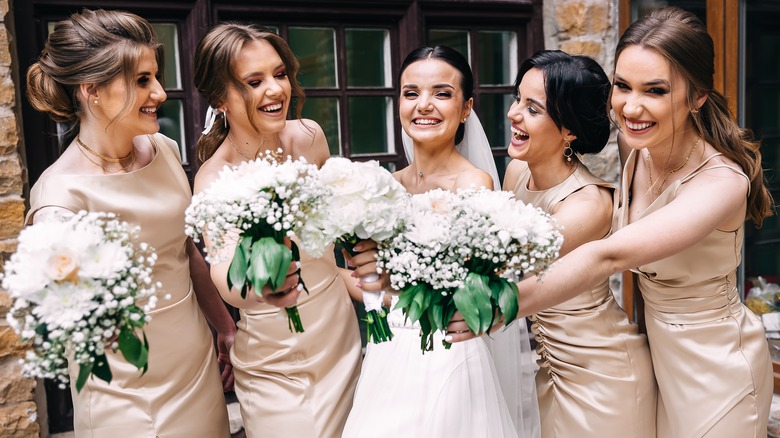 Kyryk Ivan/Shutterstock
Although the 2020s got off to a less-than-ideal start in every conceivable way, weddings and the love they celebrate have prevailed. Recent years have also ushered in a new wave of wedding fashion in which bridesmaids especially benefit. In addition to the mismatched trend, which is still going strong, modern designers are focusing on offering a wide array of styles for bridesmaids to choose from. It is generally agreed upon that no one can or will outshine the bride, so allowing bridesmaids to dress in trendy, classy, and sophisticated garments that celebrate their individuality should be the norm.
"We've been moving away from the very traditional look of bridesmaids wearing identical dresses, with matching hairstyles, makeup, shoes, and accessories," designer Kate Halfpenny tells Brides. "The modern style of different outfits, but in the same colorway, is a very welcome change."
Modern bridesmaids dress trends run the gamut from bold, fashion-forward options to lavish, Hollywood glam-inspired formal dresses. The reason for this? There are no rules anymore, in the best possible way. Bridesmaids dresses don't have to be ugly, and they don't have to conform to a specific trend if the bride's style doesn't swing in that direction. "Someone having a glam ballroom wedding may like the luxe uniformity of all-black matching dresses," Lauren Whalley explains to The Knot. "On the other hand, an outdoor spring wedding might lend to more laidback floral prints and patterns like you would see at a garden party."