'Overcast Nails': The Gray, Moodier Version Of The Blueberry Milk Mani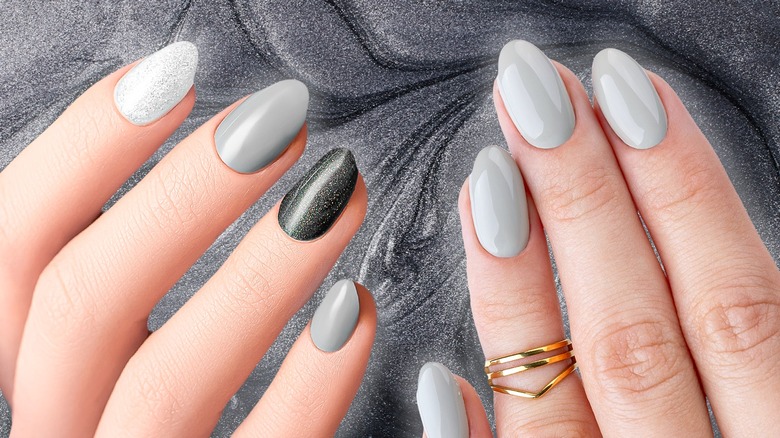 Static Media/Shutterstock
We love seeing so many milky nail trends popping up in 2023, such as creamy blueberry milk nails and lavender latte nails. These subtle manicures are ideal for adding hints of cool hues to our nails without appearing too bold. But if you want an angstier version of the trend, you should consider using gray nail polish. While gray manicures are edgier than blue and purple options, the cool gray can also appear calm and will work with many outfits. 
"Gray signifies balance and serenity, and I think sometimes we forget how it feels to be still and neutral," Essie celebrity manicurist Michelle Saunders told PopSugar. "Manicures are part of self-care and the perfect time to find a bit of peace; by choosing the 'gray space' theme, we can give ourselves a gentle reminder of this." 
A light gray with bluish, purple tones, overcast gray takes an airy nail trend and makes it decidedly more moody. Overcast nails can add a touch of mystery to your look, and with the tranquility they bring, they perfectly symbolize the calm before the storm.
Rock a cloudy gray shade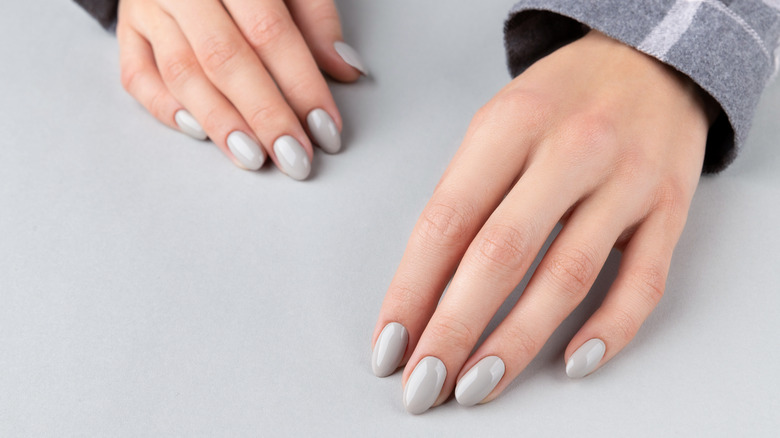 Dariia Chernenko/Getty Images
If you want to achieve that overcast-inspired appearance, you should opt for a cloudy shade of gray. So, avoid grays with prominent pink tints, or grays that are too smokey, to help your manicure more accurately resemble the moody cloud-like look. While those hints of color might appear more exciting than ultra-neutral grays, they aren't as on-point with the stormy style.
Add metallic embellishments
If you want to make your overcast manicure appear even more glamorous, try adding gold metallic half-moons at the base of the nail, in the style of a reverse French manicure. These gems will prevent your gray nails from looking dull, bringing the nail design to life. 
Try a glittery gray nail polish
Anyone who typically prefers more glamorous manicures and worries that overcast nails might look too dull for their taste shouldn't rule this look out. Like many other nail design trends, you can customize gray manicures to make them better fit your aesthetic. So, if you typically like more dazzling nail art, use a sparkly gray on certain nails, and cover others completely in glitter.
Take the glam further with ombré
Perfectly fitting the storm theme while gracefully walking the line between gloomy rainy day and glamorous vibes, ombré gray nails elevate your overcast mani. You could start with a dark gray, transcend into overcast, and end on white, or you could style your manicure in the opposite way, beginning with white and darkening as the nail extends from the finger. 
Vary your grays and blues on each nail
Who says you can only use gray nail polish for the overcast nails look? Since it's an alternative to the blueberry milk mani, try incorporating your gray nails with moody blues to create a dynamic look with more contrast. Regarding real-life weather, not every cloud looks the same, and including blues in your manicure is a testament to the full palette we see in the sky.