White Sandals Never Go Out Of Style & We Have Proof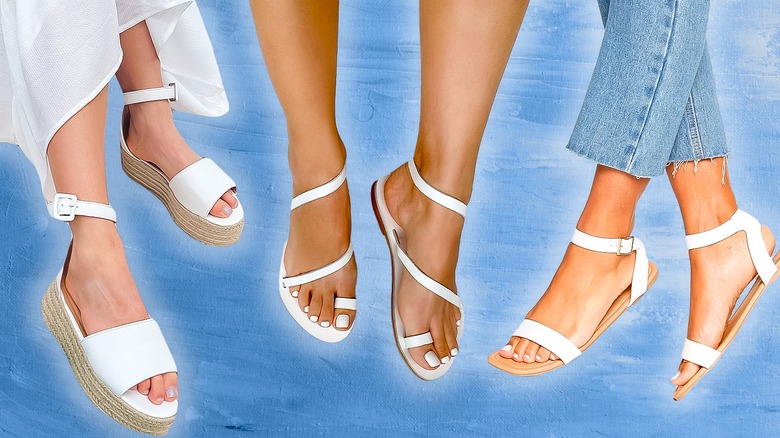 Static Media/Shutterstock
Although there are plenty of shoes that can be called classics in your wardrobe, there's none as versatile as the white sandal. A neutral shoe that can help balance out your looks, the white sandal is ideal whether you're a minimalist or maximalist. With a slight '90s touch to them, white sandals bring some of that retro chic that categorizes the era. Whether you want to dress up or dress them down, the white sandal is perfect for those moments where you want to create something fun yet memorable.
The white color of these sandals is the base for making this iconic shoe last as long as it does. No matter the era or current trends, white sandals will always be a safe option to go along with a variety of outfits. Whether it's a flat sandal or a heeled sandal, the shade pairs perfectly with all of these designs and will provide contrast against your skin tone. Plus, white sandals give serious vacation vibes, no matter the time of year. 
White mule sandals
The mule sandal is both chic and easy to wear. Though we typically think of mules as having a closed toe, any shoe fits into this category as long as there's no constraint around the heel. And while white mules can be super casual, they can also evelate your outfit with textured toe straps and stiletto heels. 
Flatform sandals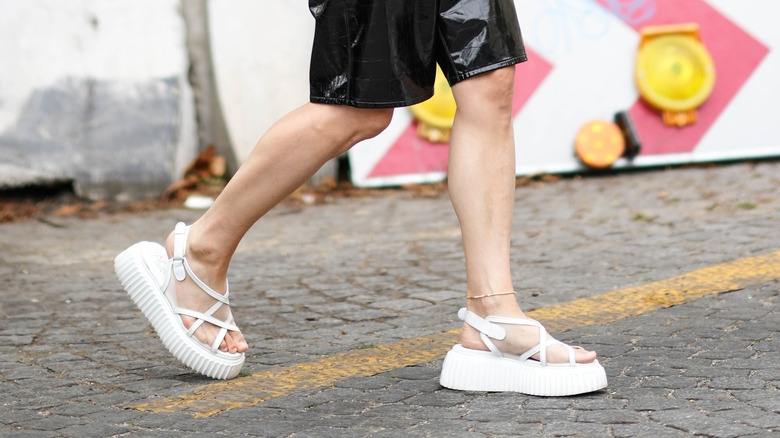 Edward Berthelot/Getty Images
Flatforms are the Y2K shoe trend that's here to stay. The flatform sandal provides us with all the support for our feet but still looks retro chic. With the added height of a flat platform, you can wear these sandals with all of your longer pieces, without having to drag them on the floor. You don't need to worry about your feet aching in your regular sandals either, as flatforms provide your arch more support while still looking timeless and chic.
White and something else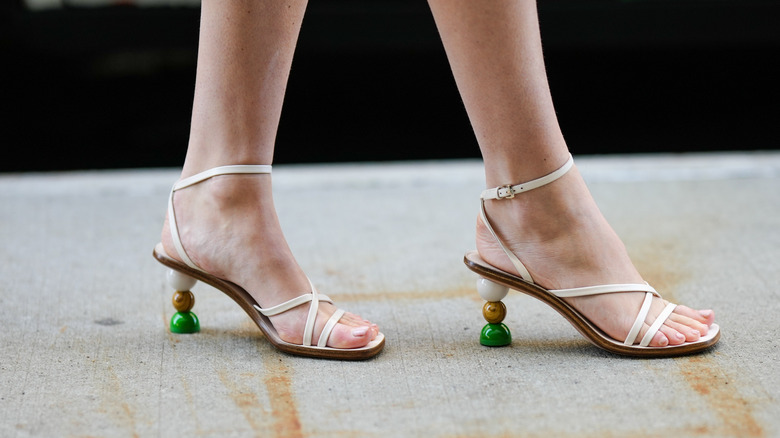 Edward Berthelot/Getty Images
The beauty of a white sandal is the fact that it can perfectly blend with any other color, print, or material you use with it. With sandals, a white color will lend itself to blend with organic materials, metal, or other embellishments you want to add to amp up your footwear. White sandals are flexible enough to work with all of these other add-ons, giving you the chance to inject some flair into your look.
Flat slide sandals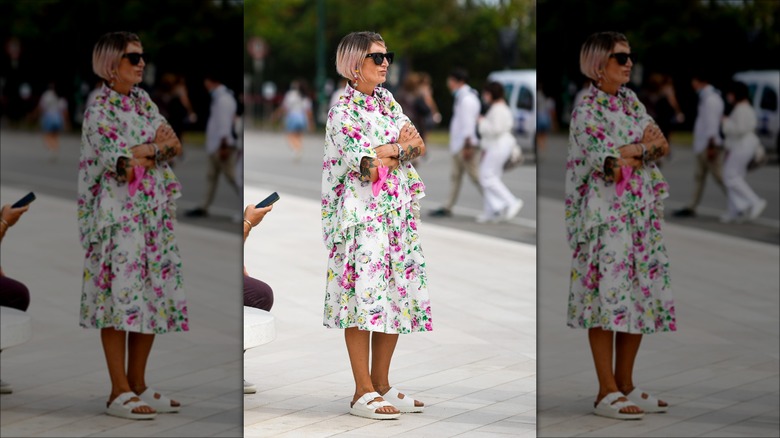 Edward Berthelot/Getty Images
Sandals don't need to be high for them to be chic and on-trend. A pair of flat white slide sandals can provide the ultimate comfort while still looking laidback and classic. These are perfect for day-time outfits, whether you're in a flowy dress or a pair of relaxed fit jeans. 
White espadrilles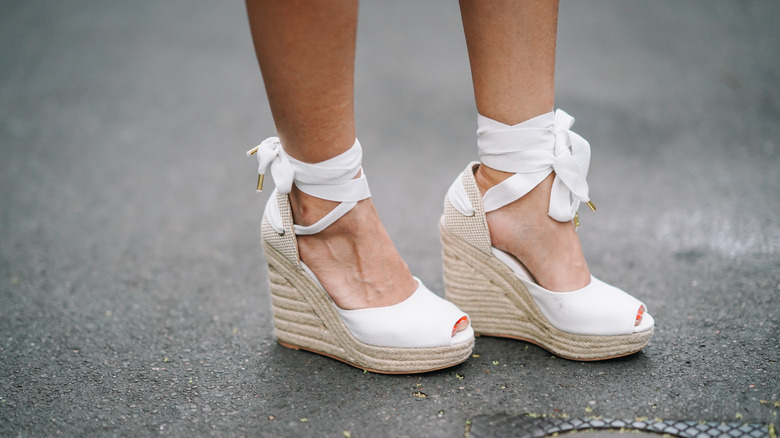 Edward Berthelot/Getty Images
Espadrilles are everywhere. They bring all of the coastal vibes while also letting you look elevated in the combo of white and other materials, like rattan or straw. Not only do they still give all of the energy of summer, but they will help create a neutral base for the rest of your outfits.
Strappy sandals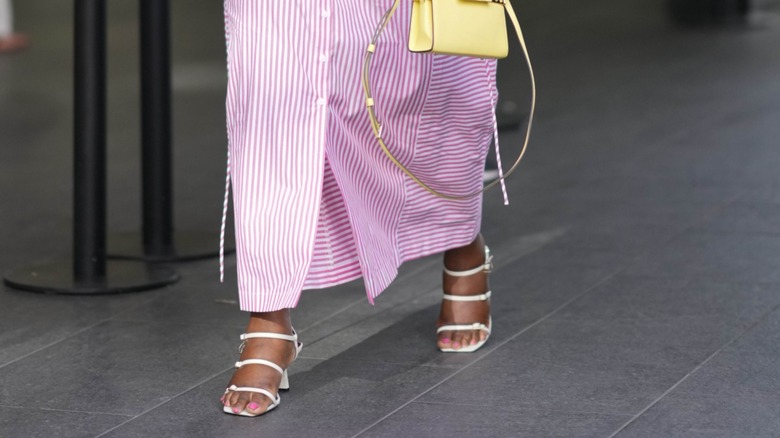 Edward Berthelot/Getty Images
Strappy heeled sandals are the Y2K shoe trend that's here to make over our formal wear. Not only do white strappy sandals look good in the daytime, but they're also the perfect shoe to go with any of your dressier outfits. Whether it's with shorts and a T-shirt or a full-length gown, a white strappy sandal is minimalist yet eye-catching at the same time.