7 Tips For Transitioning Concert 'Fits Into Your Everyday Wardrobe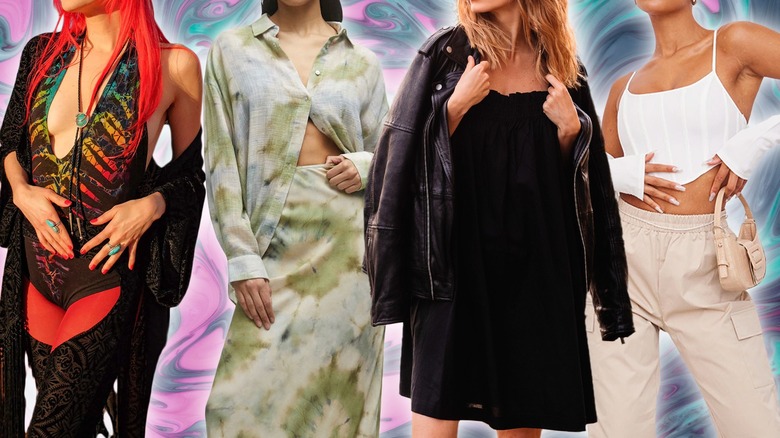 Static Media/Shutterstock
Concerts these days aren't just about music; they have become runways for glamor and fashion, too. With each artist having their own signature style (and sometimes multiple styles and image reinventions), concerts are also now viewed as a creative challenge to see how well members of the audience can match the theme of the tour, tell the story of a specific song's lyrics through their wardrobe, or go OTT in honor of their favorite musician.
The only issue? You never want those fun, sentimental pieces to go out of style, but concert outfits don't exactly blend seamlessly with the clothing you likely wear to work, school, the grocery store, or anywhere else you go that isn't a massive stadium of thousands of fans all fashioning the same thematic method vibes. 
With all of the energy and effort you put into your concert ensemble, you shouldn't have to make it a one-hit wonder. You can transition your stadium 'fits into your everyday rotation by toning down statement pieces with basics.
Cowboy boots aren't just for concerts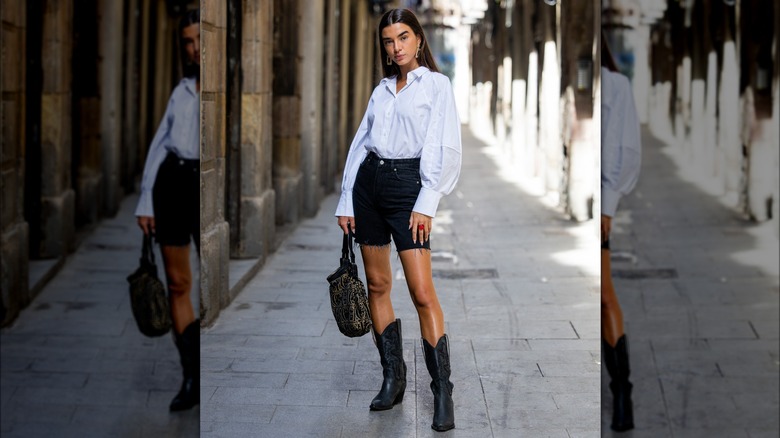 Christian Vierig/Getty Images
Among the most popular fashion items being purchased for current concert trends, cowboy and cowgirl boots are definitely near the very top, per CNN Business. Luckily, there are many ways to style these boots and get a lot of wear out of them after your concert main event. 
Texans have been fashioning cowboy boots for ages and now the rest of us are starting to catch onto how versatile, sleek, and comfortable well-made leather boots can be, or vegan leather if you went for a sustainable option. You can wear cowboy boots the same way you'd wear any other type of boot, and perhaps in even more ways given that these boots are known to mold to your feet (via Horse Racing Sense). 
When going for a casual post-concert outfit, go with combinations like denim and a patterned button-down for weekends or a mini dress and leather jacket for nights out. Look within your closet for inspiration. You could also don a pair of leggings tucked into the boots' shafts for winter ensembles or office-friendly 'fits. Just remember to wear thick socks when you put on your boots because you'll enjoy them a lot more without suffering from gruesome blisters. 
Sheer items can be seamlessly worn amongst solids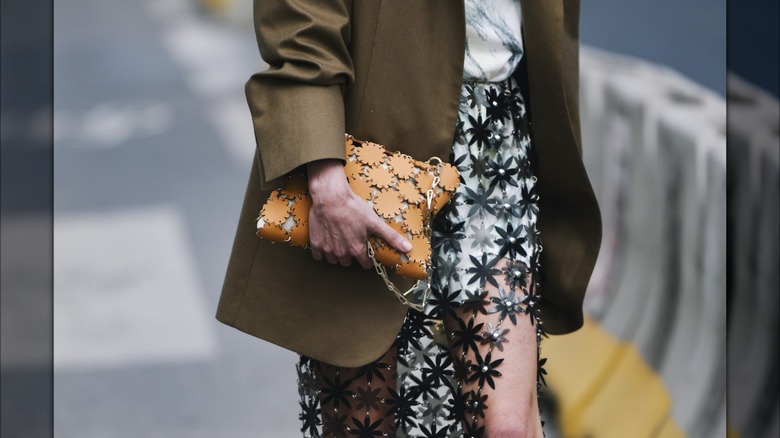 Creative Lab/Shutterstock
Sheer clothing is definitely a hot trend right now, but concert fashion takes sheer to a totally new level since concert-goers are given the opportunity to transcend into the world of their musical icon for the evening, rather than adhere to societal etiquette for respective dress codes. The good news is that if you went with a totally sheer item, or a piece that's practically transparent, like one with sewn flowers or shaped designs ravished with cutouts, then the rule of thumb for taking the item into everyday wear is solids, solids, and more solids! 
With sheer apparel in general, you don't want to mix it with additional sheer or even subtly sheer items in case of a mishap when you're out and about. With the assistance and support of solid items, though, transparent clothing is some of the easiest concert fashion to fuse into daily ensembles, even for the office.
Wearing a sheer skirt, top, or dress to work can seem daunting, but there are ways to make even the most transparent garment able to meet professional etiquette. Outfit Trends suggests pairing the sheer portion of your outfit with an even more visibly opaque piece, like a solid sweater or button-down covered by a woven blazer. Monochrome also pairs meticulously with sheer finery, as going for a totally tonal outfit allows translucent items to blend in for transparency.  
Metallics should be the loudest piece in your attire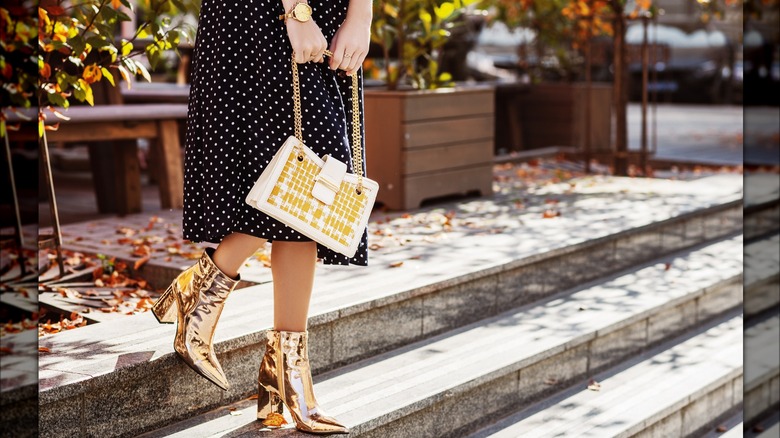 Victoria Chudinova/Shutterstock
Metallics are natural concert garb: Unlike sequined or mirror-work pieces, these shiny, opalescent, chromatic, or pearlescent fabrics are flat in texture but have a noticeable, eye-grabbing sheen to them. Despite being bold, they're easy to style into ordinary outfits as they are already trendy. 
A Lo Profile advises going minimalistic for maximum effect with your metallic mode, whether you've recently modeled metallic footwear, clothing, handbags, or another accessory during your concert entertainment. Now it's time to let the metallic gear do the entertaining while keeping the rest of your daily getup relatively and realistically simple, sticking to neutral and base shades like black, navy, white, and gray when enjoying your metallic regalia or raiment post-concert. 
Some patterns and similar shades, like yellow accessories with gold metallics, can be permissible in more casual environments. Particularly in professional settings, pairing metallic items with bright hues or vibrant pieces elsewhere in your ensemble can lead to an embarrassing clash of color and a post-concert fashion fail.
Sequins and beads require minimalistic silhouettes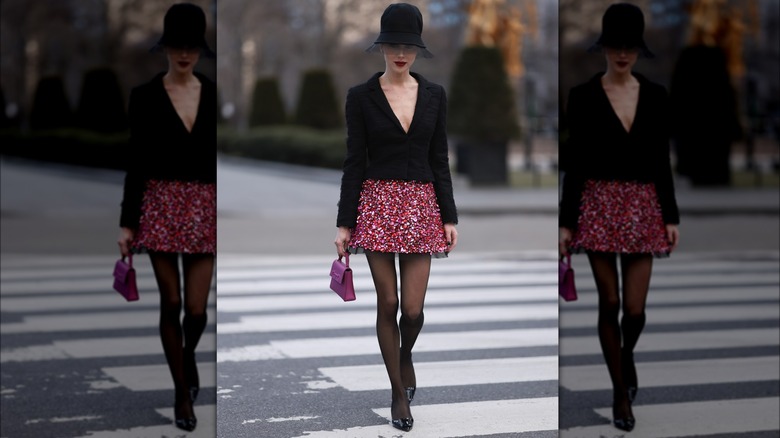 Jeremy Moeller/Getty Images
Next up for sparkling concert items are sequined and beaded garments, which require planning and consideration to transition into daily ensembles. With trends like Barbiecore and mermaidcore still going strong, you might be in luck as pearlescent and sparkling garments are popping up on both global fashion week runways and within worldwide wardrobes. This gives you some leeway with the glittering, perhaps very neon pink item you wore in your concert ensemble.
The Fox & She suggests wearing sequined items in everyday life by pairing them with basic clothing pieces, starting by surrounding the sequined skirt, dress, or top with minimalist staples. This would mean pairing a sequined skirt with a black top, jacket or blazer, tights, boots, and hat to make a solid halo around the shimmering sequins. For weekend casual, flannel is a good pairing on top of a sequined minidress or paired with a skirt, which can even be styled with your cowboy boots! 
Take note that only sequined items can get away with flannel matches. Respectively, beaded skirts and dresses should be paired with solid tops and simple cotton attire to let the beads brilliantly shine while using solid combinations to tone down the overall outfit. The golden rule is to always wear opaque tights or leggings underneath these shimmery pieces to diminish the vibrancy of reflective elements (but never diminish your personal sparkle!). 
Tone down mirror work with softer opaques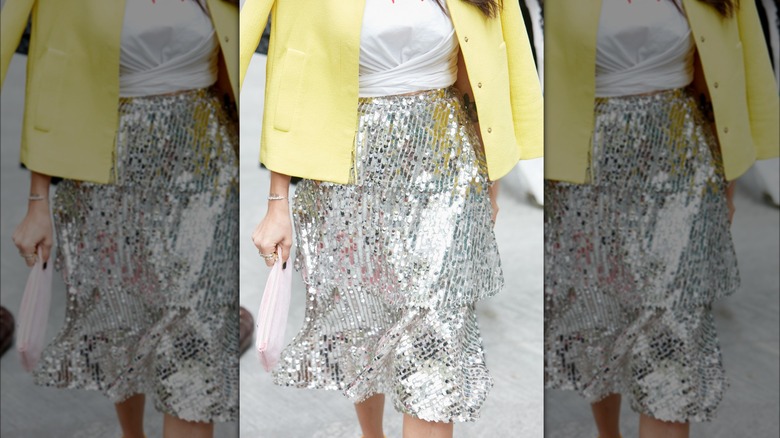 andersphoto/Shutterstock
Last of the sparkling trio is the mirror and mirror-inspired clothing. Diamond-shaped mirror beads have become popular for bedazzling clothing, often all over for a full reflective effect. Known within the textiles and design industry as mirror work, these beads can create the illusion of a mirror or actually become mirrors at times if the beads are applied tightly enough together. Mirror beaded items may be one of the most difficult concert styles to transition into daily wear, but it can be done with patience and the perfect pairings.
Quite similarly to how sheer concert garments are able to be transitioned into everyday wear, if your concert 'fit consisted of super loud — but absolutely fabulous — mirror beaded detail or reflective sequins, then the best way to fuse it into your daily attire is to tone it down with softer shades of opaque combinations. Looking in your closet, see if you have totally solid tops in lighter hues like pastels and neutrals to begin styling your daily wear ensemble with your concert garment. 
Floral 'fits for fabulous fun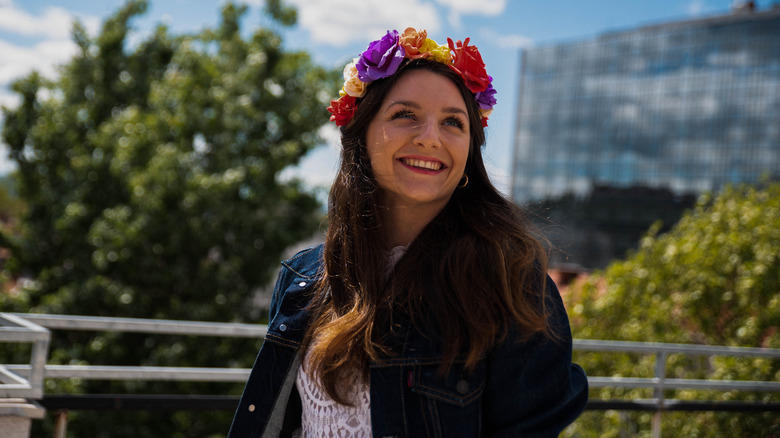 Seherzada Cehic/Getty Images
Coachella is likely the musical event which has made flower crowns and headpieces relevant again. These are fun accessories to embrace when you're at a music festival or concert event, but when your alarm goes off the next morning and adulthood comes calling, that flower crown might feel slightly clownish. 
Keep in mind that at the foundation of fashion, you can wear whatever you want, whenever you want. Yes, there's etiquette involved for certain settings, but just because you're legally a specific age doesn't mean that you're disqualified from enjoying your floral headpiece on the regular. There's no law against wearing flower crowns! 
The New York Times reports that there are effectively manners in which floral headbands and flower crowns can be worn without looking childish or like you're on your way to be a bridesmaid. Whether synthetic and reusable, or made from real flowers, floral headpieces can connect the wearer with natural elements and manifest a grounding, connective experience. Styling flower crowns outside of music events can add feminine elements to otherwise ordinary outfits, and natural flower crowns have actually been a burgeoning style at NYC social events for over a decade. 
One tip for everyday styling of flower crowns or headpieces, including semi-circle headbands and round elastic bands embellished with flowers, is to make certain the accessory is set along your hairline for a more refined, sophisticated look, rather than placing it midway down your forehead for a childish cliché and floral faux pas.
Alter accessories for 'fit flair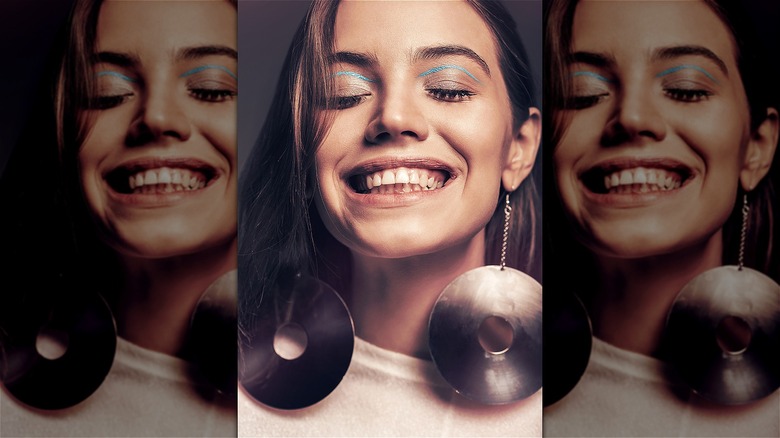 popovartem.com/Shutterstock
Chunky jewelry, from rings to necklaces to earrings, is commonplace amongst concert-goers. Going bigger and bolder in this area is fun and exhilarating because it's so different from your daily life go-to pieces, and offers a chance to embrace every single embellishment, color, design, and item of regalia for a moment in time. 
After the concert, you can easily wear your extra-large statement pieces by following the signature sway that, once again, simplicity is paramount. Let your oversized jewels make the statement they're designed to shout out loud by wearing basic, minimal clothing with them. Opt for simple colors, cuts, and fabrics on the days when you wear eye-drawing sparkling earrings or statement necklaces which are glamorously giant in comparison to typical daily neckwear. 
Across the board, or rather across the music boards, styling concert apparel in your daily ensembles is generally easily done by sticking to basic combinations and solid simplicity.