Siren Skin Is Yet Another Way To Hop On The Mermaidcore Trend - Here's How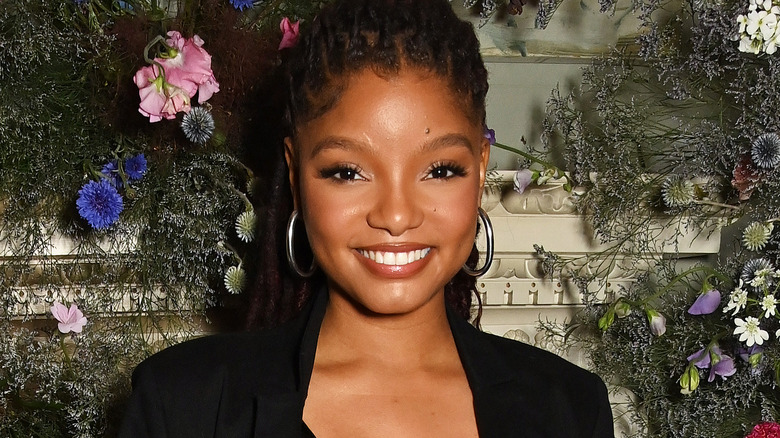 David M. Benett/Getty Images
Mermaidcore is a trend that's growing as vast as the sea itself, with social media DIY tips for achieving pearlescent nails, holographic makeup aesthetics, and now the opportunity to don the shimmer of Halle Bailey's water-sparkling siren skin in "The Little Mermaid" live action film.
Just as Ariel strives to become part of the human world in the tale's storyline, now you too can become part of the undersea world that's captivated mermaidcore across the internet and in real life through a DIY hack for sporting siren skin, which uses a surprisingly easy makeup technique. You won't be able to grow a tail and fins to swim through the colorful world Bailey brings to the big screen, mainly because virtual effects can't be worn in the human world. But you can apply the foundation manufactured by MAC Cosmetics that was used to achieve Bailey's siren-esque complexion during the cinematic underwater scenes. Here's how to use this sparkle-enhancing product for a glimmering complexion that's guaranteed to live up to your mermaid fantasy.
Shimmering siren skin is a simple process
The siren skin trend inspired by Halle Bailey's Ariel makeup aesthetic, securing her the undeniable title of being the icon of the mermaidcore trend, is a sole-product, single-step process that's definitely worth celebrating. For this under-the-sea style, TikTok user @catquinn explains that the glitzy scales which appear on the actors during the underwater scenes of the live-action "The Little Mermaid" are a curation of CGI magic, but makeup magic isn't far behind. Bailey was adorned by her makeup artist in MAC's Studio Radiance Face & Body Radiant Sheer Foundation for her dewy, sparkling complexion.
The first step in fashioning your own glimmering siren glow is to match the shade of shimmery foundation to your skin tone. Given the popularity of the product, there are currently 30 color options for the radiant foundation to choose from, per MAC Cosmetics, all of which are waterproof and thus siren-ready! 
This MAC foundation is acclaimed for the brilliant glow it produces on all skin tones, hence the likely reason Bailey donned the foundation on screen, though as an actual foundation, the solution provides generally light to medium coverage, even with layering. This makes it a product useful for signature siren skin but it may not be ideal for those seeking fuller coverage. 
Summon your siren style
Noting the use of MAC's lightweight and waterproof Face & Body Radiant Sheer Foundation on Halle Bailey, @catquinn also identified holographic halos on the star's skin. Though the illusion is partially CGI-generated, the rise in thermal makeup technology makes Bailey's holographic glow a realistic DIY goal.
If you're feeling courageous, combine MAC's siren-ready foundation with color-changing thermal makeup products, many of which react with your body's temperature to create customized colors tailored to your skin, to create a true holographic aesthetic. Certain thermal products react with sunlight for awe-inspiring shade-shifting gradients to replicate the scales of mermaids rising to the surface to be where the people are.
Glistening siren skin is a mermaidcore makeup style that'll help you tap into your courageous side. While sirens have historically been described as dangerous female creatures with ill intent, they experienced cultural resurgences in the 18th and 19th centuries as women began advocating for their rights, per Issuu. According to a 2007 paper from Ball State University, sirens are representatives of the strength of female voices and agency, now standing for strong, confident women who are unafraid to challenge the status quo. So to celebrate your inner power, it's time to set free your stouthearted siren skin.