Does Using Hairspray Every Day Ruin Your Hair? A Hairstylist Explains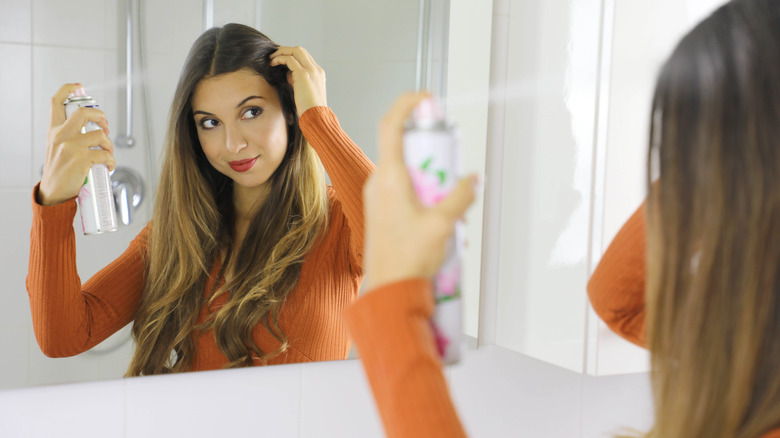 Zigres/Shutterstock
Hairspray has been an essential product in every basic hairstyling arsenal for decades. It played a major role in the era of '50s bouffants and the big-hair trends of the '80s, and it continues to be a staple when creating modern styles like sleek ponytails and textured bobs. Really, no matter the look, a quick spritz of hairspray is practically a necessity if you want to keep your locks sleek, tidy, and volumized.
With that said, it's easy to feel like you're going overboard with the hair product, especially when using it every day. Too much sticky hairspray can make hair feel hard, and over time, this could result in pesky residue and stubborn build-up. Moreover, a bottle of your average hairspray can contain up to 50% alcohol, which, depending on the type of alcohol used, may dry out and damage your tresses.
So is it best to ditch your daily hairspray habit? To find out, Glam reached out to Darrius Peace, a natural hair expert and master hairstylist at Hayah Beauty, in an exclusive chat. Spoiler: Don't kick your can of hairspray to the curb just yet. Turns out, with a bit of love from your shampoo and conditioner, your tresses won't be ruined with a daily spritz of hairspray. 
When using hairspray daily, don't forget to shampoo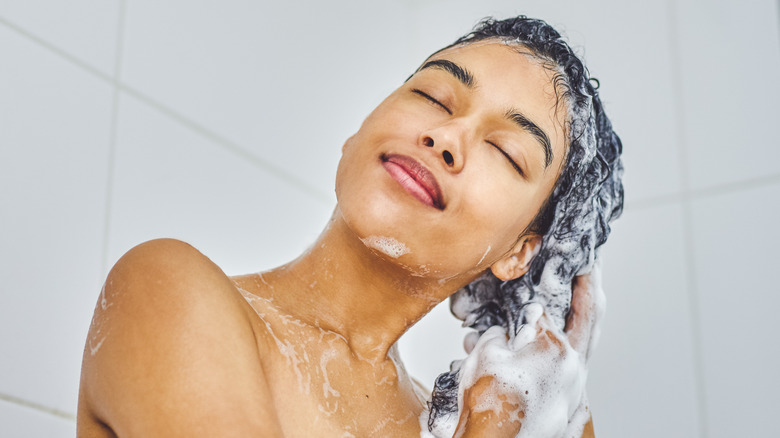 Moyo Studio/Getty Images
Hairspray's glue-like hold and harsh ingredients might not always be so hair-friendly, but that doesn't mean a daily spritz before walking out the door will ruin your locks. According to Darrius Peace, hairspray is unlikely to cause damage as long as you care for your hair in other ways. "Using hair spray every day can only harm the hair when there is little frequency of shampooing and conditioning the hair," Peace exclusively shared with Glam. "As long as one is treating their tresses with shampoo and conditioner, at least twice a week, they are less likely to experience damage from using holding spray daily."
If you're especially concerned about product build-up from your hairspray, consider swapping your regular shampoo with a clarifying version once a week. Clarifying shampoos break down oil, product residue, and other build-up on the hair and scalp, offering a deeper clean than a traditional wash. However, Healthline points out that using these shampoos too often can result in more frizz and flyaways (the exact problems your hairspray is meant to control), so make sure to do a clarifying cleanse no more than twice a week.
Avoid this one hairspray mistake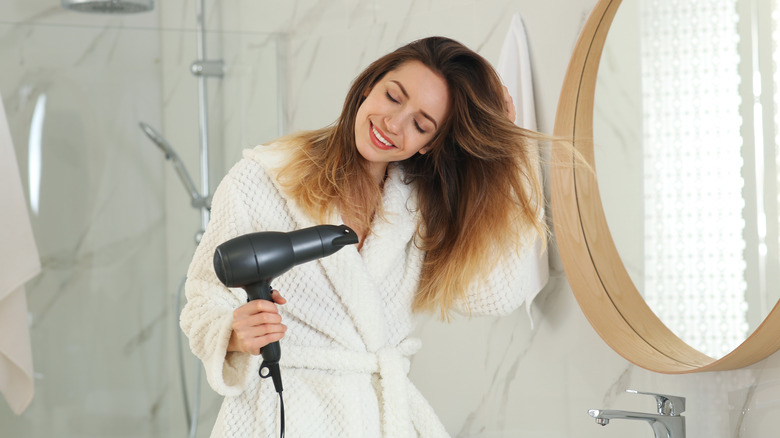 New Africa/Shutterstock
So, you use hairspray daily and wash your hair a few times a week. Your strands will be fine, right? Probably — but there's something else to consider. According to Darrius Peace, when you apply hairspray in your styling routine is also important. "[H]olding spray should only be used after the hair has been styled," Peace tells us exclusively. "It should not be used before treating the hair with hot irons as the hair is left likely to be fried and result in breakage."
Besides straighteners and curling irons, it's a good idea to avoid any hot tools after applying hairspray — yep, that means blow dryers too. Instead of stressing the hair with too many tools and styling products, prioritize moisture when managing your mane. "[H]ydration is key to preserving a healthy hair while using holding spray to lock in hairstyles," Peace shares. So you may want to put down the hot tools and reach for nourishing deep conditioners, natural hair oils, and leave-in moisturizers instead. These products may help offset some of the damage caused by hairspray and keep tresses healthy.