18 Of The Most Iconic Rom-Com Outfits To Recreate For Your Main Character Moment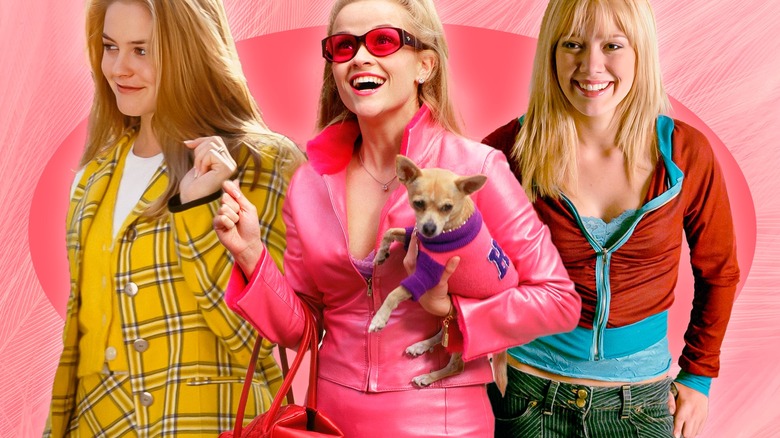 Static media / Shutterstock
Are you ready to step into the spectacular world of romantic comedies and iconic fashion moments? If so, we're about to take you on a fabulous fashion journey through some of the most memorable looks in rom-com history.
From charming '90s classics like "Clueless" and "10 Things I Hate About You" to Y2K favorites such as "How to Lose a Guy in 10 Days" and "A Cinderella Story," these films have not only won our hearts with their heartwarming stories but have also left lasting impressions with the unforgettable outfits they showcased.
Now, all you have to do is grab your popcorn, get cozy, and dive with us into the dashing world of iconic rom-com outfits. With an open mind, you might just allow us to bring some of that big screen magic to your everyday life with looks that will make you feel like the leading star in your own (funny) love story!
How to Lose a Guy in 10 Days: Andie Anderson's zesty lemon gown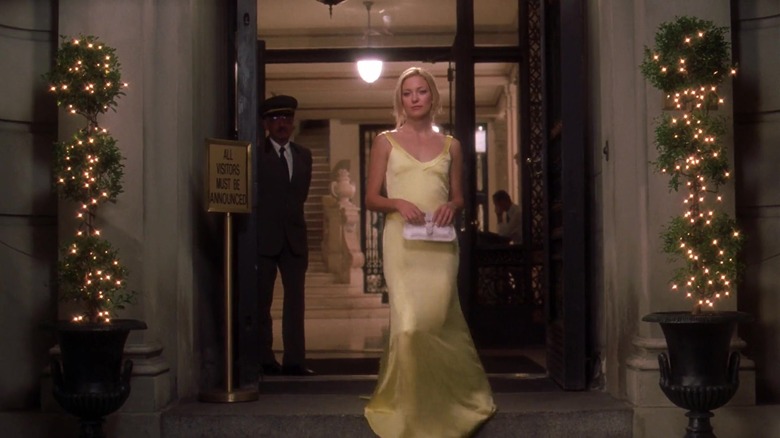 Paramount Pictures
Ah, "How to Lose a Guy in 10 Days." The perfect rom-com with a touch of fashion finesse. Released in 2003, Kate Hudson wowed us all as Andie Anderson in her iconic yellow gown. Twenty years later, the eye-catching ensemble remains the epitome of elegance. To channel your inner Andie, start with a satin, lemon-hued maxi dress, embracing the bright and bold — and from there, you can spice it up with some statement earrings and a soft '90s updo. To be honest, recreating this look is way easier than avoiding awkward first-date conversations.
She's All That: Laney Boggs's enchanting prom dress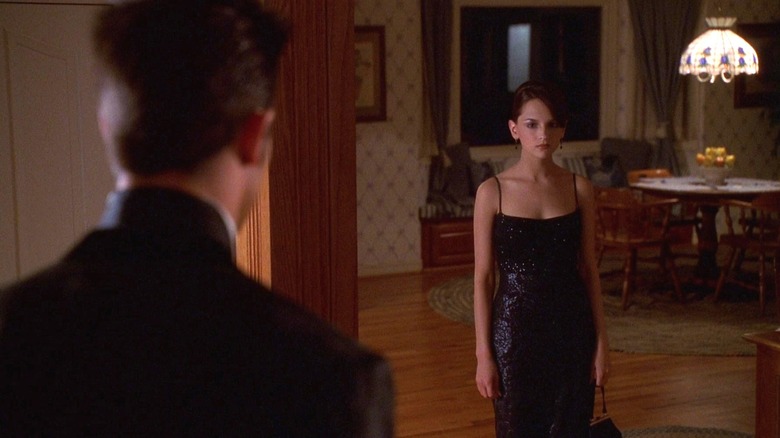 Miramax Films
The iconic prom dress moment from "She's All That" is a must on this list. In 1999, Rachael Leigh Cook's Laney Boggs rocked a simple yet edgy black dress, representing '90s fashion at its finest. Achieve Laney's look with your favorite black dress, short or long. For a closer replica, choose a glittery fabric with spaghetti straps for that extra magic. Though Freddie Prinze Jr. may not sweep you off your feet, heads will turn at any event!
A Cinderella Story: Sam Montgomery's casual everyday outfit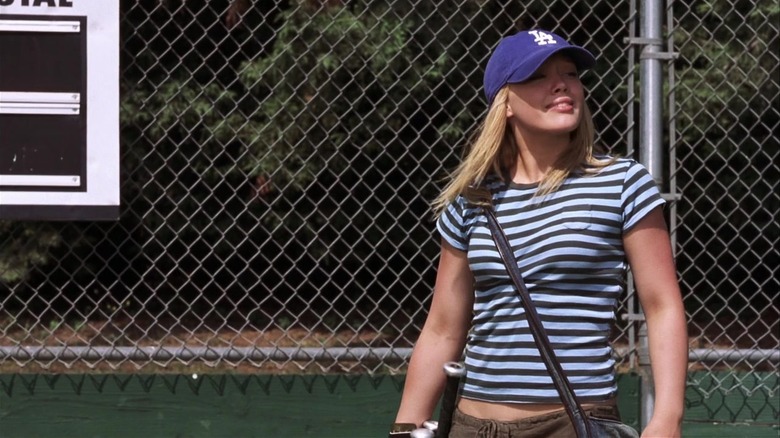 Warner Bros. Pictures
"A Cinderella Story," the modern-day fairytale starring Hilary Duff that stole our hearts in 2004, also gave us some iconic fashion moments. For our list, we decided to go for Sam Montgomery's laid-back style with low-rise cargo pants and a fitted tee, revealing a hint of midriff. Accessories completed her look — a sporty and stylish baseball hat for a quick hair fix and a trusty crossbody bag for practicality. It's the perfect combo for errands, city exploration, or even meeting your very own Prince Charming.
Pretty Woman: Vivian Ward's red hot blazer and Bermuda shorts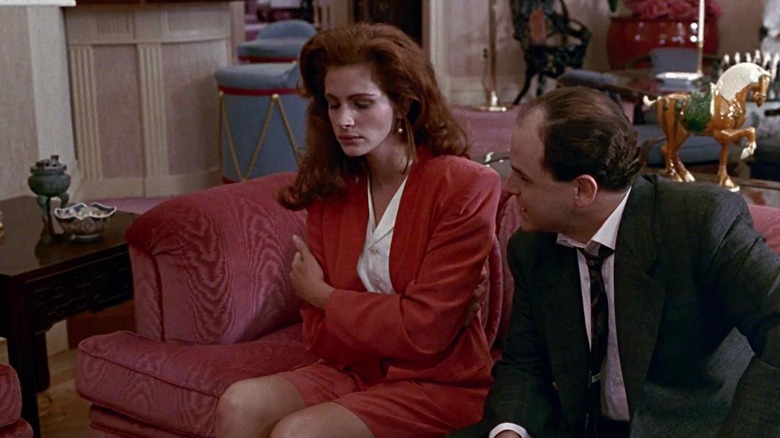 Buena Vista Pictures Distribution
The 1990 rom-com "Pretty Woman" gave us plenty of breathtaking fashion moments. We picked Vivian Ward's trendy blazer and Bermuda shorts combo — a '90s minimalism look making a comeback. Portrayed by Julia Roberts, Vivian rocked the look with ease, with salmon red suiting her vibrant personality. You can effortlessly recreate this look by opting for a matching color for a cohesive, intentional look.
When Harry Met Sally: Sally Albright's timeless fall 'fit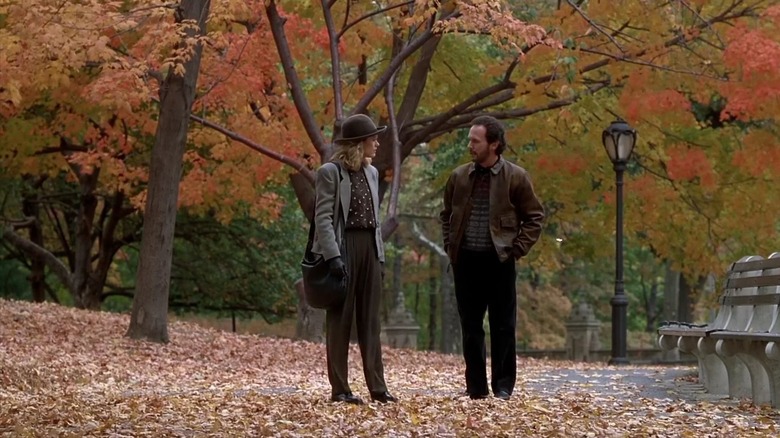 Columbia Pictures
"When Harry Met Sally" warmed our hearts in 1989, and Meg Ryan's portrayal of Sally Albright won us over with both her confidence and fabulous fall fashion. One standout look featured an oversized gray blazer and bowler hat, perfect for chilly days. To master Sally's fall 'fit, start with classic pants and a comfy top. Add an oversized blazer and fall hat, then play with accessories like chunky boots, jewel-toned crossbody bags, and warm scarves. A look like this will instantly allow you to have your ultimate main character moment.
To All the Boys I've Loved Before: Lara Jean's sunshine sweater style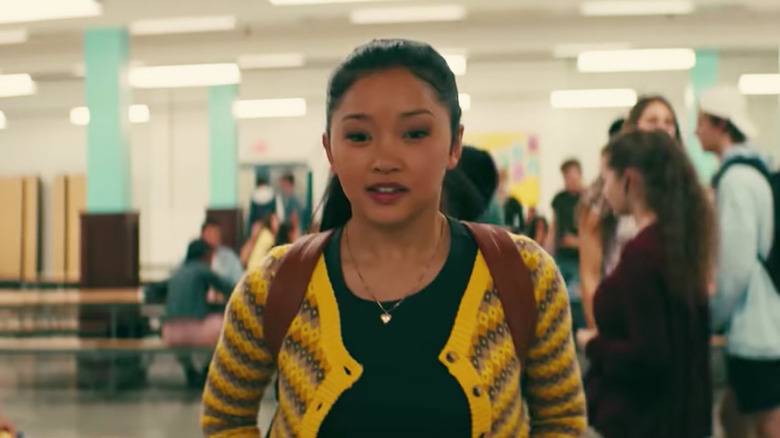 Netflix
In 2018, the charming teen comedy "To All the Boys I've Loved Before" captivated us with its fun storyline and youthful fashion choices. Lara Jean Covey — portrayed by Lana Condor — was known for her chic school style. In fact, her '70s-inspired yellow cardigan is a choice we'd love to replicate. The best part about a vintage-looking cardigan like Lara Jean's is that it's super versatile — throw it on over a tank top and shorts for a breezy summer night, or button it up with a maxi skirt for a chic boho vibe.
10 Things I Hate About You: Kat Stratford's enigmatic school look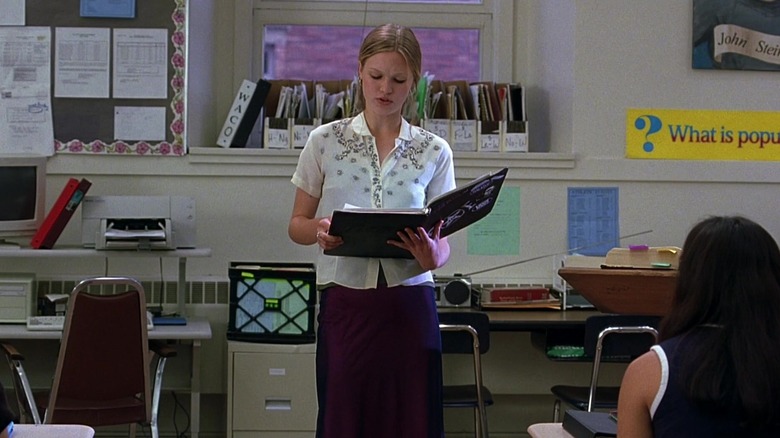 Buena Vista Pictures Distribution
In the 1999 classic "10 Things I Hate About You," Julia Stiles played the independent and resilient Kat Stratford. Her standout outfit during the memorable poetry reading gave us elegance, mystery, and enigmatic charm all in one. The deep purple satin maxi skirt paired with a delicate white blouse perfectly blended sophistication and youthfulness. To recreate her poetic school look, start with a maxi skirt and dainty top, and from there, you can add some accessories or keep it minimalist.
Sweet Home Alabama: Melanie's black boat-neck top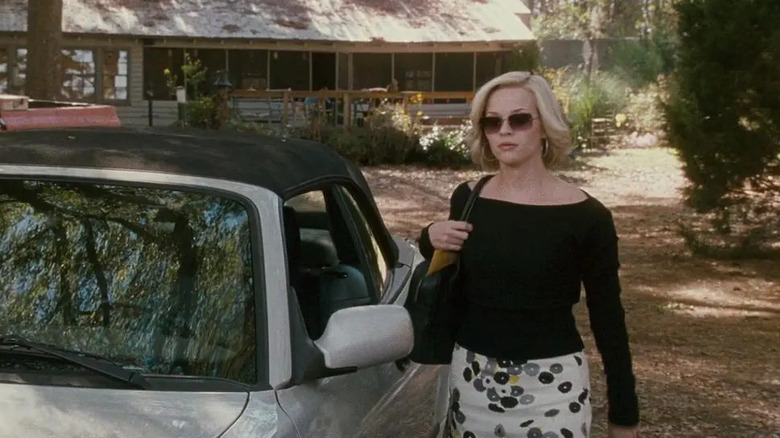 Buena Vista Pictures Distribution
In the 2002 movie "Sweet Home Alabama," Melanie Smooter (played by Reese Witherspoon) showcased us her Southern charm and fabulous fashion choices. Her black boat-neck top brings a dose of 2000 nostalgia, making it the next Y2K trend to watch for. Pairing it with a floral skirt and signature 2000s sunglasses makes it super easy to recreate. But the fun doesn't stop there! This versatile top opens the door to countless outfit options. Dress it up with a classic pencil skirt or down with denim — the boat-neck's got your back for any occasion!
The Devil Wears Prada: Andy Sachs' striking green coat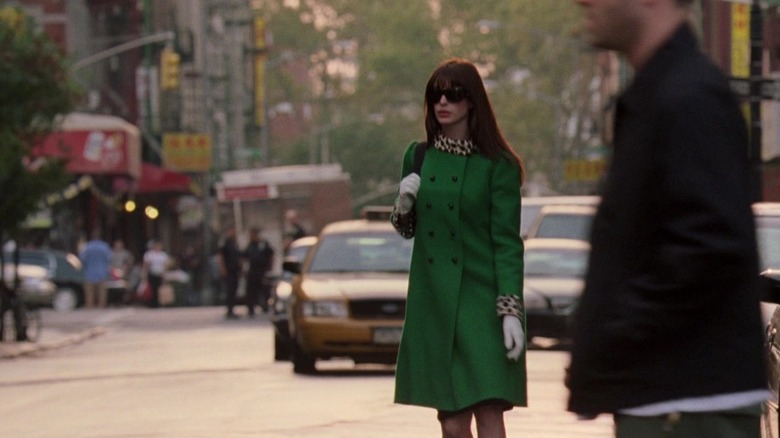 20th Century Fox
The 2006 rom-com "The Devil Wears Prada" is known for its dazzling world of fashion inspiration. Among the many looks, Andy Sachs' bold green coat stands out as the perfect choice for fall. Portrayed by Anne Hathaway, Andy's transformation into a chic fashionista is one every rom-com enthusiast is very familiar with. Her green coat dares to make a statement, adding delightful contrast to the season's warm hues. So if you were looking for it, this is your sign to embrace your inner Andy Sachs this fall.
Notting Hill: Anna Scott's quintessential '90s fit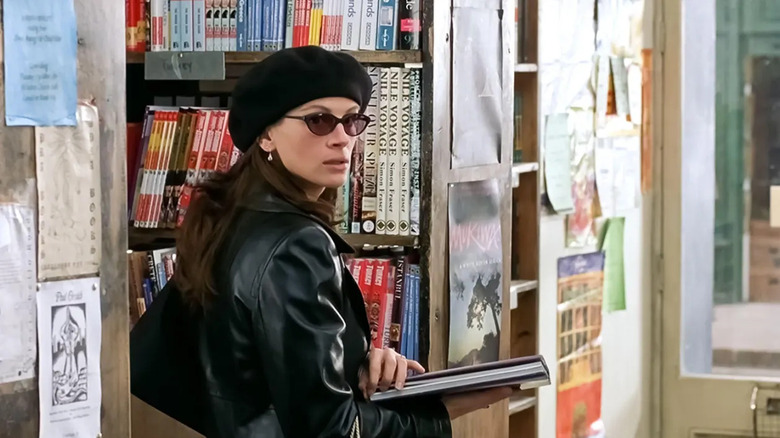 Universal Pictures
"Notting Hill" takes us on a charming journey through the '90s, and Anna Scott's iconic style captures the era's essence. Portrayed by the ever-graceful Julia Roberts, Anna Scott's style is always effortlessly elegant, and her outfits epitomize that chic yet edgy flair the decade encapsulated perfectly. Embracing Anna Scott's 1999 style allows you to tap into fun accessories that quickly add a touch of movie magic to your everyday looks. And chances are you probably already own a similar hat and pair of sunglasses to recreate this particular look.
Romy and Michele's High School Reunion: The duo's eye-catching metallic dresses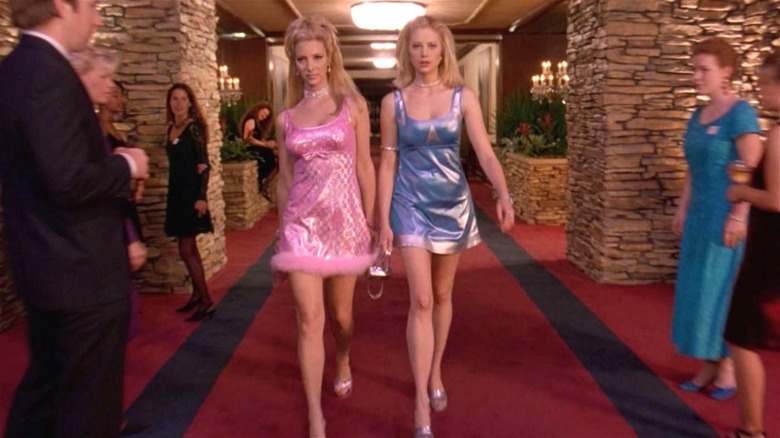 Buena Vista Pictures Distribution
In the 1997 classic "Romy and Michele's High School Reunion," the dynamic duo showcased their A-game in fashion. Though not a romance, the movie's fashion choices earned it a spot on our list. Mira Sorvino and Lisa Kudrow gave us the ultimate '90s fashion fun with their A-line metallic dresses adorned with sequins and dazzling accents. These flashy ensembles celebrated their unique personalities, proving that true style is about embracing who you are with confidence and humor. So, let your vibrant spirit shine and explore the world of party-ready metallics — a trend that's here to stay.
Never Been Kissed: Josie Geller's simple pink dress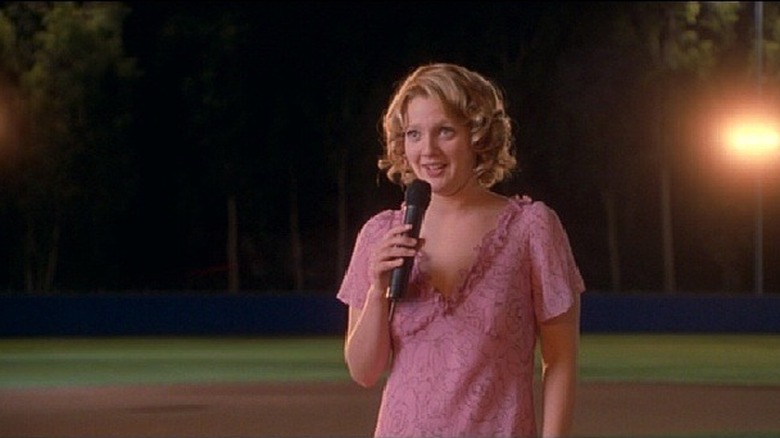 20th Century Fox
Anyone who watched the 1999 Drew Barrymore hit "Never Been Kissed" knows that Josie Geller's pink dress steals the spotlight with its girly charm, making it a perfect choice for the sunny seasons. The dress exudes a playful and carefree spirit, reflecting Josie's journey of rediscovering herself and embracing newfound confidence. Similarly, putting on a Barbie pink dress will instantly make you feel ready for your summer adventures. The best part of this look? All you need to do is put on one piece of clothing, and you're ready to hit the door!
Love & Other Drugs: Maggie Murdock's artsy denim overalls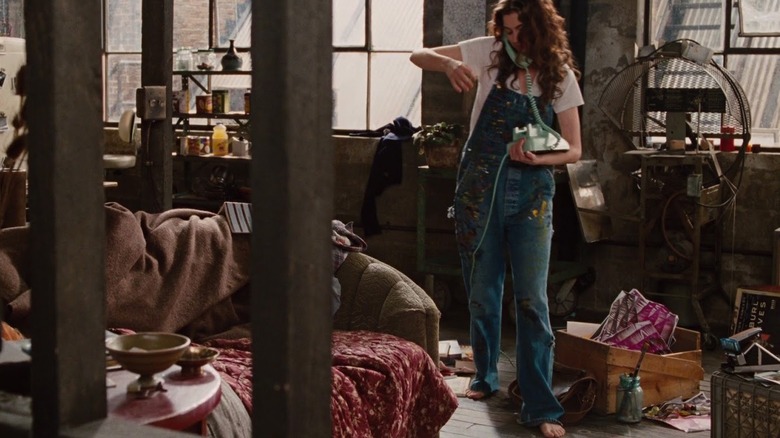 20th Century Fox
In the 2010 movie "Love & Other Drugs," Maggie Murdock's denim overalls steal the spotlight in several scenes. The look exudes a casual, artsy vibe that Maggie (portrayed by Anne Hathaway, who made the list twice) easily pulls off. So if you have a pair of denim overalls and are unsure how to pull them off, take a page from Maggie's book as you embrace her carefree spirit and channel the artsy aesthetic.
500 Days of Summer: Summer Finn's white button-up and metallic headband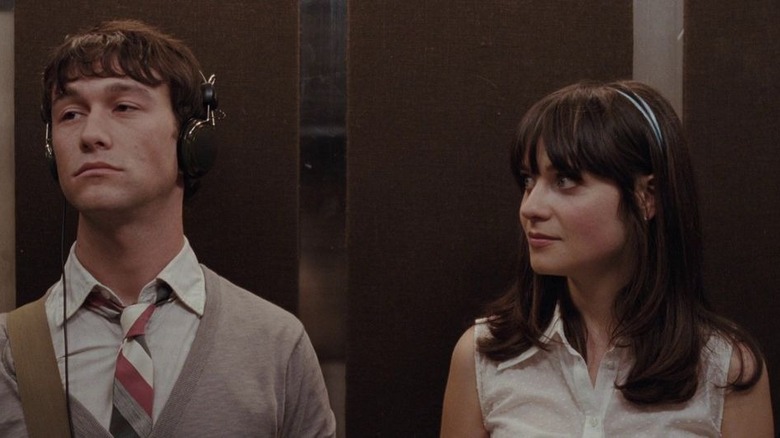 Fox Searchlight Pictures
Who could forget the iconic "500 Days of Summer" elevator scene? In the 2009 rom-com, Summer Finn, portrayed by Zooey Deschanel, showcases just how easy it is to add some spice to a classic white sleeveless button-up. To copy Summer's style, pick a button-up from your closet and pair it with a fun metallic headband for an unexpected twist.
Clueless: Cher Horowitz and Dionne Davenport's preppy 'fits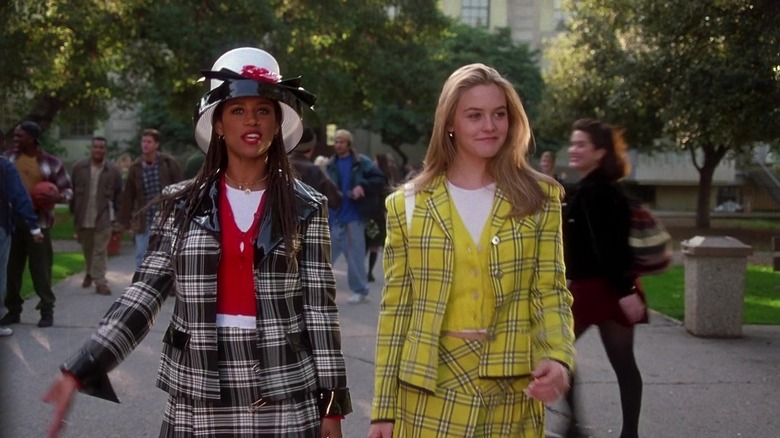 Paramount Pictures
Released in 1995, "Clueless" quickly became one of the teen classics from the '90s. In it, Cher Horowitz and Dionne Davenport, played by Alicia Silverstone and Stacey Dash, dazzle us with their iconic preppy 'fits. Both Cher and Dionne's looks have found their places in fashion history, epitomizing '90s style. However, while these ensembles remain timeless, replicating them all at once may veer into costume territory. To rock their stylish charm without going overboard, opt for one plaid piece at a time.
Pretty in Pink: Andie Walsh's DIY pink prom dress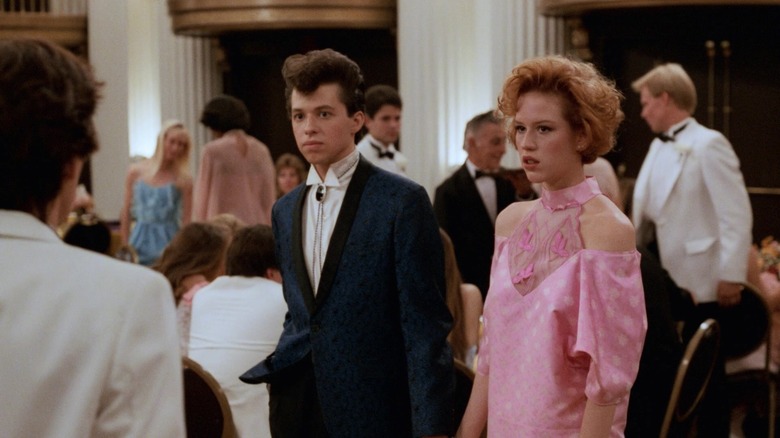 Paramount Pictures
In the iconic "Pretty in Pink," released in 1986, Molly Ringwald's character, Andie Walsh, instantly wows us with her pink prom dress. This DIY-style dress, symbolic of the '80s, showcases just how important individuality is in the fashion world. As Andie's creation, the dress perfectly captures her unique personality. So instead of copying her look entirely, we encourage you to simply embrace the nostalgic flair of the '80s with a touch of DIY fashion, creating your very own standout look.
Moonstruck: Loretta Castorini's timeless oversized black coat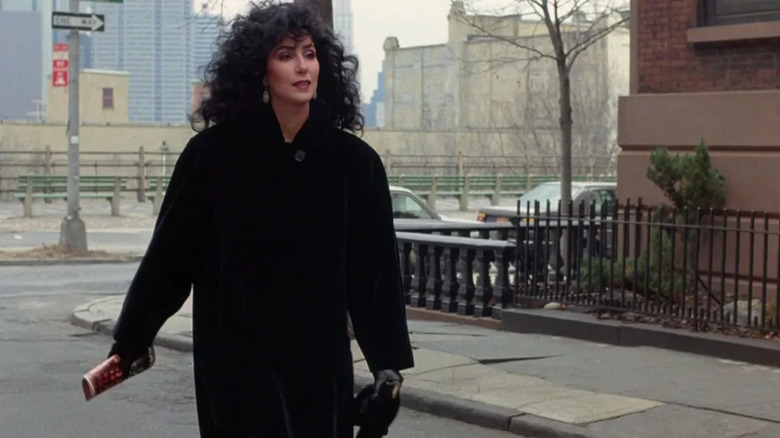 MGM/UA Communications Co.
In the 1987 romantic comedy "Moonstruck," Cher mesmerizes us as Loretta Castorini. Even when she's acting, Cher's personal flair manages to shine through every character she embodies, and this one is no different. From the rom-com, we opted to pick Loretta's oversized black coat — a classic choice that remains a forever staple, never going out of style.
Legally Blonde — Elle Woods' head-to-toe pink ensemble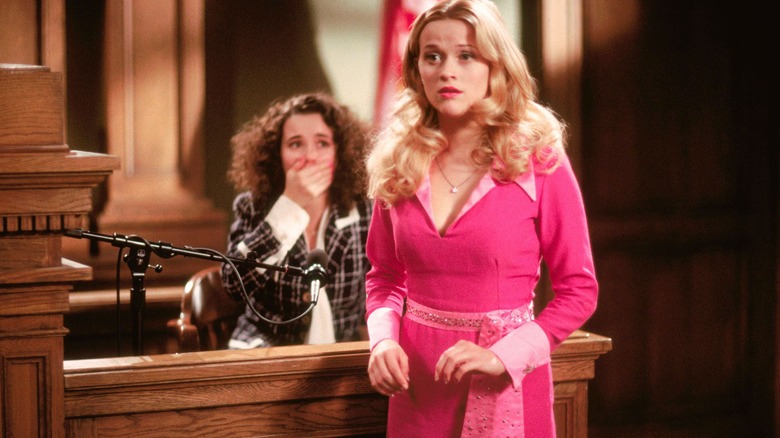 MGM Distribution Co. / 20th Century Fox
"Legally Blonde" hit the screens in 2001, gracing us with Reese Witherspoon's unforgettable portrayal of Elle Woods. Among her head-turning ensembles, Elle's head-to-toe pink outfit stands out as another iconic example of the currently popular Barbiecore trend. Embracing this bold and vibrant color, Elle exudes unapologetic confidence, and her fashion choices mirror the movie's message of embracing individuality. With Witherspoon making her second appearance on our list, it's evident that her characters leave a lasting impact, especially when she's dressed in fabulous pink from head to toe.