Here's How Margot Robbie Got Her Skin Perfectly Doll-Like For Barbie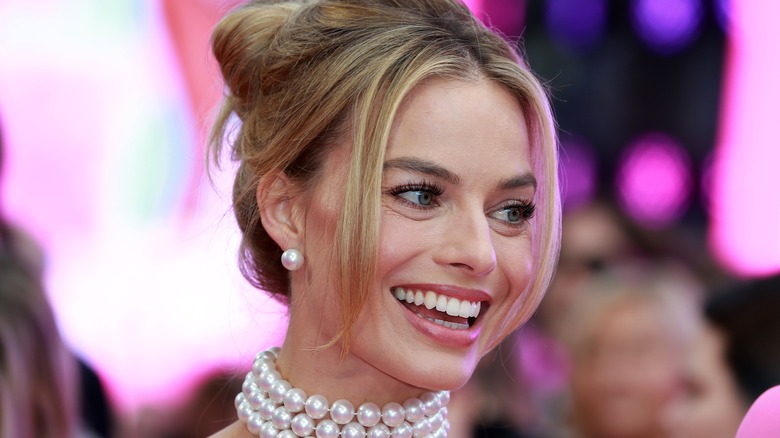 Fred Duval/Shutterstock
With the release of the highly anticipated "Barbie" movie, we've become obsessed with Margot Robbie's Barbie looks (like her hot pink skirt-and-cardi combo and her blush-colored leather minidress) that seamlessly bring the doll's bright wardrobe into the real world. But pastel 'fits and spindly high heels aren't the only way Robbie excels at embodying the plastic character — her skin is also just as smooth and doll-like.
The Australian actor is no stranger to skincare. Even before taking on the role of our favorite doll, she reportedly had one of the most expensive beauty routines in Hollywood, according to British discount code website Hey Discount. Luxurious creams, skincare devices, and other beautifying products that make up Robbie's routine total $1,941, costlier than any other celebrity skincare routine the website studied.
To become a living doll, the star stepped it up and added some extra measures to her skin regimen, while also sticking to tried-and-true tips that anyone can adopt, even without a Barbie Dreamhouse-sized budget.
Margot Robbie followed an intense skincare routine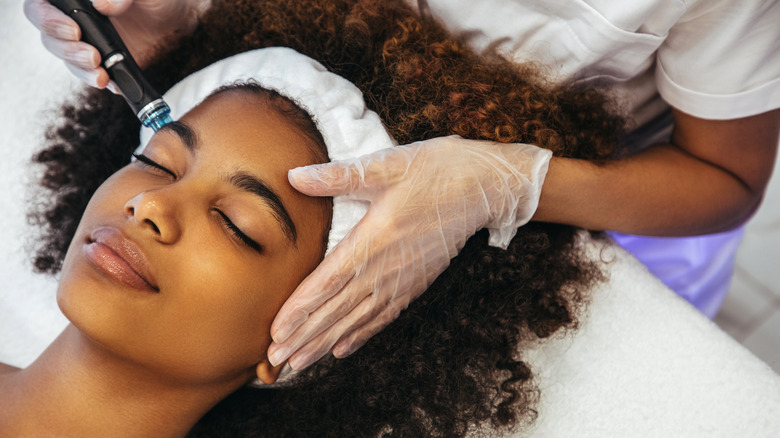 Coffeeandmilk/Getty Images
Barbie skin isn't easy to attain — we are humans, after all. That's why, to resemble the doll's poreless complexion, "Barbie" star Margot Robbie needed a little help. According to British Vogue, skin expert Jasmina Vico was one professional enlisted to get the star's skin in tip-top shape. "It's Barbie and she needs to look perfect, so the brief for the skin was to create that halo of light often seen in 1940s photographs," Vico explained to the magazine. "Everything in the movies is about lighting. That's when I thought, 'Okay, we're going to work on the liver; calm the nervous system; and make skin glow, but crucially, we're going to work on that glow from within.'"
Vico went about this in numerous ways. She listed ice rolling (sometimes combined with salicylic acid to treat blemishes), lasers, peels, massages, and microneedling as just some of the skincare tools in her arsenal. And, of course, she made sure Robbie was using top-notch products. "We used a lot of our new serum, which will launch in September, alongside other top-end skincare. Think formulas that include growth factors, antioxidants, vitamin C and exfoliating masks."
Before her "Barbie" days, Robbie also raved about one gadget in particular, which she may have continued using while shooting the film. "I've been using this micro-current device called Ziip which has given me noticeable results," she told The Telegraph. "I'm not paid by the brand or anything, it's really, really good."
The actor puts health first when caring for her skin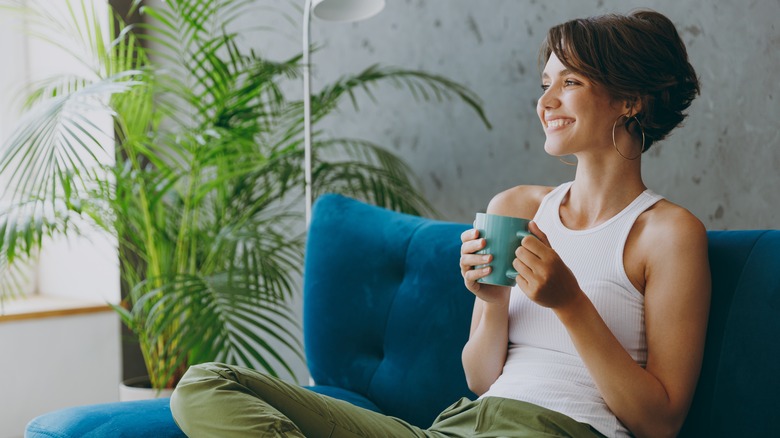 ViDI Studio/Shutterstock
Barbie might not have real organs under that plastic exterior, but Margot Robbie does, and turning into Barbie meant strengthening her health from the inside out. "It didn't make any sense for me just to treat the skin! Skin is connected to your body; you've got to include the diet and lifestyle," Jasmina Vico told Harper's Bazaar of her "Barbie" protocol.
For Robbie, Vico focused heavily on diet and supplements. The skin expert gave the "Barbie" cast milk thistle tea, which is thought to boost the complexion. "Milk thistle cleanses your liver," Vico revealed to British Vogue. "When that happens, our liver automatically produces more glutathione, which then makes the skin more radiant. One of the most important ingredients within it is silymarin, which is now featured a lot in skincare formulas." Other must-haves included fermented foods, which Vico believes help the body de-stress, as well as Vico Skin 3-6-9 Supplements.
Vico's glow-from-within approach resonates with Robbie's beauty philosophy of prioritizing health first. "We keep trying all these ways to find a secret recipe for youth — this cream or that cream, this diet or that diet. And it's all the stuff you knew from the beginning but were trying to find a way around," the actor shared with The Telegraph. "Ultimately, you realize, 'Oh yeah, I do look my best when I've had 10 hours of sleep and drunk a litre of water.' It's the simple things that work."