The Matte Makeup Organizer: What Happened To The Product After Shark Tank?
Have you watched a makeup tutorial on TikTok or YouTube over the past couple of years that featured a content creator sliding a mat over their sink to create more surface area for products and tools? If so, you've seen the work of inventor Melissa Clayton. In 2021, Clayton appeared on "Shark Tank" with her product, The Matte. The Matte is a foldable mat with grooves designed to hold small beauty products and makeup brushes. It unfolds to create a portable makeup counter anywhere.
If you've ever lived with a bathroom that only offers a pedestal sink and no counter space, you can understand the need for a product like The Matte. Fortunately for Clayton, at least one shark saw the product's potential as well. Whether you've used The Matte or watched the episode in which it appeared, you may have wondered what happened to the product after Clayton's time on "Shark Tank." Has The Matte become a classic beauty tool, or has it been left to gather dust on the shelf?
The Matte's appearance on Shark Tank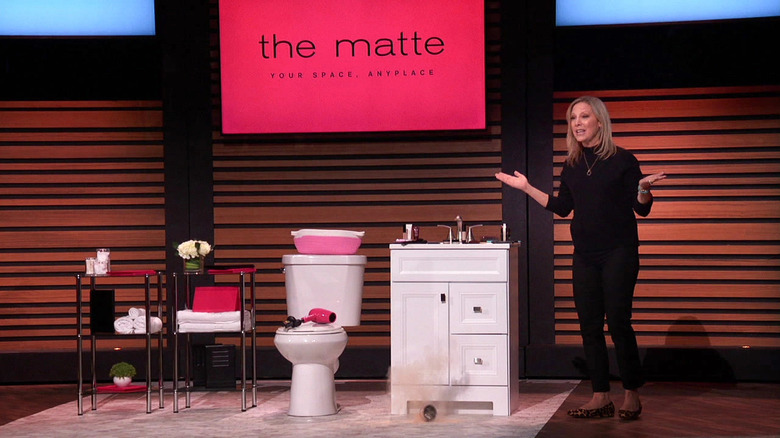 ABC
The Matte makeup organizer was featured on season 12 of "Shark Tank" by Clayton. She was seeking $100,000 in exchange for 20% equity in her company. However, after presenting the product and demonstrating its use to the sharks, Clayton was met with mostly scoffs from the male members of the panel, who likely couldn't relate to the need for temporary portable space for beauty products. She was also respectfully turned down by Texan jewelry maker Kendra Scott.
Clayton had already grown a successful jewelry company before coming on the show. Eventually, QVC Queen Lori Greiner offered Clayton $100,000 for 33.3% equity in the company. Although Clayton tried to negotiate Greiner down to 25% equity for the $100,000 price tag, her counteroffer was quickly rejected. In the end, Clayton accepted Greiner's original offer and walked away from the show with a deal. 
The Matte after Shark Tank
After appearing on "Shark Tank", the deal that Clayton struck with Greiner never actually came to fruition for reasons that remain unknown to the public. Nevertheless, the business has thrived since the episode aired. When Clayton presented The Matte on "Shark Tank" in 2021, she had already sold $200,000 worth of product, selling each mat for $25. Even though the deal with Greiner was never closed, sales of The Matte exploded.
According to Shark Tank Blog, as of April 2023, The Matte had made over $6,000,000 in sales. The original product's price has been bumped up from $25 to $39.99, although it is frequently on sale for $34.99. The company's product line has mainly stayed the same, although there is now a two-pack of mats available for $59.99, as well as a $9.99 travel bag for easily transporting your mat when you're on the go. 
Outlook for The Matte
Clayton still runs The Matte with the help of her sons, who occasionally pop up on the brand's Instagram feed. Meanwhile, The Matte continues to quietly sell on Amazon and at TheMatte.com, marketed primarily through its use by select social media beauty influencers. The world may never know what could have happened if Clayton's deal with Greiner had closed or why it fell through, but The Matte has continued to ease the struggle faced by those who use beauty products in tiny bathrooms everywhere.
This is one company that seems to be content with providing a solution to a common problem and doing it well. It is unlikely that we'll see any major expansions or new products from this company in the future. Instead, it will continue to sell makeup organization mattes to those who need more space, acquiring the status of a beauty staple without reaching for more. 
What's next for The Matte founder Melissa Clayton?
In addition to The Matte, Clayton continues to serve as founder and CEO of her personalized jewelry company, Tiny Tags. The brand sells fine gold jewelry, mostly in the form of 14k gold pendants, that celebrate motherhood and come with a lifetime guarantee. On the Tiny Tags website, Clayton credited her experience of motherhood and her complicated relationship with her own mother, who lived with alcohol use disorder, as inspirations for her business. The company regularly releases new pieces featuring names and dates that can be personalized to showcase the names or birthdays of customers' children.
Tiny Tags' jewelry has been featured in O Magazine and Goop and appeared on "The Today Show". It has also been worn by celebrities as influential as Meryl Streep. If you're wondering what's next for Clayton, the answer appears to be that she has already found her forever home in her original business.