RuPaul's 44 Best Drag Race Looks, Ranked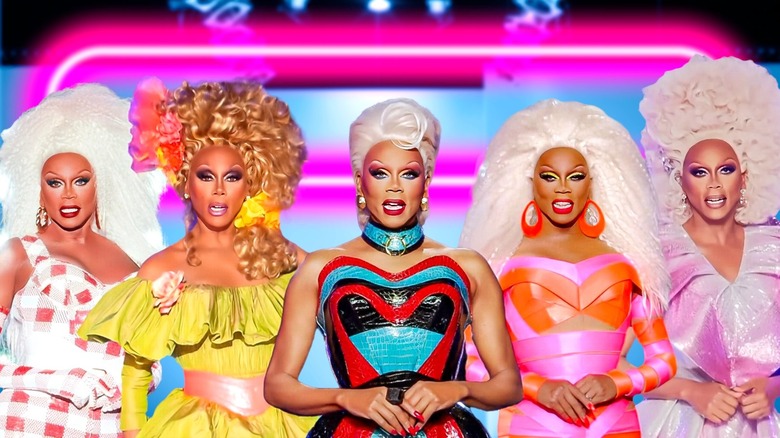 Static Media/Shutterstock
As RuPaul would say, "Hello, hello, hello"! Welcome to a trip down the enchanting runway of "RuPaul's Drag Race," including two of its international spinoffs ("RuPaul's Drag Race UK" and "RuPaul's Drag Race Down Under"). Please hold onto your wigs, as we're about to embark on a whirlwind adventure filled with glitz and glam. From the vibrant and bold to the elegant and monochromatic, RuPaul has rocked it all, proving that she's the true queen of pulling off diverse styles with ease.
Whether she's dripping in sequins, glittering like a disco ball, or embracing the edginess of leather, mesh, and lace, RuPaul has served us plenty of sensational looks. As we curated and ranked these fabulous ensembles, we looked beyond the surface of pure aesthetic appeal. Innovative designs that pushed the boundaries of drag fashion, looks that brought the most drama and excitement, and — most importantly — outfits that looked spectacular on Mama Ru were given higher priority. While almost every drag queen can pull off a sparkly dress, not everyone can rock a sherpa bodysuit or a leather choker. Dissecting these looks was a task we took very seriously, but we also recognize that fashion, like drag itself, is all about personal preference. And while this is a ranking, it's also a celebration of diversity, a kaleidoscope of individuality, and a testament to the power of drag to inspire and uplift. It's time to get lost in a place where fashion knows no boundaries, and RuPaul reigns as the fierce and fabulous ruler of the "Drag Race" universe!
44. Mama Ru's pop art extravaganza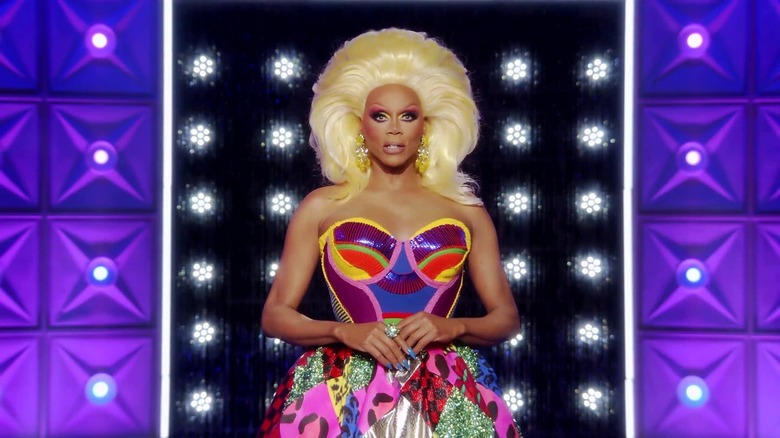 VH1
RuPaul brought the runway to life in "RuPaul's Drag Race" Season 14, Episode 13, with a look that screamed "POW!" and "BANG!" all at once. Serving up some major pop art realness, Mama Ru wore a funky, colorful dress that had us all gasping for breath. To offset the quirkiness of the look, her voluminous Old Hollywood blond hair was reaching for the stars — and let's not forget those sparkly chandelier earrings that added some elegance to the kaleidoscope of colors.
43. Polka dot diva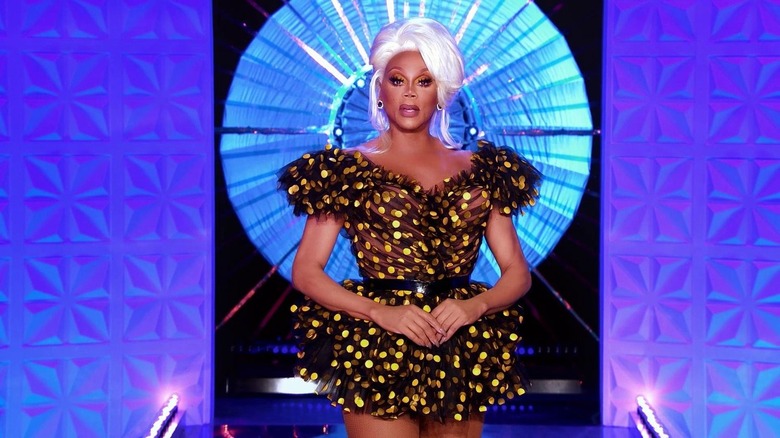 BBC Three / BBC One
Hold on to your wigs, folks, because RuPaul served us with some serious flirty fun tulle in "RuPaul's Drag Race UK" Season 3, Episode 9! Ru decided to go with a very short minidress in black with yellow polka dots, giving us major youthful vibes. Age? Just a number! Mama Ru proved you can slay any look no matter what year your birth certificate is from — and with that, she showcased once again that fashion has no boundaries.
42. RuPaul: Pretty in pink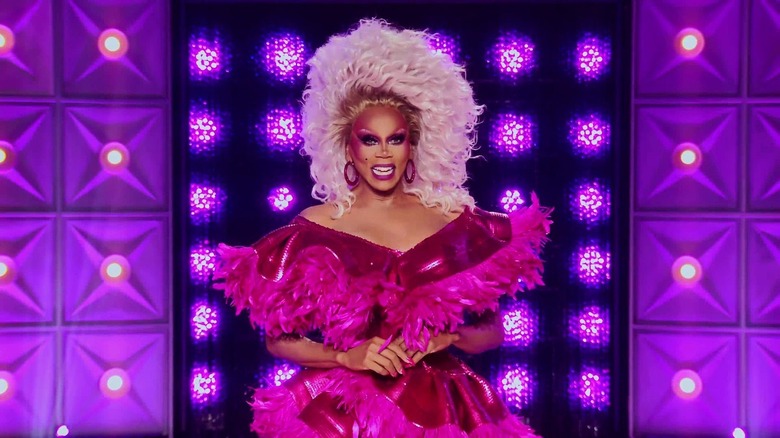 Paramount+
In "RuPaul's Drag Race All Stars" Season 6, Episode 1, Mama Ru took us on a dazzling trip down memory lane with her '80s-style metallic feathery hot pink look. Hunty, she's been a trendsetter since day one, and this outfit proves it! With a fierce nod to the iconic Barbie, Ru strutted like a true queen in head-to-toe pink, proving she's the original pink princess. Long before the Greta Gerwig movie made us obsessed with pink, RuPaul was already living in a pink world (and we're just lucky to be living in it too).
41. Faux fur fantasy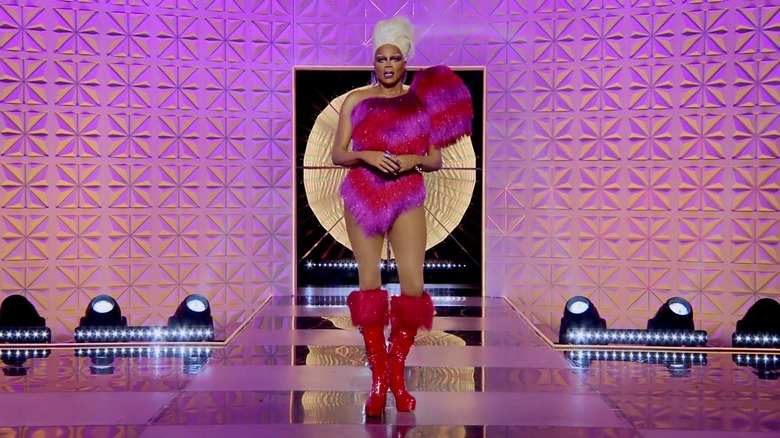 BBC Three / BBC One
Brace yourselves for a look that some may be surprised to see on this list, but Mama Ru's fit from "RuPaul's Drag Race UK" Season 4, Episode 10 proved once again why she's the reigning queen of fearless fashion! Combining a faux fur pink and red one-shoulder bodysuit with red latex boots was pure magic. An intense meeting of textures and colors that only RuPaul could pull off, showcasing just how much of a fashion diva extraordinaire she is.
40. RuPaul as a copper goddess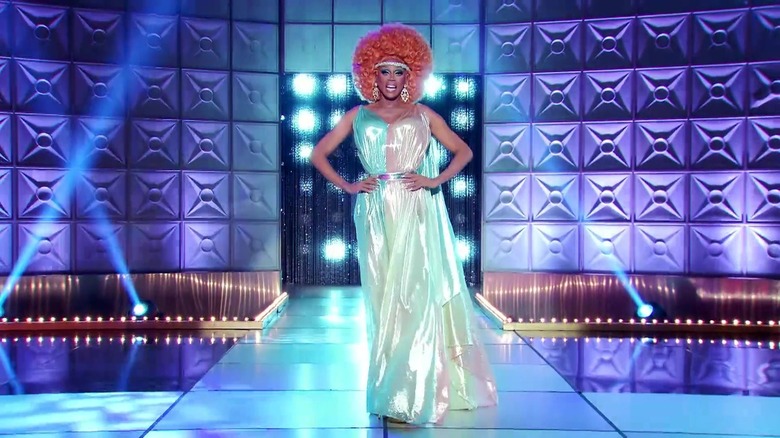 VH1
In "RuPaul's Drag Race" Season 12, Episode 9, RuPaul set the runway ablaze with a look that was the epitome of goddess fashion! A metallic gown alone would be bold, but leave it to the queen herself to take it to celestial heights. Not only did Mama Ru add a breathtaking copper afro, but she also accessorized with a dazzling headband and chandelier earrings that elevated the entire ensemble to ethereal levels. No one else could ever do it quite like RuPaul — a true Copper Goddess reigning over us all!
39. The one-shoulder showstopper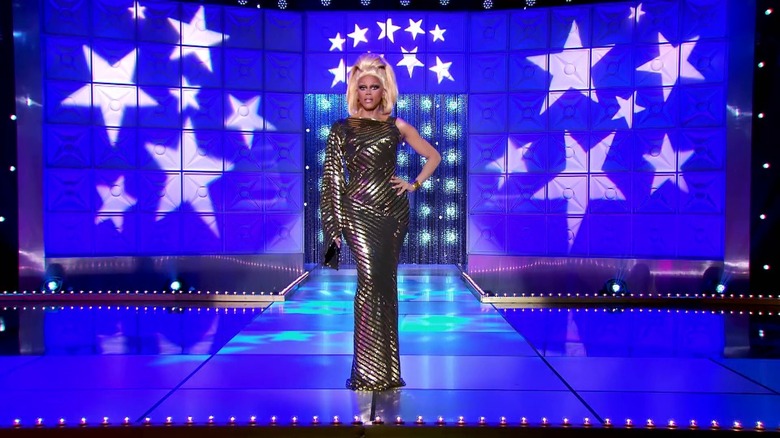 VH1
Take a deep breath because RuPaul's look from "Secret Celebrity Drag Race" Season 1, Episode 2 is bound to leave you breathless. Ru wore a stunning striped metallic one-shoulder masterpiece that oozed grace and fierceness. While she kept the look simple with no accessories, you know Ru never does anything without a dash of drama. And this time, she truly outdid herself with a pompadour that reached heights we never knew were possible.
38. Crochet couture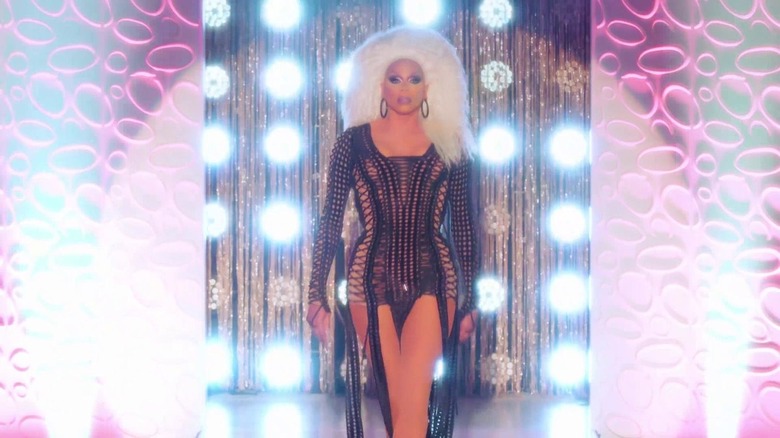 Stan
Prepare for a jaw-dropping moment because in "RuPaul's Drag Race Down Under" Season 1, Episode 5, RuPaul served up a daring black bodysuit/ultra minidress (you decide), and we are living for it! The intricate crochet and mesh texture was a visual feast — and we were not able to look away. As always, Ru's hair and makeup were absolute perfection, and those black hoop earrings added that extra oomph to the entire ensemble.
37. RuPaul is no stranger to regal artsy chic fits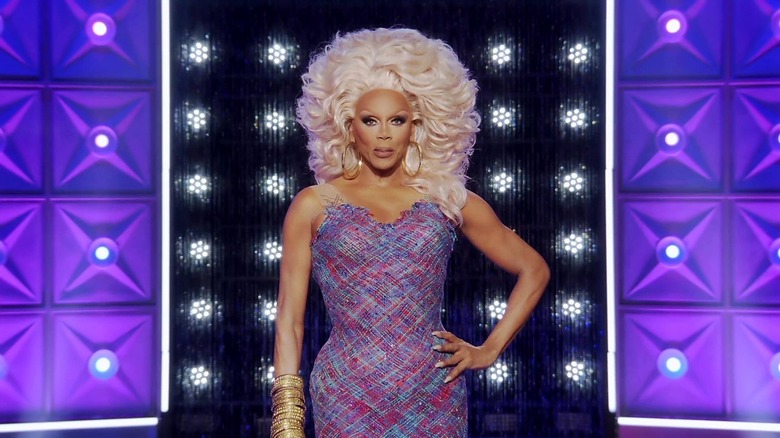 VH1
In "RuPaul's Drag Race" Season 14, Episode 10, RuPaul unveiled a side we've never seen before. This unique pink, purple, and blue dress with an unfinished edge is definitely something we didn't see coming. Of course, the queen never disappoints when it comes to hair, makeup, and accessories — serving pure royalty, as always. But the dress gave us a glimpse of a different Mama Ru, one that proves even a casual vibe (and unfinished neckline) can be fit for a queen!
36. Metallics and animal print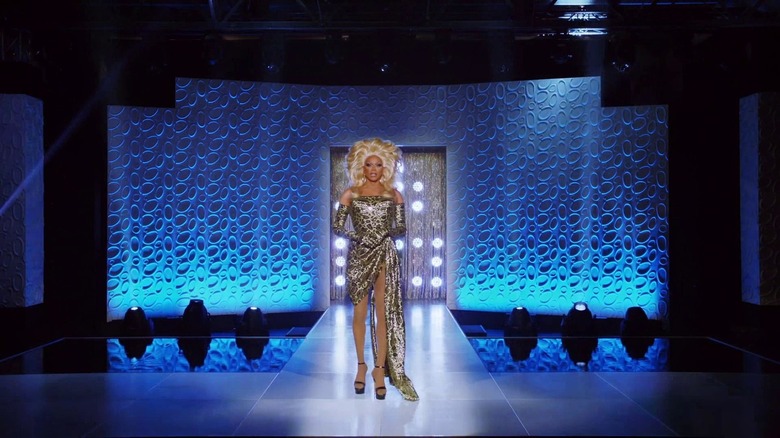 Stan
Metallics and animal print in one look? You might think that it wouldn't work, but RuPaul is here to prove us wrong. In "RuPaul's Drag Race Down Under" Season 2, Episode 3, Ru rocked a look that redefined daring! Who else could flawlessly merge these two fashion trends? Literally no one! RuPaul owned the stage in a jaw-dropping metallic minidress with a dramatic side drape, all in a stunning leopard print. To take things up a notch, Ru wore matching long gloves — a stroke of drag-iosity!
35. Disco diva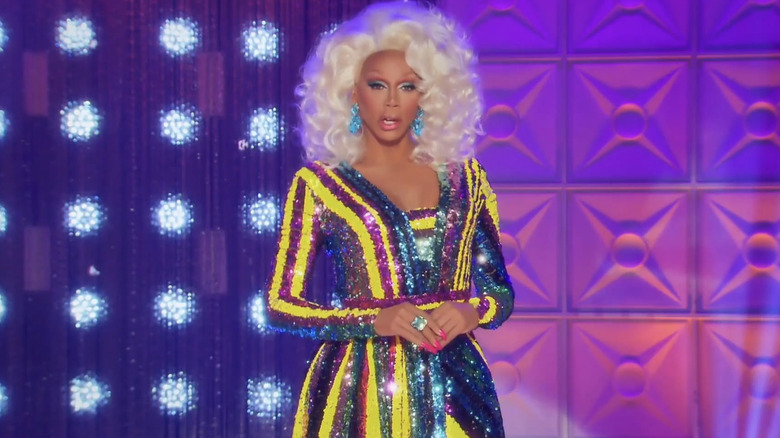 VH1
Get ready to boogie down, honey! In "RuPaul's Drag Race" Season 11, Episode 5, RuPaul brought the disco era back to life with a dazzling, sequined striped long-sleeved dress and the ultimate curly blond locks! It was like stepping into Studio 54 — pure disco fever! She served up the best of the '70s with flair and finesse, leaving us all wanting more of that disco magic. Mama Ru, can we get an encore, please?
34. Mama Ru's cape-ability unleashed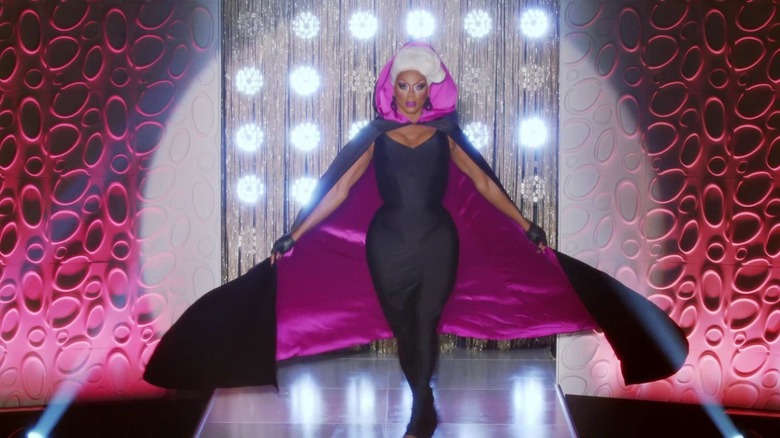 Stan
Only Ru can take a cape from a superhero costume to runway fabulosity! In "RuPaul's Drag Race Down Under" Season 2, Episode 4, RuPaul showed us the power of a cape — and just how much it can transform a look. With a tight black outfit and a matching hooded black cape, she served up Dracula fashion at its absolute finest.
33. RuPaul's groovy '70s look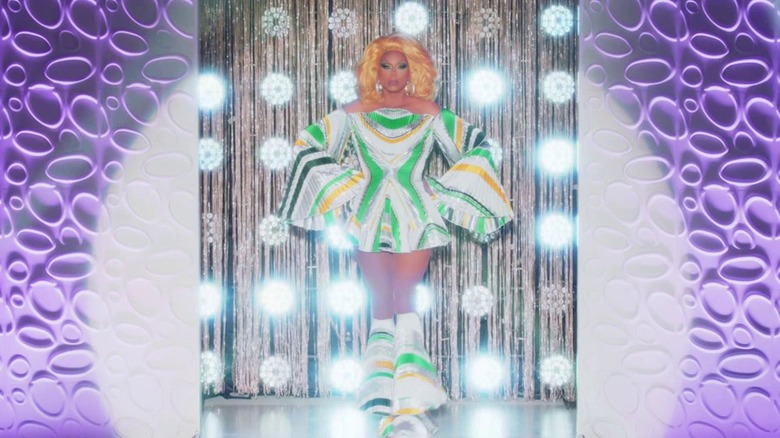 Stan
Get ready to disco dance back in time because, in "RuPaul's Drag Race Down Under" Season 1, Episode 4, RuPaul turned the runway into a '70s dream! Ru embodied the era with a colorful, off-the-shoulders A-line minidress with dramatic bell sleeves that added plenty of movement to the look. But wait, there's more! She took it to the next level with matching bellbottom leg warmers, reminding us that the '70s were all about embracing bold colors, fun silhouettes, and unapologetic flair.
32. The viva magenta era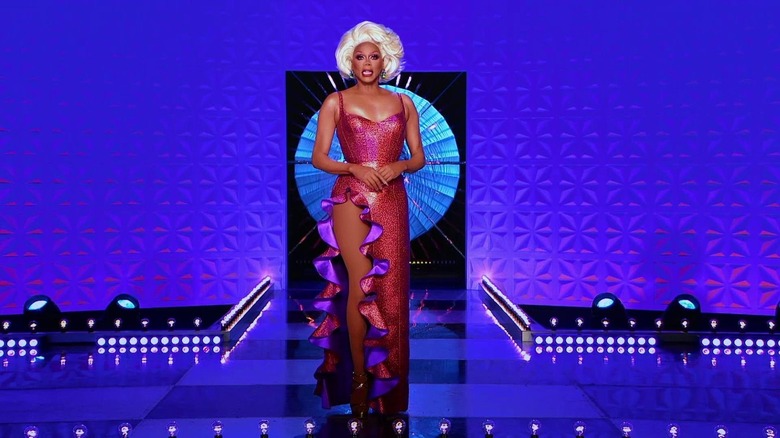 BBC Three
Lights, camera, fabulous! In "RuPaul's Drag Race UK vs The World" Season 1, Episode 4, RuPaul transported us to the golden age of Hollywood with a look that exuded elegance and drama! The diva wore a tight floor-length gown in metallic magenta with a subtle leopard print that added a touch of wild sophistication. But that's not all — the high leg slit with a ruffle edge served us Salsa dance realness, and that purple underlining peeking through? Pure genius! Bravo, Ru, for reminding us that classic glamour never goes out of style (but also that we can put a fun twist on it)!
31. Just one of the golden girls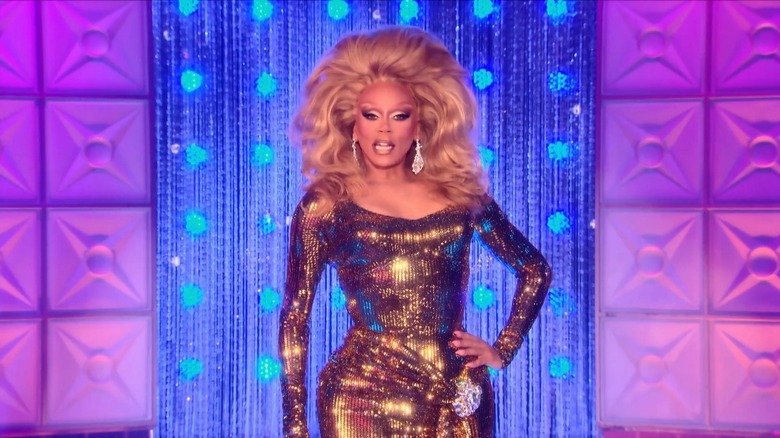 VH1
How stunning is the star's look from "RuPaul's Drag Race" Season 10, Episode 9? While we adore Ru's unique and extravagant looks, this time, she graced us with a more subtle glam that reminded us just how stunning she is in a more simple look (by RuPaul's standards, of course). The classy long-sleeved golden dress gave us timeless sophistication, and the major hair volume and sparkling diamond accessories were the epitome of material girl aesthetics at its finest!
30. RuPaul in pants-ome polka dots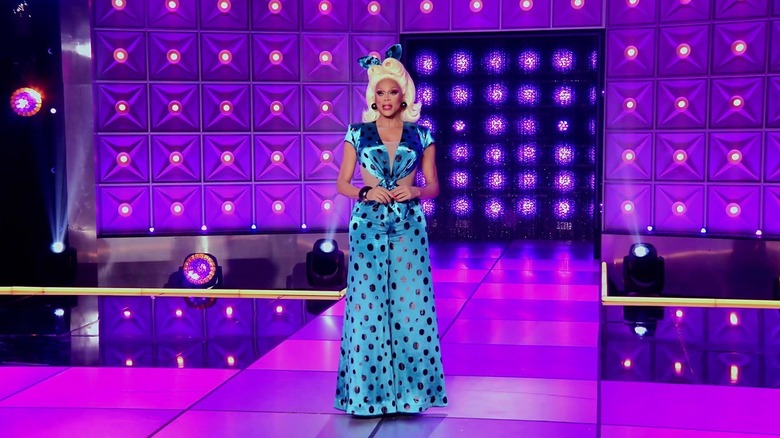 Paramount+
Consider yourself warned: This was not the last of our puns. In "RuPaul's Drag Race All Stars" Season 6, Episode 11, Mama Ru shook up the runway with a look that we rarely see her in. Ru decided to go with pants, as she wore a blue polka-dotted satin one-piece with midriff cutouts. The half-up hairstyle and bow added that perfect touch of '60s flair, taking us on a fun journey through time.
29. A paint-splattered vision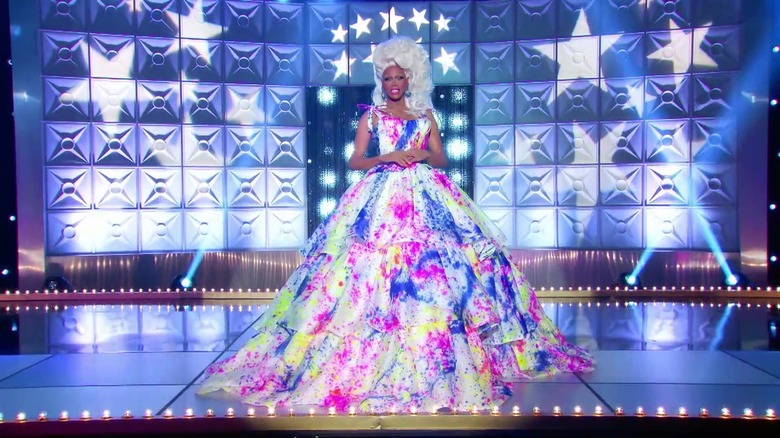 VH1
Whether you're a fan or a critic, RuPaul fearlessly blazes her own trail in the world of fashion like no other. In "RuPaul's Drag Race All Stars" Season 5, Episode 5, she proved once again that she's a master of toeing the line between genius and horrendous — of course, in terms of fashion. This white ball gown, embellished with paint splatters all over, was a classic example of her boundary-pushing style. It was a canvas of creativity, and with it, Ru once again showed us that fashion is truly an art form.
28. A modern take on the flapper dress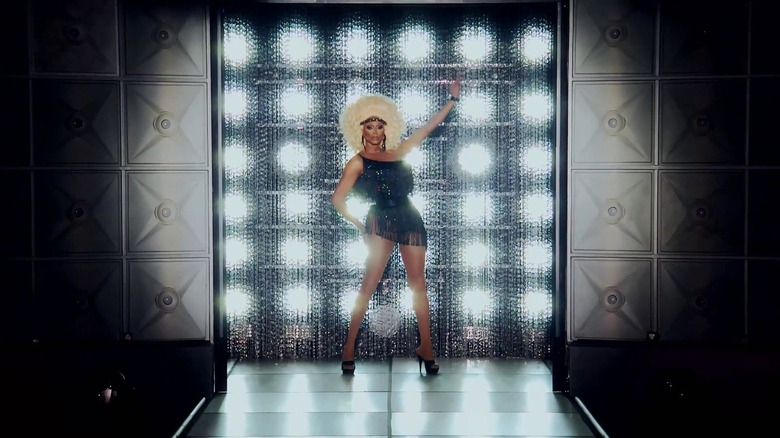 Paramount+
Hold onto your feather boas because in "RuPaul's Drag Race All Stars" Season 6, Episode 6, RuPaul took us back to the Roaring Twenties with a sparkly black flapper dress! This dazzling homage to the iconic flapper era was everything a drag queen could dream of, and more. With every shimmer and sparkle of her movements, Ru transported us to the jazz-filled nights of the past!
27. Black magic glam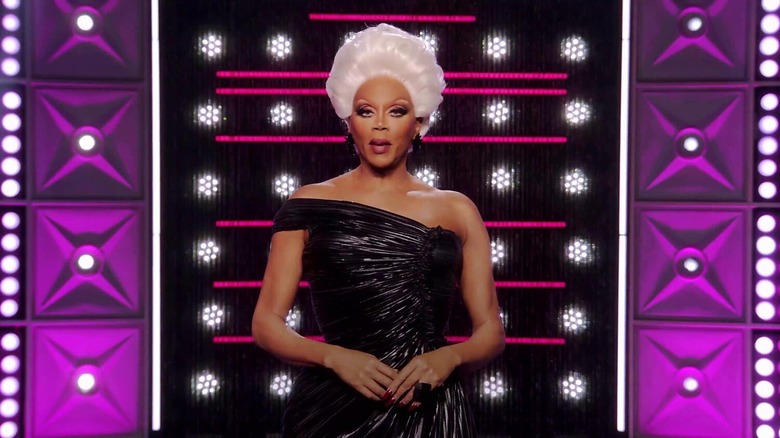 MTV
In "RuPaul's Drag Race" Season 15, Episode 8, Ru graced the stage in a stunning black gown that left us mesmerized by its simplicity. Sometimes less is truly more, and this gown was the perfect choice, as it let Ru's icy white hair take center stage. Her voluminous updo was a masterpiece in itself, adding a touch of regal charm to the whole ensemble.
26. Meet RuPaul, the ultimate Frozen queen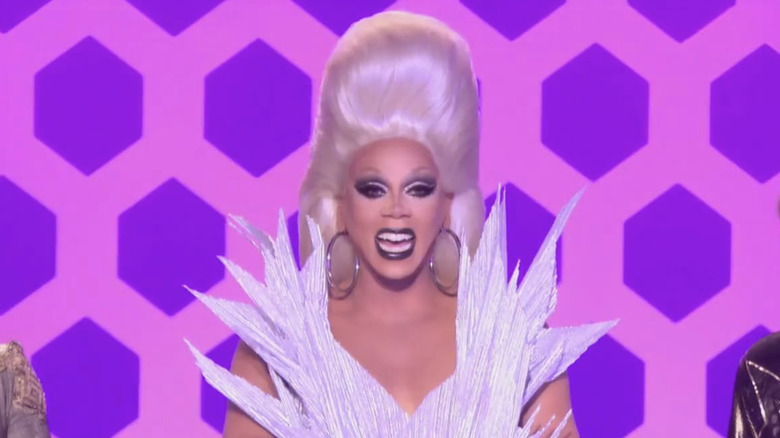 VH1
Get ready to chill because in "RuPaul's Drag Race" Season 9, Episode 12, Mama Ru served an icy white look that left us frozen in awe! Most people can't pull off head-to-toe white, but Ru? Absolutely! The spiky white gown gave us major ice queen vibes, and that icy blond wig was the perfect match. To add that extra edge, RuPaul opted for black cut-crease eye makeup and dark metallic lipstick, creating a compelling contrast that opened the door of winter wonderland fashion to us.
25. Lace, mesh, and ruffles on a whole new level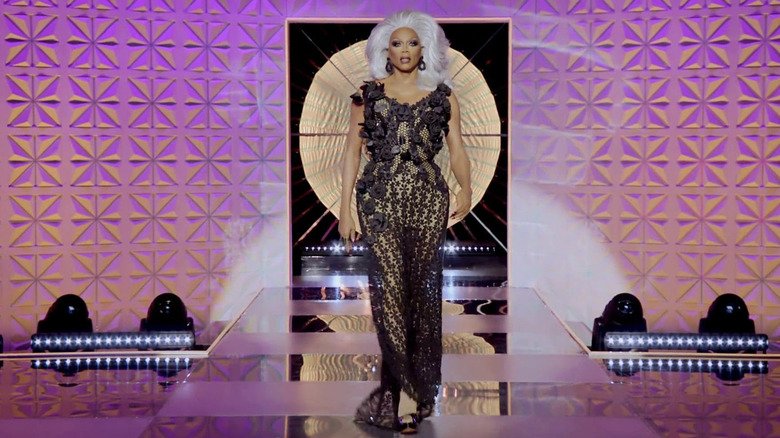 BBC Three / BBC One
Ruffles, lace, mesh, and floral details all together surely sound like the absolute worst texture overload. But leave it up to RuPaul to prove us wrong. In "RuPaul's Drag Race UK" Season 4, Episode 5, Ru proved that she can handle anything with grace and flair — even texture overload. The dress was a masterpiece of intricate details and romantic charm, and once again, Mama Ru reminds us that in the world of drag, there are no boundaries to beauty!
24. Taking fashion notes from The Flintstones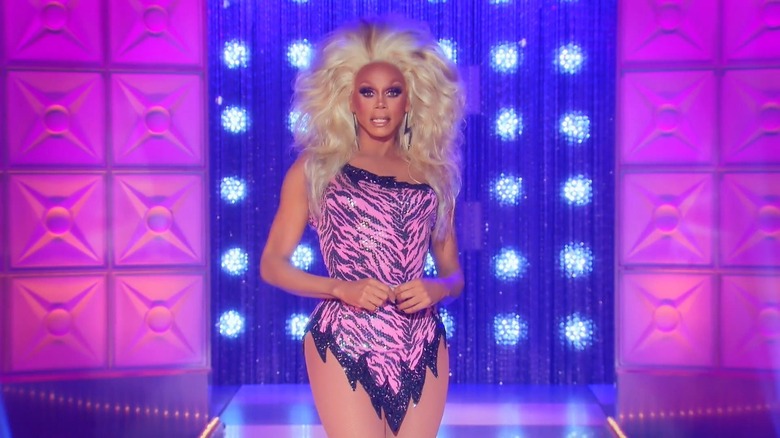 VH1
Yabba Dabba Doo, darling! For "RuPaul's Drag Race" Season 11, Episode 8, the diva decided to serve us a bodysuit moment that was pure Bedrock fabulousness! The boldness of the cut and the fierce zebra print were a match made in drag heaven, making this Barbie pink look everything and more. Ru, you have taken us on a prehistoric fashion journey we won't forget!
23. Whimsical purple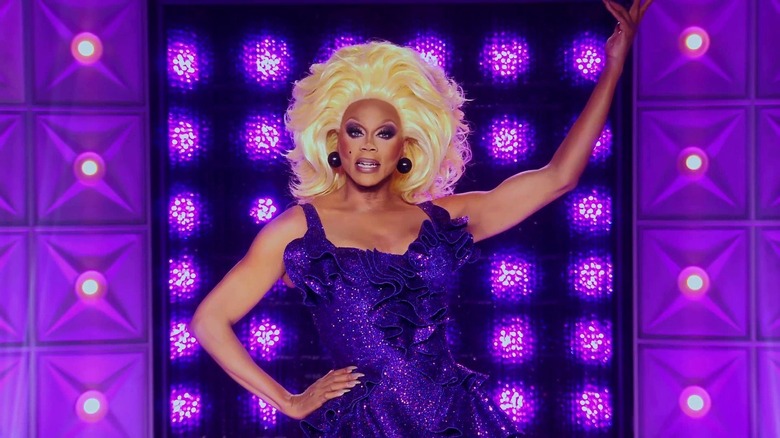 Paramount+
For "RuPaul's Drag Race All Stars" Season 6, Episode 3, RuPaul decided to walk the runway in an enchanting look that gave us all the glamour we could ever ask for. The dress was in shimmering purple, and the bold ruffles encircling the décolleté added an ethereal touch, showcasing a whimsical side to Mama Ru's fashion.
22. RuPaul's take on the '80s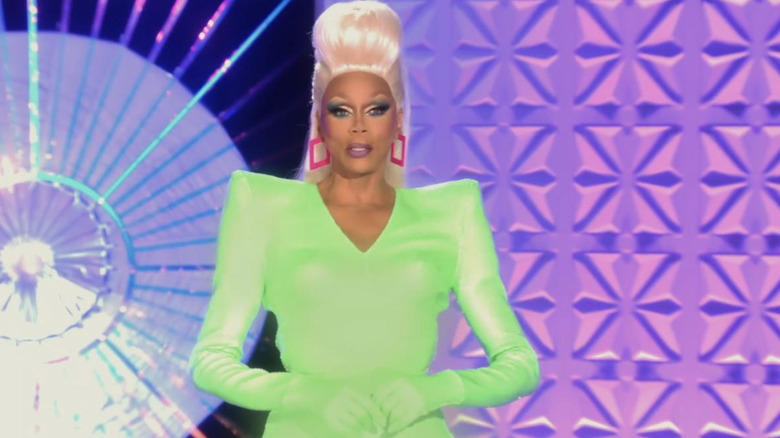 BBC Three / BBC One
Hold on to your legwarmers because, in "RuPaul's Drag Race UK" Season 1, Episode 1, RuPaul singlehandedly brought the '80s back. The ultimate Queen of Drag rocked a bright neon green dress with hot pink statement earrings for the perfect pop of contrast — and a massive dose of nostalgia!
21. The queen's spin on fairy tale gowns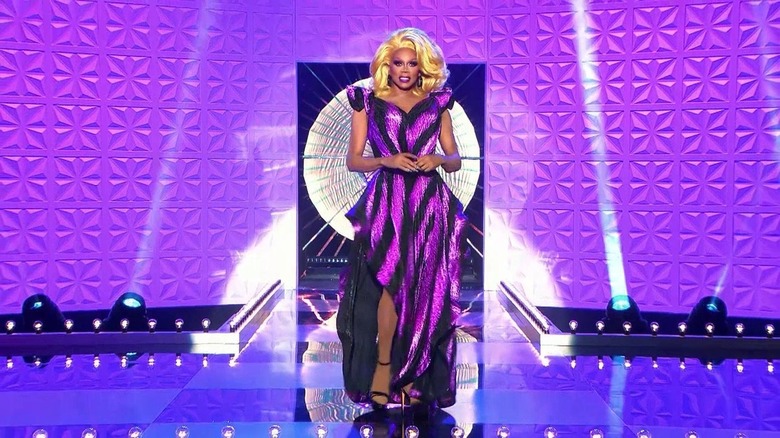 BBC Three / BBC One
In "RuPaul's Drag Race UK" Season 3, Episode 1, Mama Ru mesmerized us in a whimsical purple-striped gown that was pure enchantment. While she can slay any color of the rainbow (or all of them at the same time), there's something extra magical about Ru in purple. The fairy tale-like shape added to the fantasy, making us feel like we were in the presence of a true fairy godmother.
20. Jumpsuit royalty: Ru's plaid perfection
Paramount+
Listen, this look may not be everyone's cup of tea, but if there's anyone who can pull off a white and red plaid jumpsuit, matching long gloves, and a dramatic corset belt — it's definitely Ru. For "RuPaul's Drag Race All Stars" Season 7, Episode 11, Mama Ru took us on a daring fashion journey that certainly could have backfired. Luckily, Ru is the ultimate queen of taking fashion risks and owning every moment on the runway. Somehow, Ru created a cohesive and cool ensemble that has us seriously considering whether we need to bring the jumpsuit and Y2K belt combo back!
19. Proving that gold and glitter are never out of style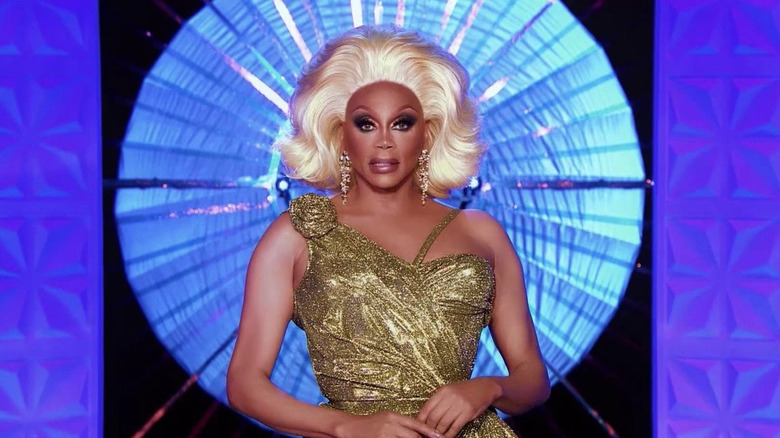 BBC Three / BBC One
By now, it's clear that RuPaul is the ultimate queen of glamour, which she once again proved in "RuPaul's Drag Race UK" Season 3, Episode 10. This queen knows that sparkle can elevate any look to a royal level, as her golden gown shimmered like a crown jewel, commanding attention and leaving us in awe of her majestic presence. If you're looking for us, we're here picking our jaws up off the floor.
18. RuPaul's take on sparkly rainbow fashion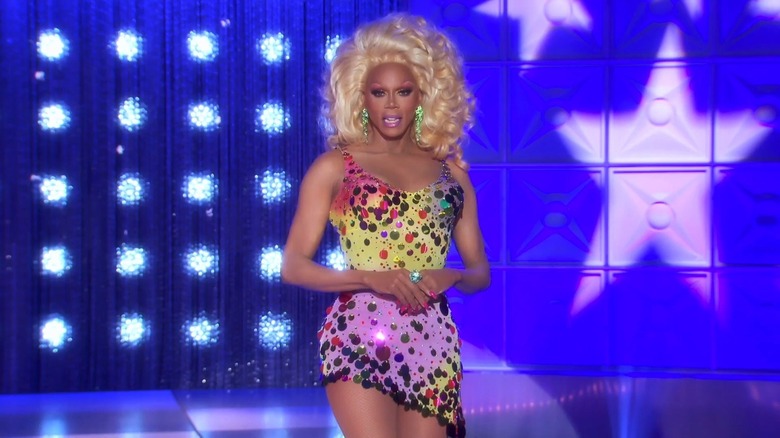 VH1
We simply can't get enough of Ru's sparkling rainbow revamp from "RuPaul's Drag Race All Stars" Season 4, Episode 9. RuPaul served in a minidress, giving us a fresh and fabulous interpretation of those classic sparkly rainbow dresses we all know and love. The twist was the random chunky sequins that left us mesmerized with every move Mama Ru made.
17. Hot pink diva delight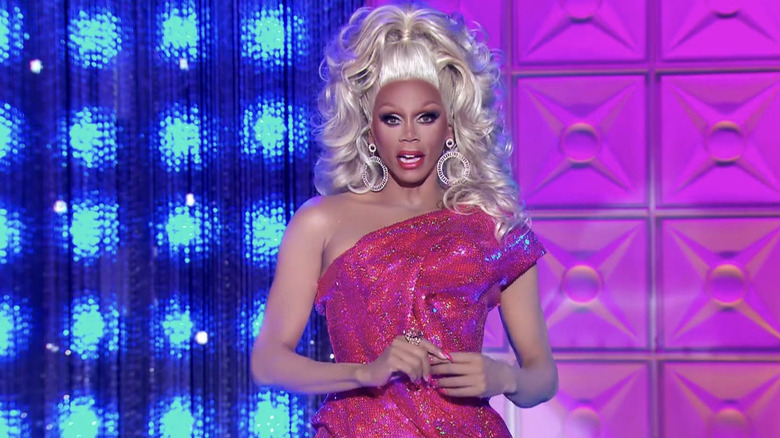 VH1
Get ready to sashay into Barbie's world again because just one hot pink RuPaul look was never going to be enough. In "RuPaul's Drag Race" Season 12, Episode 1, Ru slayed in a sparkly hot pink look that was pure doll magic! The half-up, half-down hair with the Ariana Grande high ponytail was the perfect touch of pop princess glamour. Once again, Ru showed us that fashion is all about fun and fabulousness!
16. Neon queen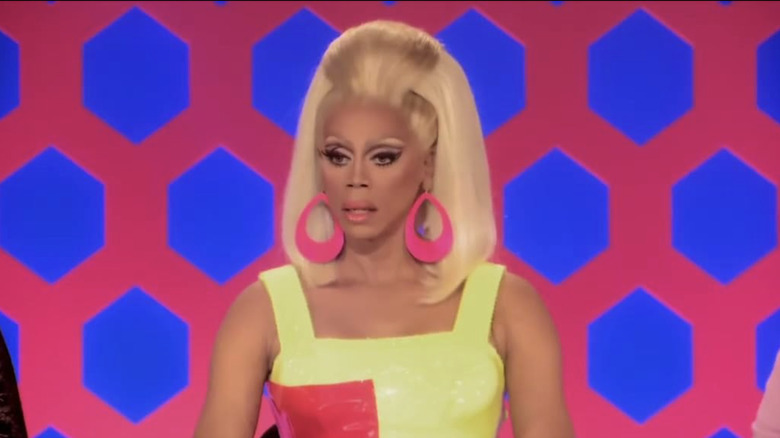 Logo TV
In "RuPaul's Drag Race" Season 7, Episode 7, RuPaul decided to go with a look that was a mesmerizing blend of doll-like charm and bold pop art! The neon yellow and red dress paired with those hot pink statement earrings gave us a burst of bright and bold, while the cut-crease eye makeup and the shoulder-length hair added to the pop art aesthetic.
15. Her bejeweled majesty, RuPaul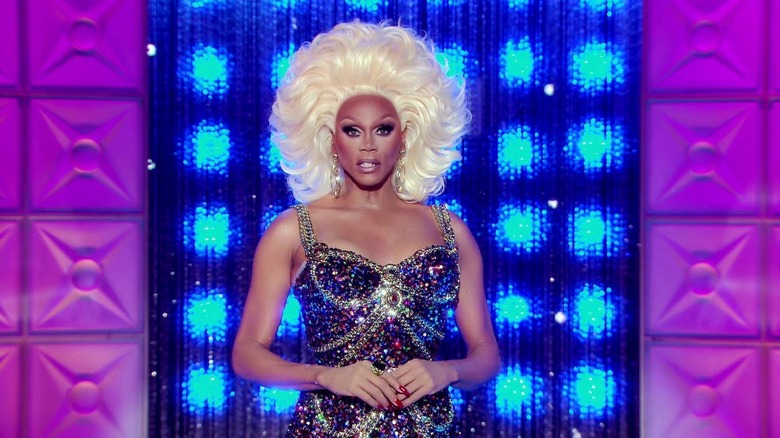 VH1
The crossover we never knew we needed — RuPaul and Taylor Swift. In "RuPaul's Drag Race" Season 12, Episode 10, Mama Ru wowed us with a look that was pure "Bejeweled" by Taylor Swift! The stunning dress was a sparkling masterpiece, exuding all the glam and glitz worthy of a pop superstar. And best believe she's still bejeweled, when she walks in the room, she can still make the whole place shimmer.
14. Teal temptation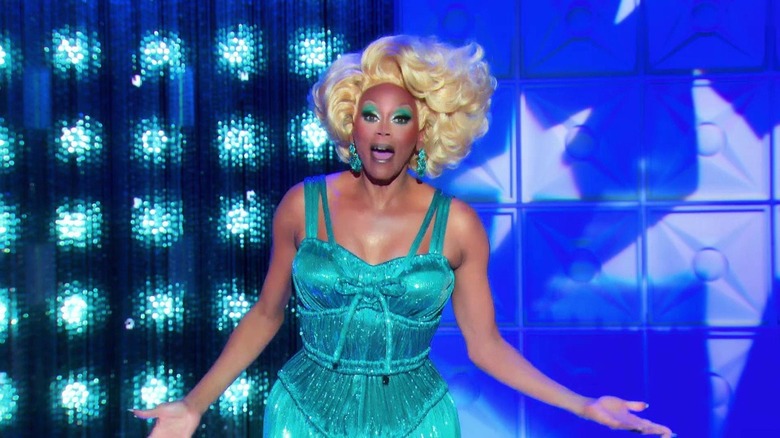 VH1
Teal is one of those colors that doesn't look great on everyone, but those who can pull it off should definitely wear it more often. And yes — we're looking at you, Ru! In "RuPaul's Drag Race All Stars" Season 5, Episode 1, Mama Ru graced us with a bright aqua dress that was perfection on its own, but together with the matching earrings and eye makeup, it wound up in fashion heaven. Every detail was so meticulously coordinated that it left us yearning for more of Ru's monochromatic magic.
13. Mama Ru's fierce flamenco fantasy
In "RuPaul's Drag Race UK" Season 3, Episode 6, RuPaul brought the sultry allure of flamenco fashion into the spotlight. This look was an electrifying fusion of passion and style, with every detail coming together perfectly. The dress, embellished with cascading ruffles, the bold makeup, and the headpiece gave us a look that made us want to dance the night away.
12. RuPaul as a frozen fairy godmother
It's clear just how much fun RuPaul is having with fashion, always giving us her best take on different styles. For "RuPaul's Drag Race" Season 13, Episode 1, the Queen of Drag decided to go with a look that gave us metallics, Barbiecore, and fairytale vibes — all at the same time. The pink dress was like a frosty dream, serving us ultimate fairy godmother with a modern twist.
11. Bridgerton-flamenco fusion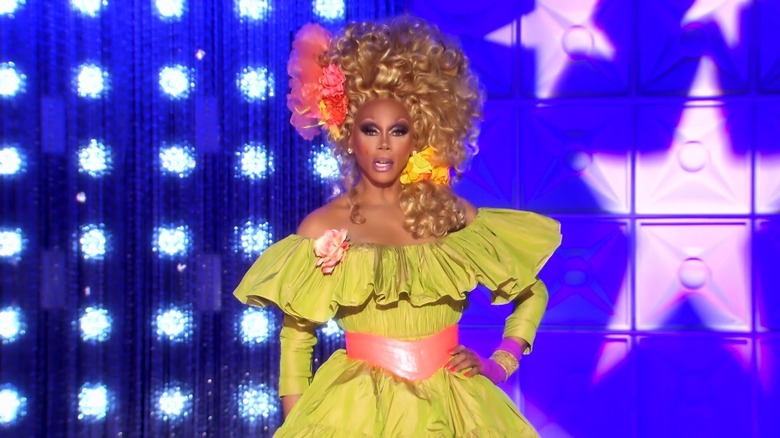 VH1
For "RuPaul's Drag Race All Stars" Season 4, Episode 4, Ru gave us a stunning flamenco-"Bridgerton" crossover that we didn't know we needed. This queen's ensemble was a harmonious fusion of two worlds, blending the fiery spirit of flamenco with the regal elegance of "Bridgerton" fashion. The result? A superb look that was the epitome of classiness and charm.
10. Golden glamour perfection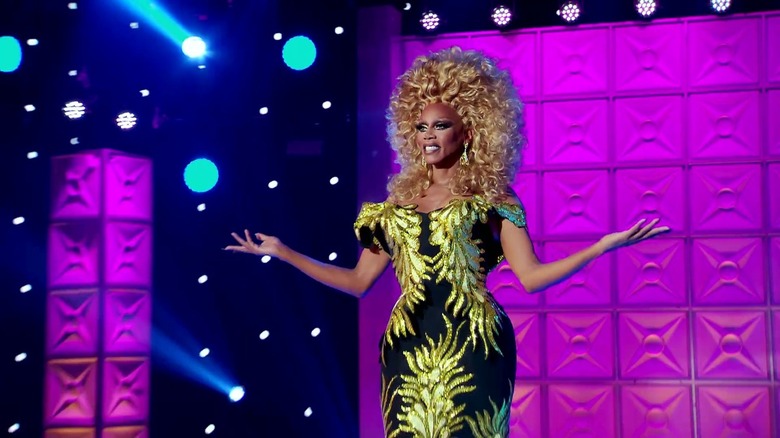 VH1
RuPaul dazzled us in "RuPaul's Drag Race" Season 12, Episode 8, with her stunning black off-the-shoulders gown embellished with gleaming gold details. This look is the epitome of classic Hollywood glam, proving that sometimes, going the already-walked route is the name of the game. After all, one can never go wrong with classic golden glamour!
9. RuPaul knows that over-the-top and pink go hand in hand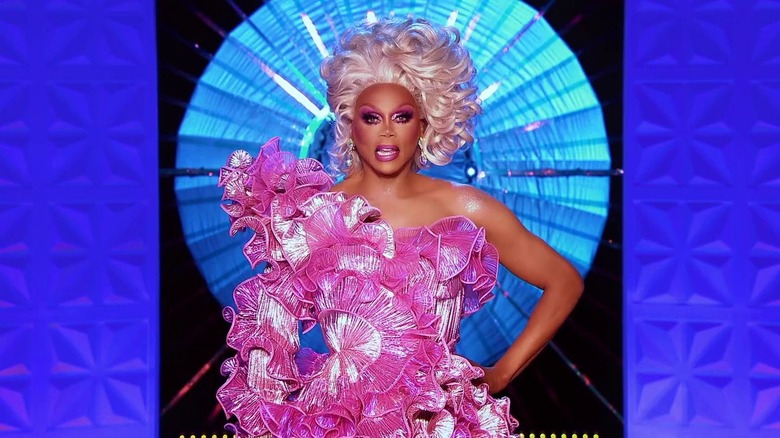 BBC Three
With so many pink looks to choose from, picking just one for our list was impossible, but this ruffly dress took the crown as our favorite head-to-toe pink ensemble. From "RuPaul's Drag Race UK vs The World" Season 1, Episode 6, the look features a delicate combination of tulle and metallics, which creates a harmonious symphony of textures, giving us the best of all worlds. RuPaul knows how to play with fashion like no other, and RuPaul in pink is supreme!
8. The feathery one-sleeve moment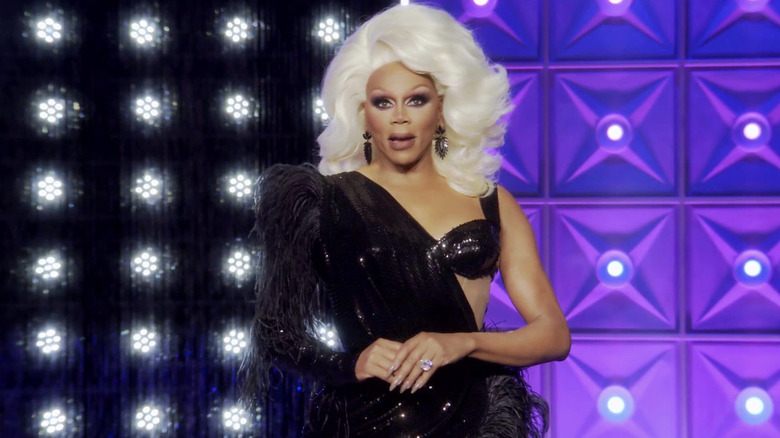 VH1
In "RuPaul's Drag Race" Season 14, Episode 1, Ru gave us a jaw-dropping look that proved drama doesn't need color to shine. The queen of queens graced the runway in a stunning black feather, one-sleeved dress that literally left us breathless (and we're not complaining). The monochrome look added a touch of sophistication, allowing the dramatic feathers to take center stage. You can always count on RuPaul to remind us that black is a timeless and powerful statement!
7. Summer chicness in pink and orange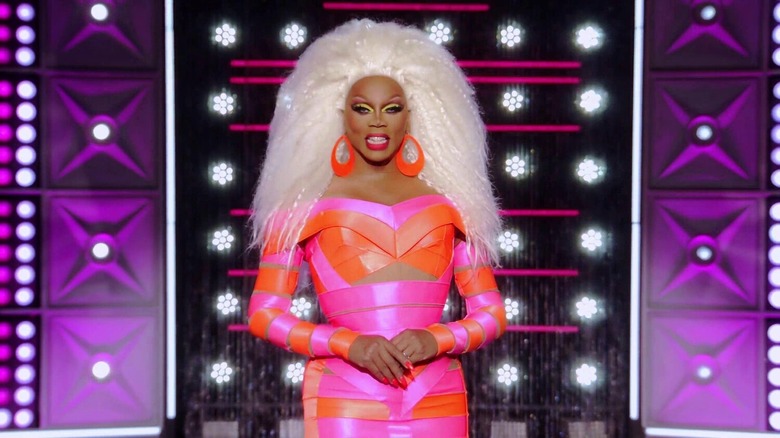 MTV
RuPaul's funky and vibrant pink and orange look from "RuPaul's Drag Race" Season 15, Episode 12, is the epitome of sunshine on the runway. Ru's look was a visual burst of energy, and the geometric patterns and unexpected cutouts added a modern twist, making the look even more fresh and exciting.
6. Twist on Elsa blue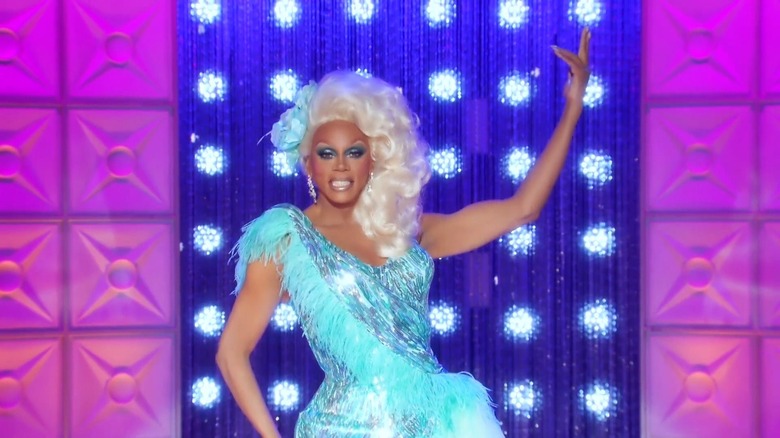 VH1
It's hard to see a light blue dress and not instantly compare it to the iconic Elsa gown from "Frozen." And while RuPaul's icy blue look from "RuPaul's Drag Race" Season 11, Episode 9, does remind us of it, we can't deny that the vibe is entirely different! Mama Ru may have embraced her inner ice queen, but she still added a touch of her own magic by going for sequins and feathers.
5. Mama Ru in an edgy leather look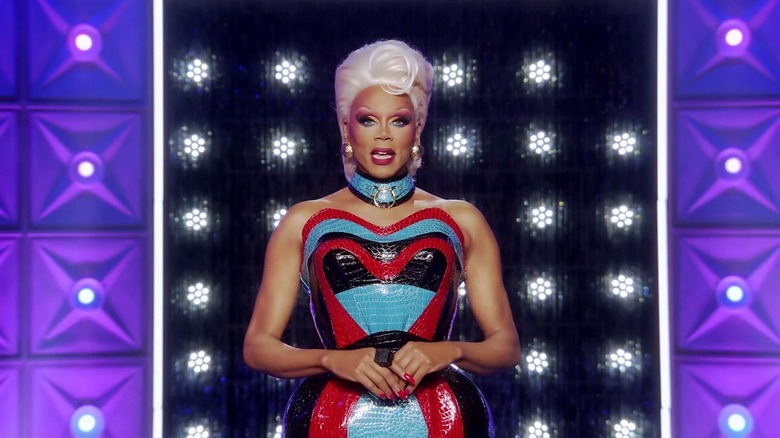 VH1
As we're entering the top five, it's safe to say that all of the upcoming looks are absolutely incredible and 100% Ru-tastic! In "RuPaul's Drag Race" Season 14, Episode 12, she took a daring fashion detour in a faux crocodile leather dress in red, blue, and black — a rocker-chic style we rarely see on this queen. Mama Ru exuded a very edgy vibe, and can we take a minute to marvel at that matching choker? It added even more fierceness to an already bold look!
4. RuPaul explores galactic glamour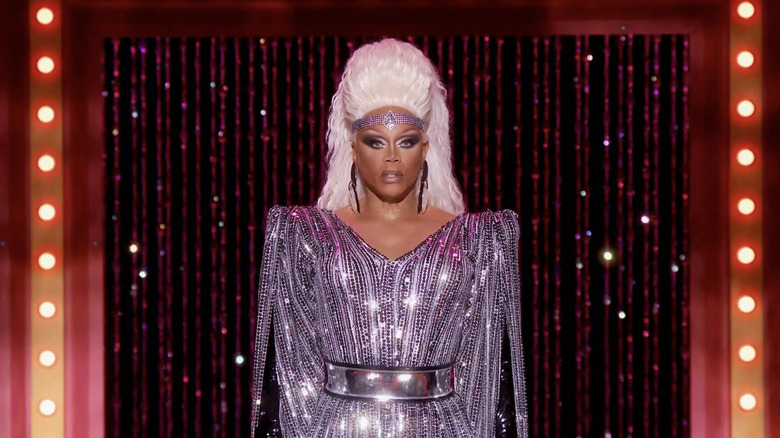 VH1
Are you ready to blast off into a world of fantasy? In "RuPaul's Drag Race Season 14, Episode 16, RuPaul transported us to another planet in a sequined silver look that left us completely mesmerized. Head to toe, the whole gave us fantasy-inspired vibes that were out of this universe. The sequined silver fabric shimmered like a galaxy of stars, making Ru the center of a celestial fashion show. And let's not forget the exaggerated shoulder pads that only added to the high fashion silhouette as well as the bedazzled headband that made RuPaul look like the queen of the entire universe.
3. The old-money aesthetic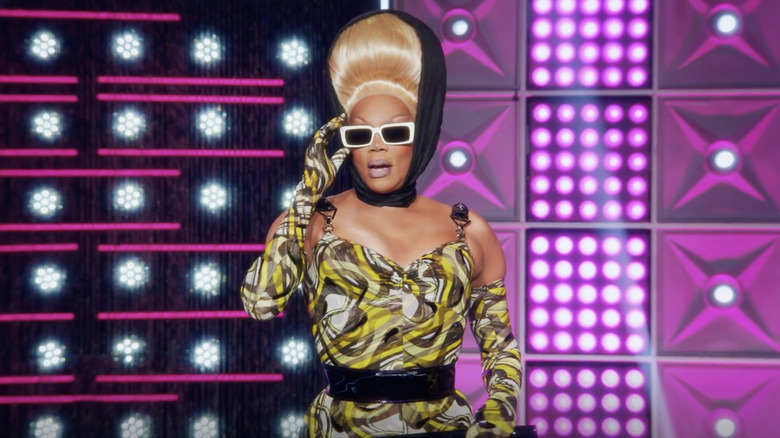 Paramount+
In "RuPaul's Drag Race All Stars" Season 8, Episode 11, RuPaul gave us a look perfectly fit for an Old Hollywood diva off duty. Ru played with classic elegance by adding a touch of fun retro flair and paying homage to an era where fashion was all about glamour. The classic old-money headscarf and sunglasses combo added a playful twist — and we have to admit that only RuPaul could ever rock a headscarf with such a dramatic, voluminous updo and still look fab.
2. Giving sherpa fashion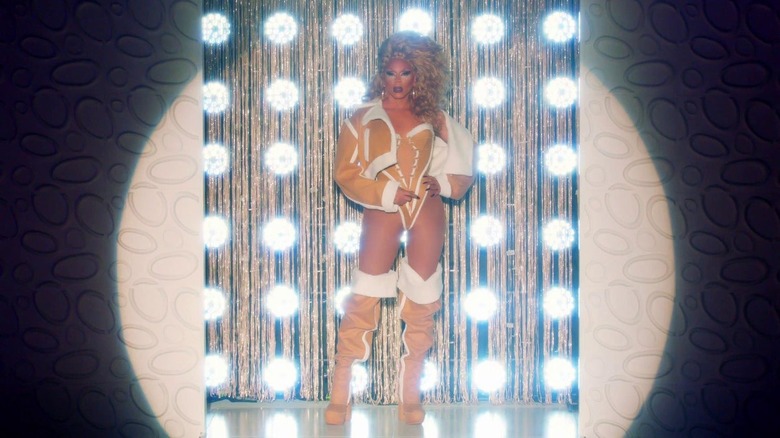 Stan
The runner-up is an ultra-fun look from "RuPaul's Drag Race Down Under" Season 1, Episode 6. Only RuPaul can pull off an entire sherpa outfit with such finesse without looking absolutely ridiculous. The sheepskin-inspired bodysuit, cropped jacket, and matching boots combined to create one of Ru's most unique fashion looks to date. It's clear that this queen fearlessly walks the trail of fashion innovation, proving time after time that she's the ultimate trendsetter in the world of drag.
1. RuPaul's ultimate monochromatic masterpiece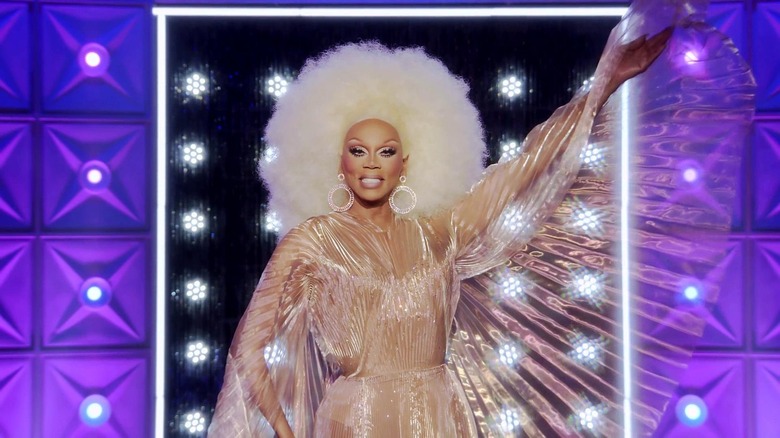 VH1
Taking the top spot is a breathtaking look from "RuPaul's Drag Race" Season 14, Episode 13! Surprising to some, but the monochromatic nude look stood out as a true masterpiece, speaking volumes about its stunning design and impeccable craftsmanship. Those sheer sleeves served up more glamour than we ever dreamed of, while the blond afro and statement earrings added the perfect finishing touch to an already show-stopping ensemble. Picking our favorite in a sea of gorgeous, unique, and totally inspiring creations was a very tiring task, so please excuse us as we sashay away to binge-watch some "RuPaul's Drag Race" for a well-deserved dose of relaxation!