Bridesmaid Fashion Is Undoubtedly Bolder And Brighter Than It Used To Be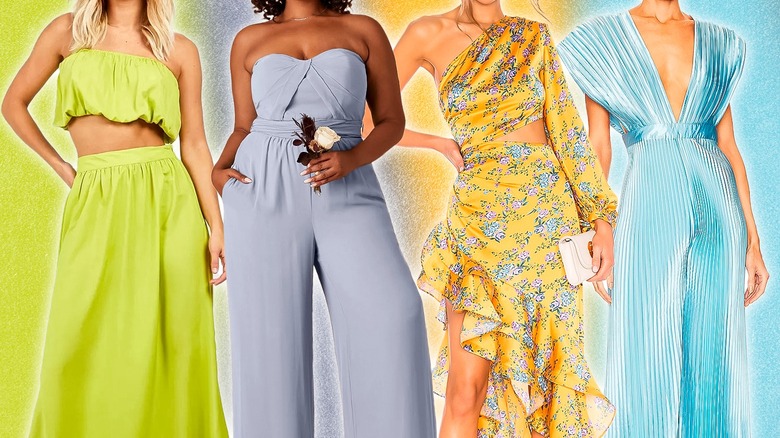 Static media / Shutterstock
Envision a gaggle of bridesmaids. What are they wearing? Chances are, you automatically imagined all of them in an identical, familiar-looking ensemble: a floor-length gown of tulle or lace, maybe with a sweetheart neckline or draped bodice, and probably in a soft, pastel shade. Variations on this theme have been the standard bridesmaid aesthetic for decades. However, it seems like matchy-match pastels may no longer hold a monopoly on the realm of bridesmaid fashion.
As stylist Carrie Goldberg tells Who What Wear, "Couples are eager to elevate their bridal parties with bold color choices, unique silhouettes chosen to suit each person's figure, and styles they know their friends (not just they) love." Goldberg goes on to reveal that most of the brides she's worked with recently have eschewed traditional neutrals like champagne for bolder, more eye-catching hues, and veered away from tired, Neo-Classical styles toward funkier, more playful garments for their bridesmaids.
Granted, some of these experimental takes on bridesmaid styling may not be for the faint of heart. Happily, there are many different ways you can choose to break the mold of bridal party fashion and empower your bridesmaids with a look that's fresh, bold, and perfectly suited to your unique wedding.
Bright, eye-catching colors breathe life into your wedding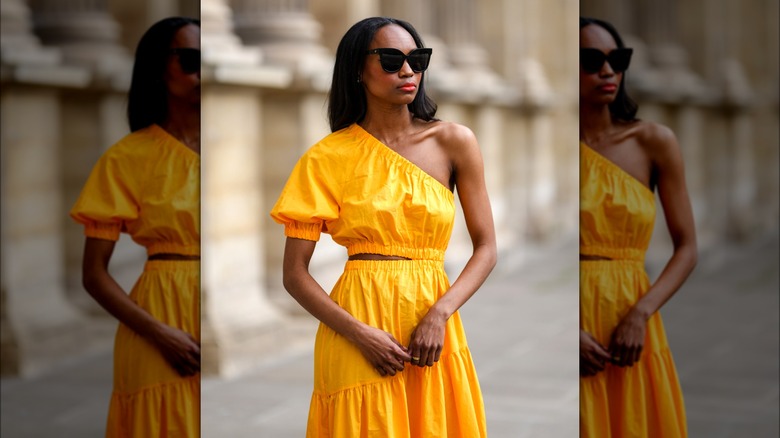 Edward Berthelot/Getty Images
Want to coordinate a wedding that's bursting at the seams with vibrance and joy? Color is an easy way to set the tone. As event planner Augusta Cole tells Vogue, "Couples are not shying away from color, but instead, we are seeing our couples embrace thoughtful color references through patterned textiles, illustrations, floral concepts, custom décor moments, and their bridal fashion." Of course, this last item includes your bridesmaid ensembles. Enlivening your bridal party with bold color is an easy way to add a spark to your celebration, and their outfits will contrast beautifully if you choose to stay traditional with a white dress for yourself.
Non-traditional silhouettes are chic and impactful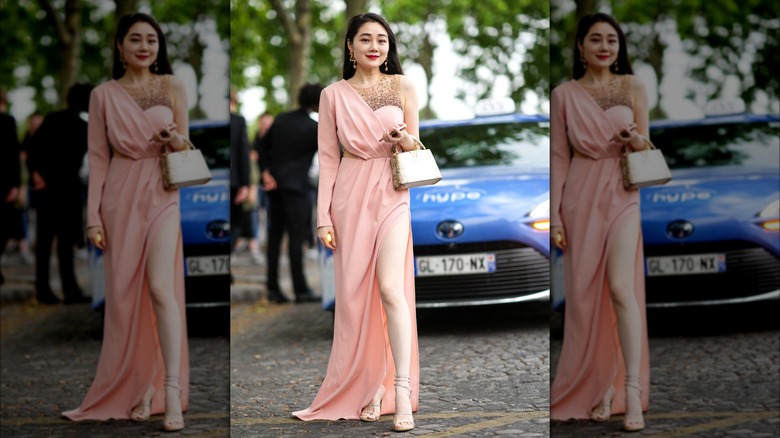 Edward Berthelot/Getty Images
Rather than default to the too-familiar paradigm of cowl necklines, empire waists, and peekaboo lace overlays, why not add interest to your bridal lineup with a more non-traditional take on bridesmaid fashion? From tailored gowns with a modern edge to flirty, ruffled flamenco-style dresses, you can create instant vibes by selecting a unique look that reflects the type of energy you want on your big day. The freedom of unusual silhouettes also allows you to play with the moment's hottest fashion fads, like the elegant trend of drapey, pleated dresses or the current resurgence of fringed and tasseled styles.
Bridesmaids shine in rich jewel tones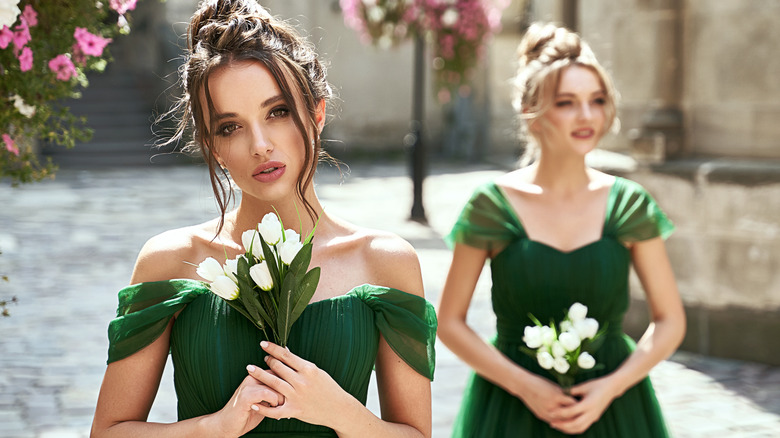 Oleksandr Berezko/Shutterstock
Soft neutrals may be pretty and feminine, but they've also become a bit commonplace and cliché regarding bridesmaid dresses. Guests are so used to seeing gowns in blush and champagne that they practically make your bridal party fade into the background. Instead, choosing rich, vibrant colors like jewel tones can create an impactful visual presence for every bridesmaid in your posse. Deep plum purples, sapphire blues, and shades of garnet or burgundy add flair without gaudiness. And thanks to the endless popularity of botanicals and floral arrangements, dark greens go with almost any theme — whether you've chosen a timeless wedding color scheme or something a little more unexpected.
Unique details elevate classic dress styles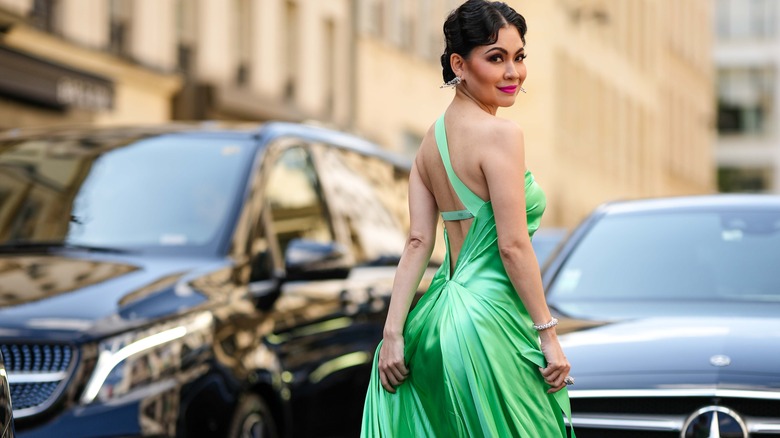 Edward Berthelot/Getty Images
For a hint of variety that's a little more subtle and understated, consider selecting bridesmaid dresses that pair a classic silhouette with unexpected details. There's a compelling mystique to gowns that gradually reveal their surprises, whether that surprise comes in the form of unique back straps, hidden cutouts, or a pop of color from a contrasting under-layer. Choosing dresses with special finishes is also convenient for bridal parties that want to stick with a more traditional color palette, as the unique details will keep the look from seeming boring or unoriginal.
Patterns and florals add character to any theme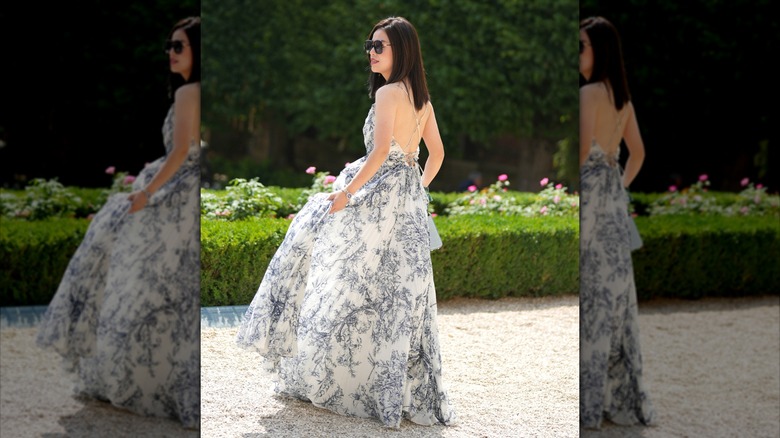 Edward Berthelot/Getty Images
Solid colors are the go-to standard for bridal party ensembles, but with so many incredible patterns and florals available, why not explore all your options? Patterned fabrics will add instant character to any gown, and there are patterns to go with every theme. For instance, tropical florals lean into the vibe of a beachy destination wedding, plaids bring warmth to a cozy fall ceremony, and classic stripes can add a classy, coastal air to your crew no matter the season. And for all the traditionalists out there, going for a patterned dress is another simple way to reimagine classic color schemes so your wedding still feels personalized and memorable.
Mismatched dresses show individuality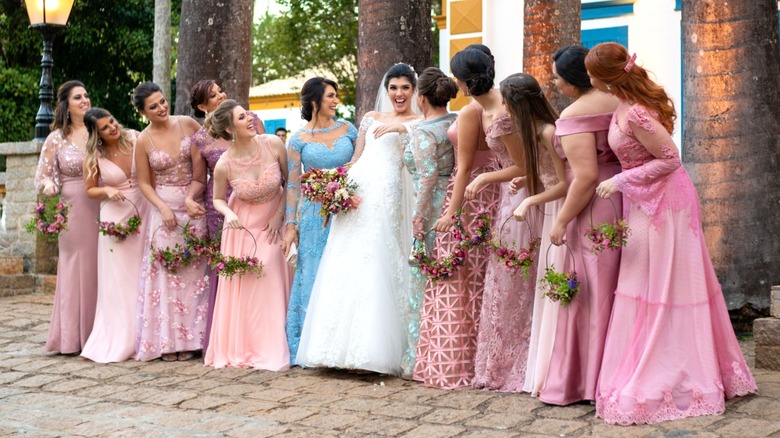 Fg Trade/Getty Images
Want to make things easier for both yourself and your bridal party? The mismatched bridesmaid dress trend not only lets your ride-or-die BFFs show off their individual personalities, but it simplifies the logistics of coordinating matching dresses for everyone — and may even be good for sustainability, as it's more likely they'll be able to wear the dress again for another occasion. Depending on your color scheme and flexibility, there are several ways to interpret this approach. As for color, you can give your bridesmaids a single hue to work around or a ranged color palette to choose from. You can also specify certain details like dress length, then let them have free rein with the rest of the style.
Separates offer a quirky alternative to standard gowns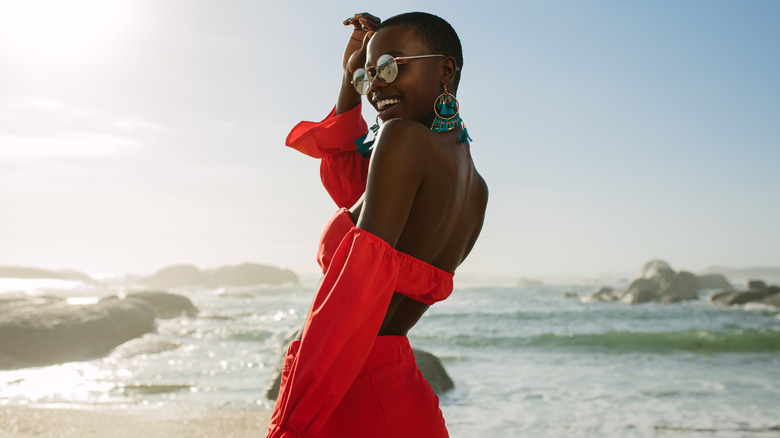 Jacob Lund/Shutterstock
Gowns and dresses have always ruled the roost in bridal party fashion. But rules are made to be broken, and modern brides are finding that separates can be a charming and elegant alternative for their bridesmaids. For example, A-line skirts are a must-have fashion trend that could easily be dressed up as formal wear, while a tasteful crop top and skirt ensemble would be perfect for a summer wedding by the ocean. Just make sure everyone in your bridal party is comfortable with the cut you choose. To suit many different personalities and body types, it may be easier to pair your love of separates with a mismatched aesthetic, so everyone can find the fit of their dreams.
A chic jumpsuit marries formality and whimsy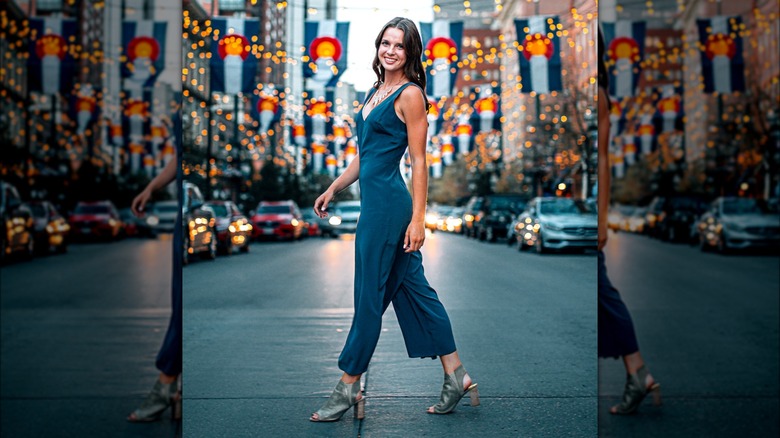 Jeremy Poland/Getty Images
Separates are one thing, but if you want a whimsical and easy-to-wear alternative to traditional bridesmaid dresses, you can't go wrong with a sharp jumpsuit or romper. Worn with a pair of killer heels and elegant accessories, jumpsuits offer the perfect blend of contemporary style and party-ready comfort. Unencumbered by constricting bodices, trip-hazard trains, or the possibility of a Marilyn Monroe panty-flash moment, your bridesmaids can go straight from the ceremony to your reception already prepared to celebrate your new union to the utmost.