Negative Space Designs Are The Biggest Nail Art Trend Of Fall 2023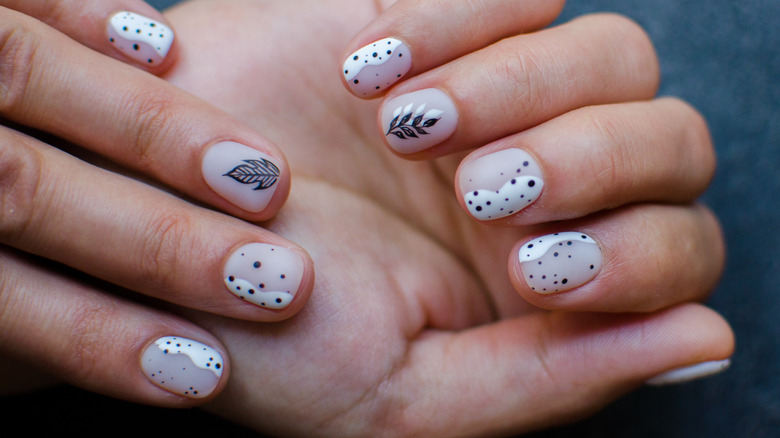 Anastasiia Holubieva/Shutterstock
As a 2023 fashion trend, the provocative negative space trend is all about showing pops of skin in creative, unique ways. But the negative space look isn't only for clothing. Negative space is taking over beauty, too. For example, negative space eyeshadow is an exciting, modern makeup option for nights out. Next, the negative space look will dominate nail art for fall 2023.
"I expect to see many negative-space manicures with simple and minimalistic nail art, such as the look we created for Proenza Schouler [one season]," Jin Soon Choi, the expert nail artist who founded Jinsoon, told Who What Wear. Therefore, people who enjoy sleek, minimalistic looks with a futuristic flair will get their dream nail art with negative space nail designs. Not only will we see many negative space French manicures, but also numerous ultra-unique, artistic spins on negative space nail art. There are truly no limits to what you can do with such a chic nail art trend.
Take inspiration from things you enjoy
You should always look for nail art inspiration in places, activities, and events you enjoy, and negative space designs are no exception. As this nail art design was inspired by the purple, white, and green Wimbledon logo colors, you should try to incorporate colors from a place, organization, or event that means something to you. This could be your school colors, your work logo, or a favorite sports team.
Try something upbeat
While you might initially associate negative space nail art with minimalism, this doesn't mean these designs are boring! If you typically enjoy bright and bold polish colors, use those lively hues in your abstract nail art. Make your chunky or swirly negative space manicure designs look more fun and upbeat with yellow, orange, red, blue, or any other nail color that brings your nails to life.
Add some shine to negative nail space
Your blocks of color, swirly designs, and abstract looks will instantly look more glamorous with some sparkle. That touch of glitter or extra gloss is an easy way to elevate any manicure, including negative space designs. If you're worried that the sparkle could overpower the nail art, go for a sheer shimmery option or only add drops of glitter on parts of the nail to fit the negative space theme.
Work with lines
Lines are typically crucial for negative space nail art, so think about how you want to use them in your designs. Do you want straight lines, curves, or super-swirly lines? Do you want the lines to go across the whole nail or only part of the nail? How many lines do you want to include per nail? Do you want vertical or horizontal looks? Thick or thin? Remember to ask yourself these questions before you start working on the manicure.
Incorporate contrast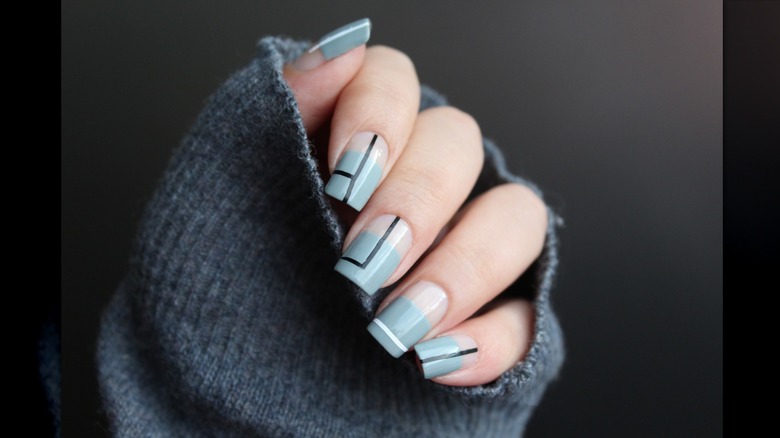 Cotton_flor/Shutterstock
Contrast often makes nail art stand out, and it tends to play a prominent role in negative space designs. Of course, the balance of nail polish and space on the nail provides instant contrast. But consider adding even more contrast for an ultra-unique look. For instance, think about using pastel polish on part of the nail and adding single lines in black or white for a one-of-a-kind manicure.
Go pretty in pink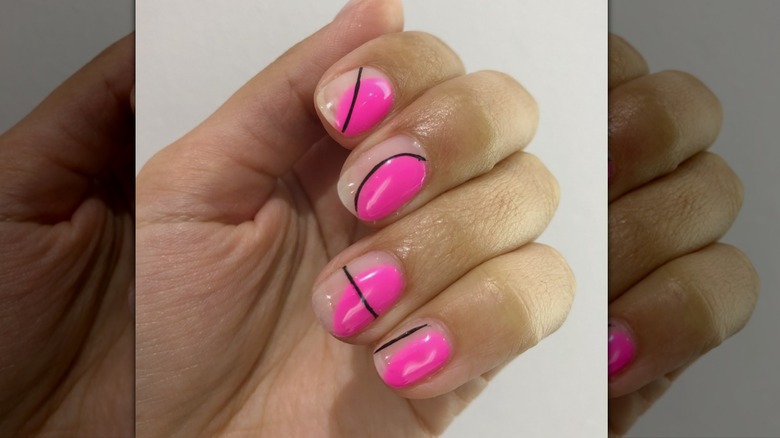 JCarr/Shutterstock
We don't typically think of ultra-feminine looks when we hear "negative space designs," but that doesn't mean you should rule out this nail trend if you prefer those hyper-feminine manicures. Create abstract art, dots, lines, or anything else you want using vacation-ready pink polish for a more feminine spin on minimalistic negative space nail designs.