17 Iconic Beauty And Fashion Tips Friends Gave Us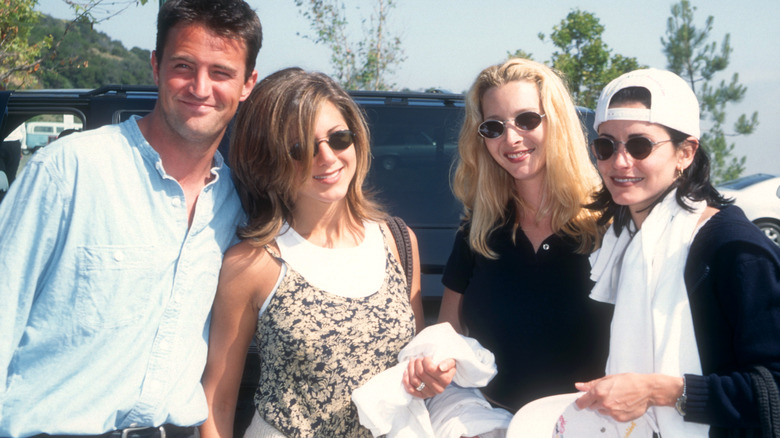 Ron Davis/Getty Images
It's no secret by now that early aughts and '90s fashion trends are back in style. From track suits and bootcut denim to sporty visors and grungy 'fits, fashion trends of old are rapidly coming back on the scene, and we're pretty grateful for the wave of nostalgia that's hitting the streets. As we're taking style inspo from days of old, we'd be remiss to ignore some of the biggest pop culture movements of decades gone by, so it goes without saying that we've recently found ourselves turning to "Friends" for plenty of fashion and beauty tips. 
Fans of the hit sitcom are probably already calling to mind some iconic moments. Maybe you're all about emulating Phoebe's eclectic style full of flow and texture, you've recently found yourself at the salon to get Rachel's famous haircut, or Monica's deep burgundy lip is calling your name. No matter what your personal style tends toward on the daily, there's a good chance the "Friends" crew has some styling tips to give you an instantly nostalgic edge.
The iconic Rachel haircut is making a comeback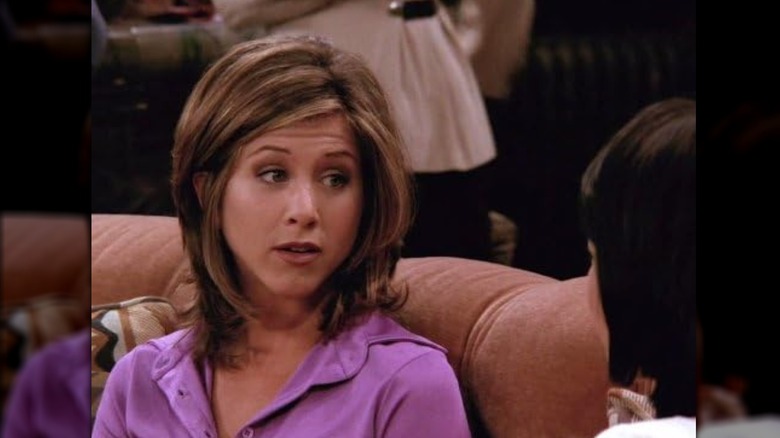 NBC
"The Rachel" might be the most iconic haircut of the '90s, so we're not surprised to see many fashionistas of today taking inspiration from the classic cut. Even Jennifer Aniston herself has brought back a version of it, capitalizing on light layers and face-framing bangs to harken back to her signature style. If you're wanting to bring a nostalgic vibe to your style on the daily no matter what you wear, it might be a good idea to opt for The Rachel haircut.
The Rachel isn't great for hair that boasts a ton of texture, but if your hair is fairly straight, feel free to try out the cut the next time you're in the salon. It's always a good idea to bring inspo pics with you so your stylist knows exactly what look you're going for, but in general, opt for a shoulder-length lob cut that boasts plenty of layers and has some thin, face-framing bangs. If you want to go the extra mile, get some bright highlights as a finishing touch. 
Braless is best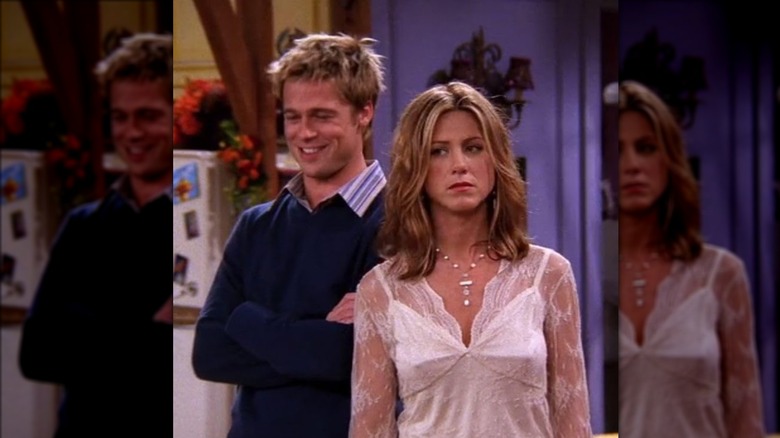 NBC
If there's one trend we're all about right now, it's the Free the Nipple trend that's encouraging women to go bare-chested under tops as a way of protesting the sexualization of women's bodies. Though The Guardian notes that the official Free the Nipple movement began in 2012 to protest censorship of the female nipple, we can't help but notice that some of our favorite stars of the '90s also boasted nipple-forward styles. 
When asked about being the OG face of the Free the Nipple movement by Vogue in 2017, Jennifer Aniston said, "Yeah, I don't know what to say about that! It's just one of those things, I guess. I wear a bra, I don't know what to tell ya! And I don't know why we're supposed to be ashamed of them — it's just the way my breasts are! But hey, OG, I'm not going to complain!" Though she may not have been intentionally putting her nips on display, Aniston certainly seems to be proud of her body just the way it is, which we love. Emulating this style is simple: Capitalize on thin fabrics that cling to your chest, and go braless underneath. 
Brown lipstick reigns supreme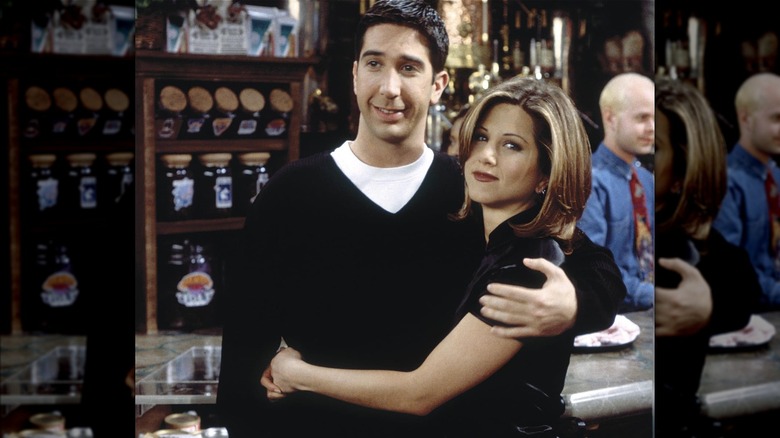 NBC
Any beauty aficionado probably knows that soft-pink nude and gentle mauve shades of lipstick are some of today's top color choices. We see this as a perfect opportunity to bring back Rachel Green's iconic brown lipstick, which quickly became a '90s beauty staple. Jennifer Aniston has since revealed that the shade she used through the show's duration was M.A.C.'s Satin Lipstick in Paramount, and though you can definitely try this shade on to get her iconic look, know that it may not look the same on different skin tones. 
To pull off Aniston's brown lip on whatever your skin tone may be, we have a few tips. First, why not modernize it a bit and try out a nude-brown shade? Go for a color that's a few shades darker than your skin tone, and keep in mind your skin's undertones. Warm complexions (like olive skin tones) should stick to shades with warm undertones, and cool complexions can pull off a shade with a cool undertone. A gentle nude brown is a great way to update Aniston's classic look while paying obvious homage to the series — and if Aniston's staple brown lipstick looks stunning on you, we consider that a bonus. 
As does a deep burgundy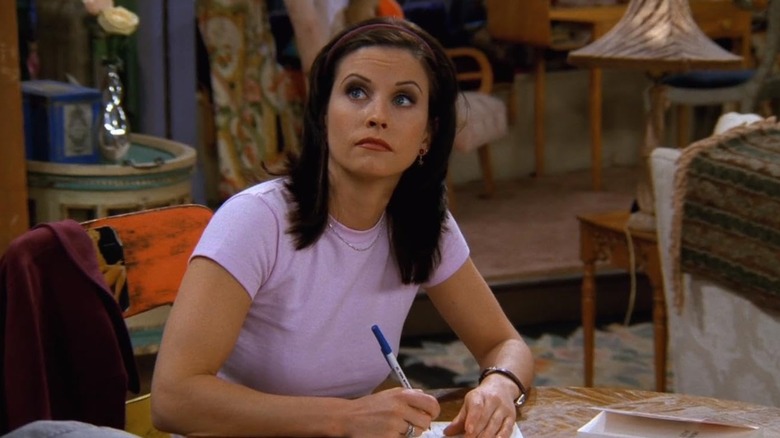 NBC
Yes, Jennifer Aniston's signature brown lipstick is definitely a beauty staple we're taking from the sitcom series, but we can't ignore the burgundy lip that Monica boasted throughout much of the series. "Friends" lead makeup artist Robin Siegel spoke to beauty journalist and TikTok user @laucapon, who revealed on the platform that Monica's iconic lip shade was none other than M.A.C.'s Lustre Lipstick Spice It Up! This is a burgundy that you'll definitely want to have on hand as a staple during the fall and winter seasons, but if you find that Monica's signature shade isn't the best fit for you, there's definitely a burgundy out there that is. 
Again, when looking for a burgundy to suit your skin tone, you'll want to take your undertones into account. Warm undertones would look great with a warm burgundy shade that almost errs on the side of brown, such as Charlotte Tilbury's Matte Revolution Lipstick in So 90's. Cooler tones, on the other hand, should opt for deep berry shades, like Rare Beauty's Lip Soufflé Matte Cream Lipstick in Strengthen. While burgundy shades are stunning in fall and winter, don't shy away from using them on a night out in the spring and summer. 
Slip dresses are the new black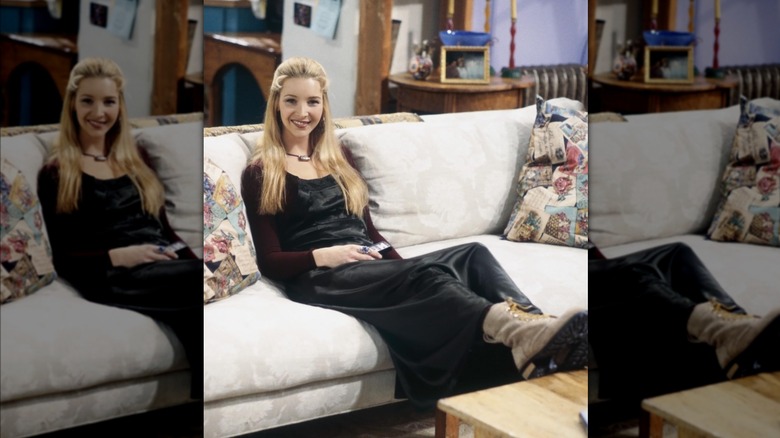 NBC
If you ask us, slip dresses are perfect for the '90s minimalist aesthetic, which we're happy to announce has come back in full force. Not only are slip dresses a comfy one-and-done fashion staple, but they also make a great base for layering some of your favorite pieces on top. Obviously, we have to consult Phoebe Buffay for slip dress style inspo, as she sported this piece throughout much of the series. 
When you're hunting for the perfect slip dress, it's a good idea to try to thrift some vintage '90s styles if you want to truly capture the essence of Phoebe's slip dress aesthetic. Look for pieces that hit between your calf and your ankles. From there, style to your heart's content! We love to see slip dresses layered under a simple cardigan (or a cropped cardigan, or a cardigan with some fringe) and the footwear you choose can simply depend on whatever you have going on that day. A casual day could call for some chunky platform sandals, while cooler days may see you sporting combat boots or some heeled booties. 
Ornamental hair clips are super cute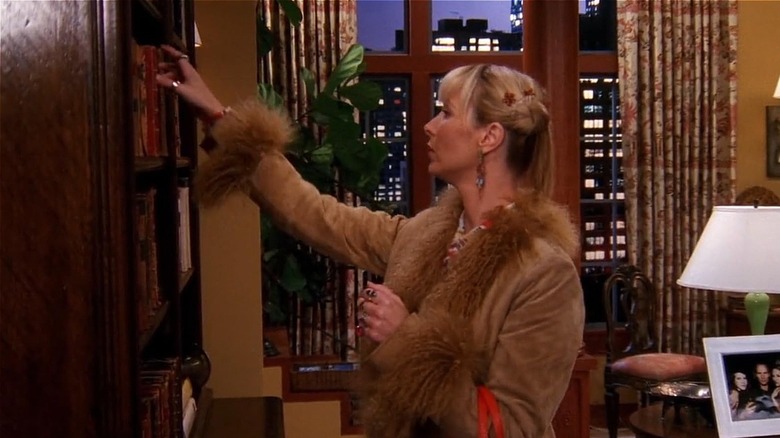 NBC
Accessorize, accessorize, accessorize! If there's one styling tip we'll always take from Phoebe, it's that sometimes, more is genuinely more — even when it comes to a '90s minimalist aesthetic. The little touches are key to nailing this glammed-up minimalist vibe. Take a note from Phoebe's book and add some small ornamental hair clips to any hairstyle; from there, don't shy away from accessorizing with rings, earrings, necklaces, and bracelets, too. 
The next time you throw your hair in a messy bun, why not dig out those sparkly butterfly clips that have been sitting in your jewelry box since middle school and clip them into your updo? Use small claw clips and glitzy barrettes to keep your hair out of your face when you wear it down, use them to secure an updo, or simply add them to your hairstyle once it's finished for some extra '90s glam. A couple of small clips or barrettes can add some playful fun to any style without overwhelming it, and we wouldn't be surprised if you even start exuding some of Phoebe's quirkiness upon adopting this signature aesthetic. 
And the claw clip is back in all its glory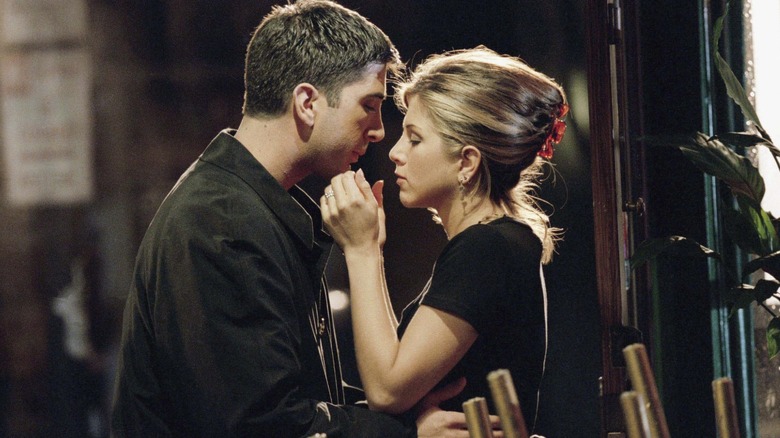 NBC
A signature '90s accessory that honestly should never have left the fashion scene in the first place is the iconic claw clip, sported elegantly by Rachel in many episodes of "Friends." We're glad to see that claw clip hairstyles are back in fashion regardless of their frequent appearance on the sitcom. If there's anything the show has to teach us about the hair accessory, it's that you can wear it on any (and every) occasion that calls for an updo. Need to sweep your hair back into a sleek, elegant style for date night? Slick it back and secure it with a claw clip, leaving out few to no tendrils. Or, if you just need a quick solution to get your hair out of your face, you can pull it back into a messy claw clip style, like Rachel did throughout the series. 
Nowadays, you can find a claw clip to fit pretty much any vibe you're going for. Elegant styles might call for a delicate jeweled claw clip, while fun days in the summer sun are perfect for a pastel or floral claw clip. If you want to truly take a note from Rachel's book to emulate the signature '90s style, though, we recommend capitalizing on the classic claw clip — it'll be oblong and come in a neutral glossy color, like black, clear, or the translucent amber one that can be seen in the above photo. 
A sporty crop top is always in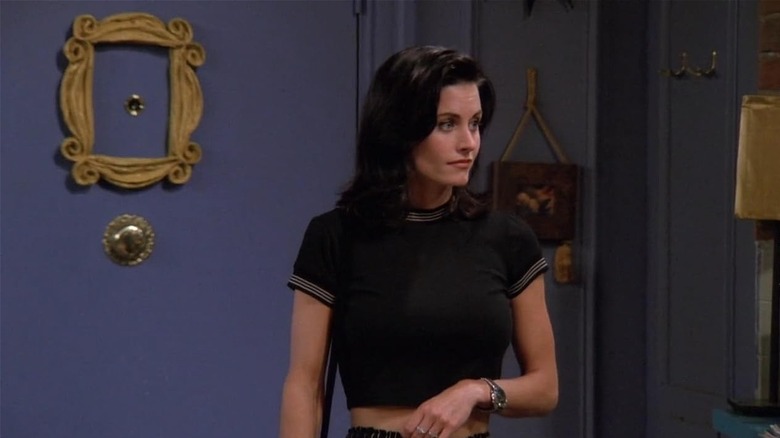 NBC
A crop top is a necessary staple piece in any closet, and we're betting Monica Geller would probably agree. When you want a comfy, casual, and even slightly sexy top option, the crop top is there for you, and we love how Monica makes this piece a style staple throughout the series. 
As it was the '90s, we see Monica wearing a lot of mid- to high-waisted jeans throughout the series, which is a perfect pairing piece for a crop top. A crop top with a high-waisted pant can help emphasize an hourglass silhouette, and we love the breezy hint of visible skin. If you don't want to bare skin, though, you can still pull off the cropped silhouette look by tucking a shirt into a pair of high-waisted jeans, another style choice we see Monica wearing in many an episode. 
Wear mom jeans whenever possible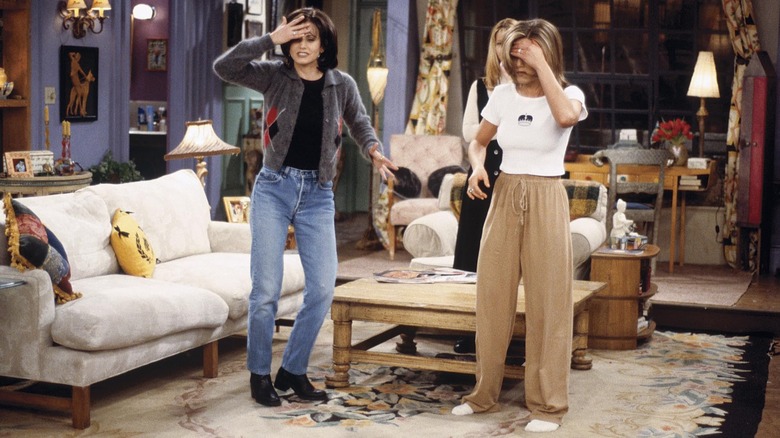 NBC
We all need a pair of pants that can be worn with anything and everything, and we think our cast of characters in "Friends" would agree. While we see a wide range of pants worn by the women on the show — everything from the brown lounge pants Rachel's wearing in the above photo to leather pants, corduroys, plaid trousers, and sporty joggers — the mom jeans worn by Monica in the photo above are simple, classic, and ultra-versatile, which is why they're a "Friends" fashion choice we're excited to bring back. 
Mom jeans are typically high-waisted, looser in the thigh, and tapered down toward the ankle. They're a comfy choice for anyone with a natural hourglass silhouette or those who want to make it look like they have curves. As far as what to wear your mom jeans with, take another hint from Monica's book and pair them with a sporty crop top, or tuck your favorite shirt into them.
Fuzzy coats are the best outerwear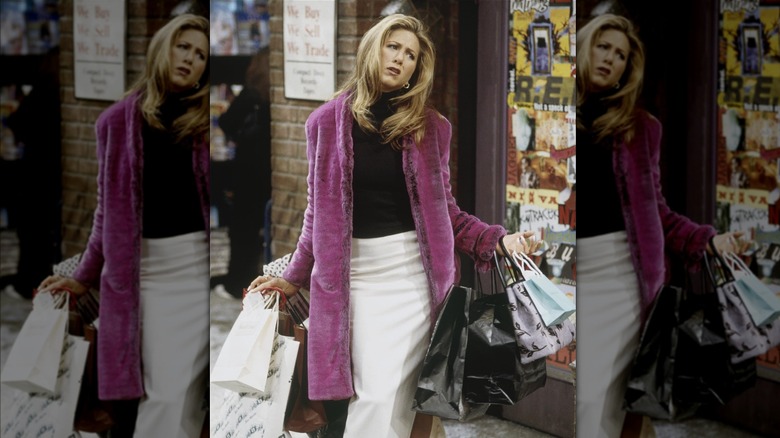 NBC
It's probably no news to you by now that maximalist fashion is here in full swing. It might be surprising, though, that we can pull any maximalist fashion tips from "Friends," since minimalism characterized many fashion trends from the '90s. But if there's anyone who showcased some maximalist pieces throughout the series, it's our fashionista and Ralph Lauren executive Rachel Green. In particular, we can't get enough of her fuzzy outerwear.
Rachel sports different versions of fuzzy coats throughout the series. Aside from the purple one worn in the above photo, she also tends to wear coats with fuzzy collars in the colder months. Personally, we're not sure why anyone wouldn't want to adopt this "Friends" fashion piece — after all, what's warmer than a plush coat in a cold New York winter? To truly capture this style, opt for a fuzzy coat with a longer silhouette, and pair it with either a pair of mom jeans or your favorite maxi skirt and boots. 
Neutral outfits are reliable staples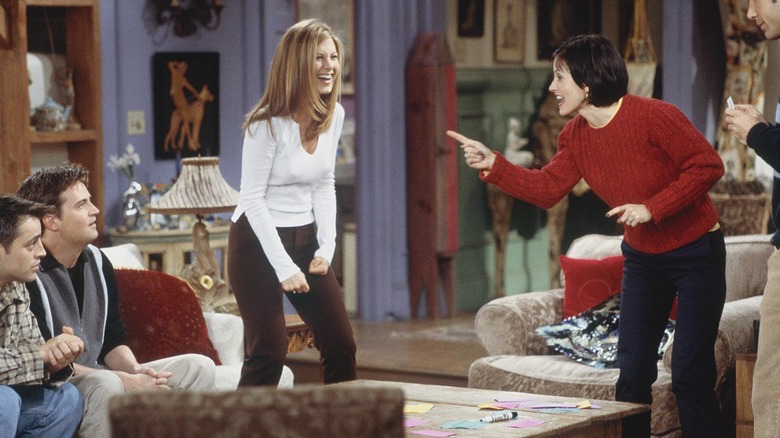 NBC
If you've ever been trying to figure out how to put together an outfit from your closet of mismatched clothes, this next "Friends" fashion tip is one you'll want to cash in on ASAP. We love colorful clothes as much as the next person, but when it comes to having a truly grab-and-go outfit, nothing can beat neutrals. In true '90s minimalist fashion, neutral pieces are easy to style together, making neutral outfits a "Friends" fashion trend we're more than happy to carry into modern times.
If you're new to the world of neutral fashion, don't feel like you have to revamp your wardrobe in one fell swoop. Start slowly by getting a few pieces in black, white, brown, gray, or even navy blue. Have at least one neutral outfit in your closet that you can throw on at a moment's notice. The beauty of neutral pieces is that they can also be worn with the more colorful pieces in your wardrobe, making them super versatile staples everyone should have in their rotation. 
We'll never get enough layered denim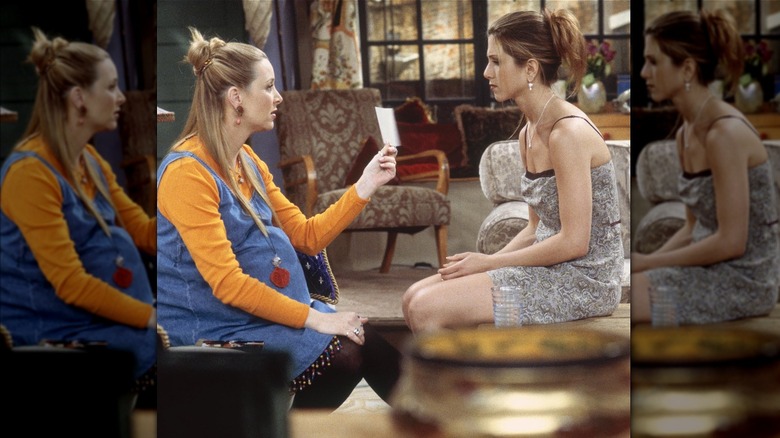 NBC
Denim is one of the most versatile fabrics out there, and we're happy that the cast of "Friends" didn't skimp on styling denim pieces. While denim is an obvious staple fabric throughout much of the series, we're loving how Phoebe layers it. Her style reminds us that denim is a great neutral piece to use as a base for your outfit. 
To truly emulate this "Friends" fashion moment, we can't think of anything better than styling a denim dress with other garments. Find an unstructured denim dress that hits at or just above the knee and layer it with your favorite pieces in the colder months. A turtleneck and a pair of sheer tights layered under a denim dress would give '90s vibes unlike anything else; or, if you want to wear your denim dress in the summer, style it over a bandeau and with a pair of chunky platform sandals.
Oversized vintage sweatshirts are a must-have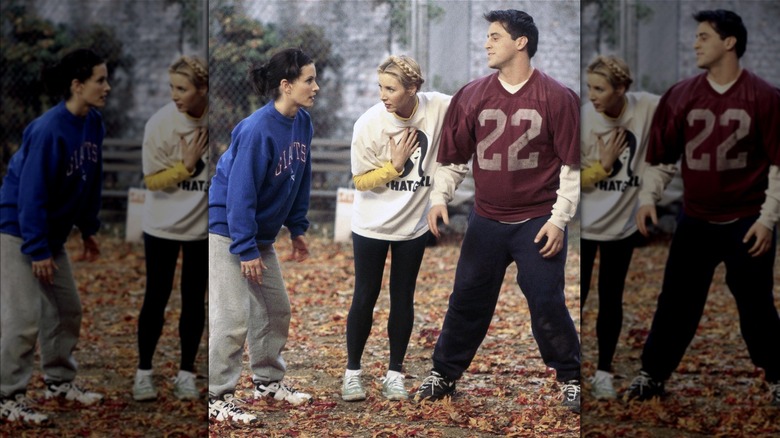 NBC
Though the cast of "Friends" tends to be stylish as anything, they love comfort just as much as the rest of us, which brings us to our next iconic fashion moment from the show. Who could forget the season three episode "The One with the Football," where our cast of characters enjoys a game of touch football on Thanksgiving? Yes, this iconic episode is full of laughs, but what we're loving even more than the comedy are the oversized vintage sweatshirts worn by Monica and Phoebe in the episode. 
We wouldn't be surprised if you already have an oversized sweatshirt or two in your closet, but if you don't, online secondhand retailers or your favorite local thrift shop are good places to start the hunt. Look for old oversized sweatshirts that boast the name or logo of your favorite sports team, or just old oversized graphic sweatshirts in general. Wear them on down days and pair with some sweatpants or leggings to emulate Monica and Phoebe. 
Scrunchies are back in full force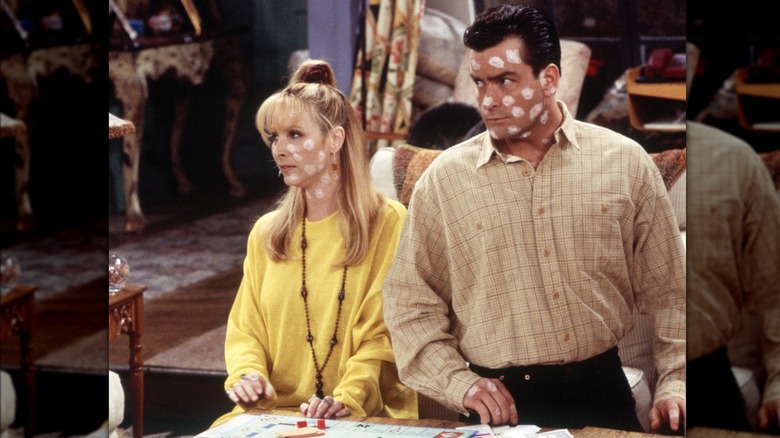 NBC
We've already talked about ornamental hair clips and the iconic claw clip, but there's another "Friends" hair accessory that we love to see coming back on the scene. That's right: We're talking about the scrunchie. Scrunchies are a great way to add a bit of pizzazz to any updo and they can be casual or elegant, making them great pieces to have on any vanity.
Wondering how to wear this '90s hair accessory? You could take a leaf from Phoebe's book and use it to accent a half updo like in the above photo. Or, just use it as you would a regular ponytail holder. We also love to see scrunchies at the bottom of braids or throughout bubble braids. Neutral-colored velvet scrunchies are very '90s, but you could also modernize your look by getting a scrunchie in a bright, bold color or pattern. 
Turtlenecks paired with miniskirts are très chic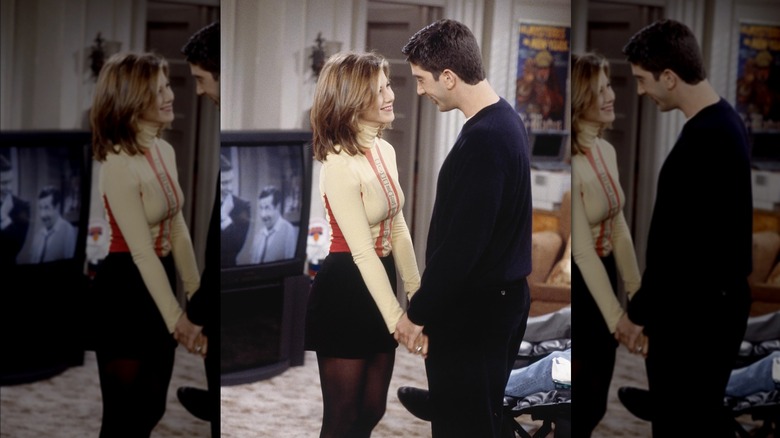 NBC
If we could pick only one outfit from the series to emulate ad infinitum, it would have to be the ensemble Rachel is wearing in the above photo. A quirky turtleneck paired with a miniskirt and some tights? Yes, please. This is a simple, chic cold-weather 'fit that we're begging to see everywhere this fall and winter season, whether you wear it in '90s styles or modernize it a bit.
For this outfit, you'll only need a turtleneck, miniskirt, and pair of sheer tights or hose. If you want to make it truly '90s, utilize neutral colors throughout your outfit and snag a black fitted miniskirt. A fitted turtleneck would look great tucked into the skirt, but you could also tuck in a slightly looser turtleneck — just make sure it doesn't bunch up underneath your skirt. Of course, in classic Rachel style, you can refrain from wearing a bra underneath for maximum comfort. 
Sheer hose can be worn under anything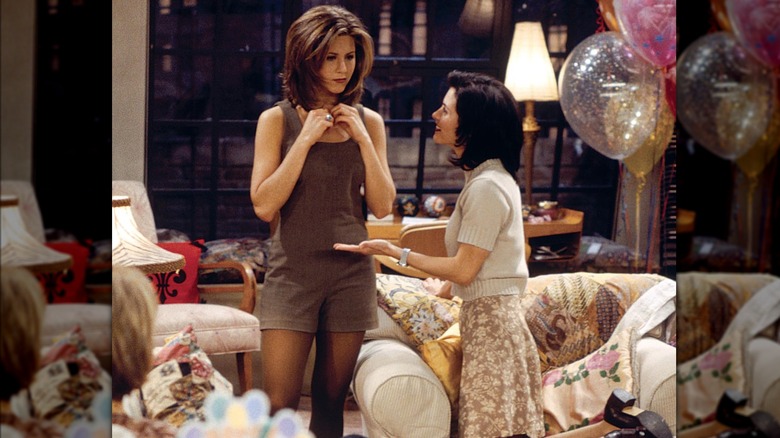 NBC
Sometimes you just want to show off some leg, even when it's too cold to go bare-legged under a dress or skirt. We're more than thankful that Rachel Green has given us a permanent solution to this dilemma through her embrace of hose and tights. If there's one thing we've learned from the series' fashionista, it's that a pair of sheer hose or tights can be worn to keep you warm underneath pretty much anything.
Worried about whether a pair of sheer tights can actually keep you warm in super cold weather? Don't be. We're happy to report that it's easy to find faux-sheer tights on the market nowadays, and Amazon in particular is a great resource. These pieces are fleece-lined and give the illusion of being sheer while keeping you warm as ever. Wear under a short jumpsuit, a miniskirt or dress, or just an oversized sweatshirt on days spent indoors. 
Don't forget to don some leather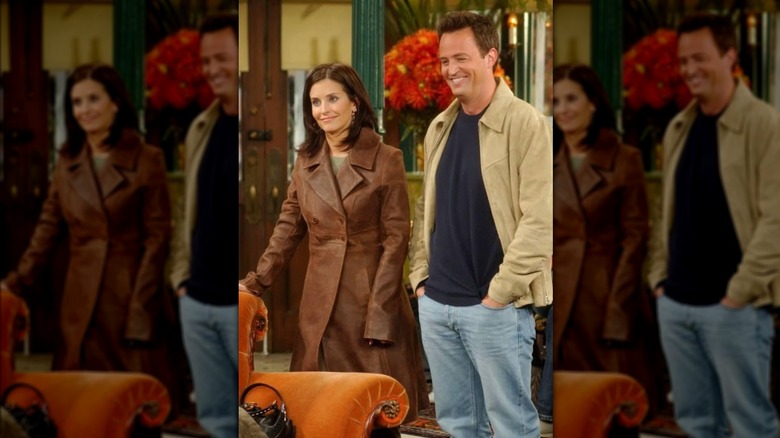 NBC
Last but certainly not least, leather is trending once again, and we can't help but wonder if "Friends" helped spur on the resurgence of this fashionable '90s fabric. Aside from Ross's leather pants fashion faux pas in "The One with All the Resolutions," there are plenty of stylish ways the cast sports leather throughout the series, and we're excited to bring back some of our favorite leather styles. 
Personally, we're fairly partial to the leather trench coat Monica's wearing in the above photo. A long, brown vintage leather trench is a piece we'd love to see back on the streets, but if you want to update your leather look a little bit, you could opt for an oversized leather biker jacket or even accessorize with leather pieces for a subtler look. Brown leather is great for statement pieces, while black leather can give you an edgier vibe.