Rom-Com Core: Your Guide To Mastering The Fashion Aesthetic For Fall 2023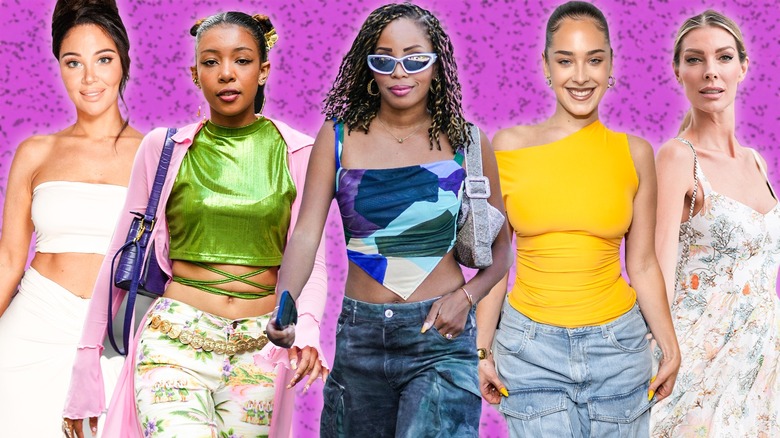 Static Media/Shutterstock/Getty
Friends, there's a new "core" aesthetic set to take over the fashion scene, and this nostalgic trend is one we can't wait to incorporate into our wardrobes. An aesthetic that uses iconic Y2K rom-com outfits as fashion inspo, Rom-com core is creating a buzz all over social media — with #Romcomcore amassing over 4.1 million views and counting on TikTok. If you can picture it being worn in movies like "Clueless," "She's All That," or "10 Things I Hate About You," there's a good chance it fits the rom-com core aesthetic.
Want to hop on the rom-com core train? Then you'll want to take your closet back to the early '00s, when flowing florals, colorful crop tops, tiny tube tops, and funky flip flops reigned supreme. Soft, flirty pieces are essentials for rom-com core (like Bianca's outfits in "10 Things I Hate About You"), and you obviously can't go wrong with a good matching shirt and skirt set that may even call to mind the iconic yellow plaid Cher wears in "Clueless." If you're looking to adopt a fashion aesthetic that makes it look like you've stepped out of your favorite Y2K rom-com, the rom-com core aesthetic is perfect for you. 
Don't skimp on slip dresses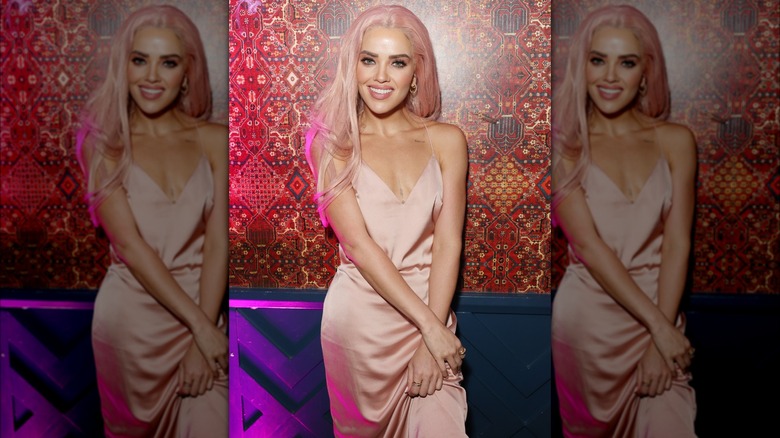 Alexander Tamargo/Getty Images
In our opinion, few things are flirtier than a long, elegant slip dress. A minimalist '90s slip dress style is a great, low-key rom-com core piece that can be dressed up or down as you'd like. Make it tea- or floor-length to avoid giving too much of a nod to Jenna Rink's nightie fashion faux pas in "13 Going on 30." 
Tube tops are your best friend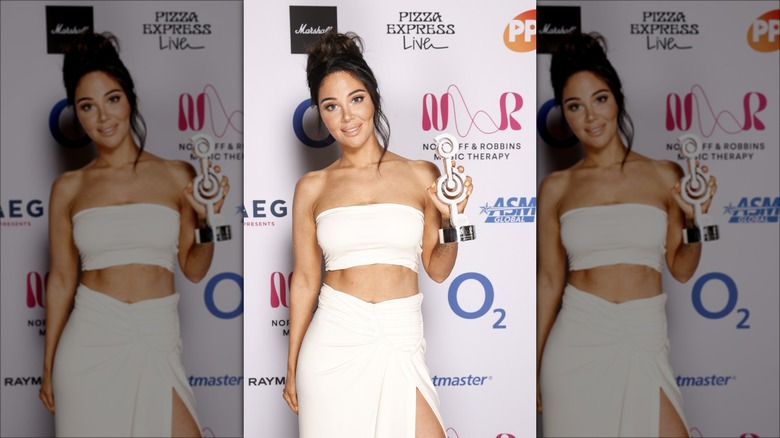 Jmenternational/Getty Images
If you want to incorporate only the sexiest rom-com core styles into your wardrobe, do yourself a favor and invest in tube tops galore. A tube top and skirt combo will make you look straight out of "Mean Girls," especially if you can snag one in pink (but only on Wednesdays). 
Cargo pants are a surprising rom-com staple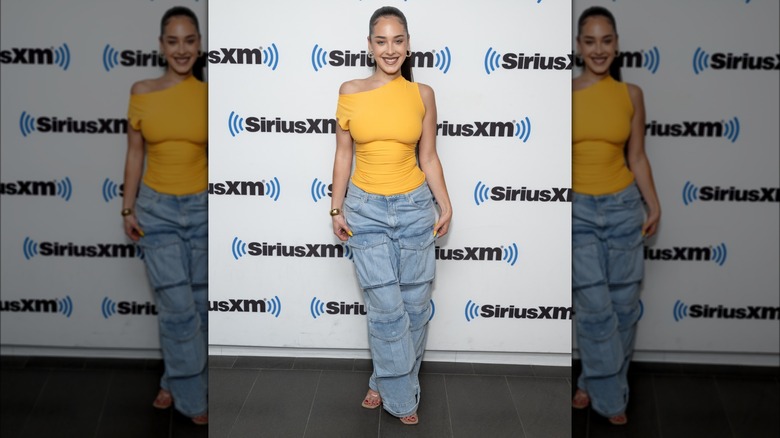 Noam Galai/Getty Images
Maybe you're after a rom-com style that screams "streetwear." If casual, functional pieces are more your speed, you'll probably be happy to hear that cargo pants are an excellent fit for the rom-com core aesthetic. Pair them with a tube top for some ultra-sexy, edgy rom-com appeal. 
Claw clips are a necessary accessory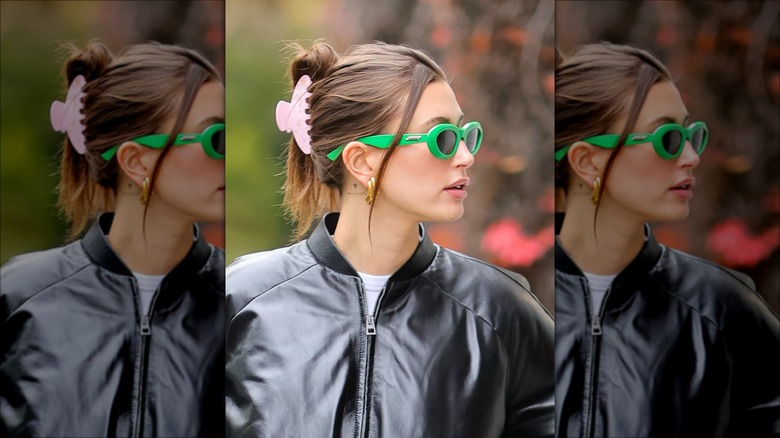 Rachpoot/bauer-griffin
If you're not already capitalizing on easy-to-wear claw clip hairstyles, the rise of rom-com core is a good excuse to start. Use a claw clip to pin back your locks, and leave some of your hair flopping over the top of it to give serious '00s vibes. 
Don't forget about the flowy floral dress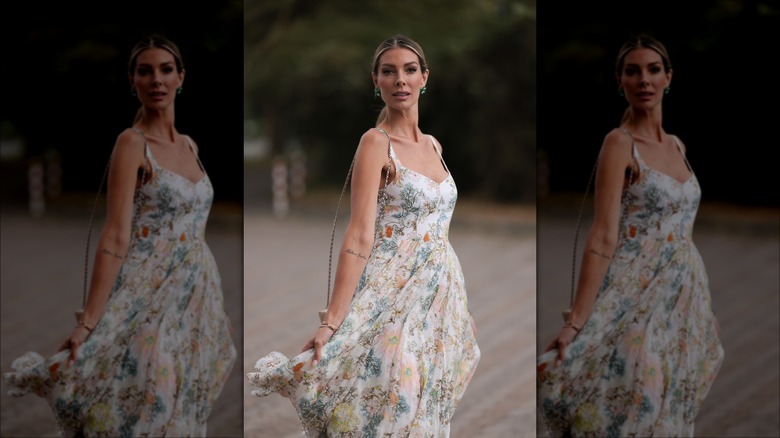 Jeremy Moeller/Getty Images
Of course, few things convey romance and flirtatious vibes than a flowing floral dress. This rom-com core piece also calls to mind the "cottagecore" aesthetic, so it's a great piece if you want to wear a crossover between the two. Pair it with some statement earrings and a pair of sunglasses. 
And, of course, the ruffled floral skirt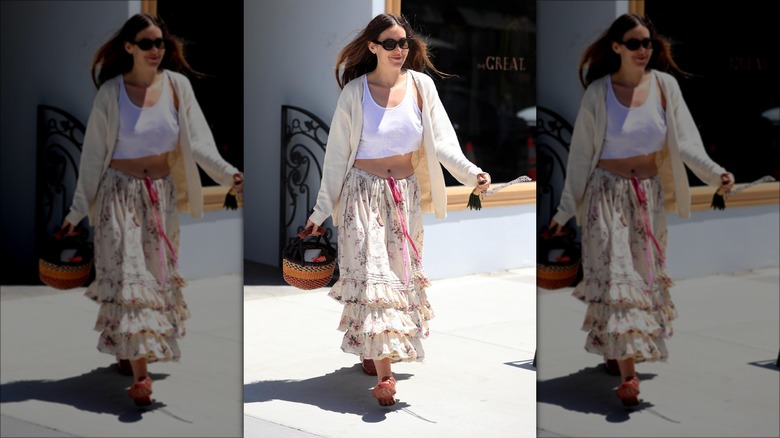 Mega/Getty Images
If dresses aren't really your speed, opt for a ruffled floral skirt instead. Skirts can give just as much rom-com appeal as a dress would while allowing for a bit more style versatility. Pair it with a tucked-in blouse to exude romance or a neutral tube or tank top to tone it down a bit. 
A lace camisole gives instant rom-com vibes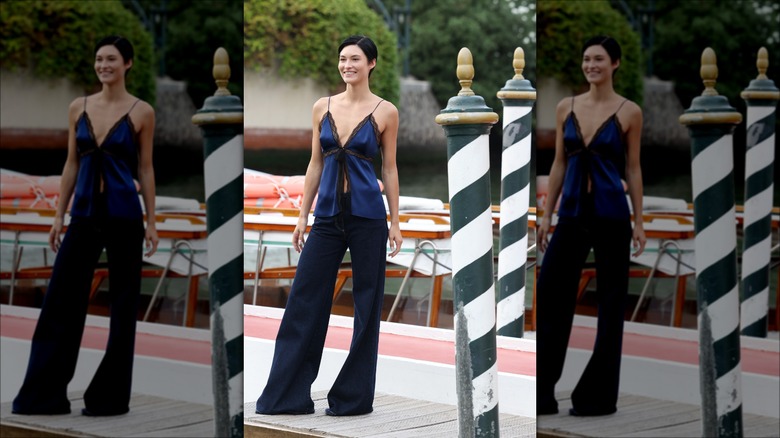 Stefania D/Getty Images
Similar to the slip dress, a lacy camisole is a great, simple piece to display some sexy romance. We love that it can translate from the bedroom to the streets — wear it on its own in the sheets, and pair it with some jeans or trousers to take it out on the town. 
Show off some chunky sandals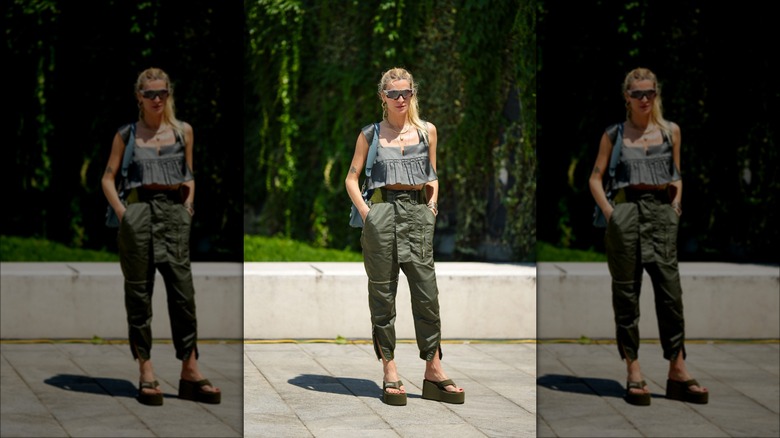 Edward Berthelot/Getty Images
If you've been a long-time fan of the platform sandal for its ability to keep you comfy while giving you some height, we're happy to report that platform sandals are incredibly rom-com core. Wear them with capri pants to give effortlessly casual, cool vibes. 
Pink will give you some fresh femme energy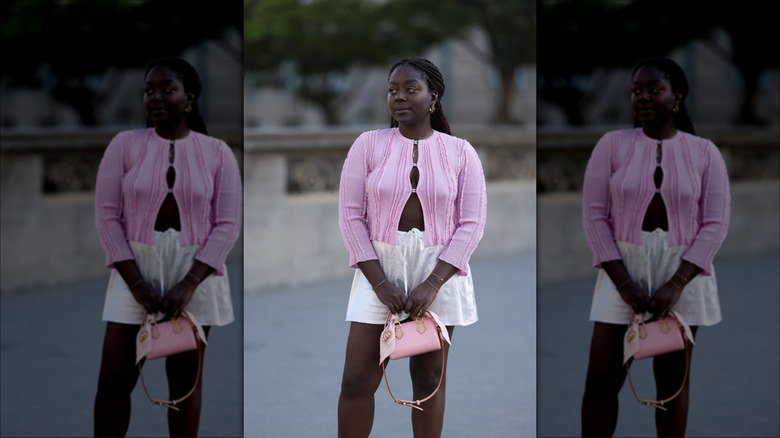 Jeremy Moeller/Getty Images
When in doubt about what to wear to achieve a rom-com core look, go for soft pink pieces. Pink gives instantly fresh, feminine vibes, and it's an easy way to incorporate some rom-com-ness into any outfit. Channel your inner Elle Woods and grab a pink cardigan or blazer (or even an accessory or two, like a handbag or some earrings) to inject some gentle rom-com into your ensemble. 
Cardigans are a layering necessity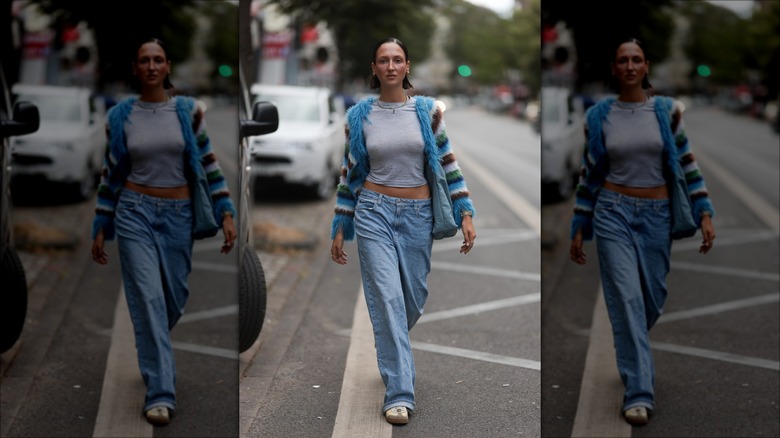 Jeremy Moeller/Getty Images
What if we told you there's one piece that can be worn with any outfit to make it instantly rom-com worthy? Well, there is, and it's a surprising staple: the cardigan. When looking for cardigans to match your rom-com vibes, go for pieces that incorporate texture and Y2K color combos, like blue and brown or pink and green. 
Matching top and skirt sets are very rom-com worthy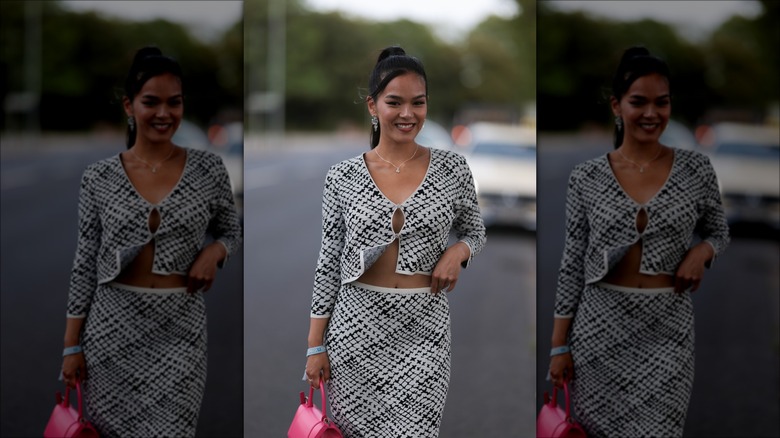 Jeremy Moeller/Getty Images
Even those who aren't fans of Cher's matching set in yellow plaid can capitalize on this tip. A matching top and skirt set in nearly any pattern can get you into the rom-com scene. Skip the yellow plaid and opt for a black-and-white set to tone it down a bit. 
Capitalize on eclectic prints and nostalgic color combos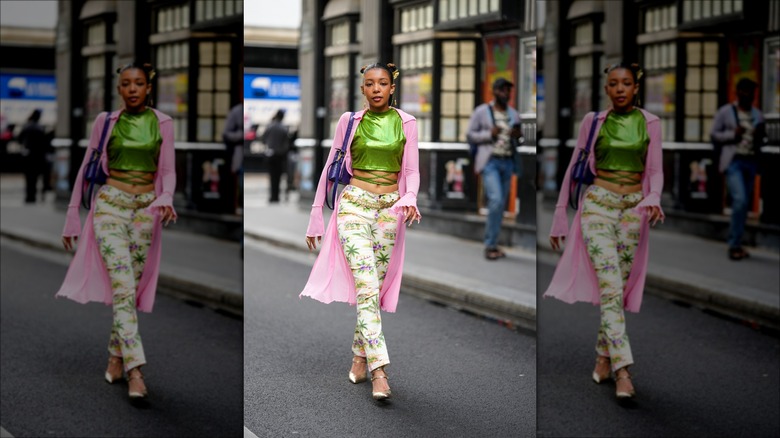 Edward Berthelot/Getty Images
No matter what styles you have in your closet, using them to recreate Y2K color combos is one surefire way to emulate rom-com core. Pink and green, as well as blue and brown, are obvious color combo choices, but if you want to be a bit more subtle about it, you could try pink and orange or blue and lime green. 
The classic crop top is a rom-com essential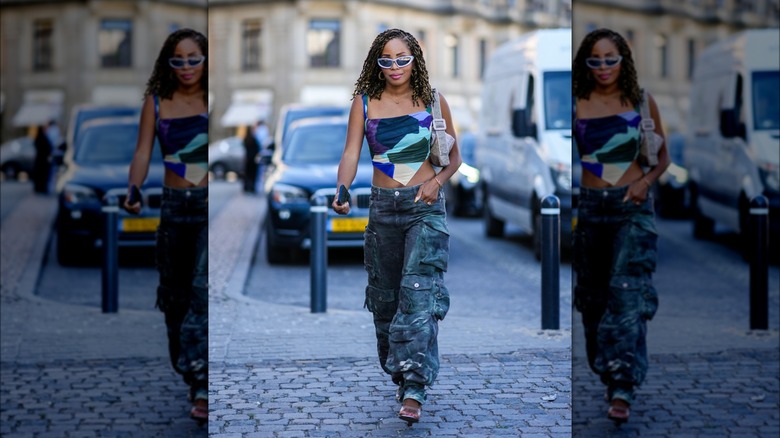 Edward Berthelot/Getty Images
Of course, we'd be remiss not to mention that showing some tummy is almost essential to get truly rom-com. Use this aesthetic as an opportunity to wear all the crop tops in your closet and maybe even add some more that boast Y2K colors. Style your crop top with some cargo pants and chunky sandals for a utilitarian rom-com look.