Kim Kardashian's Best Pantaboot Looks, Ranked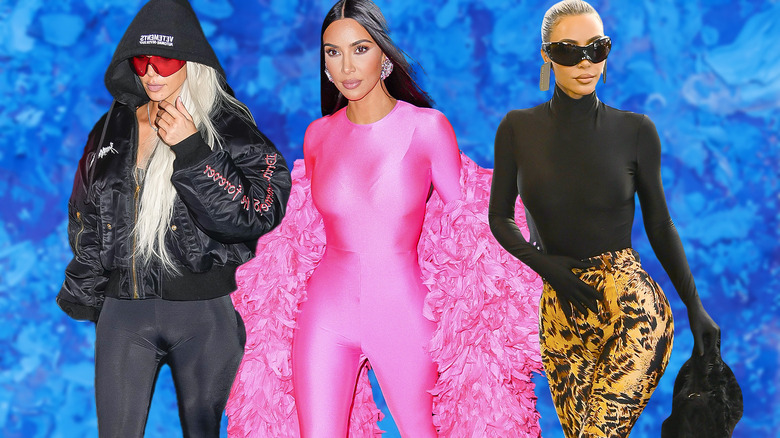 Static Media / Shutterstock / Getty
Panta-what? Yes, you read that right — pantaboots! Get ready to be dazzled as we dive into Kim Kardashian's mesmerizing and bold pantaboots looks, where fashion meets innovation in the most Kim-K way imaginable. We've carefully curated and ranked these iconic ensembles based on their boldness, innovation, and overall impact on the fashion landscape. Looks that pushed boundaries with striking colors, audacious prints, and avant-garde silhouettes earned top honors. On the other hand, casual looks and instances of mismatched tailoring or color combinations found themselves toward the back of the list. Nevertheless, those looks are still not bad — just not as fab as the reality star can do.
Now, get ready to witness the magic of pantaboots as they take center stage in the hands of a fashion visionary. From red carpet extravaganzas to stylish streetwear, each look captures the essence of Kim's signature approach to fashion. And yes, she has convinced us that pantaboots are the future, so we expect to see more of them on celebs soon!
14. Kim Kardashian's last-minute pantaboots fiasco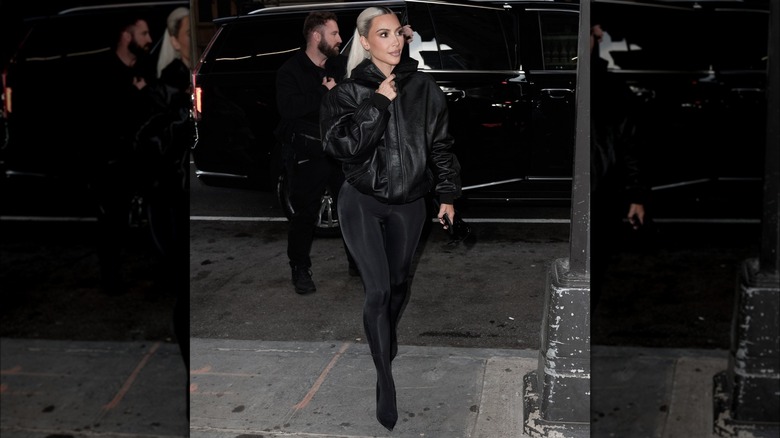 Gotham/Getty Images
Kim Kardashian flaunted this pantaboot look in New York City in 2022, but unfortunately, it takes the cake as her worst one to date. Even fashion queens like Kim can have their off days, and this particular outfit falls into that category. The black, spandex-like pantaboots might have been daring, but when paired with a black leather bomber jacket, it just didn't quite hit the mark. It's a rare miss from Kim, who usually rocks her signature pantaboot style with confidence and grace.
13. Navy blues: The reality star in the wrong pantaboots hue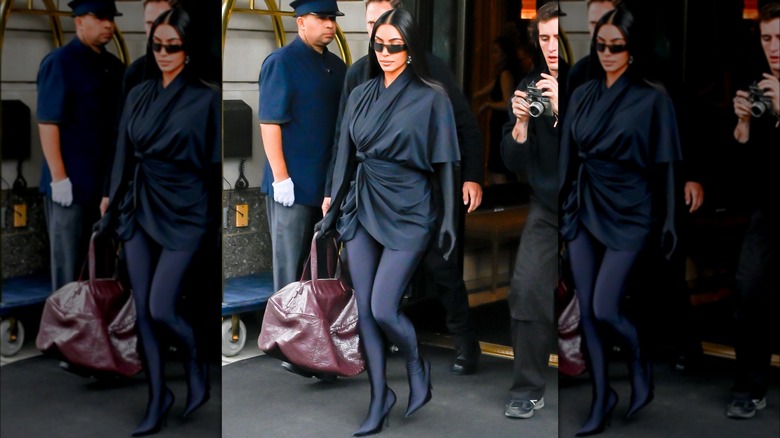 Raymond Hall/Getty Images
In 2021, Kim Kardashian was spotted in this navy pantaboot outfit in New York City. However, the navy tones, though stylish individually, appeared a tad mismatched when put together. And to make things worse, the maroon bag choice didn't quite harmonize with the overall aesthetic either. Nevertheless, we gave this look a slightly higher position just because it is a bit more daring than the previous all-black ensemble, and the addition of the sunglasses and earrings make it seem more put-together.
12. Racewear vs. athleisure: Kim Kardashian's pantaboots look that could have given more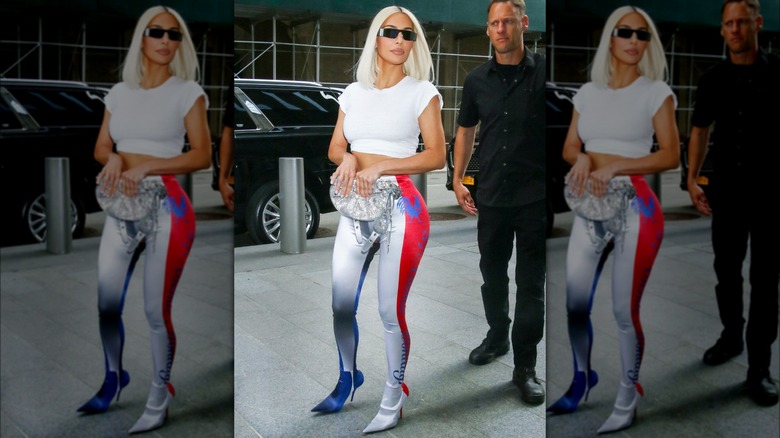 Mediapunch/bauer-griffin
Another one of Kim Kardashian's New York 2022 pantaboot looks is this one that showcases a showdown between racewear and athleisure vibes. The pantaboots, with their racing suit-inspired design, held the promise of an edgy and dynamic outfit, but the look fell slightly short of its full potential. The simple white tee Kim paired with the statement pantaboots toned down the overall impact, creating a more casual, athleisure feel. While it's great to experiment with contrasting styles, this combination left us yearning for a more dramatic ensemble. In the grand ranking, this look lands somewhere in the mid-to-back tier range.
11. The star shows us how casual pantaboots can look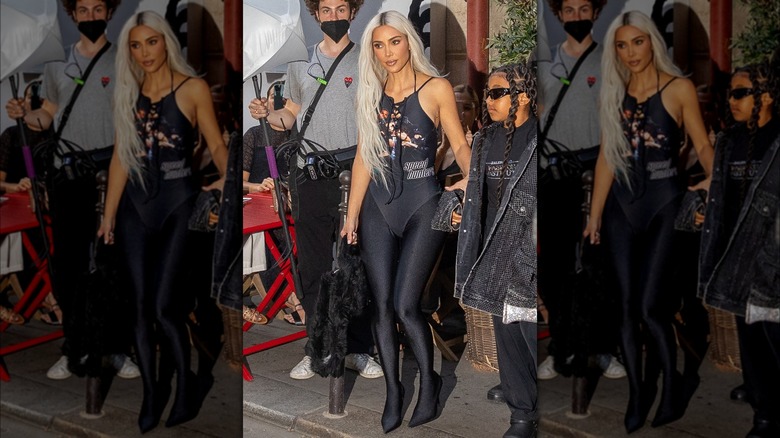 Marc Piasecki/Getty Images
Kim Kardashian's casual pantaboots look spotted during Paris Fashion Week in 2022 showcases how even in a more laid-back style, she can still make a statement. While not as flashy as some of her other fashion moments, this fun and relaxed outfit has a charm of its own. It didn't rank higher because it falls within the realm of what we typically see from KK in terms of casual wear. However, it deserves applause for its innovative approach. Rocking a bodysuit over pantaboots is a fresh take on the trend, and we love how Kim owns it effortlessly.
10. A velvet dream: Kim Kardashian's take on pantaboot glamour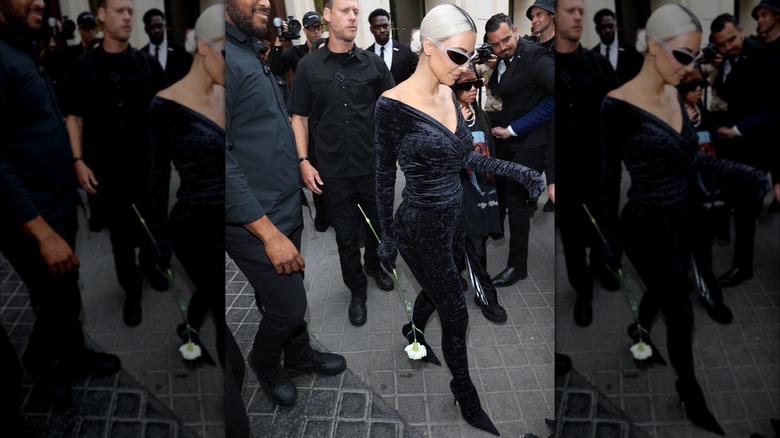 Jacopo M. Raule/Getty Images
We are definitely enchanted by Kim Kardashian's velvet dream of pantaboot glamour at Paris Fashion Week in 2022. The luxurious velvet material and the alluring off-the-shoulder cut create an undeniably stunning look. However, we can't help but wish for a more captivating color choice than the standard black. While the outfit is undoubtedly elegant and chic, the color selection feels somewhat safe, especially for a fashion icon like Kim. While we would have loved to see a bright red or stunning turquoise, this look — and its futuristic sunglasses — still earn a solid spot in the mid-tier of our ranking.
9. Kim Kardashian's pantaboots steal the show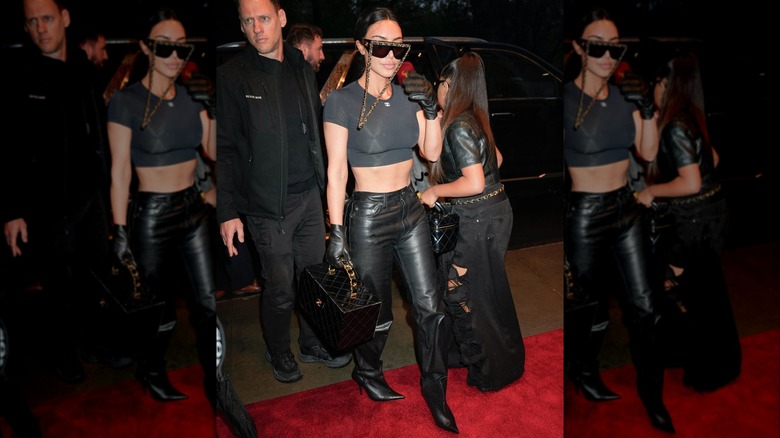 Gotham/Getty Images
Kim Kardashian took an edgy and almost rocker-chic approach to this leather pantaboots look she wore in New York City in 2023. The only tiny detail that didn't quite reach the "wow" factor was the top she paired with the stunning leather pantaboots. While it certainly didn't take away from the overall greatness of the outfit, we would have preferred a bolder color to amp up the drama even further. Luckily, the sunglasses added quite a bit of additional interest to the look.
8. Streamlined pantaboots: The billionaire shows us the SKIMS way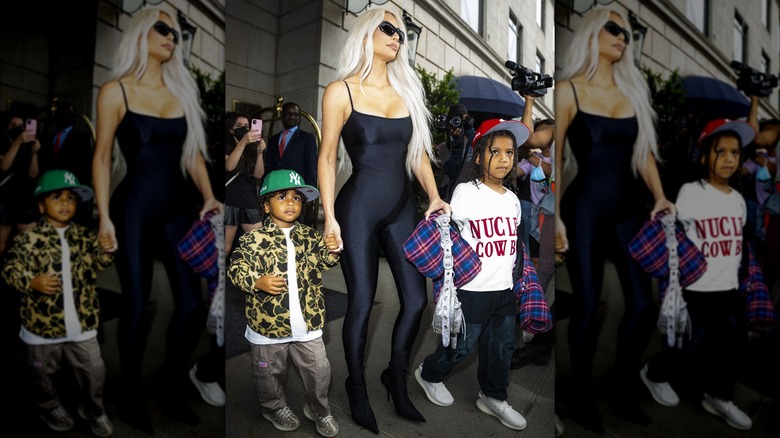 Gotham/Getty Images
This look that the reality star was spotted wearing in New York City in 2022 exudes a distinct SKIMS vibe, and if anyone can pull off a look this simple, it's Kim Kardashian. The streamlined pantaboots give us elegance and sophistication, proving that sometimes less is more. Ranked in the middle range of our list, this look strikes a perfect balance between casual and chic. It's a reminder that Kim can effortlessly slay any pantaboot style, whether it's intricate or streamlined!
7. Kim Kardashian's motocross pantaboots show just how versatile the piece is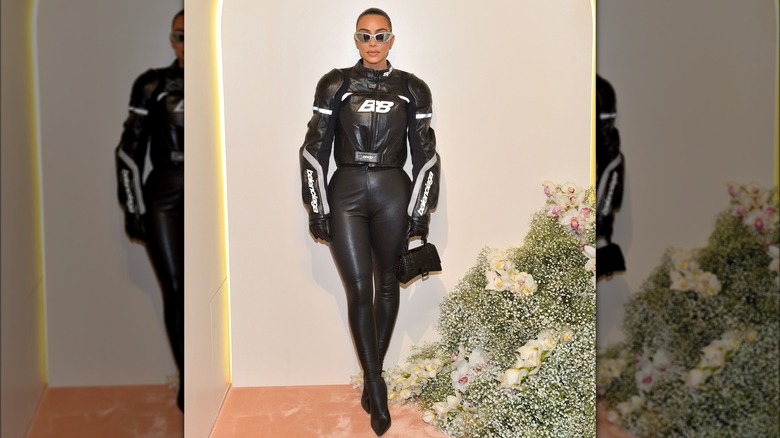 Donato Sardella/Getty Images
Kim Kardashian's motocross pantaboots singlehandedly prove just how versatile this trend can be. At the Revolve Social Club VIP Opening in 2022, Kim flaunted motocross-inspired pantaboots and a matching jacket that served as a brilliant example of thinking outside the box and pushing fashion boundaries. However, there's a tiny hitch in the outfit's perfect ride — the jacket slightly overwhelms Kim's neck, making it appear a tad ill-fitted. Nevertheless, this ensemble is a testament to the star's fearless approach to fashion and the endless possibilities of pantaboots as a statement piece.
6. Animal print perfection: The reality star pulls off leopard-print pantaboots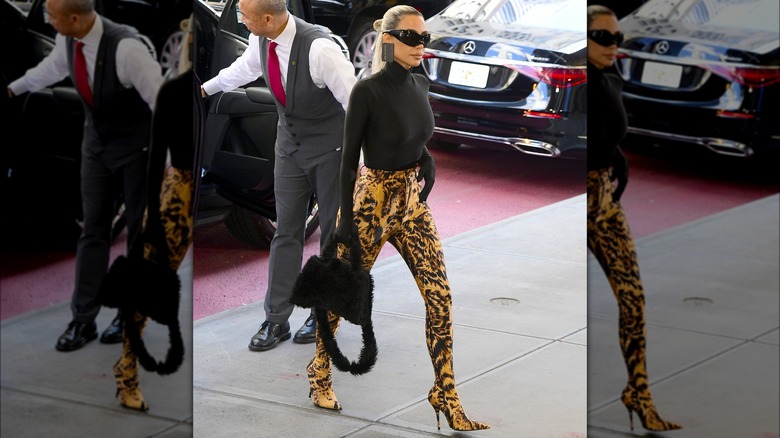 Raymond Hall/Getty Images
Kim Kardashian wore a pair of leopard-print pantaboots in New York City in 2022, and she literally left us speechless! Are animal prints the new neutrals? We already know the print is a timeless trend, and Kim effortlessly proved its enduring allure. The leopard-print pantaboots added a wild touch to her ensemble and the accessories she chose provided the perfect amount of glamour, proving once again that Kim knows how to make a statement. The fact that this striking look ranks at only number six on the list tells you just what you can expect.
5. Kim Kardashian goes for a bold pantaboots pop of color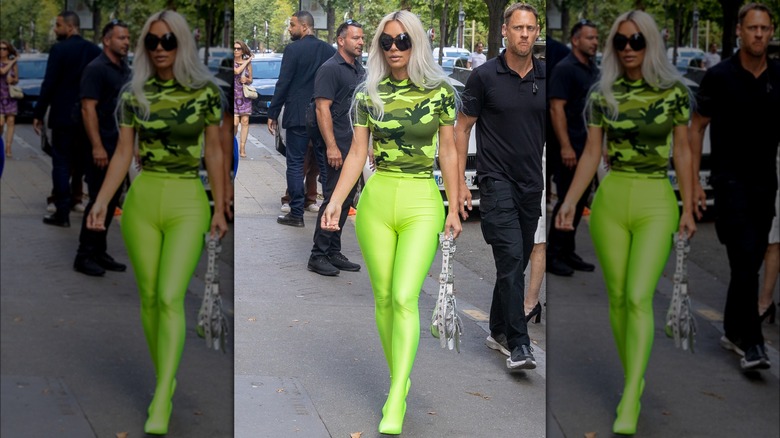 Marc Piasecki/Getty Images
As we venture into top five territory, it's crystal clear that every look is an absolute slay! Kim Kardashian was spotted during Paris Fashion Week in 2022 in this bright neon pantaboots ensemble that left us in awe. Honestly, we never knew that bright neon green could look this good!
4. Ahead of her time: The star's iconic pantaboots Met Gala look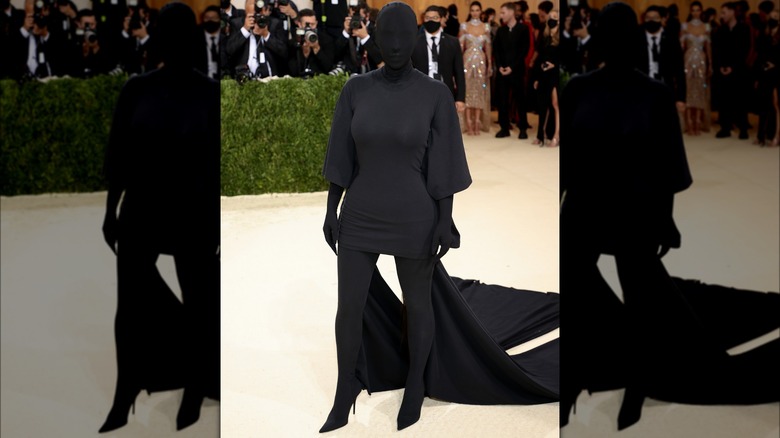 Dimitrios Kambouris/Getty Images
Brace yourselves for an iconic moment from 2021 as we revisit Kim Kardashian's show-stopping pantaboots look at the Met Gala — which was full of stunning looks. This unforgettable ensemble left a lasting impression, and for many, it might even be a front-runner for the top spot. The boldness of the pantaboots, the artistry of the outfit, and Kim's undeniable confidence all contributed to the legendary status of this look. However, the one tiny hiccup that kept it from clinching the numero uno position was the fact that we couldn't see her face. Yes, we know — that's kind of the point, but just wait until you see the next three looks!
3. Kim Kardashian takes head-to-toe pink to a new pantaboots level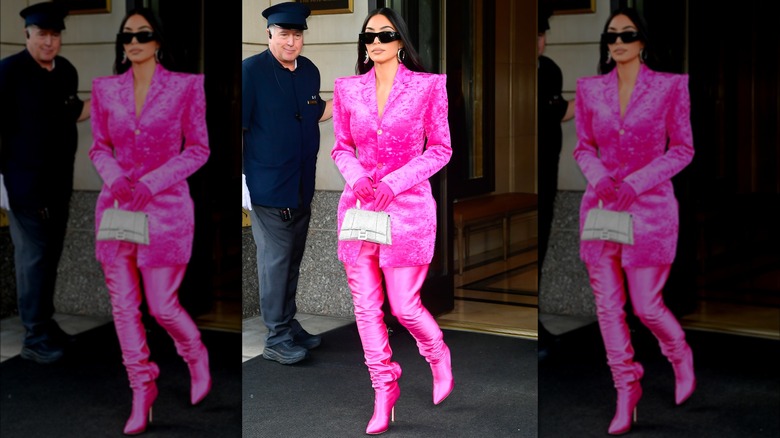 Raymond Hall/Getty Images
Kim Kardashian took pantaboots to a whole new level in New York in 2021. This look is a true feast for the eyes, and the blend of the velvet blazer with shoulder pads and shiny pantaboots is nothing short of perfection. Kim exudes confidence and glamour, proving once again why she's a style icon. From the tip of her pantaboots to her perfectly styled middle part, Kim absolutely owned this look.
2. The reality star channeling her inner '90s diva with gray pantaboots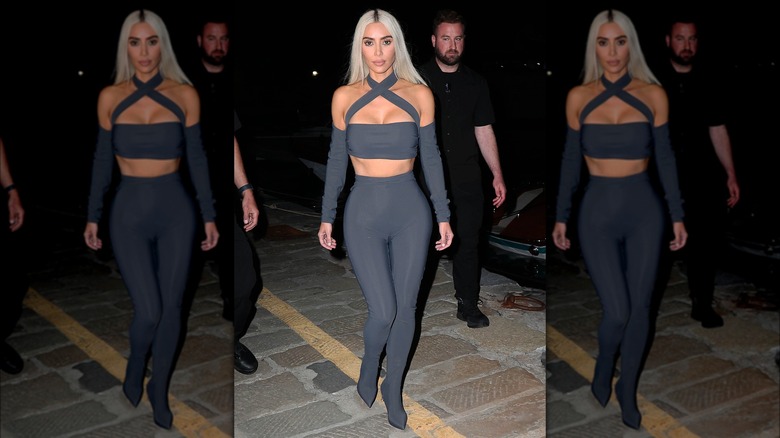 Nino/Getty Images
Kim Kardashian is known for her occasional nostalgic ride to the '90s, and this gray pantaboots look she rocked in Portofino, Italy, in 2022 is exactly that. It's giving us all the TLC-inspired vibes that we absolutely adore, and we can't help but be overwhelmed by Kim K's style power. The only reason this ensemble isn't at spot number one is because — believe it or not — the next look is even better!
1. Barbiecore before it was a thing: Kim Kardashian's hot pink pantaboots 'fit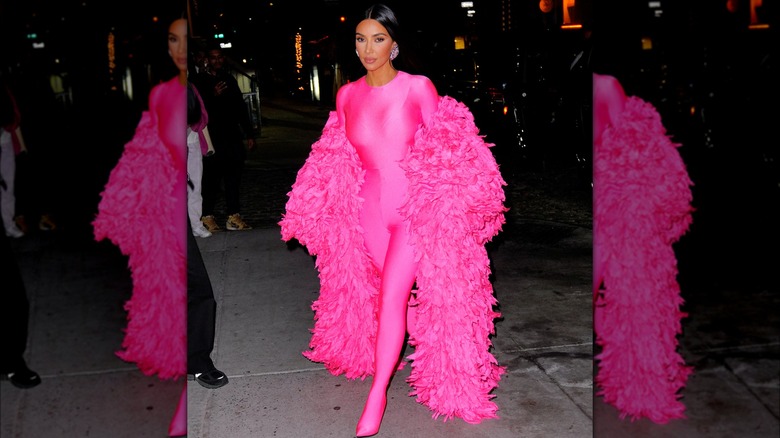 Gotham/Getty Images
Kim Kardashian set the fashion world on fire with her hot pink pantaboots 'fit when she arrived at the after party for "Saturday Night Live" in New York City in 2021. The reality star was and always will be a true trendsetter, and the fashionistas will instantly notice that she was rocking the Barbie-inspired look before Barbiecore became a thing. The audacious pink hue, the over-the-top feathery drama, and the impeccable tailoring were all perfect, making this outfit an absolute showstopper.