100 Years Of Wedding Hairstyles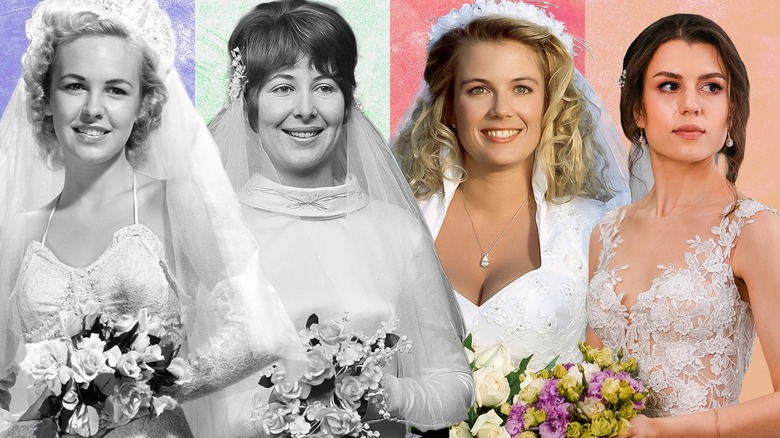 Static Media / Shutterstock / Getty
While the bride's dress is often the main focus of wedding day conversation, and even pre-wedding speculation, no bridal look is truly complete without the perfect hairstyle to accompany it. Some brides know exactly how they want to style their hair, while others spend hours on Pinterest crafting a vision for their ideal hairdo. Today's brides have endless options to choose from, but wedding hairstyles over the past century have historically been a little less varied.
Wedding hairstyles are always changing, transforming with the trends and technologies of the day and the collective personalities of each new generation. The past 100 years has seen its share of beautiful, wild, and adventurous wedding hair. From braided updos to flowing, curly locks, hairstyles have shortened and lengthened, curled and straightened in every configuration possible a dozen times over. Some decades have inspired a love of all things retro in modern weddings, while others seem to only inspire giggles and grimaces (here's looking at you, 1980s.) However, each decade's wedding hairstyles reflect not only the fashion and trends of the day, but showcase the beauty and joy of each bride. Take a walk through history for a glimpse of which bridal hairstyles were popular throughout the 20th and 21st centuries. 
1920-1929: Finger wave bobs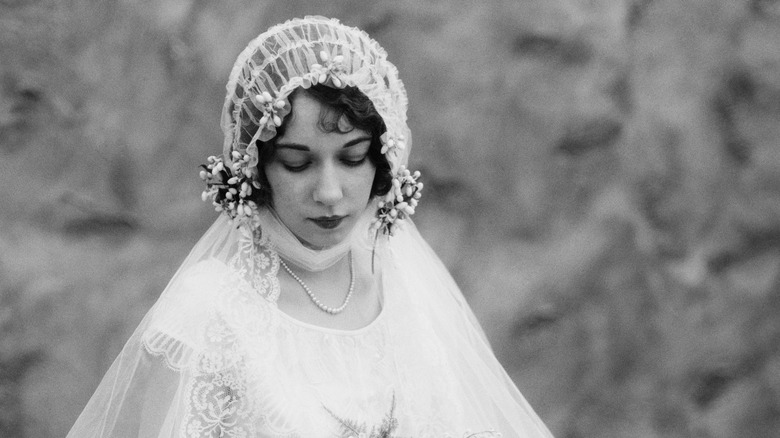 H. Armstrong Roberts/Getty Images
Young women in the Roaring Twenties embraced the boyish, androgynous style of the flapper girls and actors like Josephine Baker and Clara Bow in both their going-out fashion and their bridal looks. Brides often dressed in slim, sheath-style wedding gowns made from loose and flowy fabric, which were then embellished with geometric beadwork, intricate lace, and fringe. 
Brides paired their romantic and glamorous dresses with short, blunt bobs. Women cut the hair straight around the head, usually stopping at jaw-level, and kept their hair styled close to the head. At the time, this hairstyle was a revolutionary symbol of a bold, modern woman rebelling against societal feminine norms. It was also effortlessly sleek and glamorous. Brides were fond of curls and delicate finger waves, styling their bobs into sophisticated and flat, S-shaped waves that stayed close to the scalp, and which were held in place by pomades and setting lotions for a sleek, sometimes wet look. Veils were a popular addition to the short hairstyles of the decade, from long cathedral to ballet-length veils held in place with bejeweled bandeau veils worn across the forehead. Juliet cap wedding veils and cloche hats paired beautifully with the short, finger wave hairstyles as well, fitting snugly to the head and allowing the curled ends of the bride's hair to peek out around the face. 
1930-1939: Long bobs with pin curls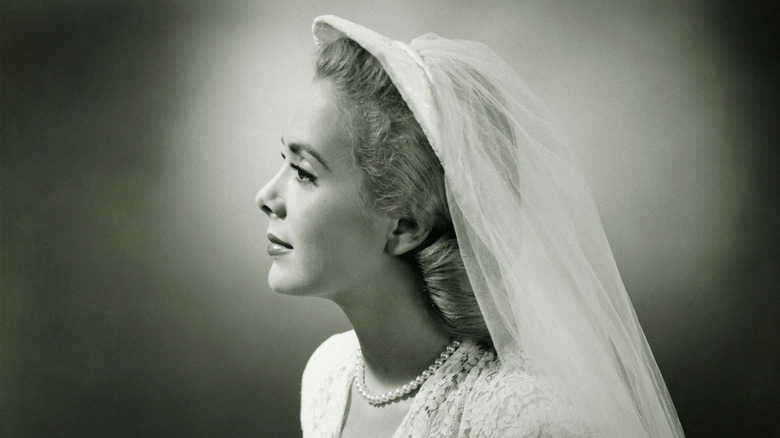 George Marks/Getty Images
The 1930s were characterized by a period of transitioning fashion ideals, both in day-to-day wear and bridal fashion. The decade welcomed a relaxation of the sleek and tightly waved boyish styles popular with flapper brides, opting for romantic (and cheaper to style) waves thanks in part to the economic hardships of the Great Depression. Although the bob and finger waves did not disappear, longer hair and bangs came back into fashion. Women began growing their hair out to their shoulders to achieve softer, more voluminous curls. Pageboy haircuts were a classy variation of the 1920s bob that looked lovely with a cathedral-length veil, or more commonly, a hat adorned with netting or a stylish brooch. 
For the first time in history, brides looked to the silver screen for hair and fashion inspiration. Even as they tightened their belts, they adopted hair and makeup styles that emulated Hollywood stars like Vivien Leigh, Marlene Dietrich, and Greta Garbo. Platinum blond hair was particularly popular thanks to actor Carole Lombard, as were thin, arched eyebrows and false eyelashes. Some brides would shave their eyebrows off and draw the pencil-thin arches by hand. Hollywood starlets also made faux bobs with center parts a common hairstyle for brides, which were made possible thanks to bobby pins and an increase in the availability of affordable cosmetics products. 
1940-1949: Victory rolls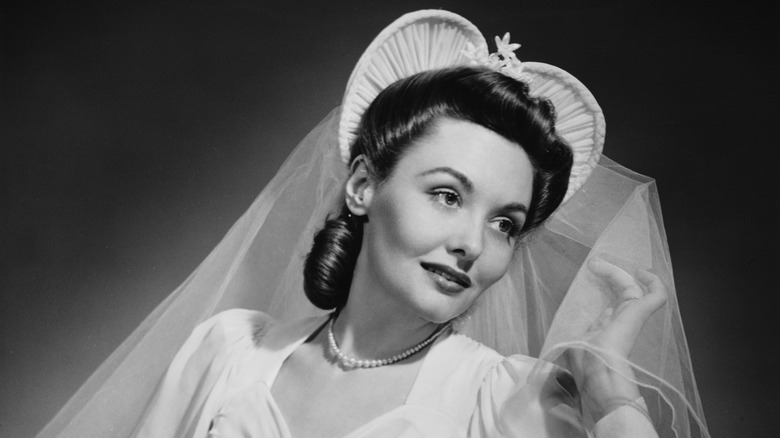 Getty Images/Getty Images
Brides in the 1940s went with a handful of simple hairstyles. Shoulder-length hair was still popular, as were curly variations like side rolls or pin curls. Victory rolls erupted in popularity at the beginning of the decade thanks to stars like Betty Grable. This was an elegant style that swept or backcombed hair up from the hairline into the desired number of inward rolls. This style was versatile, allowing brides to style their beautifully curled hair into loose waves, asymmetrical rolls, or elegant updos. Many would add a heart-shaped or birdcage veil to accentuate the soft curls. More casual brides often placed a fascinator or other jaunty hat on their head, while some adorned their victory rolls with wax flowers for a touch of romance. Bangs were usually curled and worked into the bride's chosen hairstyle or pinned to the side, and some embraced the dramatic fullness of the pompadour. 
As World War II ramped up, hairstyles like victory rolls became a necessity as much as a fashion statement. "It was easy to achieve by the masses and suited most, as well as being a very practical fashion solution as women flocked to work in the factories," stylist Charlotte Cave tells Creative Head. Wartime brides in the latter half of the decade often didn't change their day-to-day hairstyle at all for their weddings, rushed as they were to get hitched before their fiancés were shipped overseas. 
1950-1959: Demure updos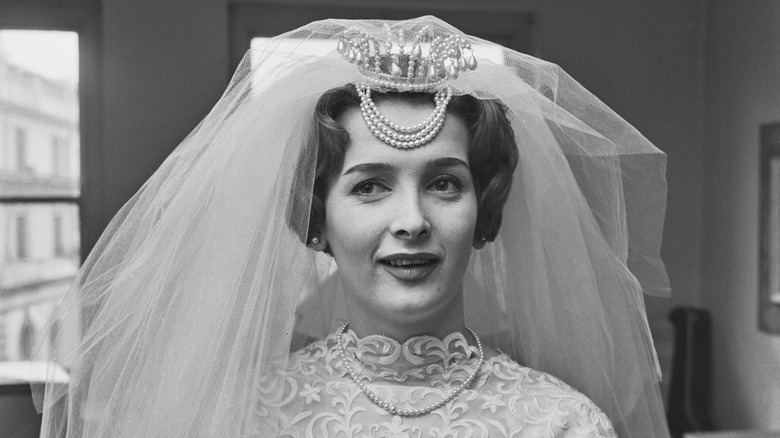 Evening Standard/Getty Images
Curls continued to be a signature of women's hairstyles in the 1950s, although most brides opted to wrangle their curls into demure updos that required significantly less work than styles of the previous decade. Short hair was in vogue, largely because the bottom-heavy skirts and dresses of the era demanded a softer, lighter look up top. Instead of pinning bangs to the side or backcombing them into rolls, brides kept them cut them short with blunt edges that kissed the eyebrows. Bangs were often curled forward in a single, smooth roll across the forehead kept in place with newly invented hairspray products. 
Brides also took their wedding hair inspiration from notable figures of the era like Lucille Ball, Zola Taylor, and Faye Emerson, who sported the popular poodle clip or cut. Actor Elizabeth Taylor's wedding to Nicky Hilton in 1950 showed women how to style curly hair with a bouffant fringe and a fluffy, mid-length veil. A few years later, Jacqueline Bouvier's 1953 wedding to Senator John F. Kennedy made the bubble cut — a short, allover curly bob pinned into an updo — a must-have look for young brides. Short wedding hairstyles suited a variety of veil lengths, but small, cap-style hats and crown veils helped keep the women's curly hair intact and looking fresh all day long.
1960-1969: Bridal beehives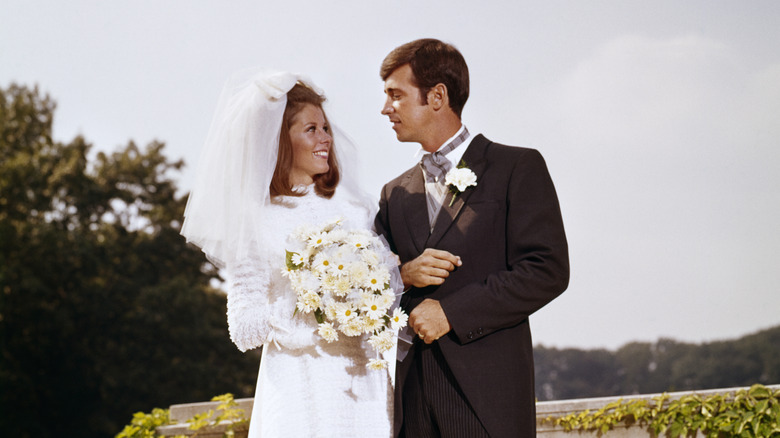 H. Armstrong Roberts/classicstock/Getty Images
The need to tease hair into shape came back with a vengeance in the Swinging Sixties, thanks to the introduction of sky-high hairstyles like the beehive. While the traditional bouffant, which had been a fashionable look for decades, was both tall and wide, the beehive allowed women to ditch the width and achieve new heights with their hair. Stylists teased, smoothed, and sprayed hair into a conical shape. Bubble veils made of voluminous layers of tulle were often worn with the beehive style, a look made popular by Priscilla Presley during her wedding to Elvis Presley in 1967. 
Brides also started wearing their hair in half-up, half-down styles. The French actor Brigitte Bardot and her signature half-up bouffant hairstyle was influential in bringing this style to brides, creating volume at the crown of her head and pinning half of it back. Bows or headbands were popular accessories. A thick fringe framing the face and flipped ends completed the look, lending a touch of vintage romance modern brides still seek to recreate for their wedding day looks. "The look is very big and very thick with lots of fluff," celebrity stylist David Lopez tells Real Simple. "It has lots of bounce and lots of curl, but it doesn't look too finished. It's actually a bit frizzy — if you can embrace the word frizzy — and has a lot of texture." 
1970-1979: Long and feathered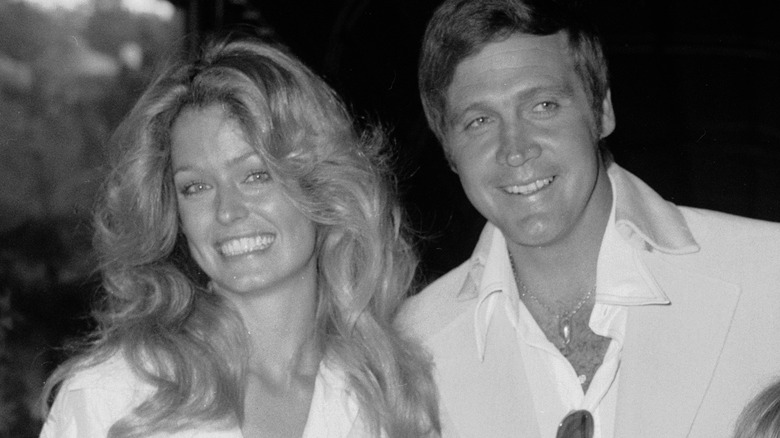 Fotos International/Getty Images
A number of cultural influences inspired hairstyles for the '70s-era bride. The counterculture — or hippie — movement embraced an eclectic mix of sleek styles, perms, shags, natural textures, and brow-skimming bangs, while more conservative brides wore cuts like the pageboy, the wedge, or flicks and wings. However, long, feathered hair with curtain bangs was the most popular style coveted by brides looking to emulate "Charlie's Angels" star Farrah Fawcett. Her signature feathered style featured large, fluffy waves that were brushed away from the face in a feather-like appearance. Many brides grew their hair out, as medium to long hair was best to achieve the style. 
Feathered hair was suitable for a variety of bridal accessories and gave brides plenty of options. Shorter and voluminous veils made from tulle were the go-to for more classic-minded women, while bohemian brides were more likely to adorn their hair with headscarves or a crown of flowers. Wide-brimmed sunhats came back on the scene as well. Farrah Fawcett herself wore a floppy hat with large fabric bows over her feathered hair for her 1973 nuptials to fellow actor Lee Majors. 
1980-1989: Permed, teased, and crimped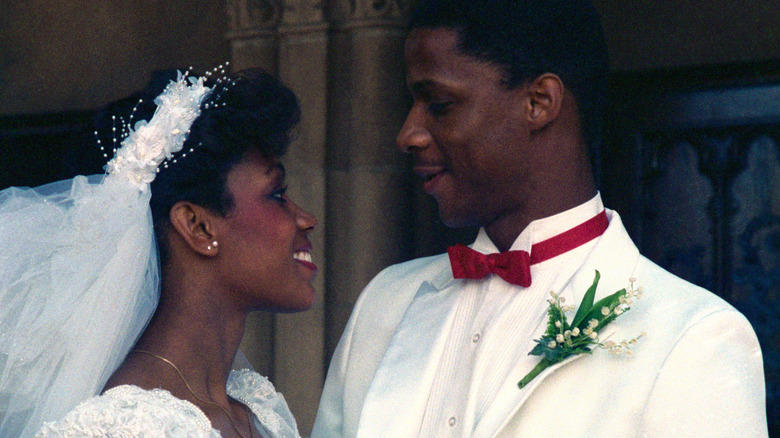 Bettmann/Getty Images
The 1980s only had one rule when it came to clothes and hair: bigger is better. At weddings, this rule applied to everything from the dress and the cake to the bride's hair. A variety of voluminous, poofy, and puffed-up hairstyles made their way down the aisle throughout this decade, held in place with cans of Aqua Net hairspray and copious amounts of hair gel. Permanent waves and crimped hair were huge trends, both in everyday style and bridal fashion, as they allowed women (and men of the glam rock world) to achieve their desired volume. Curly bangs often accompanied these perms, teased and backcombed into feathered styles.
Both long and short hair were in fashion, which meant that '80s-era brides were seen sporting a variety of loose, flowy styles and updos on their big days. Thanks to Princess Diana, brides also wore dramatic, cathedral-length veils with their over-the-top gowns. These veils were often attached to a crown, tiara, or a headband wrapped in satin, any of which could be adorned with fake flowers, and many had extra fluffy layers of tulle closer to the head. The fluffy bangs popular throughout this era were normally positioned over or in front of the headband to showcase the carefully styled curls. 
1990-1999: Bouncy blowouts and sleek textures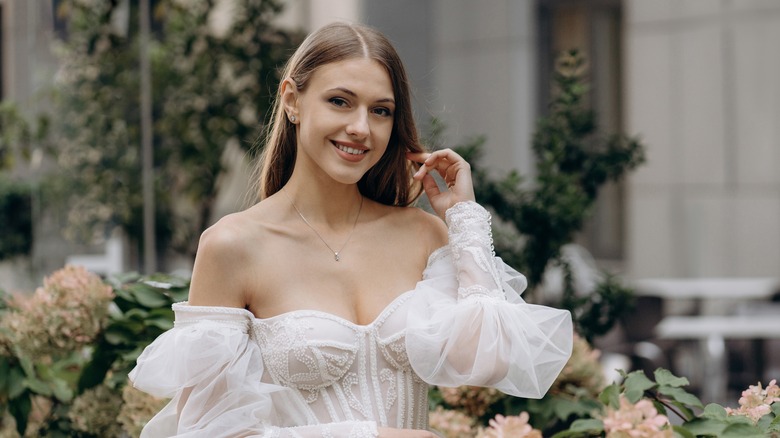 Ruvinska Tetiana/Shutterstock
Although some hairstyle and fashion trends from the 1980s carried over into weddings of the 1990s, the majority of brides cut back on the texture and teasing for sleeker, more sophisticated styles. Brides wanted more simplicity in their hairstyles to better accommodate what were still quite over-the-top veils and accessories. 
The blowout was one such hairstyle that took the '90s by storm. Made popular by models and celebrities like Claudia Schiffer, Naomi Campbell, Alicia Silverstone, and Cindy Crawford, blowouts were a more high-maintenance look that achieved the same volume and fluff popular in earlier decades without any of the resulting frizz or crunch. Long, soft, and shiny hair was blow-dried and curled using a heated roller brush or velcro rollers, then topped with a light mist of hairspray for maximum hold. "The '90s was all about a natural body and bounce without looking too overdone or structured," Franck Provost's team tells Cliphair.
Brides who wanted an updo for their weddings clamored for sleek chignons, worn either at the crown of the head or the nape of the neck. The simplicity of this hairstyle made veils and other headpieces, like floral hair clips or tulle veils with lace or beading details, easy to add on. Regardless of how brides wore their hair, hairstyles from the '90s were all about the middle part. The middle part works for a variety of face shapes and helped some brides achieve chunky face-framing "bangs" for their updos.
2000-2009: Headbands and low-knotted buns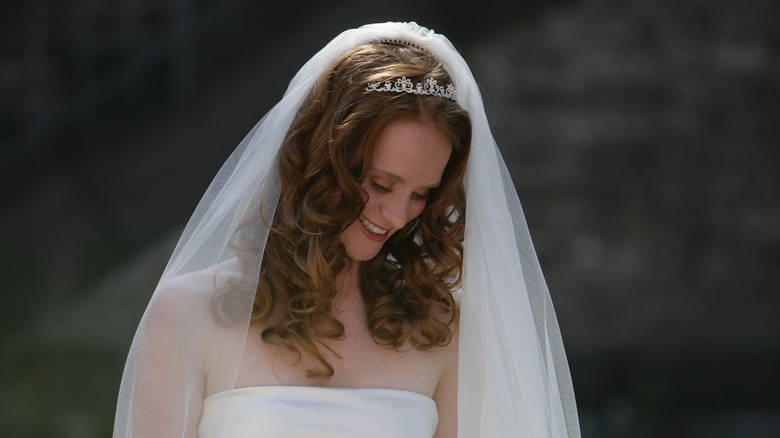 G&j Fey/Getty Images
Brides of the new millennium paired their smokey eyes and neutral, penciled lips with a range of Y2K-approved hairdos. Sleek, slicked-back buns and chignons at the nape of the neck became immensely popular again. Headbands and dainty tiaras were also in style, although brides wore them on the crown of the head rather than across the forehead as their 1920s and 1980s predecessors did. 
Before the days of Pinterest and Instagram, early-2000s brides had a number of high-profile celebrity weddings to take inspiration from. In her 2000 wedding to actor Brad Pitt, Jennifer Aniston wore her signature long and layered cut with a veil pinned at the crown of her head. Her hairstyle was long and beachy, a perfect touch for their Malibu nuptials. In 2002, No Doubt lead singer Gwen Stefani married Gavin Rossdale in a pink ombré wedding dress, styling her platinum blond hair into an elegant mohawk-style bun with a roll on top, a pin-up look reminiscent of victory rolls. 
2010-2019: Half-up, half-down with curls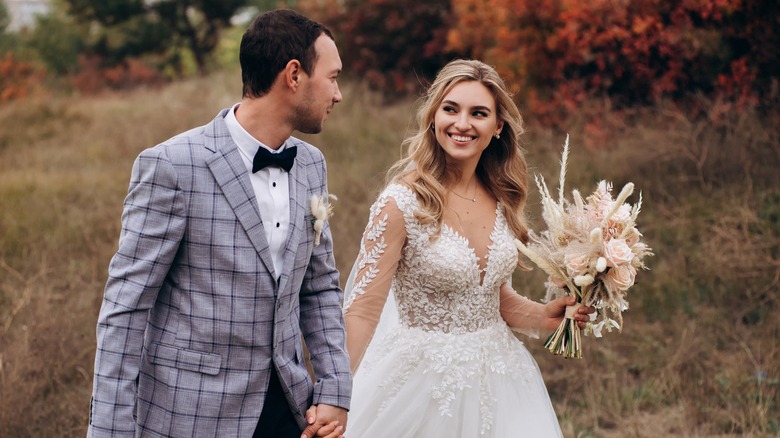 vladee/Shutterstock
Thanks in part to websites like Pinterest and Instagram, modern brides of the early-2000s had access to more hairstyle inspiration than ever before. "Women of the 2010s became a lot more knowledgeable thanks to social media," designer Danielle Frankel tells Vogue. "They began seeing not just their friends getting married, but aspirational brides they follow on Instagram." Personalization became the ideal way to style a wedding as a result. Brides got creative with their makeup and hair, wearing a mixed bag of elaborate and messy-looking updos, long curls, and loose, beachy waves. Balayage and ombré hair colors were popular, giving each wedding hairstyle beautiful dimension.
The 2011 royal wedding of Kate Middleton and Prince William inspired an entire decade of wedding trends as well. Brides and celebrities alike begged stores for replicas of Kate's long-sleeved, satin and lace Alexander McQueen gown, while her romantic locks inspired a monumental shift in the way brides wore their hair for their own weddings. "Kate had her heart set on wearing her hair down with long flowing curls, which is her favorite way to wear it, and actually William's favorite as well," reporter Ashley Pearson tells Marie Claire. The resulting half-up, half-down hairdo was softly curled at the ends and draped over her shoulders, an elegant look that paired beautifully with her cathedral-length veil and vintage tiara. It was reimagined to suit brides and their wedding aesthetics all around the world, from traditional gatherings to rustic affairs. 
2020-Present: Modernized classics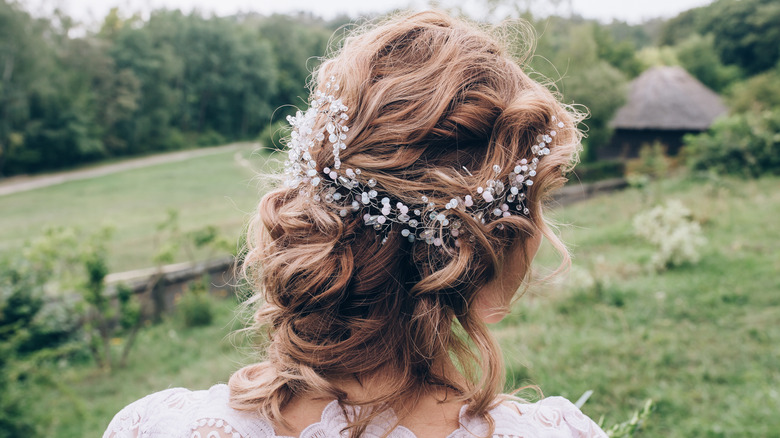 Dmytro Voinalovych/Shutterstock
The modern world of bridal fashion is a mixed bag of maximalist, minimalism, and everything in between. The 2020s haven't pigeonholed themselves into one particular look or hairstyle, embracing diversity and the personality of each bride instead. Sleek ponytails, glam Hollywood waves, and messy fishtail braids are all popular, as are relaxed updos and boho-inspired plaits. Brides adorn their hairstyles with flowers, bedazzled hair pins, and crowns. Some cutting-edge brides are even chopping their hair off before their grand entrances in lieu of a dramatic reception dress reveal, allowing brides to experience multiple styles in a single night.
Brides are also modernizing timeless hairstyles to suit their individual aesthetics. Retro trends from the 1970s and 1990s are increasing in popularity and influencing the hairstyles brides choose as well. In 2019, Hailey Bieber paired her stunning lace Virgil Abloh wedding dress with a chic and simple knotted bun, reminiscent of the hairstyles popular in the '90s. Victoria's Secret model Barbara Palvin, who wed actor Dylan Sprouse in 2023, paired her minimalist Vivienne Westwood dress with soft, glam curls and a middle part, a look that accented her '90s-inspired diamond choker and full-length gloves. 
So what's next for this new decade of bridal hairstyles? Essentially, the sky's the limit. "In my experience, bridal is constantly evolving," Heather McReynolds, the vice president and general merchandising David's Bridal, tells Brides. "Brides today are really rethinking what 'traditional' means  ...They're gravitating towards styles that feel unique to them and express their individuality."