Ruching: The Summer 2023 Trend That Looks Cute On Everyone - How To Style It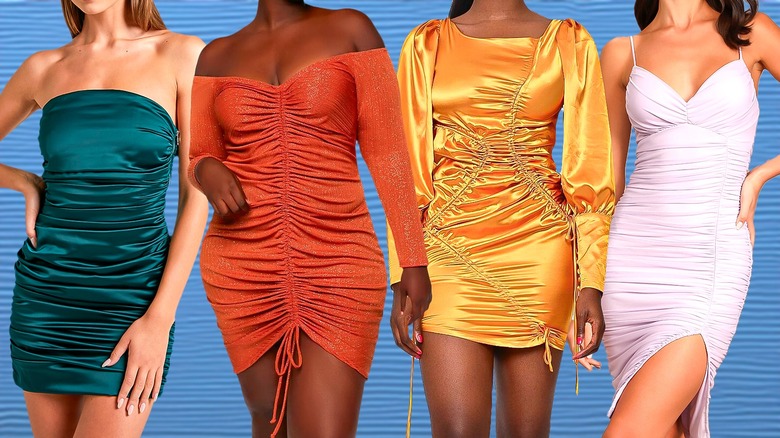 Static Media/Shutterstock
Forget risqué lace cutouts and Barbiecore fashion because a new summer trend is coming. Ruching, a simple but impactful design, is a clothing detail becoming a favorite for those wanting something form-fitting and chic. Ruched detailing is produced by fabric that is "pleated, fluted, or gathered together to create a ripple-like effect," according to The Business of Fashion. This ruched detailing is becoming more prominent in clothing as many look for subtle ways to up their style. With simple detailing, you can elevate any piece without breaking the budget.
Like other detailing options, there are various degrees of ruching you can go with. Some are more subtle and sleek, while others are over-the-top and statement-making. Either way, the ruching provides the same benefit of a form-fitting silhouette that highlights you instead of the garment. Since ruching is universally a flattering detail, it's no wonder why many are rediscovering its beauty and incorporating it into their summer wardrobes. With some ruching, you can turn any typical outfit into a chic street-style ensemble that'll be your go-to this season.
Ruched midi skirts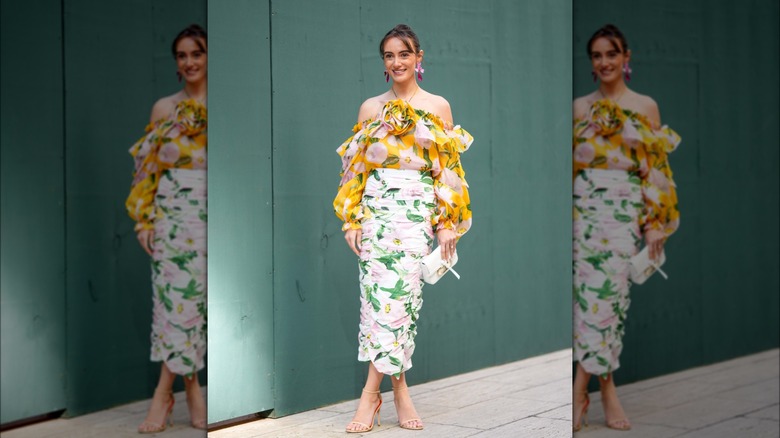 Edward Berthelot/Getty Images
Although mini skirts often take center stage in the world of ruching, there's something about a ruched midi skirt that will elevate your look. A ruched midi skirt takes this ensemble to the next level with more texture and form-fitting details. It's sure to highlight your silhouette and give you an elongated look with just one piece.
Flattering ruched tops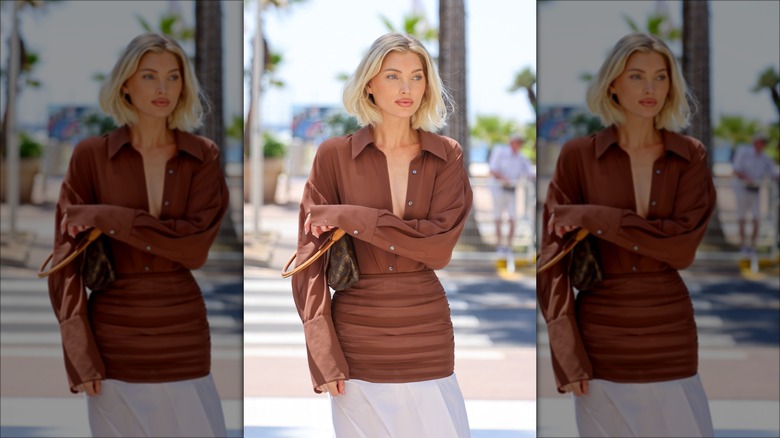 Pierre Suu/Getty Images
Ruched tops and outerwear pieces give you a sleeker top half in your outfit, making it a great choice if you want a sophisticated summer look. Contrasting your ruched top with a sleek and solid bottom will give you a never-failing high-end ensemble. A ruched top doesn't have to be over-the-top and can simply be a small detail that cinches in the waist.
Sleek ruched dresses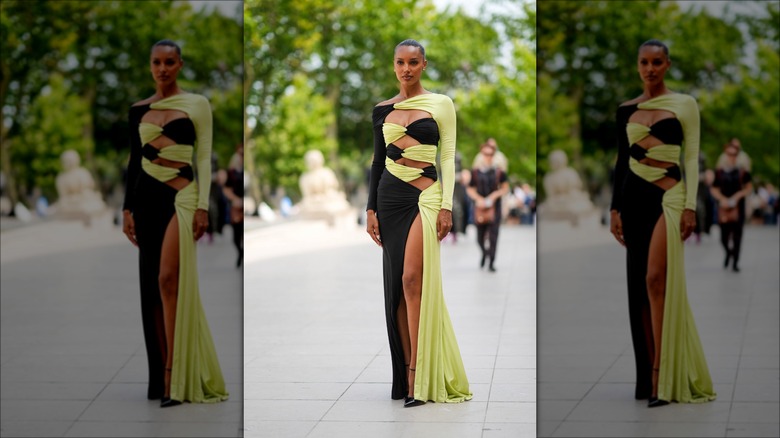 Edward Berthelot/Getty Images
Ruched dresses are known for creating unique looks. Not only are ruched dresses universally flattering — making it an easy trend to jump on board with — but they create a seamless silhouette and provide a sultry factor to the look, which is perfect for those who are looking for that extra oomph in their summer ensemble. By cinching in the waist and creating a seamless silhouette, ruched dresses are sleek and must-haves for the season.
Yes, ruched pants exist (and yes, you should wear them)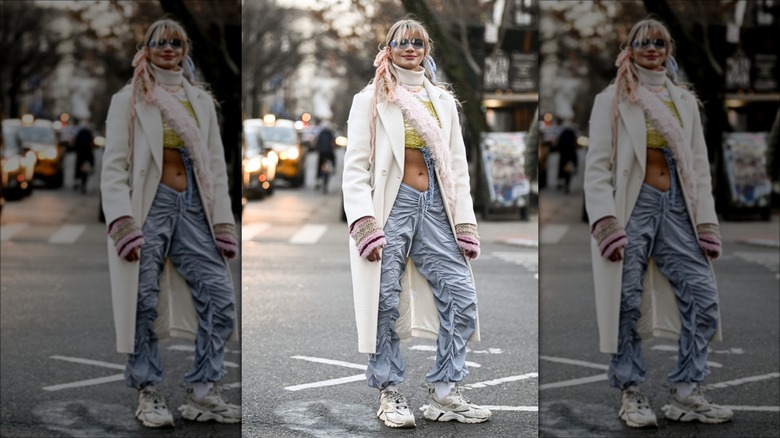 Daniel Zuchnik/Getty Images
Ruched pants have never seen quite the following with their maximalist design, but it's becoming a favorite among those looking to get the trendy look. Ruched pants are a street-style hit because of their movement, which makes it easy to stand out. For those looking to downplay the ruched detailing on pants, pair these bottoms with a solid, structured top for balance.
Maxi ruched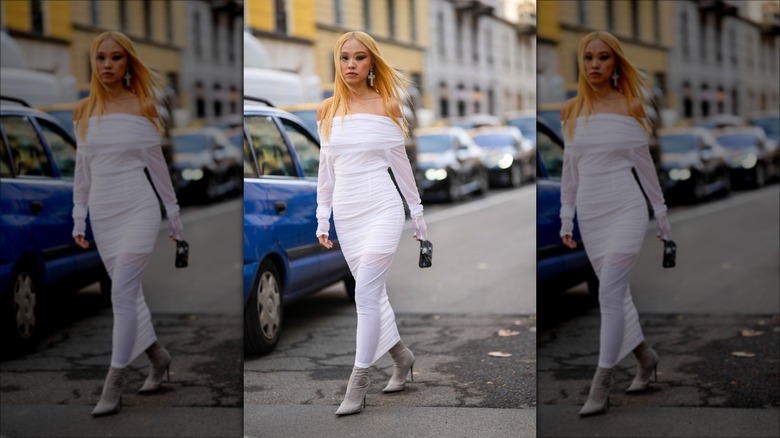 Edward Berthelot/Getty Images
Whether on a maxi length or a head-to-toe ensemble, ruching will look classic every time. Over-the-top ruching is a fun detailing to add to your summer 'fits because ruching is subtle yet bold. Since it's a simple design concept composed of gathered fabric, there's no limit to how much you can add. A head-to-toe ruched outfit will help elevate your look and height in one 'fit.
Subtle gathered details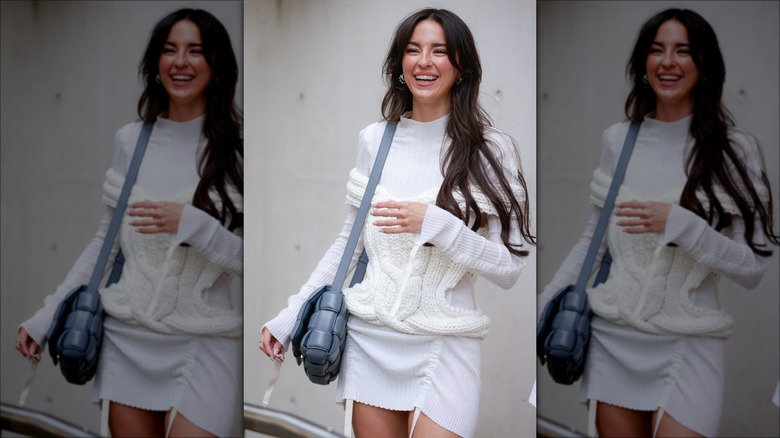 Hanna Lassen/Getty Images
Subtle ruched details are also the perfect way to add fun to a simple look. With trends like stealth wealth and quiet luxury eliminating accents and embellishments, ruching can give you the extra flair you need. A subtle ruching along the side or in accents along the sleeve gives you the same effect without taking over your ensemble. 
High-rise ruching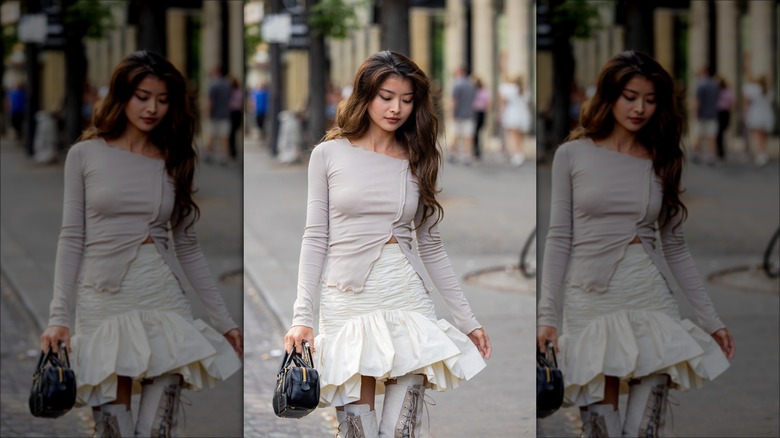 Christian Vierig/Getty Images
We already know that ruching adds an incredible form-fitting silhouette to your look and helps to create the appearance of a cinched waist. However, it's also the perfect detail to create a gorgeous figure without sacrificing comfort. Since it hugs your body in the right places, high-rise ruching in your bottoms may help you feel and look high-end at the same time.