Kate Middleton's Best Alexander McQueen Looks - Because They Always Give Her A Royal Flair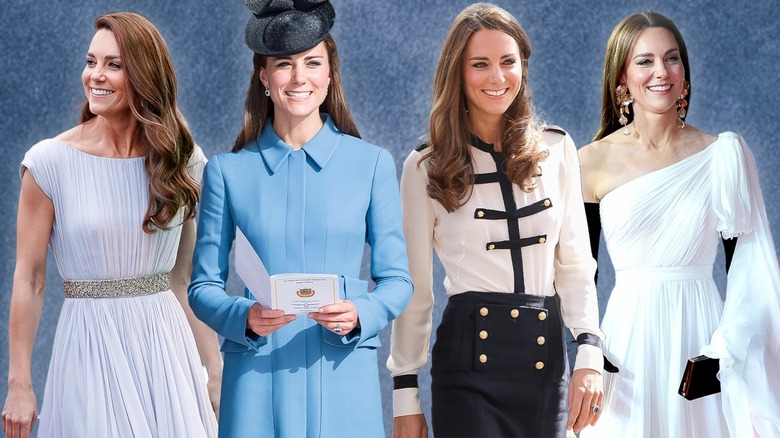 Image Credits: Static Media / Shutterstock / Getty
While plenty of royals are known for their stylish wardrobe, one royal seems to have the fashion area under control. Kate Middleton, the future queen and current Princess of Wales, has long been lauded for her style and commitment to modernizing the fashion rules within the royal family. Since the announcement of her engagement to the future king, all eyes have been on Middleton to see the latest piece she wears. The obsession with her wardrobe is so extreme that it's not rare for items to sell out after she's spotted in them. While she has every fashion brand at her disposal, one brand seems to be the royal's favorite.
Alexander McQueen, a British fashion house, is known for its long-term relationship with the princess and is often the creative force behind her most stylish looks. Led by creative director Sarah Burton, Alexander McQueen is the perfect fashion house to display British creativity and style. While the McQueen brand is known for its over-the-top looks, Burton has often collaborated with Middleton for toned-down yet stylish designs. This mix of modern and classic is the perfect example of what the future queen has brought to the royal family, further amplifying the need to modernize the monarchy. With all the stylish looks between Alexander McQueen and Kate Middleton, it's no wonder the princess is considered one of the most fashionable royals.
War museum visit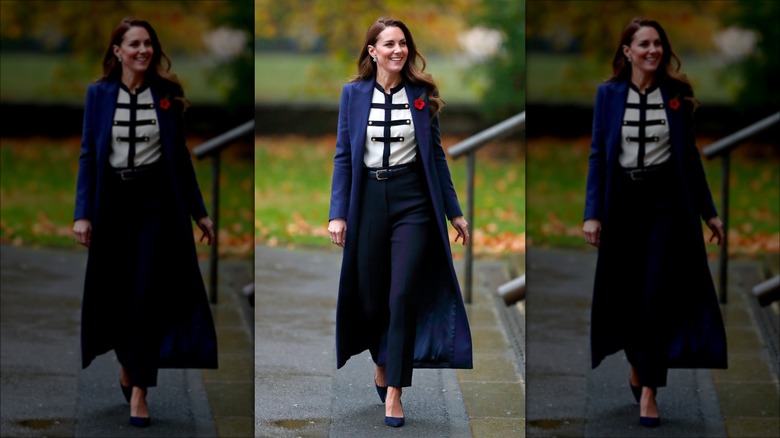 Max Mumby/indigo
While all eyes were on the photography, Kate Middleton's look made the headlines. In her 2021 visit to the Imperial War Museum, Middleton appeared in an Alexander McQueen military-inspired blouse, matching pants, and a long coat. This outfit was not only on-theme for the event but is also the perfect example of mixing a statement piece with basics for a high-fashion look. While she previously wore this top, it's a lesson in recycling your wardrobe and making them new again through styling.
Charity visit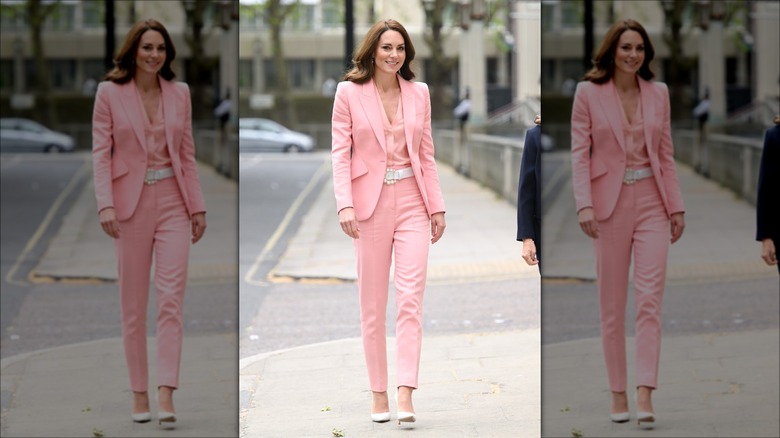 Karwai Tang/Getty Images
Kate Middleton is no stranger to a pink ensemble, but this Alexander McQueen suit takes the prize for her best Barbiecore look. Although a subdued peach-pink hue, this two-piece suit was perfect for her visit to an early childhood center for a charity campaign in May 2023. Fun and feminine, Middleton dazzled with an accompanying pearl belt. A little more modern and youthful than most royal wardrobes, this look is among the best for its unexpected hue.
Canada tour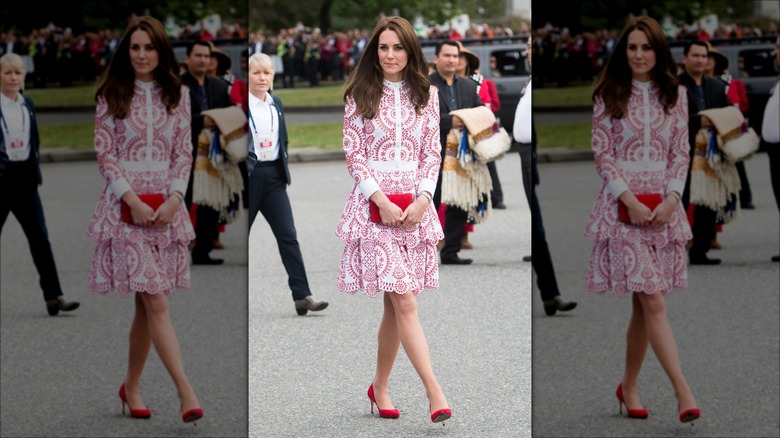 Samir Hussein/Getty Images
If there's anything to take from Kate Middleton's collaborations with Alexander McQueen, it's using colors and patterns to create a subtly statement look. While the princess is a prime example of quiet luxury, her embroidered Alexander McQueen dress from her 2016 Canada tour is a lesson in blending color and luxury. With red and white embroidered detailing, this dress was a standout piece since it's unusual to find royals in any printed frock.
Diamond jubilee tour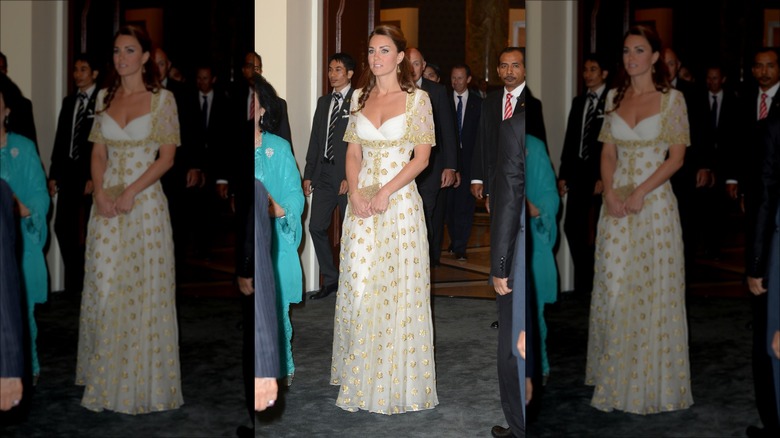 Samir Hussein/Getty Images
In her 2012 visit to Malaysia for the Diamond Jubilee Tour, Kate Middleton shimmered in an Alexander McQueen gown. Middleton's Alexander McQueen gown was a perfect ode to the host nation, complete with gold rhinestones and embellishments. Mimicking traditional patterns and embroidery of the country, Middleton was a vision in gold and cream. Although entirely different from what she's typically spotted in, this gown is one of her more royally fashionable looks.
2017 BAFTAs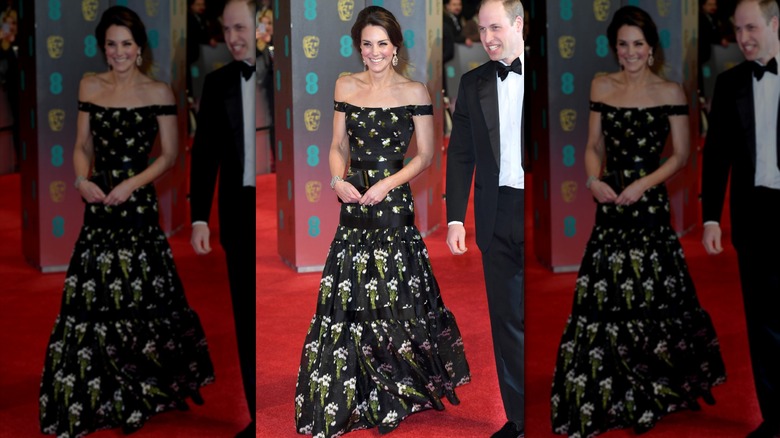 Karwai Tang/Getty Images
If there's one thing about the royal family, it's their love for the BAFTAs. The British award ceremony is host to royals, who always show up with their very best looks. In 2017, Kate Middleton stole the show in a floral-tiered McQueen gown, a departure from what we see in royal ballgowns. Not afraid of prints, this was one of the first showings of how fashion-forward the future queen would be. Mixing in a statement print while remaining classic and timeless is no easy task, but this collaboration seems to nail it every time.
Royal wedding dress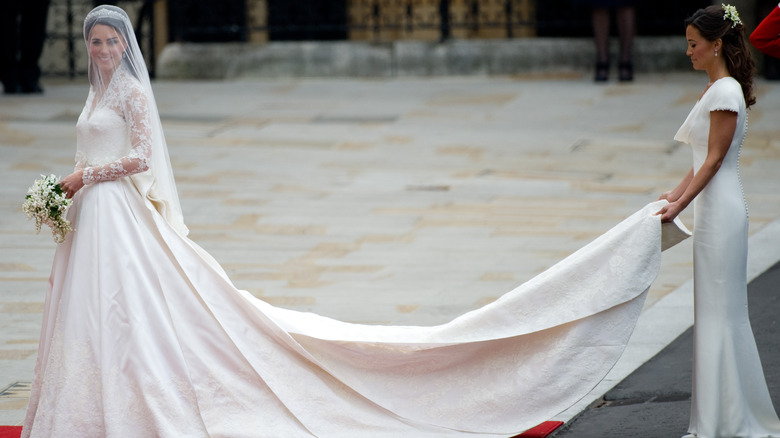 Samir Hussein/Getty Images
There's no better example of what Kate Middleton and Sarah Burton can do than the iconic royal wedding. In charge of creating a princess wedding dress, Burton pulled out all the stops for this gown. Complete with a long train and adorned with lace, the royal wedding dress was iconic for many reasons. One of the very first modern weddings, her wedding gown included a mixture of historic details and modern style. Although Middleton will have many fashionable moments, none of them will have the history of her wedding dress.