Barbie's Birkenstocks Brought The 'Ugly Shoe' Trend To The Big Screen In A Significant Way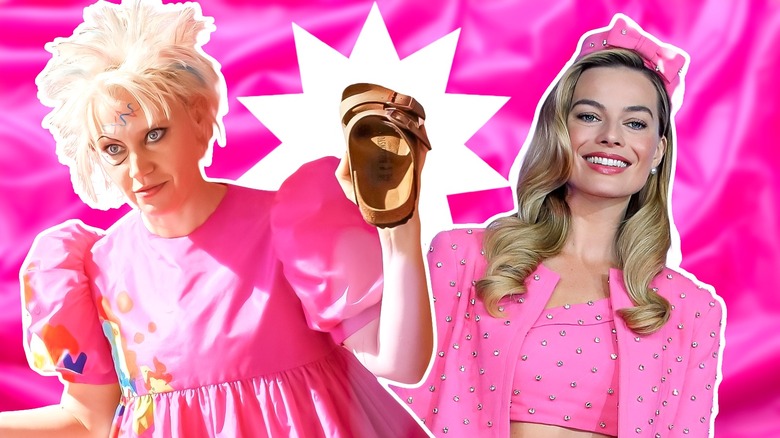 Static Media / Shutterstock / Getty
Over half a century after their introduction into the U.S. fashion market, consumers still can't decide if the trendy Birkenstock sandals are ugly or not. Daily discourse on Twitter shows that the debate — first sparked in the 1960s — wages healthily on. "[S]top saying [b]irkenstocks are ugly before I get my feelings hurt," said one user in a sea of messages like, "Birkenstocks are ugly and I'll never switch up on that." While some consumers are able to take firm sides, one Tweet in particular seemed to capture the general opinion and the purchasing power of FOMO: "I know I said Birkenstocks are ugly but I'm bout to get a pair." 
It's easy enough to argue with strangers online, but Birk-haters are now facing a much more formidable opponent: The wildly successful "Barbie" movie and its costume designers who felt the historically hideous sandal should play a role in the film. In prepping Margot Robbie's titular Barbie for the Real World, Weird Barbie's character offers her a choice: A high heel and her everyday life, or a Birkenstock and the ability to know the truth. Perhaps as part of its bid to represent everyone, the movie has Barbie at first horrified before ultimately agreeing to the controversial shoe. 
So, though dismissed by some as "Jesus sandals," the "Barbie" movie is helping to reclaim Birkenstock's glory ... and perhaps prove, once and for all, that God is a woman. 
New shoes are the first step in Barbie's journey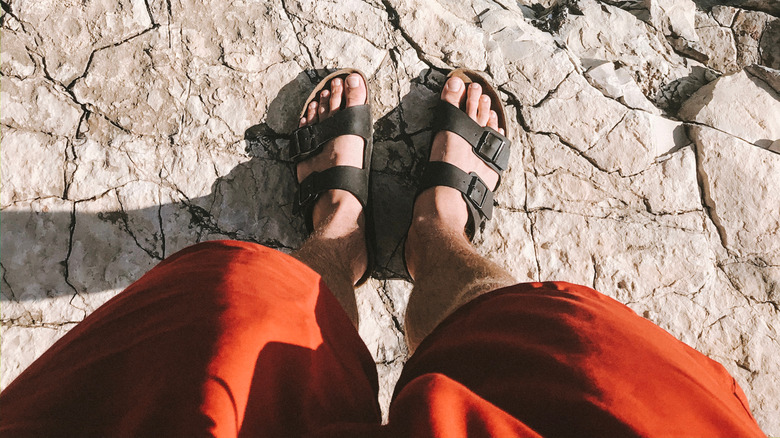 finnyal/Shutterstock
While Birkenstocks are certainly a style choice in "Barbie," they're also a symbol. Weird Barbie's display of the high heel and the Birkenstock shoe next to each other is a not-so-subtle illustration of the difference between the film's two worlds. While Barbie World is an idealized place of glitz and glamor, the Birkenstocks represent the comfort needed to face the real world. Indeed, as live-action Barbie tries out heels with her newly flattened feet, she remarks that she would never wear heels if her doll feet hadn't been optimized for them. 
According to a costume designer Jacqueline Durran's interview with Popsugar, the choice to place Birks as the ultimate "antidote" to oppressive heels was actually made by the movie's acclaimed director, Greta Gerwig. "I can't really take credit for that contrast," she explained. "...But I think it's perfect." Barbie's final decision to remain in Barbie World — and don a pair of light pink Birkenstocks — helps to illustrate the transformation her character goes through. 
Perhaps predictably, outlets like Page Six have emerged to tell movie fans where they can purchase the pink Arizona Big Buckle Sandals that Margot Robbie rocks. Twitter users have also shown off their movie-going shoes of choice, declaring themselves to be Birkenstock Barbies. While some will always be opposed to the controversial cut and style of these shoes, it would appear that Birkenstocks are more than just a summer shoe fad — it's a trend that's here to stay.
Ugly shoes aren't going anywhere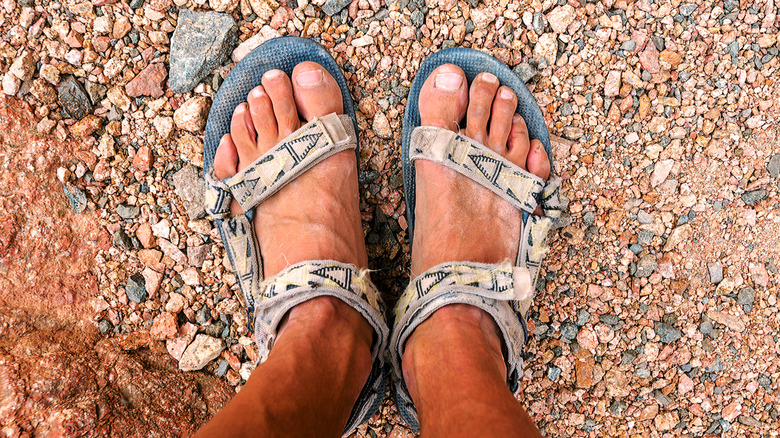 leshiy985/Shutterstock
Birkenstock probably didn't need the "Barbie" movie to save its image ... but the endorsement from the hit film certainly doesn't hurt. According to Lyst, the global shopping platform, searches for Birkenstock Arizonas — the style donned by Margot Robbie in the film — increased by 110% following the premiere. The iconic, informal collaboration has sparked a cultural revolution that may have impacts long after the movie leaves theaters. One Twitter user declared, "I'm going to be Birkenstock Barbie for Halloween this year, I've decided." 
If the Birkenstock brand was at all offended by the suggestion that its sandal is the most repulsive thing Barbie could be presented with, it hasn't shown it. In fact, the company has historically leaned into its identity as a polarizing style. In 2022, a documentary series titled "Ugly for a Reason" explored the design decisions behind every Birkenstock sandal. In its description, the website explained that the doc aimed to explore "the relevance of foot health and [reveal] why healthy shoes look exactly the way they do." 
Perhaps worst of all for Birk-haters is the fact that ugly sandals have become a fashion category of their own, with more foot-friendly options attempting to break into Birkenstock's monopolized market. In Vox's article, "A Cultural History of Hideous Sandals," TEVAs got a shoutout. Perhaps they can also play a role in a "Barbie" sequel. One thing has been made perfectly clear: Discomfort is an outdated shoe trend.