Lush Is Bringing Barbie To Your Bathtub With A New Bath Bomb Collection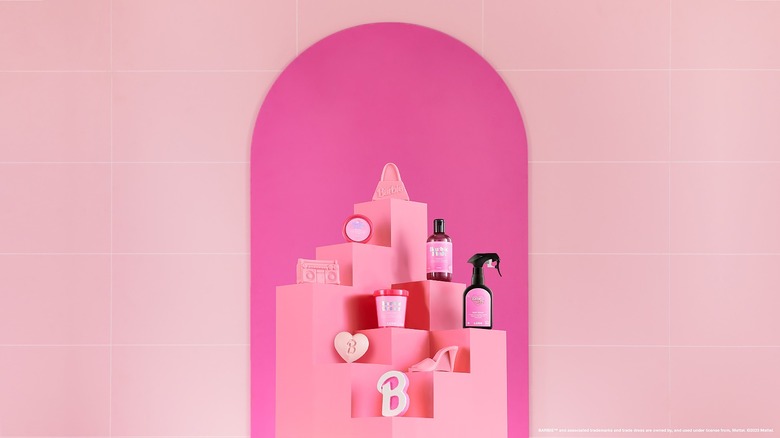 Lush
Since the release of Greta Gerwig's "Barbie," it seems the world has turned pink, and that extends to our beauty routines. Countless bubblegum pink "Barbie" movie collaborations in cosmetics are available to peruse this summer, from "Barbie" x OPI to Nyx. And for the skincare-obsessed, there's always the "Barbie" x Truly Collection, a rosy assortment of scrubs, body butters, and serums.
But the latest "Barbie" launch is sure to make waves with everyone from self-care enthusiasts to fragrance fanatics. That's right — Lush is unveiling a "Barbie"-themed line of its own, and it's everything we ever dreamed of. Fans of the cruelty-free British skincare giant know just how intoxicating its handmade bath and body formulas are, and Lush's "Barbie" collection is filled with new and exciting scents to enjoy.
Bath bombs are, of course, on the "Barbie" x Lush menu, but there are also plenty of other sweet-scented surprises in store. According to a press release obtained by Glam, there's a lot to unpack in the ten-piece collection. "Barbie" x Lush will be available on the Lush app on August 9 and can be purchased online from August 10, but it won't be available to see in Lush stores until August 18. Until then, let's check out more from the highly-anticipated Lush and "Barbie" collab.
Barbie bath products from Lush are poised to make a splash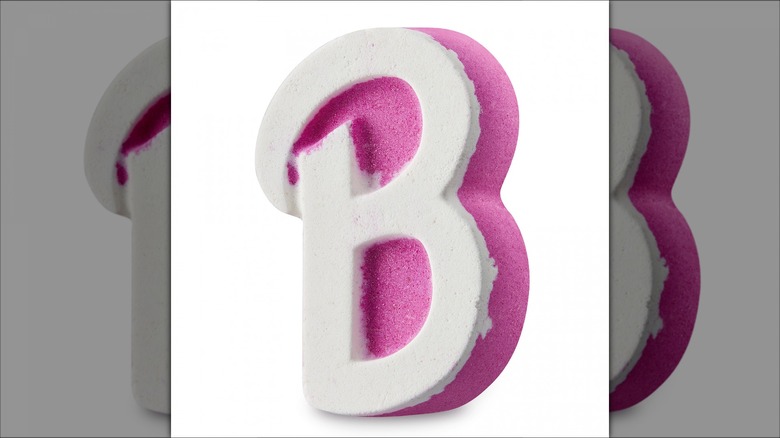 Lush
When we think of Lush, most of us immediately think of its bath bombs, which are among the best in their class. Lush is famous for its eco-friendly packaging, cruelty-free ingredients, and beautiful scents and designs that take self-care to new heights. It's no surprise that its "Barbie"-themed bath bombs and soaps both look and sound irresistible.
The "Barbie" x Lush bath bombs include the "Barbie" B fizzer, a bright pink and white creation filled with nourishing moisturizers like coconut cream and shea butter. There's also the Corvette-shaped "Barbie" bubble bar, which you can crush under running water for an extra-sudsy bath.
Staying true to its British heritage, two soaps in Lush's lineup will feature a classic rhubarb and custard candy fragrance: the "Barbie" Boombox and "Barbie" Handbag. Although Barbie's pink Birkenstocks aren't making an appearance, you can still snag a soap in the shape of her high heel. To replenish your skin's moisture after bath time, try the ruby cocoa "Barbie" x Lush Body Balm, a solid, heart-shaped moisturizer embossed with Barbie's signature initial.
Barbie x Lush products for the rest of your routine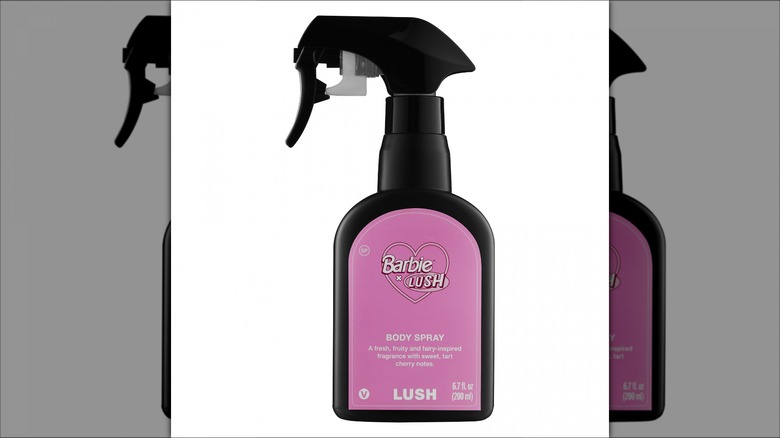 Lush
If bubble baths aren't your bag, don't have an existential crisis on the dance floor. Lucky for you, Lush has you covered with several other "Barbie"-themed options. No matter how you choose to get clean, there's always the "Barbie" x Lush Dream Sugar Scrub, a thick, shimmering formula scented with splashes of lemon myrtle and Persian lime. We can also hardly contain our excitement for the "Barbie" x Lush Pink Shampoo, a blush-tinged wash with a formula made from marshmallow root, strawberry, and lemon extracts.
Skincare lovers won't want to miss out on the "Barbie" x Lush Jelly Mask. According to Lush, these jelly masks combine the powers of ingredients like glycerin and carrageenan for a softening experience like none other. This bouncy "Barbie" mask bar contains a touch of pink, along with soothing calamine powder and the floral aroma of rose absolute.
Fusing together two of our favorite themes, Barbie and the Y2K revival, Lush is also giving us the gift of fragrance with a "Barbie" Body Spray. If you guessed that America's favorite doll might smell sweet, you'd be correct. The retro body mist is filled with a bouquet of sugary, fruity notes, from cherry-like almond essential oil to tonka bean — the perfect finishing touch for a "Barbie"-themed self-care ritual.