Avoid Mini Hemlines For Your Wedding Guest Dresses And Try This Instead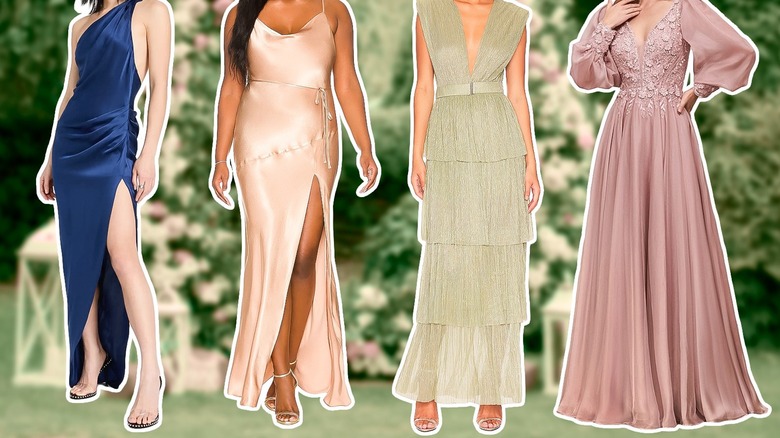 Static Media/Shutterstock
The title may have you feeling a bit stressed, but mini hemlines honestly are not the best idea for a wedding. One of the main reasons for this is the dress code. The dress code helps wedding guests fit the theme that the bride and groom have chosen, while still allowing guests to express their own personal style. There are multiple types of dress codes ranging from festive to formal. However, most of these options suggest dresses that fall below the knees or longer.
For a wedding, it's safer to wear a midi dress or a maxi-length gown. A midi dress usually falls between knee and ankle length, regardless of your height and size. On the other hand, a maxi-length gown goes to your ankles or may even brush the floor, creating a more dramatic look. What makes these dresses great for wedding guests is that there are so many different styles and options to suit anyone's preference.
Go for an A-line dress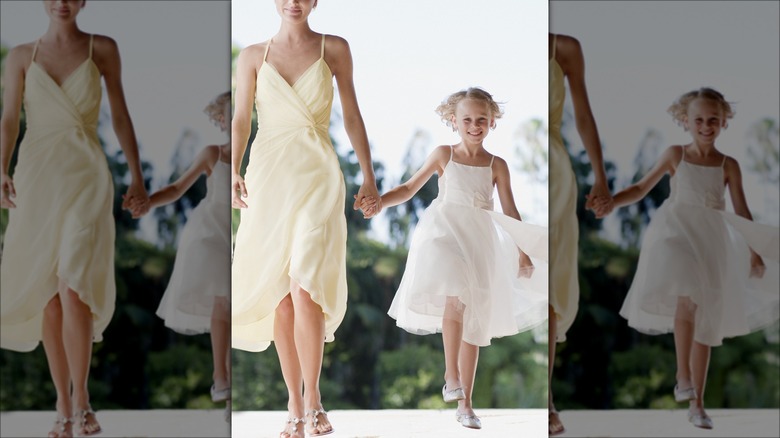 Tom Merton/Getty Images
If you don't know where to start as a wedding guest, consider choosing an A-line dress. These garments often have a defined waist and flare out towards the hem, forming a triangle-like silhouette. Alternatively, if you want an option that adjusts to your body, consider a wrap dress.
Pick a flowing gown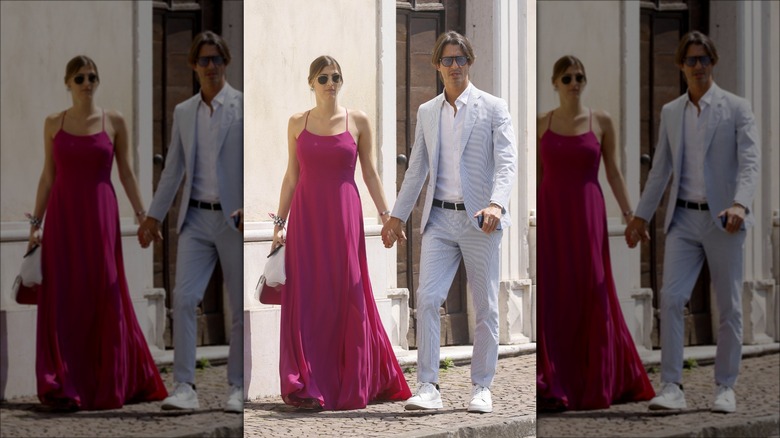 Robino Salvatore/Getty Images
If the wedding you're attending is a formal event, a maxi dress is the way to go. These dresses, whether they are super simple or covered in detail, exude regality and create a beautiful ensemble. You can choose from many silhouettes, but A-line and fitted are perfect options for a wedding.
Find a dress with a busy print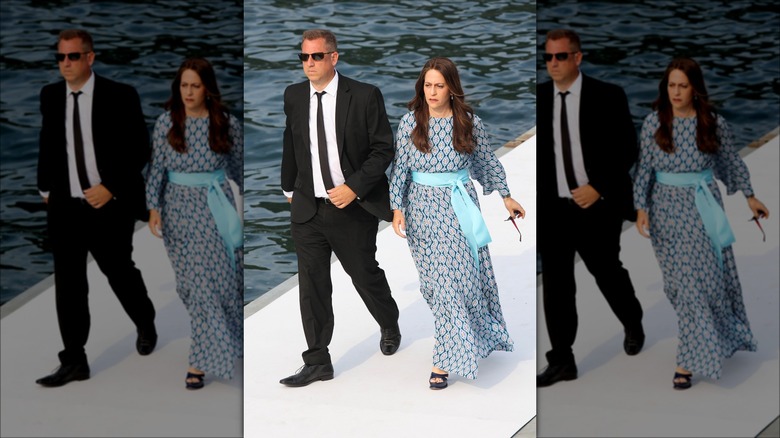 Robino Salvatore/Getty Images
If you want to stand out (without outshining the bride), look for a dress with a busy print or intricate design. The options are truly endless and can be a great way to show off your style without breaking the dress code. Even if the bride has specified a particular color for guests to wear, there is usually a pattern that can complement it.
Be a little daring with a cutout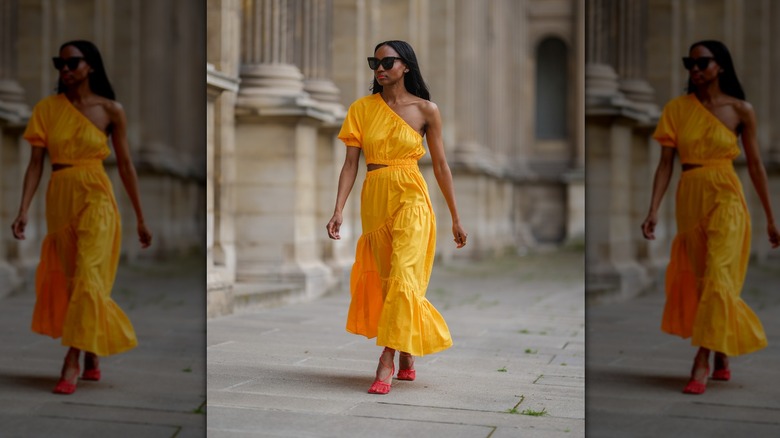 Edward Berthelot/Getty Images
Wearing a cutout dress as a wedding guest can be controversial, depending on the bride's preferences. At Glam, we love them, as they add a fun detail to the garment without being too revealing. However, it's important to note that cutouts are best when they are small and only show a small amount of skin.
Play up your dress with feathers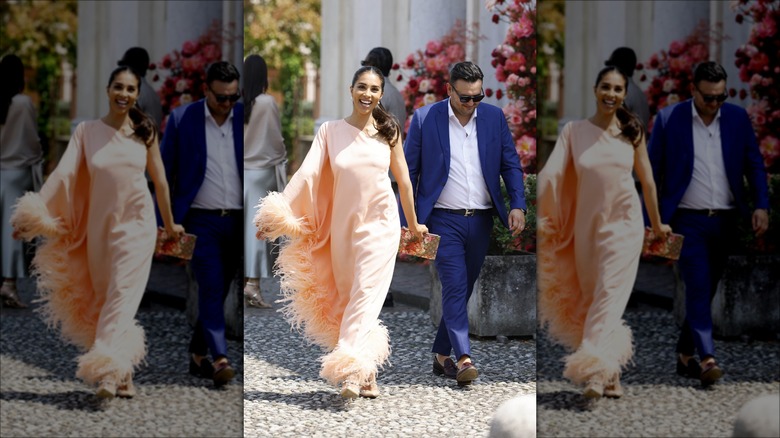 Robino Salvatore/Getty Images
For guests who want to be a little extra, consider wearing a dress with feather detailing. Feathers have been all over the red carpets. They create a beautiful, statement-making look that is both fun and retro and will set you apart from other individuals attending the wedding.
Look for a dress with a slit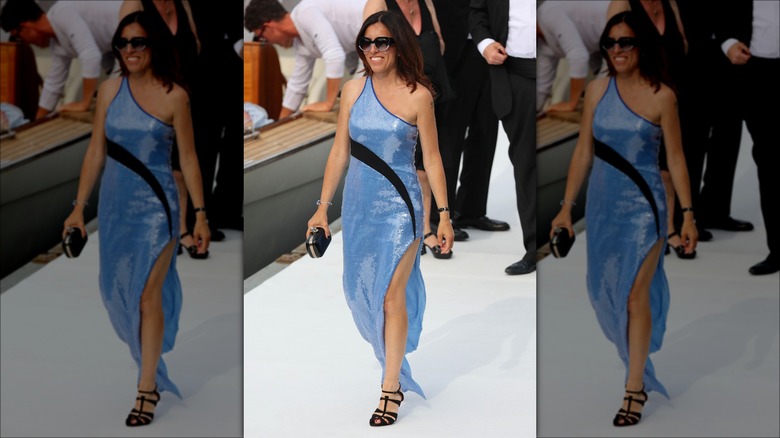 Robino Salvatore/Getty Images
Although minidresses are not the best option, dresses with slits are a great way to show off your legs while still following the rules of the wedding. Slits come in different sizes, lengths, and positions to suit everyone's tastes while allowing them to stay in their comfort zones.
Layer up your dress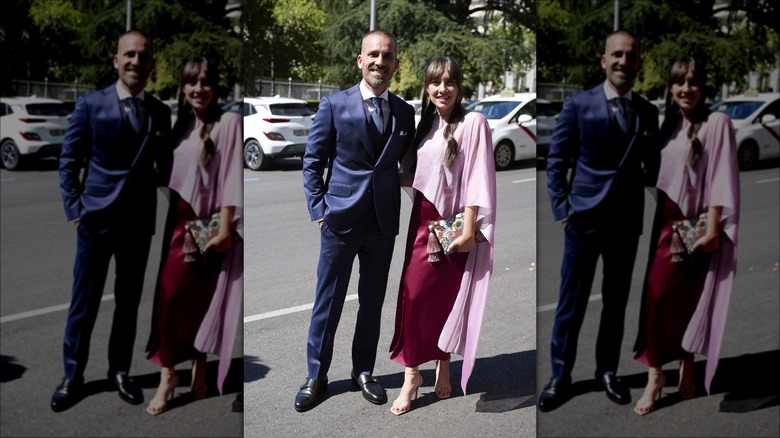 Carlos Alvarez/Getty Images
If you're attending a conservative wedding, your only options for a dress are midi and maxi length. If you find a midi dress but feel that the torso is too revealing, you can layer up the outfit with a shawl or poncho. This will create a dynamic look without detracting from the dress.