Inappropriate Royal Outfits We'll Never Forget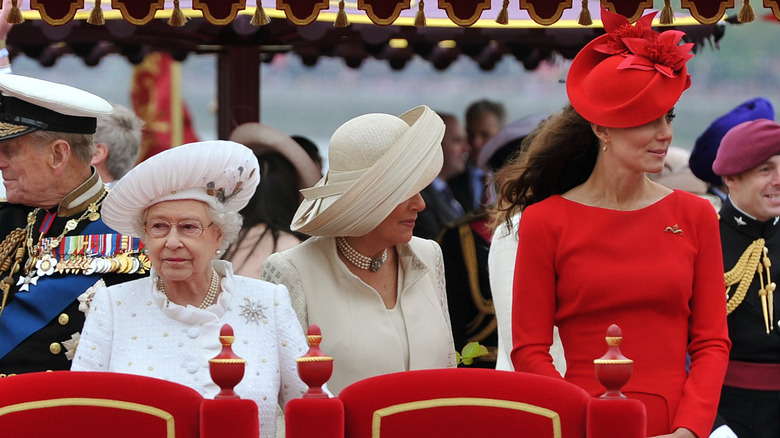 Anwar Hussein/Getty Images
It probably comes as no surprise to hear that there are several rules the royal family is expected to follow when dressing for public appearances. Some of them seem downright silly at first glance — for example, have you ever noticed that royal women always hold their purse in their left hand to keep their right hand free to wave at the public? Other fashion rules, like sticking to an appropriate skirt length or keeping jeans for casual affairs, make sense for royalty, though we wouldn't bat an eye if we saw anyone breaking them in public.
The abundance of fashion guidelines members of the royal family are expected to follow make it almost inevitable that royals will commit a fashion faux pas at some point. Even something as seemingly innocuous as wearing a black dress at the wrong event could very well have sent Queen Elizabeth II into a tizzy. While we wouldn't find any of these 'fits inappropriate on the streets, it's a different story in the eyes of the royals. Strict royal fashion rules have caused many members of the royal family to (sometimes inadvertently) wear royally inappropriate outfits, and some are too iconic to ever forget.
Kate Middleton's dress at the Diamond Jubilee Pageant caused a stir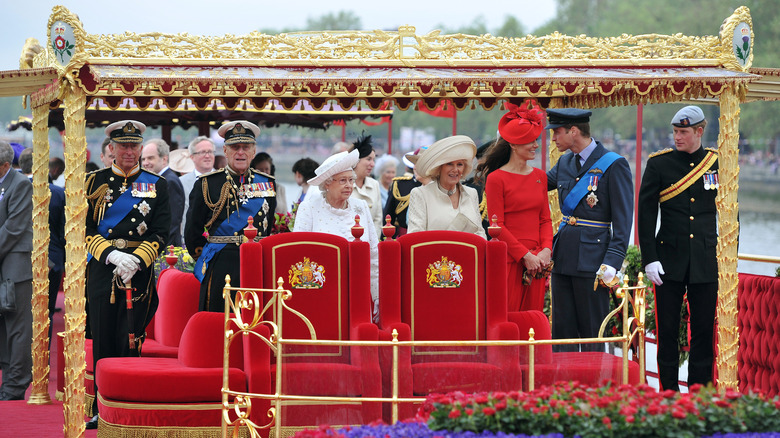 Anwar Hussein/Getty Images
The red dress Kate Middleton wore to the 2012 Diamond Jubilee Pageant certainly stole the spotlight, but it probably shouldn't have. The show should have been all about Queen Elizabeth II, as it celebrated 60 years since her ascension to the throne. Though the rest of the royal family wore muted colors, Middleton seemingly chose to make a statement in bright red, garnering a good amount of backlash from outlets such as the Daily Mail. 
Princess Diana's engagement ring was too common for the royal family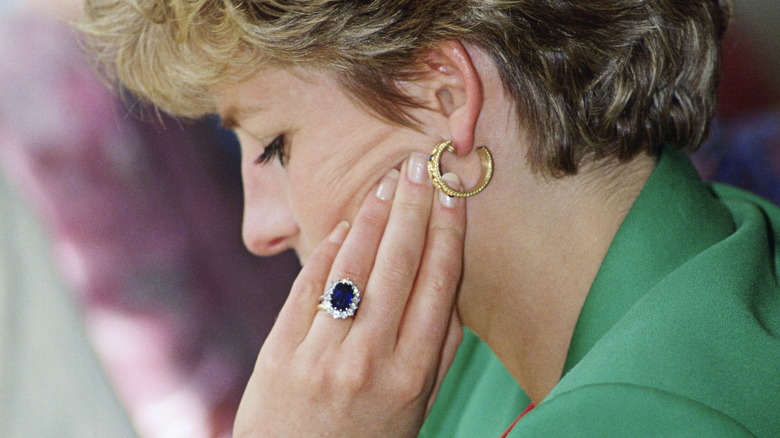 Tim Graham/Getty Images
Are you wondering how on earth Princess Diana's iconic blue engagement ring could ever be the subject of controversy? In the eyes of the royal family, the ring was simply too common. Sure, it was created for Princess Diana, but it then made its way to jeweler Garrard's catalog, making it available to any buyer with enough cash (via Brides). This made the royal family less than pleased with the engagement ring. 
Kate Middleton has worn wedges, but never in front of the Queen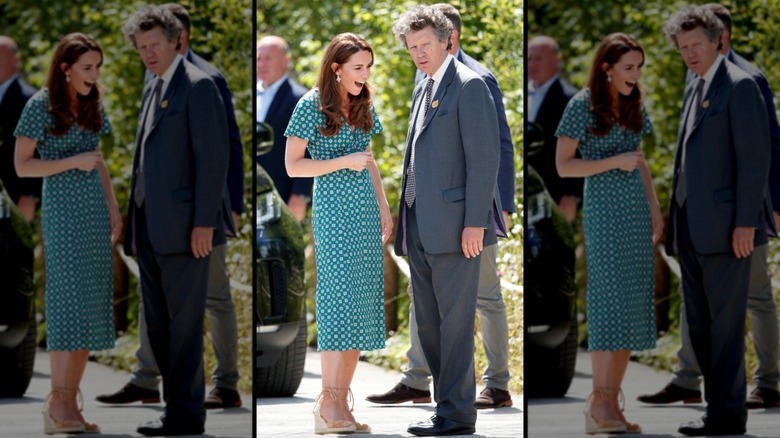 Max Mumby/indigo
Kate Middleton seems to love wedges, and honestly, we stand by her on opting for this comfortable heeled style. Queen Elizabeth II, however, did not, according to a royal insider, per Woman & Home. Though Middleton has frequently been seen sporting wedged shoes, she was never seen wearing them in the late Queen's presence. 
We'll never forget Princess Diana's revenge dress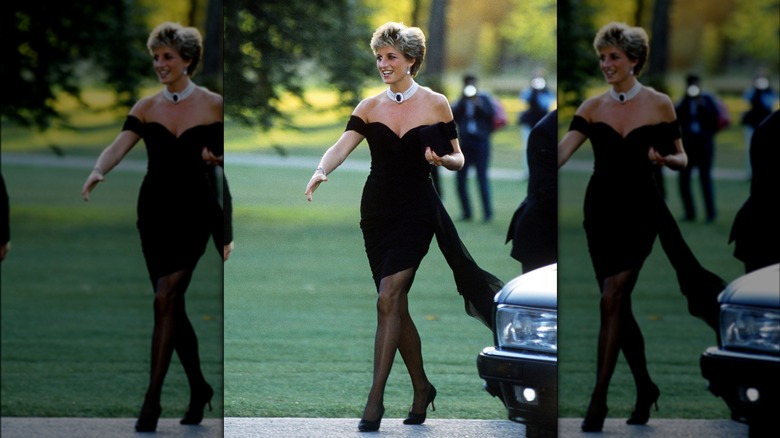 Princess Diana Archive/Getty Images
Princess Diana's iconic revenge dress is one of the most well-known royal outfits in history. She wore it on the same evening King Charles III admitted to his adultery with Queen Camilla, and the fact that Princess Di appeared looking both confident and stunning despite her husband's infidelity makes it one of our favorite royal looks of all time. Why could it be considered inappropriate? The off-shoulder, cleavage-heavy dress was considered "daring" by the princess, who'd had it for years before finally making this infamous appearance. 
Kate Middleton wore the wrong dress to the Solomon Islands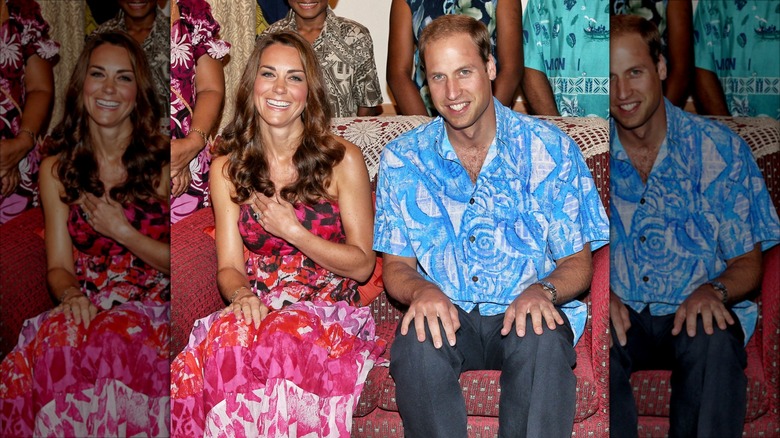 Chris Jackson/Getty Images
Unfortunately, we'll never forget the time Kate Middleton (through no fault of her own) accidentally wore the wrong dress to the Solomon Islands. Though she was supposed to dress in the island's traditional clothing, a member of the welcoming committee Kethie Sunder accidentally laid out a dress that had been made in the Cook Islands. It was such a fashion faux pas that Middleton hasn't been seen wearing the dress since. Notably, William, Prince of Wales, also wore a shirt made in the Cook Islands, but his wife seemed to bear the brunt of the bad press. 
The dress Meghan Markle wore to her first Trooping the Colour ceremony has caused some controversy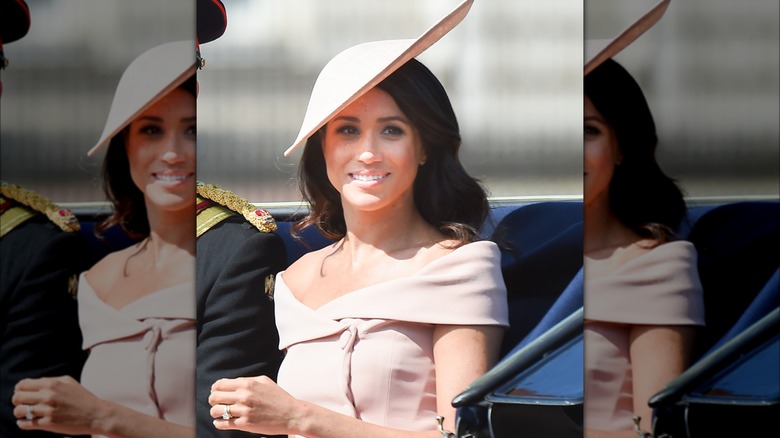 Samir Hussein/Getty Images
The pink dress Meghan Markle wore to her first Trooping the Colour ceremony may have been inspired by Princess Diana, but it's caused a bit of controversy nonetheless. Though most of us wouldn't bat an eye at an off-shoulder dress, and though off-shoulder styles don't technically break royal rules, it was still fairly heavily criticized for being an inappropriate look.
Princess Diana's Met Gala dress seemed to resemble lingerie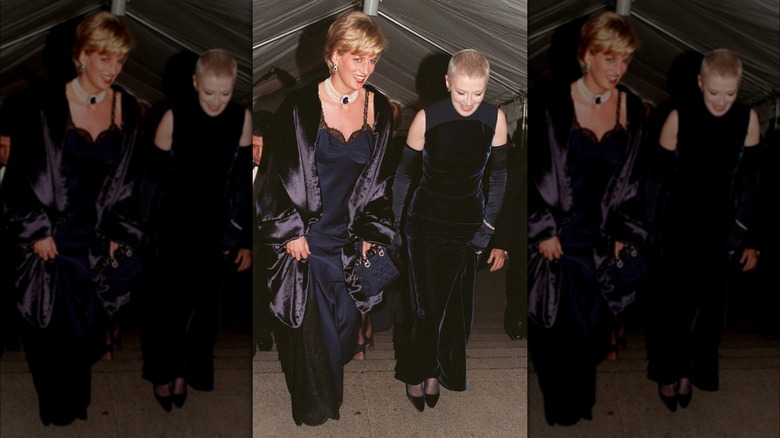 Anwar Hussein/Getty Images
Princess Diana made a single Met Gala appearance, and her choice of attire was something that even she was worried about appearing in. The silky slip gown reportedly had her worried she would embarrass her sons, and she received much criticism for wearing a dress that was deemed both too revealing for a royal (though she had just divorced from King Charles III, who was the Prince of Wales at the time) and too casual for the Met Gala. 
Kate Middleton's wedding gown is the subject of a lawsuit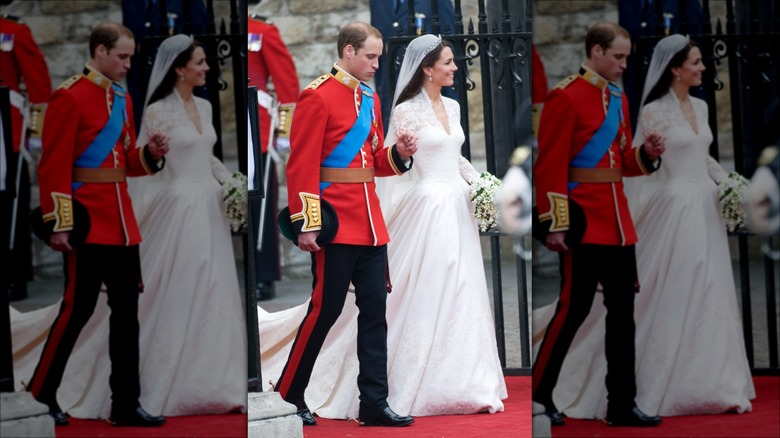 Samir Hussein/Getty Images
Though her wedding dress is definitely one of Kate Middleton's best Alexander McQueen looks, we can't gloss over the fact that the dress itself is the central figure in a lawsuit. Bridal designer Christine Kendall sued McQueen for copyright infringement regarding the design of the wedding dress in 2016 (via Women's Wear Daily). Though the fashion house has denied these allegations, wearing this dress would certainly be scandalous should they prove to be true.
Princess Diana's bike shorts were far too casual for royalty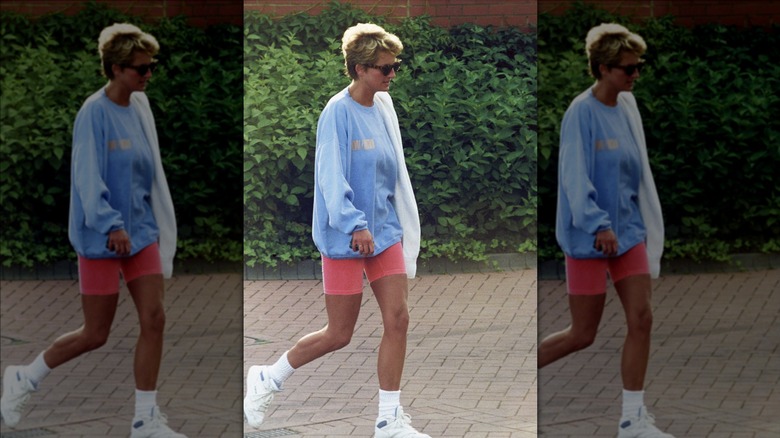 Anwar Hussein/Getty Images
Princess Diana's iconic bike shorts are a trend that's been adopted by many a casual fashionista, but they weren't always welcomed when she wore them. She was still required to dress like a princess in public, even though her marriage to King Charles III was over — and bike shorts are far too athletic and reveal way too much skin to follow royal guidelines.
This strapless dress Queen Elizabeth wore in Malta was a bold choice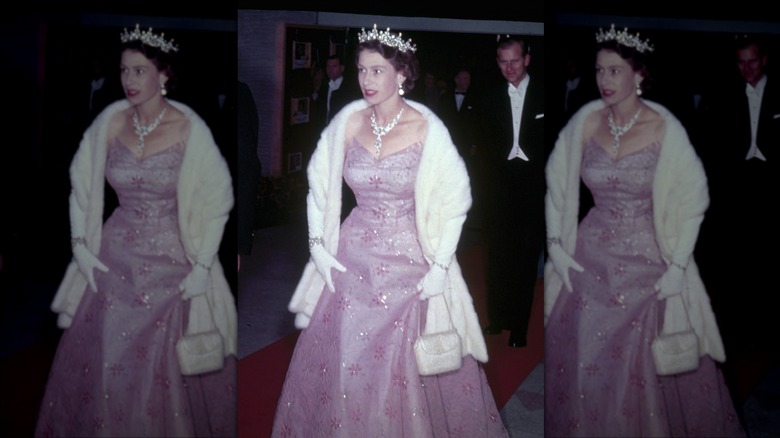 Hulton Archive/Getty Images
This strapless dress worn by Queen Elizabeth II in 1951, when she was still a princess, was considered provocative for a member of the royal family to wear at the time. Sleeveless dresses aren't technically against royal rules, even when they're paired with shoulder coverings, but it's rare that you'll see a member of the royal family wearing one in public, making this dress a borderline scandalous look for the Queen to appear in. 
Should Princess Diana have worn black to Goldsmiths' Hall?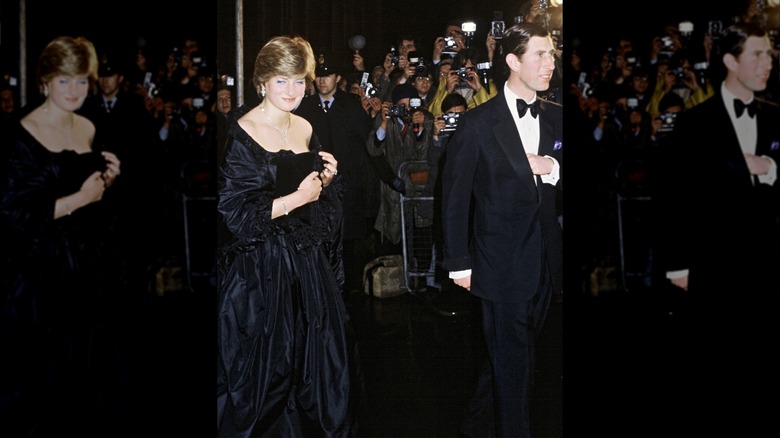 Anwar Hussein/Getty Images
Though Princess Diana has proved to be fairly willing to break royal fashion rules, the fashion faux pas she made at Goldsmiths' Hall in 1981 was likely unintentional. King Charles III criticized the dress, and not because it bared too much shoulder or cleavage (though that was certainly commented on). Rather, he didn't like that his bride-to-be was wearing black, a color typically reserved by royals for times of mourning. 
Meghan Markle wore black nail polish at the 2018 British Fashion Awards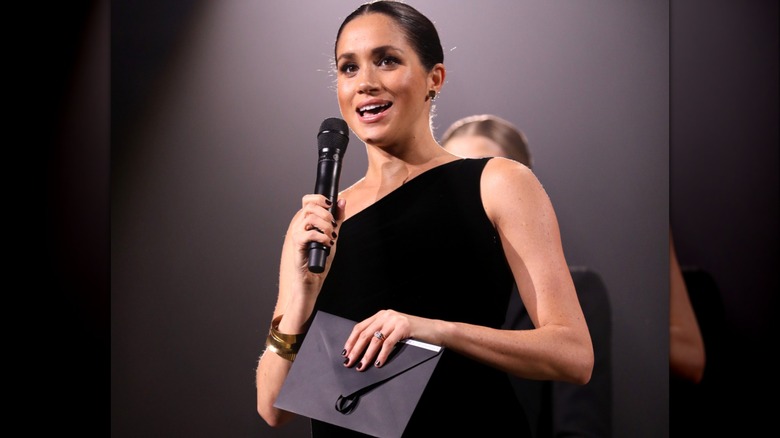 Tristan Fewings/bfc
Speaking of the color black, could we ever forget the time Meghan Markle wore black nail polish to present at the 2018 British Fashion Awards? Though there's no hard-and-fast rule banning royals from wearing bold nail polish, it's understood that members of the royal family will typically opt for subtler polish colors, like nudes or pale pink. We, however, are obsessed with this small show of rebellion. 
Princess Di's iconic Travolta dress may have been too provocative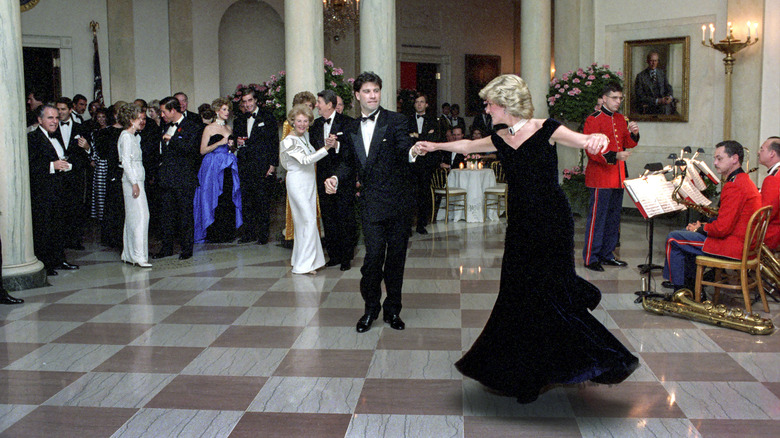 Handout/Getty Images
Nobody can deny that Princess Diana looked stunning 100% percent of the time, but that doesn't mean her looks were always received well by the press. Take this black dress she wore to the White House in 1985, for example. It boasted a chest-baring neckline, which many saw as being inappropriate for a member of the royal family to wear to a formal event.