Enter Fall 2023 With Trendy Barbie Bangs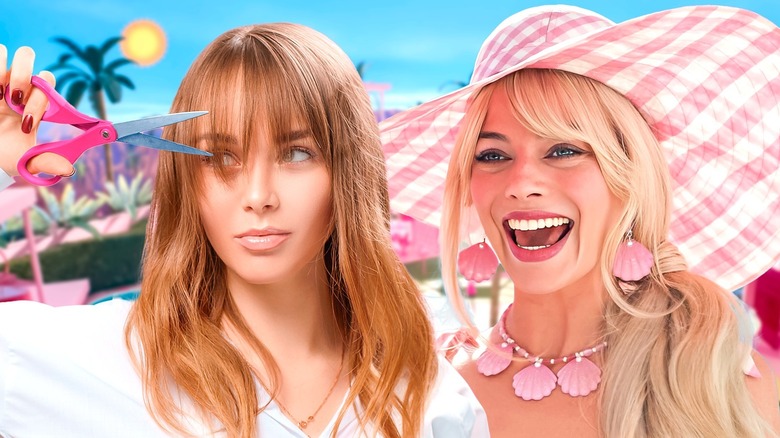 Static Media/Shutterstock
Although summer is over, it doesn't mean Barbiecore is going anywhere anytime soon. While the following Barbie trend has nothing to do with the fascinating pink hue, it does stem from Barbie's iconic sense of style. Barbie bangs are the hairstyle trend to sweep salons with classic yet trendy looks that work with almost any hair. "This hot new trend is a mixture of face-framing bangs that elevate the [cheekbone] area with a soft wispy micro fringe in between," editorial hair stylist Diane Gorgievski told Vogue. So while Margot Robbie donned wigs in the film, this hairstyle is perfectly achievable in real life.
Barbie bangs are more than just another trend stemming from the iconic movie. The hairstyle is the perfect base for all of your fall looks. As we enter a new season, these bangs will help transition you into another era of the year. While bangs are comically known as the effect of a big life adjustment, these bangs are intentional and chic. If we've learned anything from experiencing the Barbiemania of the last year, it's the fact that we could all use some Barbie magic in our day-to-day.
Easy short hairstyle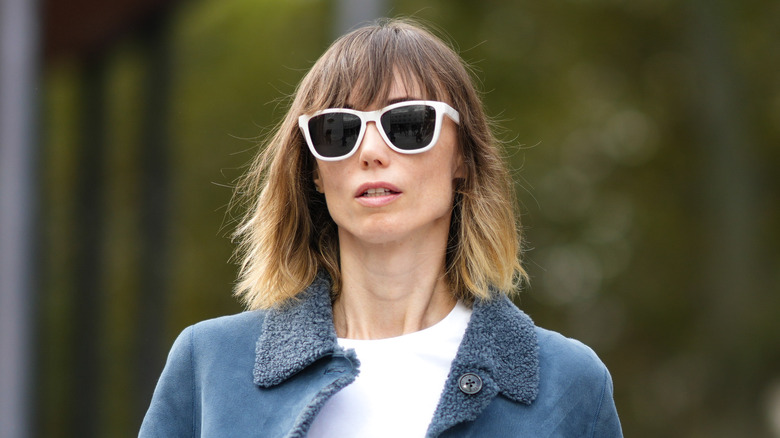 Edward Berthelot/Getty Images
Unlike many haircuts, Barbie bangs work with any length of hair. While you won't get the Barbie ponytail out of it, short hair can benefit from these bangs that create a textured, airy hairstyle. After all, short hairstyles tend to fall flat and plain. However, a few Barbie bangs can help give you a more dynamic fall look. With blunt bangs framing the face and overall hair, you don't need long locks to rock this Barbie hairstyle.
Wispy Barbie bangs
What makes Barbie bangs stylish is the addition of wispy bangs that almost cover the eyes. This airy fringe gives your hair movement and an extra visual appeal. "Wispy bangs are the softer feathery version of the blunt straight-across bangs. They differ from curtain bangs in that curtain bangs are parted down the middle and are cut longer to frame your face on both sides," hairstylist Gregga Prothero told Byrdie. However, for those wanting something more Hollywood-esque for the upcoming season, increasing the wispy nature of your bangs gives you even more interest.
Retro Barbie
Anyone who saw the "Barbie" movie was probably immediately captivated by Barbie's initial retro look. With gorgeous bangs in a 60s updo, this look became iconic and is likely the inspo behind everyone's desire for Barbie bangs. Whether or not you're opting for an updo, tame any flyaways for a sleek and voluminous hairstyle. Other retro hairstyles can give you this same doll-inspired look, such as curtain bangs.
Face-framing updo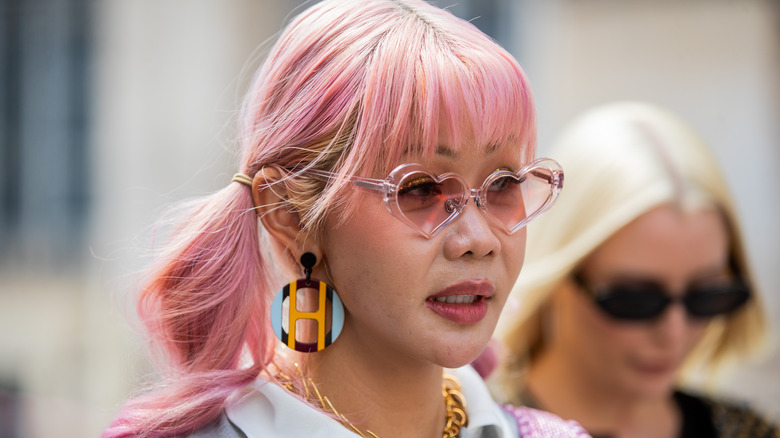 Christian Vierig/Getty Images
By opting for the Barbie bangs haircut, you can also get sweet face-framing updos, as seen in the movie. With the addition of choppy bangs, your updos will bring small pieces of hair around the face. This detail levels up your updos, giving you a stylish feminine touch for the upcoming fall season.
Elegant fall look
If we've learned anything from the "Barbie" movie, it's that Barbie can be anyone and wear practically anything she wants. With that in mind, the Barbie bangs are the perfect hairstyle to be flexible with your looks. Leave it straight, make it wavy, or add some curls because these bangs will bend and twist to fit your style. Barbie doesn't stick to just one look, so enjoy having a versatile look that'll work for all your fall hairstyles.