If You're A Fashion-Rule Faithful, You May Want To Avoid Black Purses In The Summer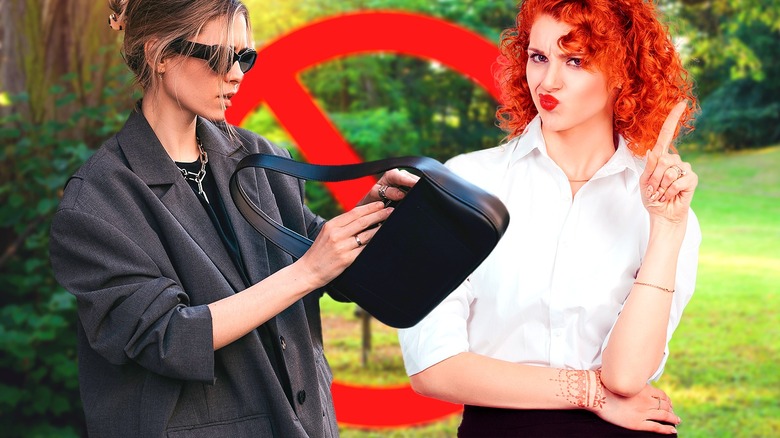 Static Media / Shutterstock
Between the three-color rule and the no white after labor day concept, we've all heard our share of fashion "rules." Of course, many fashion-related rules seem unnecessary, and everyone should just focus on wearing what makes them feel good. However, one "rule" makes sense: avoid carrying black purses in the summer. Sure, there's the argument that black is always in style and sophisticated — and those points are valid. But summer is the one time of the year that just doesn't vibe with black garments and accessories.
We've all experienced those moments when we wore black to be chic in the summer, only to regret it, sweating under the sun and feeling too uncomfortable to enjoy outdoor activities. For instance, TikToker @slothythedemon shared a hilariously relatable video demonstrating how sweaty and uncomfortable it feels to wear black in the summer. Plus, wearing such dark pieces can appear somber during such a bright and cheerful season, so of all the fashion rules out there, the one about avoiding black clothes and purses in the summertime seems to be the most valid.
Light or bright purses are better for summer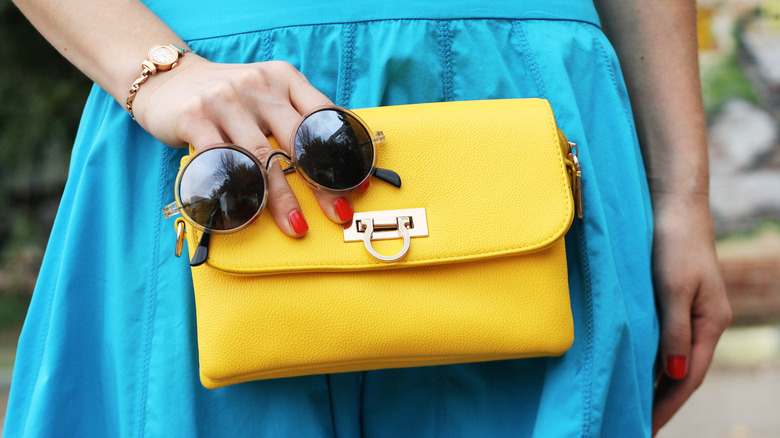 Visoook/Getty Images
While you might initially feel down about the idea of ditching your favorite black purse for the summertime, many lovely options are better for the hot season — you'll likely be glad you tried them if you give lighter looks a chance. For example, pastel hues are trendy in the summer of 2023, and they're just so beautiful. "Pastel tones like the PANTONE 12-4611 Saltwater Slide [for example] speak to a positivism and a kind vision of the future," Laurie Pressman, vice president of the Pantone Color Institute, told The Zoe Report. Not only are pastels trendy, but they complement many summer outfits, adding a touch of soft color without overpowering the clothes.
Meanwhile, brighter hues are excellent for anyone willing to explore bolder purse looks, as summer 2023 is all about neoncore. A daring, vibrant option can elevate even the most plain outfits, turning them into statement summer looks! But if you prefer to only stick to neutrals, white is an excellent alternative to black for the summer. Like black purses, white options are classic and elegant, and should match pretty much any summer outfit in your closet.
Try these summery options instead of black purses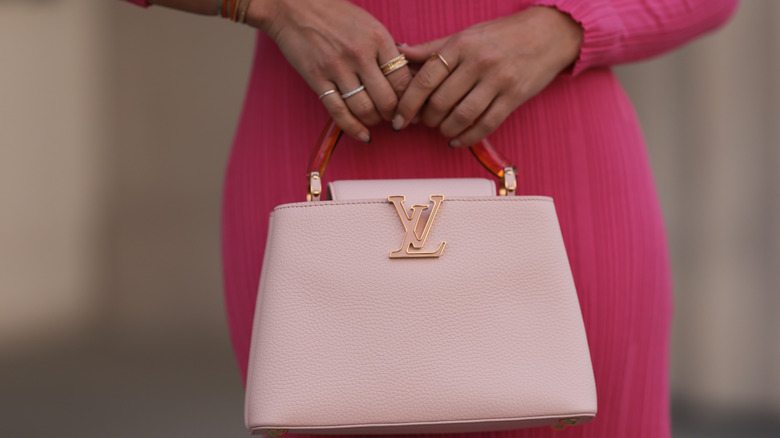 Jeremy Moeller/Getty Images
If you're ready to put your black purse aside in the summer and explore other options, we already did some research for you. For instance, anyone interested in the pastel look who wants an affordable option should check out the pastel purple Gladdon Crossbody Bags For Women Crossbody Purse Shoulder Bag, available for about $20 on Amazon at the time of writing. The vegan leather petite purse has 4.4 out of five stars with more than 3,000 ratings. Moreover, baby pink is making the Barbiecore trend more quiet luxury, so pastel pink options are perfect for trendy and girly summer ensembles. One example is the Nine West Judilee Mini Flap Crossbody, selling for under $35 on Amazon. The baby pink purse has a near-perfect 4.9-star rating, and around 90% of reviewers gave the bag five stars at the time of writing.
On the other hand, anyone who wants a louder vivid yellow purse can bring the sunshine to any setting with the Trendeology Retro Vintage Gold Chain Small Casual Party Clutch Purse Bag Cross Body, available for just over $20 on Amazon. The Amazon's Choice item is made of faux leather and has 4.1 stars. Last but not least, everyone should have at least one white purse. An affordable and stylish option is the Diamond Quilted Crossbody Bag, selling for around $20 at Forever 21, and it has 4.7 stars at the time of writing.