Racing Jackets Are The Scandi Style Statement Piece For Fall 2023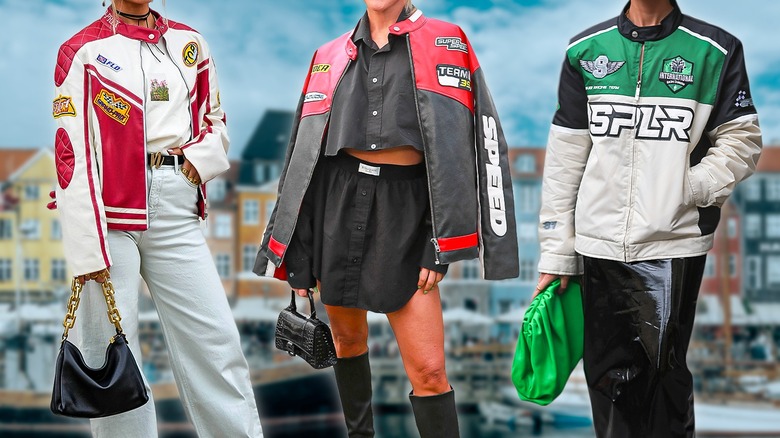 Static Media/Shutterstock/Getty
We've already seen how Copenhagen Fashion Week has brought us some of the hottest trends for fall 2023, and it's official: racing jackets will become the statement outerwear for all of your autumnal looks. The racing jacket is not a new trend, as we've previously seen it during the prime days of the motorcore movement. This piece gives your outfits an edge, often paired with biker boots and leather accents. Even if you aren't entirely on board with the street-style aesthetic, a racing jacket can bring some much-needed texture to your outfit. For all the minimalists looking to copy this cool-girl vibe, there are racing jackets that can give you a laid-back aesthetic without sacrificing your style.
With their almost year-round cold weather, Scandi girls are the ultimate inspiration for all the casual chic looks for the fall and winter. Now, the racing jacket has jumped from the Nordic trendsetters and has hit the runways worldwide. Brands like Gestuz and Christian Dior have already explored how to incorporate the racing jacket in exciting ways.
Sleek racing jackets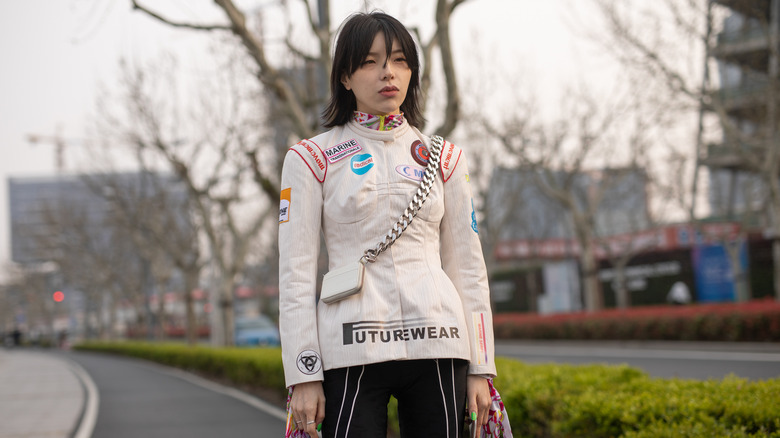 Matthew Sperzel/Getty Images
If you've ever seen a racing jacket, odds are it's either oversized or bulky. Form-fitting and sleek racing jackets are hard to come by but are stellar statement pieces that fuse the grungy look with high fashion. These casual jackets are better suited for every day while still containing the authentic patches and hardware you'd find on any racing jacket. Your best bet for finding these rare gems will be in a knit or lighter jacket that's easier to make into a form-fitting shape. 
Oversized fit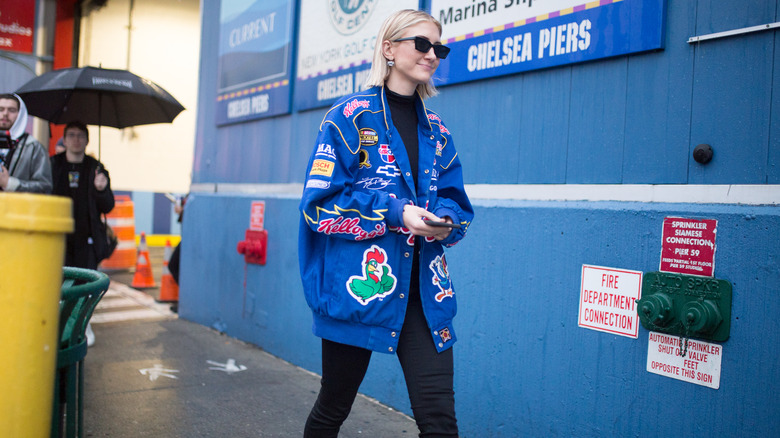 Matthew Sperzel/Getty Images
To the delight of the Tumblr and Pinterest girls of the 2010s, oversized racing jackets are in once more. While they might seem overwhelming at first sight, these outerwear pieces are chic and warm. Not only will they protect you from the elements, but they can also help bring together your fall looks. Strike a balance by opting for a formal 'fit that you can layer with this casual piece. The oversized jacket will help to dress down your look but still makes you look sharp and put-together for any event.
Monochrome option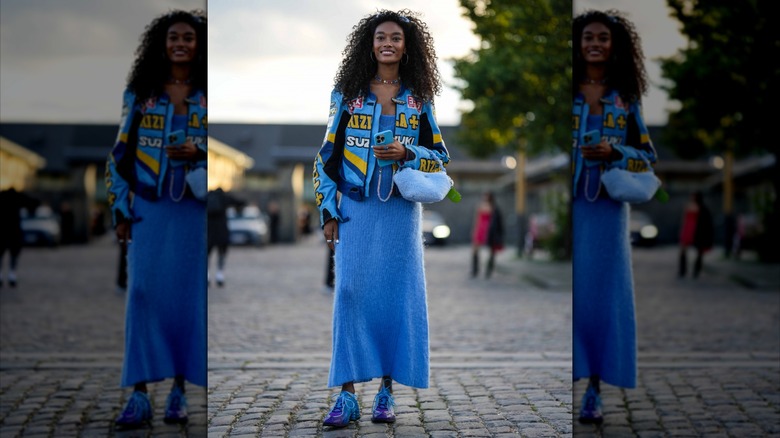 Edward Berthelot/Getty Images
Styling your racing jacket might be the biggest challenge regarding this fall trend. While unique, they are overwhelming and can clash with your outfit if not styled properly. To get the most out of your pieces, opt for a monochrome racing jacket that will blend in with your fall looks. As long as the base blends in, the patches, texture, and hardware can still give your outfit the extra splash it needs. Look no further than Chloé's Fall 2016 collection for a monochrome moment right off the runway (via WWD).
Subtle pieces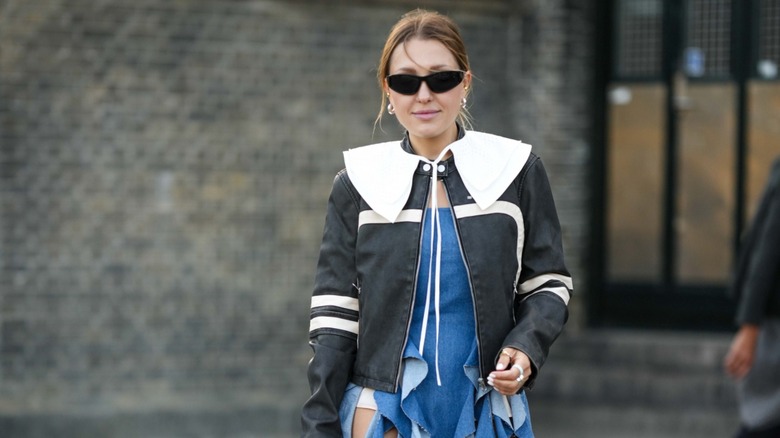 Edward Berthelot/Getty Images
It's hard to imagine that any racing-inspired piece can be subtle, but there are ways that even minimalists can rock this trend. By opting for a clean silhouette with no accents, you can get the edginess of the racing jacket without all the flashiness. Similar to a leather jacket, these pieces still resemble a racing jacket with only racing stripes, and without patches or logos. During the Versace Spring-Summer 2023 runway, we saw this garment in full effect, with sleek dark racing jackets showcased against glamorous black outfits.
Cool-girl jackets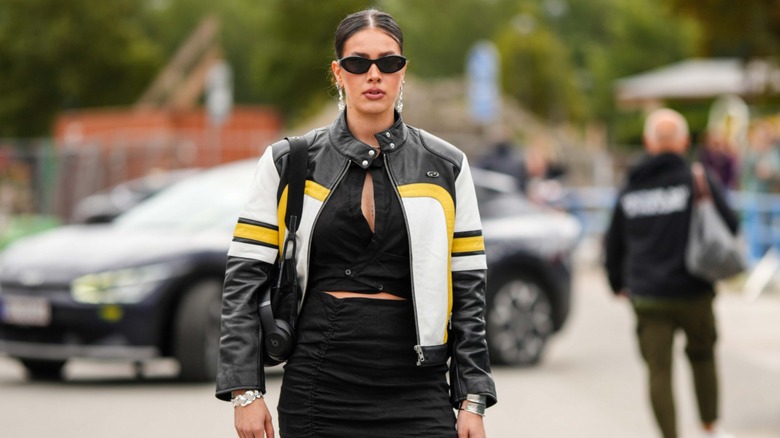 Edward Berthelot/Getty Images
Regardless of which racing jacket you choose, the piece brings an inevitable boundary-pushing quality to your fall closet — no need to stress about the rest of your outerwear collection once you have a racing jacket. To style the racing jacket with an unforced coolness, you must layer it with other chic pieces. There's no better inspiration than one of the pros. During the Ferrari Spring Summer 2023 fashion show, we saw how the brand behind some of the most fantastic cars in Formula 1 could turn a simple racing jacket into a cool-girl staple.
Pops of color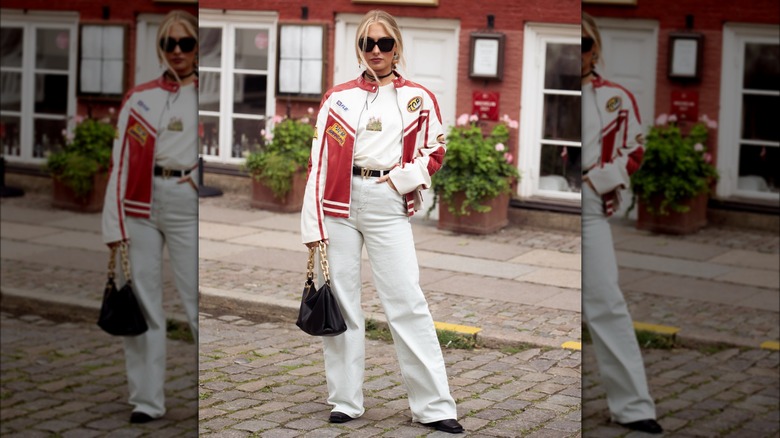 Raimonda Kulikauskiene/Getty Images
Racing jackets come in all shapes, sizes, and designs, which makes it much easier to pick one that suits your style. The best way to get the most out of your garment is by making it contrast against subtle hues. For a more eye-catching look, opt for jackets that contain pops of bright and saturated shades that can stand out against muted tones. This strong contrast will be visually entertaining and gives you the base for many statement fall outfits.