Creative Ways To Style A Bodysuit For Fresh, Versatile Looks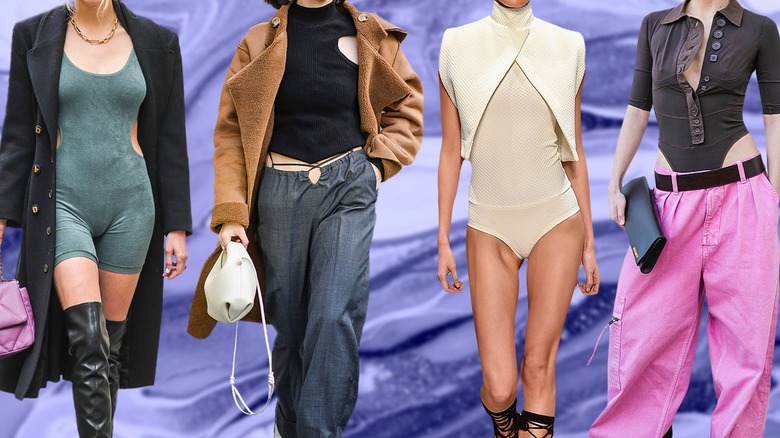 Static Media/Shutterstock/Getty
We think that there needs to be a new regular in the line-up of wardrobe essentials: To take your closet up a notch, you need a trusty bodysuit. Whether you're building a capsule wardrobe or are a maximalist filling up your third closet space, a bodysuit deserves its place because it can not only take you out of your comfort zone but also be endlessly customizable.
And unfortunately, yes, that also means your physical comfort zone. The garment isn't the most convenient option in the bathroom and poses the risk of wedgies, but we're more interested in how its unique design can take you out of your creative comfort zone. A bodysuit provides new constraints and freedoms to guide your outfit selection, and it's the perfect opportunity to play around with your self-expression and form new styles. (Hello, fun patterns!) To help you best achieve this, we rounded up some excellent examples of celebrities and influencers who have used bodysuits to do precisely that.
With a micro-skirt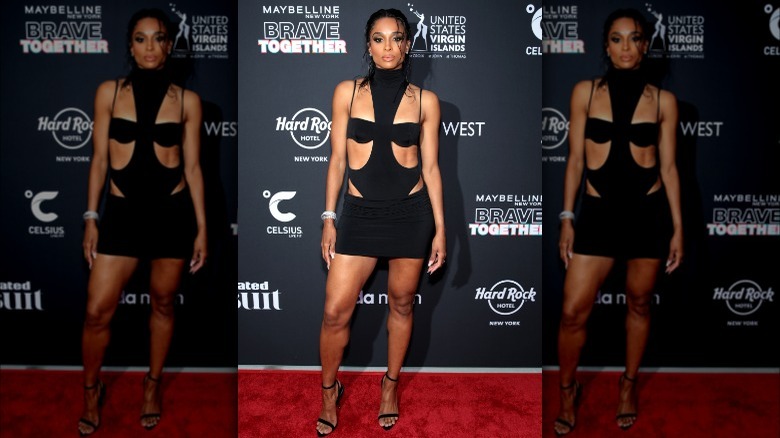 Dimitrios Kambouris/Getty Images
One of the hundreds of Y2K trends to come back into style is the micro-skirt. Although it's a killer asset to any outfit, a lot of people struggle to style these low-rise miniskirts. A bodysuit can be the missing puzzle piece to complete the look. Ciara perfected this combination, pairing a black micro-skirt with a matching bodysuit. The complex cut of the piece makes for an interesting texture, while the simple skirt provides basic coverage.
Draped bodysuit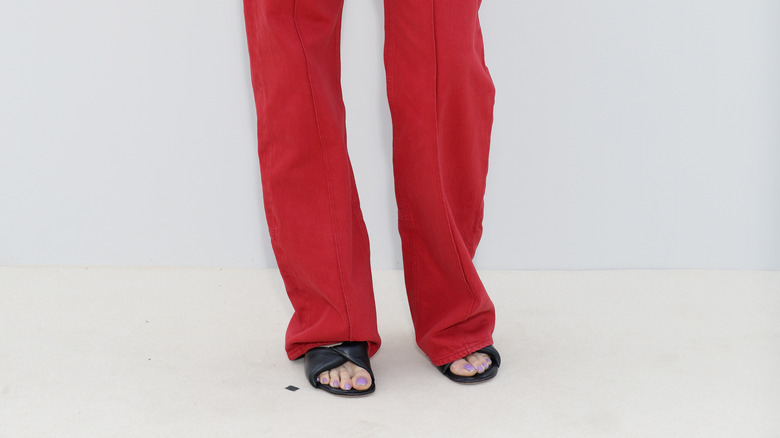 Pascal Le Segretain/Getty Images
A common misconception about bodysuits is that they are all skin-tight. However, some of the most versatile, convenient bodysuits are the looser ones. You know when you're wearing a slouchy shirt, and you want to show your pant waistline, but you also want it to have a loose fit? Trying to get the perfect "French tuck" can be a pain. Once you start moving around, it's only a matter of time before you have to do it all over again. But, with a draped bodysuit, you don't have to do a thing to ensure that your top stays both tucked in and loose.
Sport mode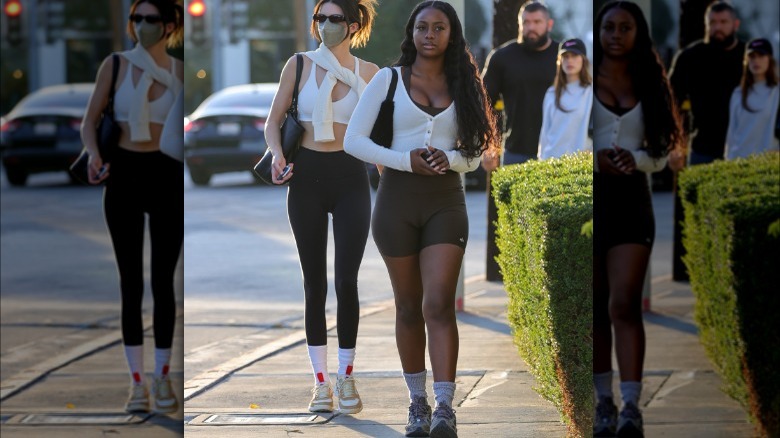 Rachpoot/bauer-griffin
When we get dressed to work out, we need our outfits to hold up during our fitness class or gym sesh. So, we need to put on something with comfort, mobility, support, and water resistance. But the other box that a workout outfit has to check is its after-workout wearability. An athletic bodysuit with chunky socks and tennis shoes is errand-proof and will look put together in even the bougie-st of coffee shops or organic markets.
Business-casual bodysuit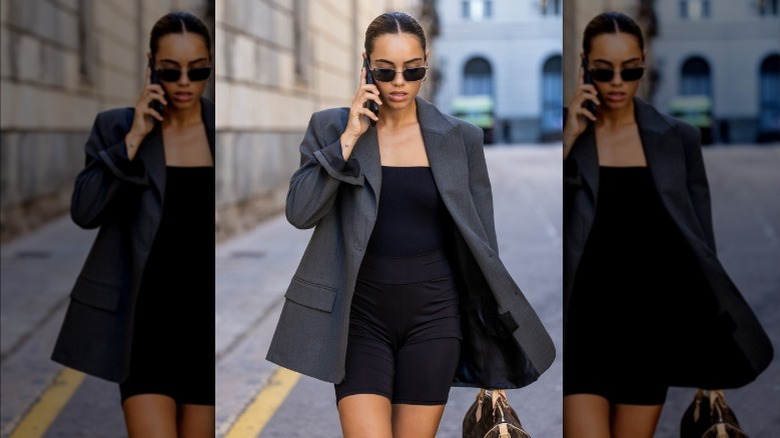 Christian Vierig/Getty Images
The oversized blazer is one of the champions of wardrobe versatility and has been since the '80s. When paired with a simple, one-piece bodysuit, it can provide the perfect texture and juxtaposition for a stylish 'fit. The outfit combines contrasting aesthetics like tight and baggy, dressy and sporty, and masculine and feminine. Throwing on just these two pieces is the easiest way to walk out the door looking eye-catching and dynamic. To add an extra level of "business" to this business-casual look, accessorize with sleek glasses and style your hair in a tight, low bun.
With a transparent jumpsuit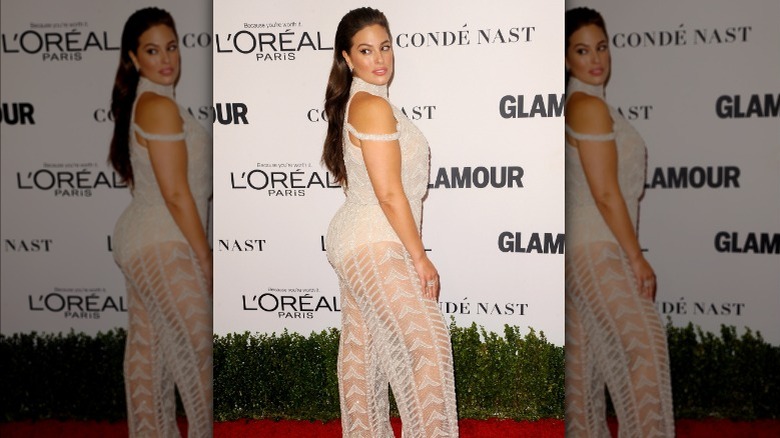 Tinseltown/Shutterstock
A jumpsuit can make for a striking and unique outfit when attending a formal event, but sometimes you want to show a little leg while pulling off this full-body cut. To accomplish this and make your look even more unique, find a jumpsuit made from sheer fabric, and for some coverage and extra texture, wear a bodysuit beneath this. Then, to keep your legs looking elongated and avoid bulky layering, go for a bodysuit shape that cuts off at the top of the thigh.
Lace bodysuit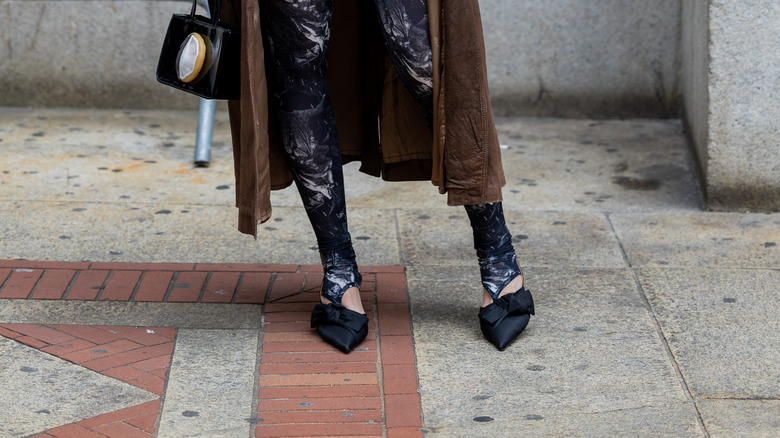 Christian Vierig/Getty Images
If you're someone who has a uterus, there are days of each month when you might want to wear nothing but a large hoodie and sweats — and then there are other days of the month when you feel like you should be nominated for People's Sexiest Alive awards. When you feel the latter, some clothing items can take your spontaneous burst of confidence and multiply it by 10. One of these items is a lace bodysuit. This feminine, fitted piece will guarantee you make the most of your heightened self-esteem.
Sheer bodysuit
A sheer top layered over an opaque bra creates sexy and textured layers. There are certainly moments to only wear a bra top, but if you're more of a maximalist, it's unlikely you'll be satisfied with a simple choice. Throwing on a mesh or fishnet material can line your skin with a stylish veil of fabric. However, this material is pretty lightweight, and with the slightest movement, it may scrunch and bunch when hanging freely as a tee. By getting this top in the form of a bodysuit, you can ensure it stays taught.
With a cropped layer
One of the few positives that came from 2020 was people thinking a little harder about day-to-day life, leading folks to reconsider athleisure as a serious fashion choice. Bike shorts had already emerged and cropped bra tops were a constant, but why had we not considered the clothing item that puts the two together? Thus, short-lengthed bodysuits hit the mainstream. If you want to break up the full-coverage monochrome and accentuate your waist, we recommend you layer it with a different-colored cropped top.
Swimsuit chic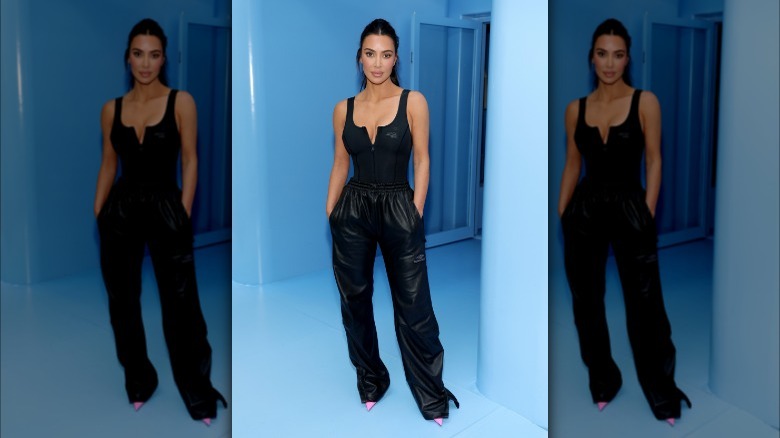 Kevin Mazur/Getty Images
As the owner of SKIMS, one of the most successful shapewear brands in the world, Kim Kardashian knows how to rock a bodysuit. We often see her in a basic, solid-colored tank top bodysuit, after all. Other times, she's rocked thick, almost wetsuit-like material, with her bodysuit hugging her figure. Like Kardashian, pair your athletic-looking bodysuit with leather track pants and a fun heel for a complete and chic look.
Go pants-free

Christian Vierig/Getty Images
In Season 2, Episode 7 of "Gossip Girl," fashionista Blair Waldorf famously snapped at a peer, "Tights are not pants." While we take most things Blair said with a grain of salt, we especially do with this statement. Tights can absolutely take the place of pants. Most people wear their bodysuits with pants layered over them if they cut above the leg, but sheer clothing is having a moment — and because tights are so thin and, well, tight, they fit seamlessly underneath a one-piece. It's a bold look but in the coolest way possible.
With heels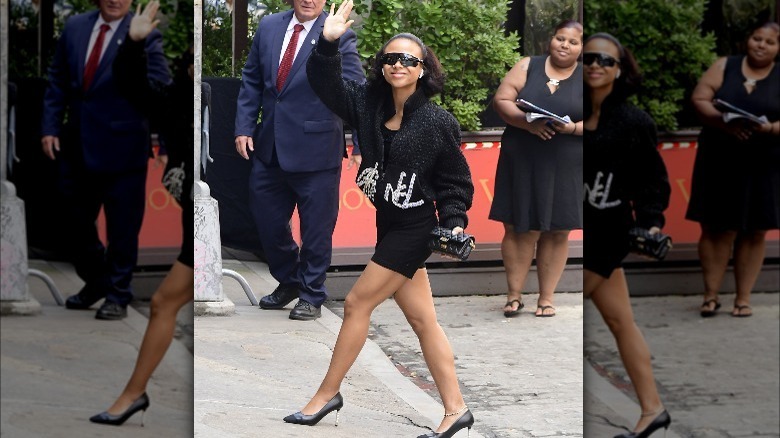 Raymond Hall/ Getty Images
There's something that feels casual about a bodysuit with a long inseam. They're the tighter version of a romper, which is usually considered dressy, and tighter versions of dresses usually make them look even more upscale. Perhaps it's because the bodysuit has become a popular workout 'fit. Whatever the reason, it makes them apt for plenty of style juxtaposition. Wearing a bodysuit with heels is like wearing jeans with heels; it's a perfectly stylish way to combine two opposing aesthetics.
Ballet leotard
If you're on the fashion side of any social media platform, we don't have to tell you that balletcore has long been an ongoing trend. But don't worry: You don't actually need to attend a ballet class to get the look. All you need is a cotton bodysuit. If it has a low-cut back — and especially if it's pink — you might as well have just left the dance studio.
Under a sheer skirt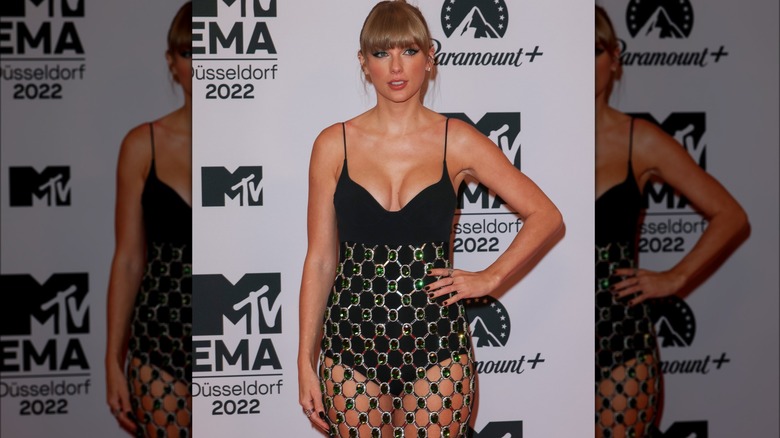 Bsr Agency/Getty Images
Ever since her Eras Tour first began, it feels like every outfit Taylor Swift wears is being closely analyzed with strong, passionate opinions from the Swifties. If they were as alert as they are now when Taylor Swift stepped out for the 2022 MTV EMAs, no one would have stopped talking about her outfit. She wore a skirt made from bejeweled netting, which laid over a simple, black leotard. The result was absolutely stunning, and it's also easily replicable with any transparent or semi-transparent skirt.
Plunging neckline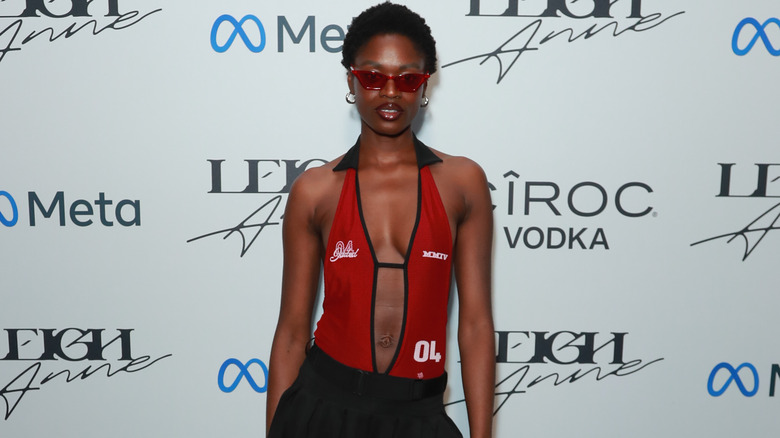 David M. Benett/Getty Images
When deep necklines are especially dramatic and plunge to the belly button or lower, it can be very difficult to make sure the material stays taught. Oftentimes, you'll see this eye-catching look accomplished with a top that drapes a bit — or, if it's not draping, it comes in the form of a dress because the extra material and weight pull the top half down. However, when you wear this neckline on a bodysuit, the design ensures that the material stays taught, avoiding any scrunching or looseness. 
Geometric cutouts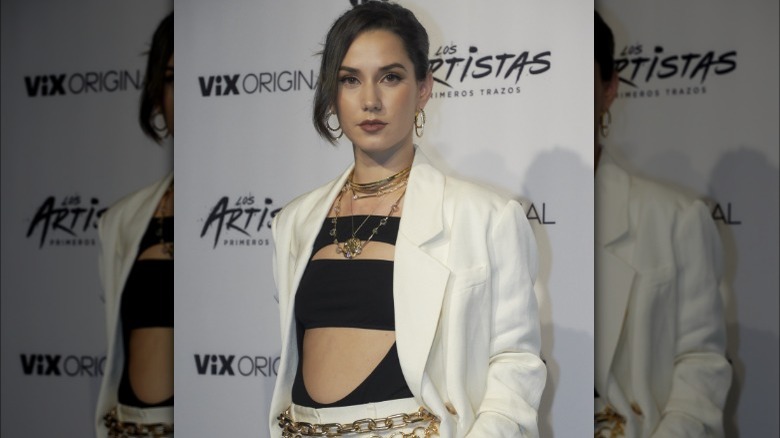 Medios Y Media/Getty Images
The average bodysuit is straightforward and provides a good deal of coverage. Many times, people wear them for that exact reason. The bodysuit can be the perfect go-to whenever you don't want your mid-drift to show or need a basic to pair with a more eccentric piece. However, if you want the sleek, skin-tight fit that a bodysuit provides while still yearning for something more sexy, a bodysuit with cutouts will do the job perfectly.
High-cut bodysuit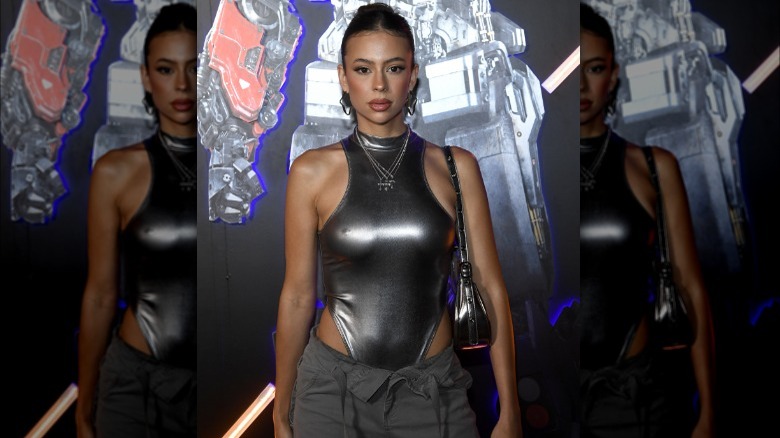 Kevork Djansezian/Getty Images
For a long time, high-cut bodysuits were considered a thing of the past, as having a seam line that goes above the hip bone was designated for the '80s throwback costume. But today, we've rediscovered the power of the hip. Giving your bodysuit this V-shaped line elongates the legs and accentuates the waist. When paired with pants that fall or fold beneath the hip bone, you get this unique, cut-out look. It's edgy and can add texture to any outfit.
With low-rise pants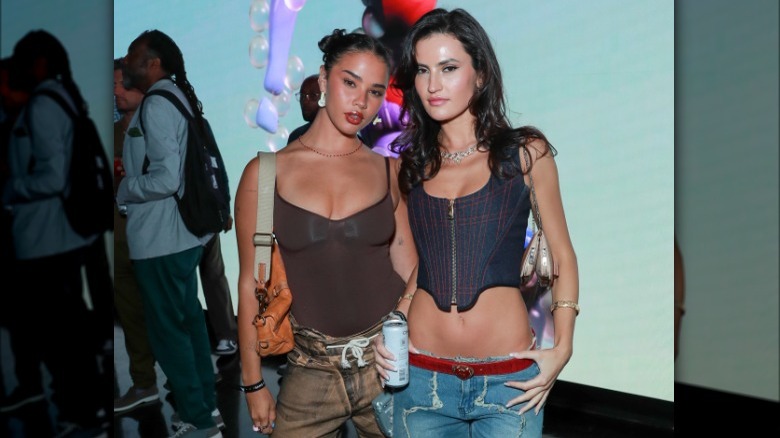 David M. Benett/Getty Images
Many of us cringed with horror when we first saw the low-rise pant trend start popping up on our social media feeds. A crop top paired with high-waisted jeans — the formula we'd trusted for years — was suddenly being left in the dust. If you want to try out this trend without entirely throwing it back to the early 2000s' bare-belly style, pairing low-rise pants with a bodysuit could be a more comfortable option.
Basic bodysuit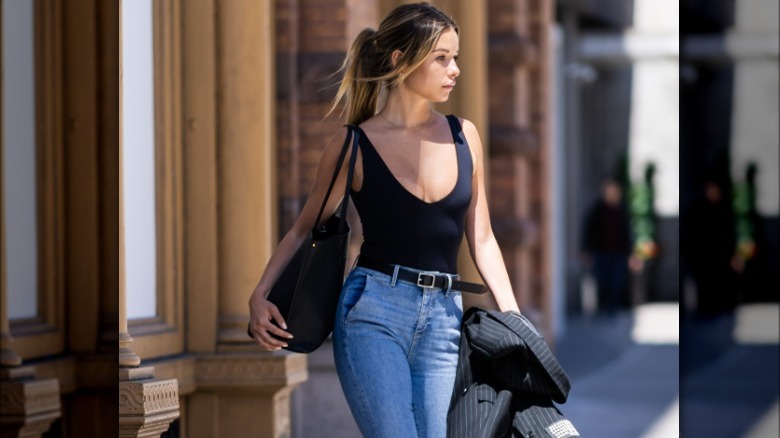 Gotham/Getty Images
There are many creative ways to zhuzh up your look with a bodysuit, but sometimes, less is more. When you don't know what to wear and want to go classic but chic, a solid-colored bodysuit with a pair of blue jeans is your safest bet. With a smooth material and simple silhouette, your bodysuit can make any outfit look put together. We recommend you add a belt to avoid the look becoming too monotoned or simple.
Beneath an ultra-high slit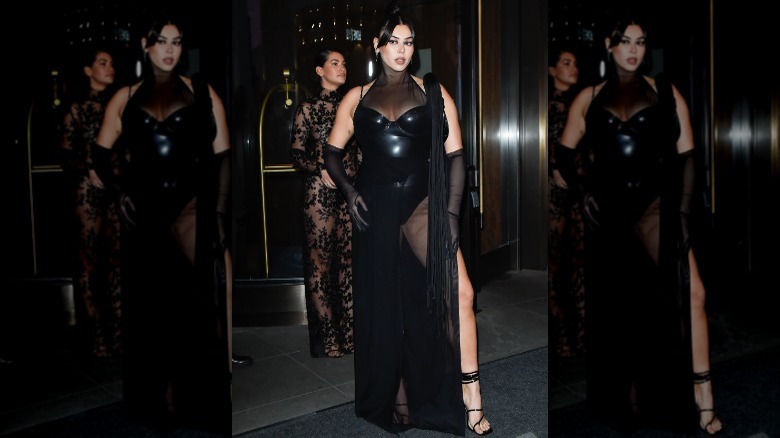 Raymond Hall/Getty Images
We cannot stress enough how much we love this twist on a classic cut. A high slit is a sexy way to wear a maxi dress while popping in some skin. Usually, this cut will only reach a point between the knee and upper thigh. However, if you want to appear extra eye-catching, why not take the slit all the way up to the waist? Layered with a body suit underneath, you'll add a whole new take on the traditional slit, all the while maintaining your full-coverage comfort.