Hailey Bieber's Favorite Perfume Screams Sophisticated Florals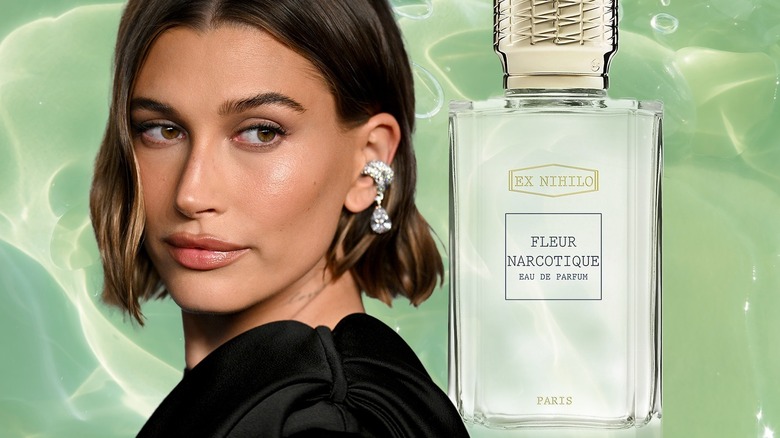 Static Media / Shutterstock / Getty
It's Hailey Bieber's world, and we're all living in it. For several months now, Bieber has had the beauty community looking to her for the next big trend, whether it's food-themed beauty trends like glazed doughnut skin and strawberry makeup, or her much sought-after chrome manicures. From her makeup essentials to her skincare favorites, and now her most loved scent, the It Girl is no gatekeeper. And true to her clean girl aesthetic, she's a fan of the floral scent family.
Bieber recently revealed her favorite perfume is the Ex Nihilo Fleur Narcotique, which retails at $245 for 50ml of product at the time of writing. Fleur Narcotique, which Ex Nihilo describes as a floral overdose, was created by Quentin Bisch and made for the "sophisticated and seductive" woman. It's available at Selfridges, and the scent also comes in a candle, body wash, and a lotion for the full floral experience.
What does Ex Nihilo Fleur Narcotique smell like?
Ex Nihilo Fleur Narcotique is a floral bomb, but with a twist. With top notes of bergamot, lychee, and peach, and heart notes of jasmine, peony, and orange blossom, the perfume combines tropical and exotic notes with just enough zest that it doesn't overpower it. On the base notes, however, is where the perfume's full character comes into play.
Fleur Narcotique is floral and has a woody profile as it dries down after the initial flower fizz. The perfume contains three earthy base notes: transparent wood, musk, and moss, all of which add depth to the fragrance and enhance its longevity for much longer. It truly merges sophistication and seduction, and quite many reviewers agree. One reviewer stated that the perfume was "fabulous and feminine!" At the same time, another gushed about how it was "the perfect floral — fresh and feminine without being overwhelming, with light fruitiness for balance and maturity."
TikTokers have also been loving the fragrance, with TikTok creator @dollypoppinss confirming that the scent is worth getting the whole bottle. Some reviewers, however, are not fans even though they were influenced by the good things they'd heard about the perfume. Where one mentioned Fleur Narcotique is not entirely different from every other floral scent they've tried, another complained that it "lasted all of 5 minutes, and then straight into base notes — musky. I don't think that's normal for a perfume of this price level."
Are there any cheaper alternatives?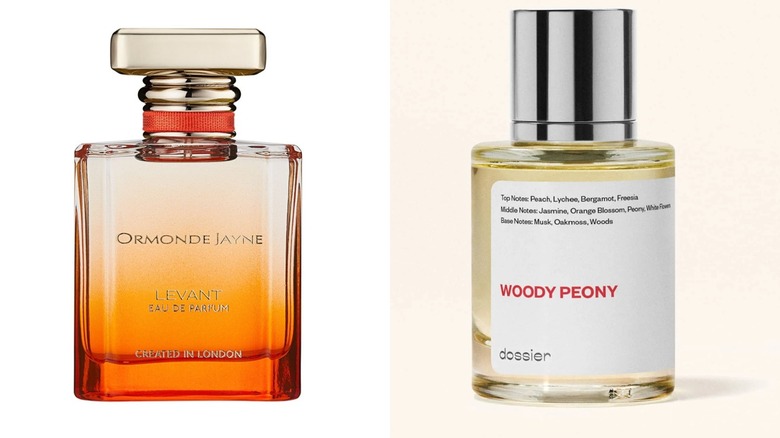 Harrods / Dossier
With citrusy and tropical notes wrapped in a musky base, Fleur Narcotique has a fantastic scent profile that is fresh, seductive and feels like a romantic scent for the summertime. But with the reviews on how short-lived it is (and our thinly spread wages), $245 for 50ml of perfume can be a little too pricey.
For a similar vibe and with a slimmer budget, Ormonde Jayne's Levant Eau de Parfum is a fruity floral mix with an earthy base and retails at $152 for 50 ml. But if your budget's way smaller than that, Dossier has a pretty good dupe called Woody Peony. Woody Peony has a very close, airy vibe like Fleur Narcotique, with the same notes and retails at $39 for the same amount of product you would get with the Ex Nihilo.
Like Bieber's other recommendations, we imagine Ex Nihilo's Fleur Narcotique is already flying off the shelves. So go try it out while you can.