Here's Why Every Glossier Store Is A Little Bit Different (& What They All Have In Common)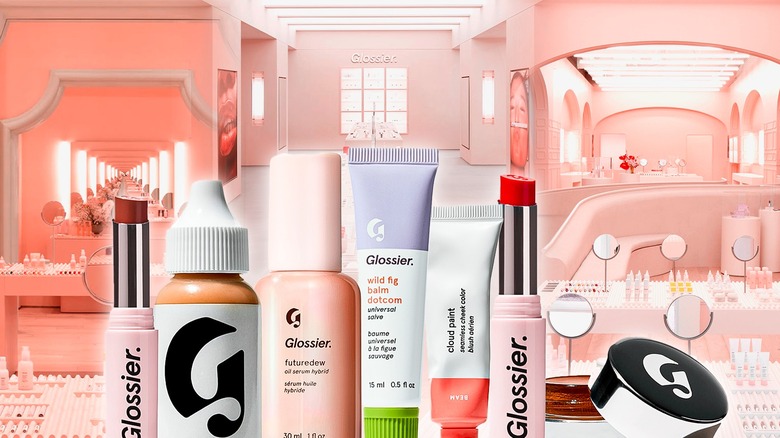 Static Media
There's just something about the simple, clean beauty products with ethereal names like Cloud Paint blush and Haloscope highlighter at Glossier that have you feeling like a dewy, glowing angel. While the brand was originally only available online, the brick-and-mortar shops are just as dreamy as scrolling the Instagram page. And these stores are no carbon copies -– each one is unique to its location.
Shopping in the Seattle store will be a totally different immersive experience than perusing the products at Glossier in Miami. This is intentional and blossomed from Glossier's first pop-up events. "We started off doing pop-ups where we would show up in the city for a certain amount of time," Ali Becker, store director of the Glossier Brooklyn location, told Bustle. "It was super experiential and every single pop-up resonated with what was going on in the city or the vibe of the city." This is why you'll find a mossy green sculpture sprouting mushrooms and flowers inside the Seattle location, reminiscent of the area's landscape. This individuality certainly tied into Glossier's success.
All locations have selfie rooms and stickers
While each location is unique, Glossier has made immersive customer experience a priority and remains consistent throughout the varied shops. The selfie room has the perfect lighting and is also semi-private for all your selfie-taking needs. Each selfie room reads "You Look Good" across the mirror for an uplifting, self-love energy. "Immersive in-person retail has always been one of our favorite ways to bring the brand to life," Kyle Leahy, CEO of Glossier, told Philadelphia Magazine.
With individual Glossier stores mirroring the energy of its city, you could easily have a new experience visiting each of their 11 stores. And while customers do receive a sticker with every online order, the storefront locations also offer their own unique sticker with in-person purchases. Obviously, if you're a collector, this will be a fun one for you — as the sticker obsession doesn't have to fade away with childhood.
Each Glossier store offers a different immersive experience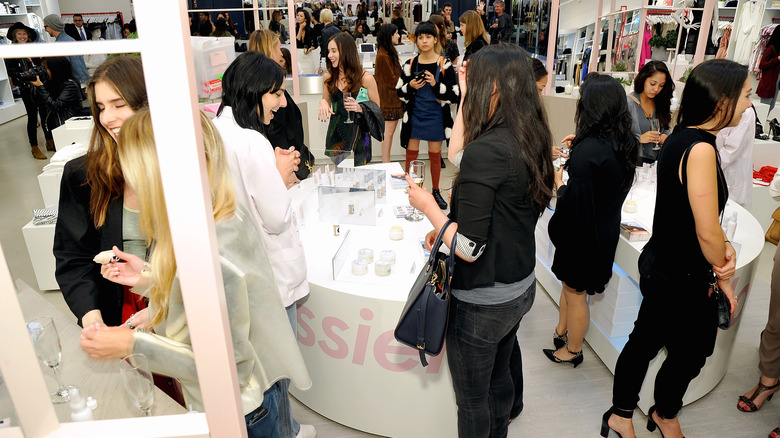 John Sciulli/Getty Images
The Glossier storefronts aren't just a place to grab-and-go. Customers are encouraged to try out the products, find their perfect makeup matches, and even wash their faces with Glossier skincare products at the "wet bars" with fresh towels. "For the people who have shopped online for so long, this is one of the most exciting things," Becker told Bustle. "We have beautiful sinks in every single store so our guests can actually wash their face. You can even do a full skin care routine if you want to — we have towels on hand and everything."
Customers can be sure to find individualized guidance at the stores and you might even think of a stop at Glossier as an afternoon of pampering and self-care — beyond just retail therapy. This is "you time" and you're encouraged to relax into the little oasis away from the bustle of the outside world. And while some may favor the familiarity of a beauty counter that's replicated to a T in each location, there's something whimsical and exciting about venturing out for your favorite beauty products in a new environment that echoes the city you're visiting.