The Stunning Hair Transformation Of Miley Cyrus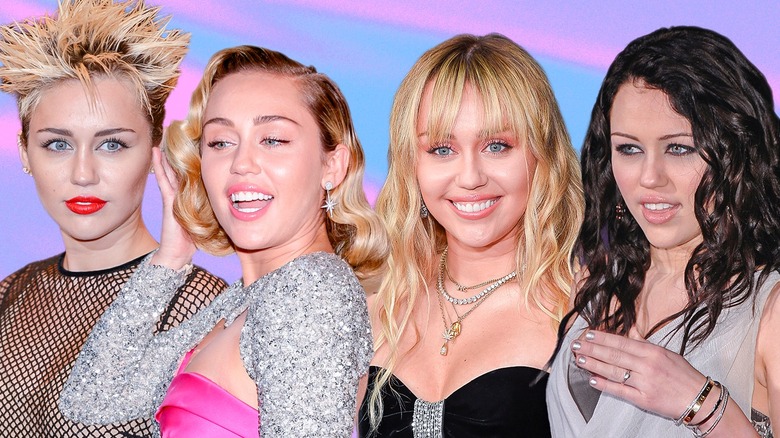 Static Media/Shutterstock/Getty
Miley Cyrus — one of the biggest pop sensations of her generation — has never been one to shy away from the spotlight, or the scissors. Over the years, she's used her hairstyles for self-expression, identity exploration, and artistic reinvention. In a 2020 interview on SiriusXM's "The Howard Stern Show," Miley Cyrus acknowledged that for the public, her hair is much more than just strands of blond and brunette. "My hair is some sort of reflection for my sanity, my sexuality, my sobriety," she said. "The public really makes my hair, I guess, the kind of monitor of how I'm doing." The former Disney Channel star is certainly not wrong — over the years, fans and the media have closely associated her hair with her identity, making it an integral part of her persona.
Cyrus' hair has been in the spotlight for decades, starting when she was a young teen portraying Disney's iconic Hannah Montana. As she transitioned from teen stardom to global superstardom, her hair became a powerful tool for shedding the skin of her past and embracing a bold and authentic future. The singer has since ventured far beyond the confines of her Disney persona, and her hairstyles have been some of her most daring accomplices in this journey. From edgy pixie cuts to the iconic mullet, her hair has taken on as many personas as the artist herself. Her willingness to experiment and challenge societal beauty standards through her hair choices has earned her a special place in the world of pop culture rebels.
2006-2007: Miley's natural highlights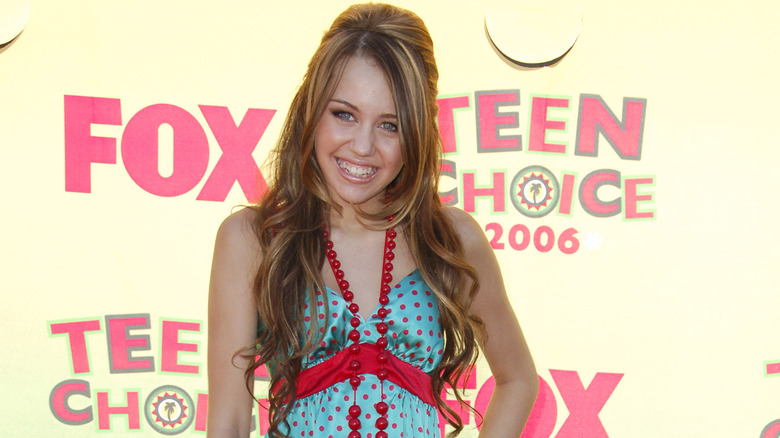 Steve Granitz/Getty Images
Back in 2006, when Miley Cyrus first graced our screens as Hannah Montana on the Disney Channel, she was the epitome of teenage stardom. Her hair was always cascading in natural waves, and she was often spotted sporting very natural, sunkissed highlights that effortlessly captured the essence of her youth and carefree spirit.
As a young teen star, Cyrus already influenced the beauty industry as her messy locks embodied the relaxed, easy-going vibe that many young people in the 2000s aspired to exude. Looking back, we now know that this was a time when the star was just beginning to make her mark in the entertainment industry, and her hair was a reflection of the fresh energy she was showcasing.
It is impossible to delve into Miley Cyrus' hair journey without acknowledging the iconic style of her show's alter ego, Hannah Montana. Those thick, straight, blond locks with chunky highlights and the signature straight-across bangs were more than just a character's hairstyle — they also became a global sensation. Countless fans around the world embraced this look, turning it into a trend that certainly marked the late aughts.
2008-2009: The star goes darker and moodier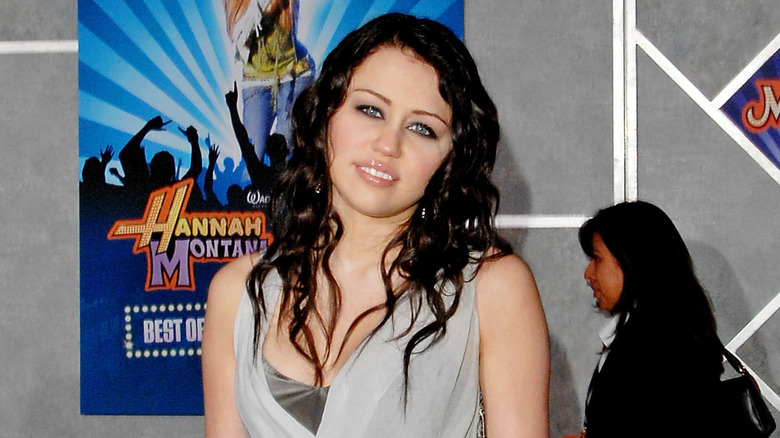 Jon Kopaloff/Getty Images
In 2008, Miley Cyrus embarked on a transformative journey that hinted at her departure from her Disney persona. She took a bold step by transitioning to a darker and edgier hair shade. During this era, Cyrus flaunted various styles of long brunette locks, occasionally adding subtle highlights for a touch of dimension.
This shift in her hair color wasn't just a style choice; it was a reflection of her personal growth, too. "... I dyed my hair black," Cyrus shared in an interview with Seventeen, citing her breakup with Nick Jonas as a factor leading to her hair transformation (via MTV)."When we were dating, Nick wanted me to get highlights ... And then, on the day we broke up, I was like, I want to make my hair black now — I don't want to look pretty; I want to look hard-core. I was rebelling against everything Nick wanted me to be." 
Looking back, it's clear that this was an important period of change, both in her personal life and her public image. The star was no longer the teen sensation we first met as Hannah Montana; she was evolving into a multifaceted artist exploring her identity. Her decision to go darker with her hair was symbolic of her desire to shed the wholesome image that had defined her early career. It was the first of her many decisions that aimed to explore new horizons and push boundaries, both in her music and her personal style.
2010-2011: Miley's hair can't be tamed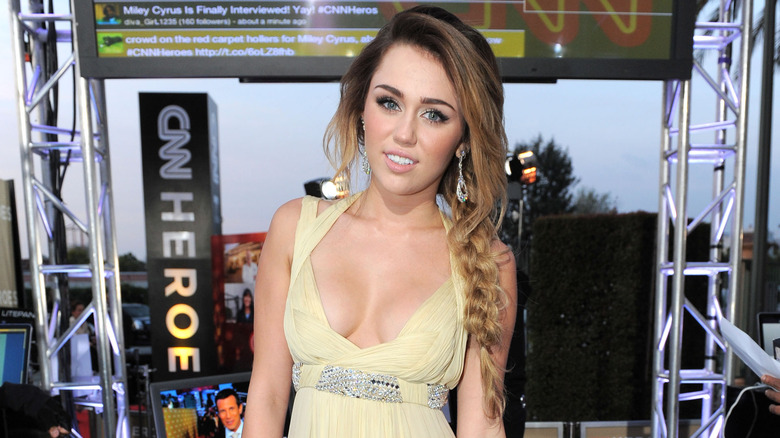 Jordan Strauss/Getty Images
In the years 2010 and 2011, Miley Cyrus continued her journey of breaking away from her Disney image. As she transitioned into adulthood, turning 18 in 2010, Cyrus decided to fully embrace a look that simply couldn't be tamed. Her hair quickly became a symbol of this rebellion. Cyrus opted for ultra-long locks that gave us a distinctly boho vibe. "That was not real. None of it was ever real. None of it was ever growing out of my head," the artist revealed about her long locks (via the Daily Mail). Her extensions cascaded down to her waist, making a bold statement that she was ready to let her hair down — literally.
Cyrus' messy and carefree hair was an embodiment of the early hipster era — a throwback to the days of Tumblr's heyday. She was often seen sporting funky bohemian braids that were quickly replicated by those seeking that effortlessly cool, carefree look. With her newfound style, Cyrus sent a clear message that she was slowly but surely cutting ties with her Disney image — instead, she was evolving into a fearless artist who wasn't afraid to experiment, both with her music and her look. And this was still just the beginning.
2012: The musician gives us a modern lob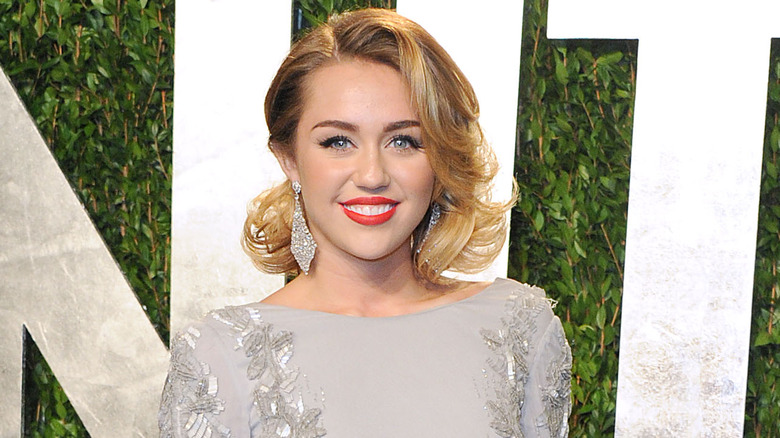 Jon Kopaloff/Getty Images
In 2012, Miley Cyrus surprised the world once again, signaling a new chapter in her journey. It was a year of transformation, and she was ready for a fresh start. To mark this turning point, Cyrus bid farewell to her signature long locks, which were a staple in her career thus far, as she opted for a modern and playful lob haircut. The star playfully teased her fans about the impending change on Twitter with the post, "Just got a hurrrr cut," and adding with a touch of humor, "I didn't do anything too crazy. But I did take 5 inches off!" Little did her fans know that this seemingly simple haircut would symbolize a significant shift in her career and personal life.
The long bob was a departure from her previous ultra-long hair, and it perfectly encapsulated the stage of her life she was in. This year, the singer turned 20, and she was ready to explore a more grown-up and chic look. With her modern lob, Cyrus showcased fearlessness — we all know that cutting five inches is no joke. Even though we didn't know it at the time, this was a look that hinted at the edgy and daring artist that she would become soon, marking a defining moment in her hair transformation journey.
2013-2015: Miley's funky Bangerz hair era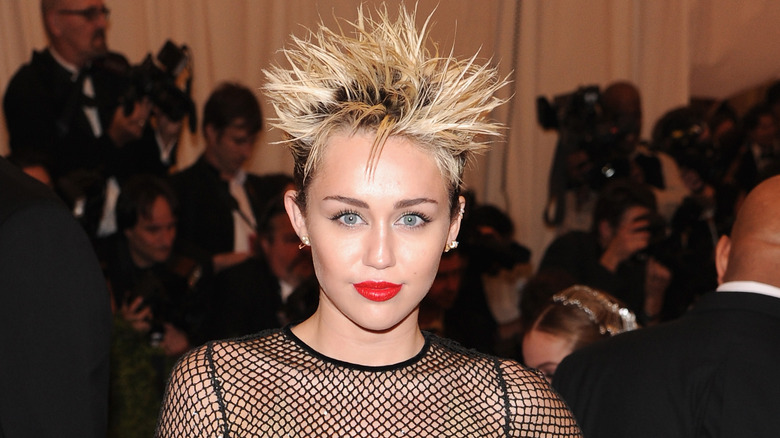 Jamie Mccarthy/Getty Images
2013 marked the start of Miley Cyrus's funky short-hair era, a time of extreme transformation. With the release of her fourth studio album "Bangerz," Cyrus fully shed the last remnants of her innocent Disney image. In its place, she embraced a bold and controversial look that featured ultra-short blond hair. This iconic hairstyle became synonymous with her rebellious spirit during this period of her career. She rocked variations of the short blond hair for about three years, defying the notion that short hair lacks versatility. Cyrus showed the world that a short haircut could be an incredibly expressive canvas for anyone's personality.
Interestingly, Cyrus' decision to cut and bleach her hair wasn't a meticulously planned move. It was a spontaneous decision that spoke to her fearless nature. She recounts the moment: "I was in Philadelphia working. I met Chris McMillan at my hotel room. I had him cut it, bleach it. And I got on the train that night, and someone recognized me right away. I was like, 'What do you mean?' I don't even look like myself to me now," (via Daily Mail). Her "Bangerz" hair era was a statement showcasing that she was unapologetically herself, ready to take the world by storm.
2016-2018: The former Disney star lets her hair grow and rocks deep shadow roots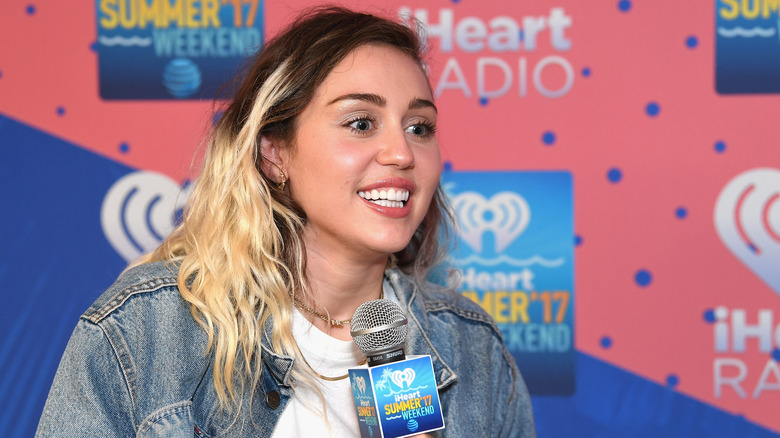 Rob Foldy/Getty Images
Once she decided that short hair was no longer exciting, Miley Cyrus grew it out. As she joined the reality singing competition "The Voice" as a coach, the star showcased a slightly longer hairstyle that was both chic and uniquely Miley. What set this period apart was her choice to embrace bleached tips and dark roots, a style that added a bold contrast to her look. In an interview on "The Cooper Lawrence Show," Cyrus expressed her love for this distinctive look, stating, "I like blonde and brown — now I don't have to choose," (via Yahoo Life!). She refused to conform to societal beauty standards and was determined to be herself, regardless of expectations. "For chicks, you've gotta look a certain way all the time, and I just don't wanna do that," the singer added.
And just like that, shadow roots became a trend. We're not saying it was singlehandedly Miley Cyrus that popularized the hair trend, but there's no denying that she influenced plenty across the globe to give the low-maintenance hairstyle a chance. As the singer let her hair grow and rocked those deep shadow roots, she wasn't just making a fashion statement; she was making a statement about self-acceptance and being true to yourself.
2019-2020: The singer gives us bangs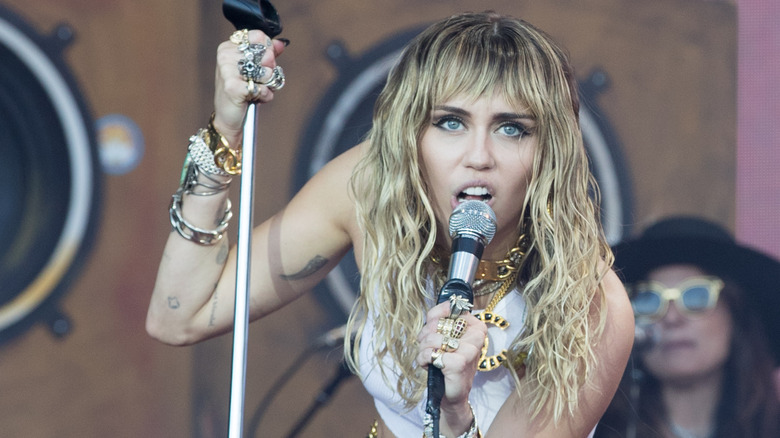 Matt Cardy/Getty Images
In August 2019, as Miley Cyrus navigated significant changes in her personal life with the announcement of her divorce from Liam Hemsworth, she turned to a familiar source of transformation: her hair. She made a bold move by cutting choppy, messy bangs to embrace a grunge-inspired look. 
During the COVID-19 pandemic, Cyrus even revealed that she took the scissors into her own hands, quite literally, and cut her own bangs. In an episode of "Bright Minded," the Instagram Live talk show she launched during the pandemic, Cyrus discussed her new haircut with hairstylist Justin Anderson. "You know how your phone listens to you and just starts posting things right after you say it? The minute that I gave myself this haircut, all of a sudden, all my updates were Tiger King memes," she said. Stylist Justin Anderson playfully commented on her desire for change, stating, "You love to do a change every once [in a while]..."
Cyrus' willingness to experiment with her look, even during quarantine, once again showcased her bold and fearless nature. After all, while most of us were attempting to chop our hair by ourselves, it's hard to imagine the rich and famous doing so — even during quarantine. In 2019, Cyrus also began embracing the wet hair look, frequently rocking natural waves that looked like she had just stepped out of the shower. It was a style that perfectly matched her carefree spirit, proving once again that Cyrus will always be authentic.
2021: Miley brings back the shaggy mullet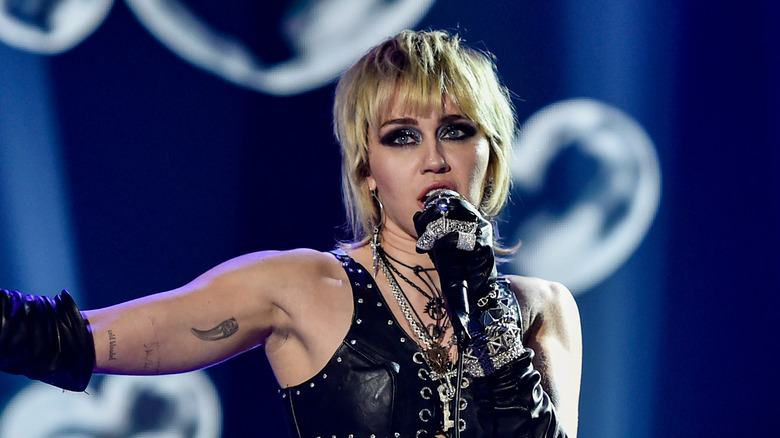 Alberto E. Rodriguez/Getty Images
As we entered the 2020s, Miley Cyrus boldly brought back the shaggy mullet, a hairstyle the singer rocked all throughout 2021. The look was a nod to the '70s and '80s. She had already introduced the world to her mullet in 2020, but as time went on, she kept shortening it and adding even more layers.
"I already had bangs, and they were getting long," Cyrus explained on an episode of "Jimmy Kimmel Live!" per YouTube. "And [my mom] said, 'Well, I can cut your hair, but I only know how to do one hairstyle, and I've been doing this since 1992 for your dad and for your brothers.' And all my mom can do is a mullet, so I had one option and needed it." The singer added that the mullet is "just kind of a natural shape that [her family's] hair grows in."
Cyrus' mullet came with the change in her sound as she slowly shifted towards pop-rock. "I feel that there's a freedom in rock 'n' roll music that I wish for every genre, and I wish for my own ..." she revealed (via Loudwire). "Rock 'n' roll is a lifestyle. It's a lifestyle choice, it's not taking 'no' for an answer, and that's something that I've learned from a lot of these females, like Joan." By sporting the shaggy mullet, Cyrus was once again expressing herself, sharing with everyone just what her ever-evolving journey of self-discovery looked like, one haircut at a time.
2022: The musician gives us skunk hair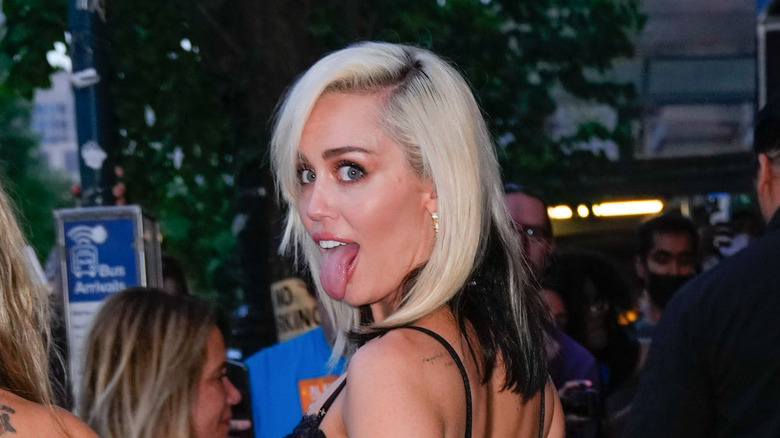 Gotham/Getty Images
In 2022, Miley Cyrus continued to embrace bold hair choices, introducing us to her version of the skunk hair trend. Not many people can successfully pull off this daring style, characterized by the striking contrast between a darker and light hair color. Hair colorist Richy Kandasamy sheds light on the trend, explaining to Glamour, "Skunk stripe hair is a contrast of a darker hue next to very light blonde — just like a skunk! But there are many avenues you can take this hair color trend."
Throughout most of 2022, Cyrus rocked the skunk hair look with total confidence. However, while stars like Dua Lipa rocked the trend in the form of a money piece, Cyrus chose to take a unique approach by incorporating a layer of darker hair at the nape of her neck. This unexpected twist added an element of surprise to her already bold style.
2023: Miley goes dark blond (with a subtle hint of skunk hair)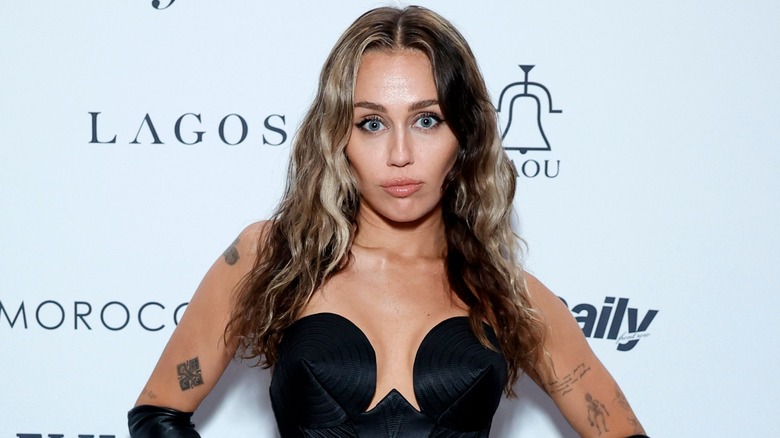 Stefanie Keenan/Getty Images
With the release of her 2023 single "Used to Be Young," the singer opted for a more subdued look, transitioning from the skunk hair style to something less dramatic. The star toned down the contrast between the blond and dark pieces, creating a harmonious and understated blend of colors that is still dramatic. Cyrus actually revealed that she was ready to be brunette before 2023, but her godmother Dolly Parton stopped her from dyeing her hair. "I've never seen Dolly actually scared before... She acted like I told her the worst news you could imagine," Cyrus told Today. "She clutched her pearls, gasped and went back, and goes, 'You can't do that. You are me.' ... So I will be blond." However, the singer didn't keep her promise for too long, as she opted to say goodbye to her platinum blond locks in mid-2023.
But don't worry, Dolly — anyone familiar with Cyrus' love for hair transformations knows that she loves to keep us guessing. While she may have embraced a dark blond with subtle hints of her previous skunk hair, it's safe to say that she won't stick with this style for too long. Her hair journey has consistently been pushing boundaries of style and self-expression, and as we eagerly anticipate her next hair era, one thing is for sure: Miley Cyrus' hair will continue to be a canvas for her creativity and a reflection of her evolving identity.