Cowboy Copper Is One Of Our Favorite Hair Colors For Fall 2023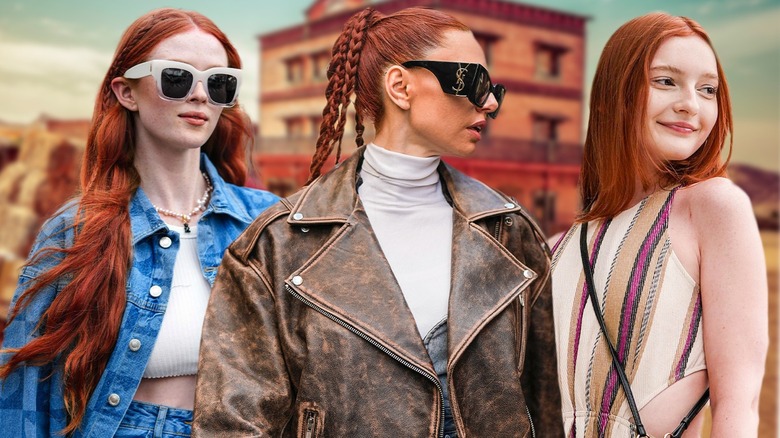 Static Media/Shutterstock/Getty
The fall season is the perfect time to give your hair an end-of-the-year refresh. It's also when people will gravitate towards darker and richer hues that match the changing fall colors. While some summer hair trends are still relevant, a new fall trend has us ready to book our next hair appointment. Cowboy copper hair is the latest hair coloring trend that has everyone obsessed with the deep leather-inspired color. Seen on the likes of Hailey Bieber and Emily Ratajkowski, it's the perfect color for those looking for a fall hue. Color theory expert and educator Julie Kleine explains to Behind The Chair, "Cowboy copper looks like a mid-weight copper. A blend between a warm brown and a copper." 
With over 70 million views on TikTok, cowboy copper hair is set to be one of the biggest hair trends to jump on board with. Thankfully, you can easily manipulate the color to fit your skin tone. For natural brunettes, this hair color is also a rare example of a hair trend that works for darker locks. Those with blonder hair can introduce the cowboy copper hair in subtle ways that still reflect the richness of the color.
True cowboy copper hair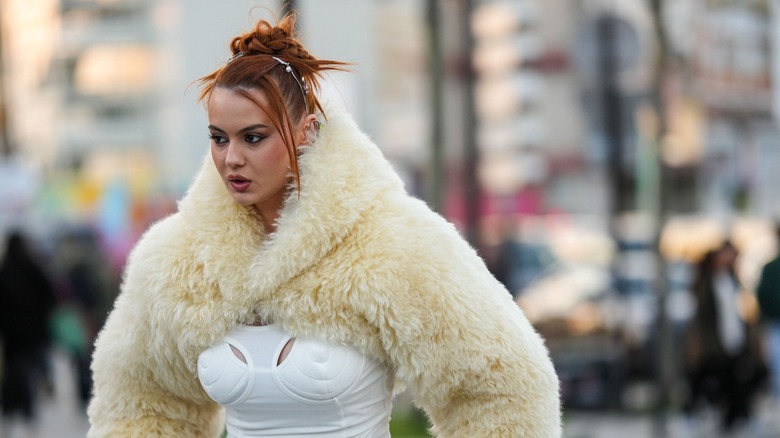 Edward Berthelot/Getty Images
The only factor that sets it apart from being a copper hue is that the brown shade adds more warmth to the hair and dilutes some of the bright red hues in the color. Creative director at Percy & Reed Emma Vickery tells Who What Wear, "Coined 'cowboy copper,' this shade delves slightly deeper into brunette undertones whilst being infused with the richness of deep copper accents." This mixture of hues results in a dynamic blend that gives the hair extra color without stripping the warmth that highlights the red tones.
Brunette copper hair
The cowboy copper trend is the perfect color for those with naturally dark brown or black hair to inject more life into their locks. However, whenever you dye darker hair, the result may need to be darker than you initially desired. This factor depends on your hair type and how it captures the bleach and hair color. Brunette cowboy copper hair is the perfect alternative for those looking to keep their darker locks with an added copper tint. While you might not get the same copper shade, it will still liven up flat hair.
Add lowlights
Like brunette cowboy copper hair, there are plenty of ways to darken the look of this copper hair trend. An easy way to tone down some copper tint is with a few lowlights. This hair technique adds darker hues in sections of the hair to give you a soft contrast between the two colors. Adding lowlights gives your hair more dimensions and will help your cowboy copper hair shine.
Add more red tint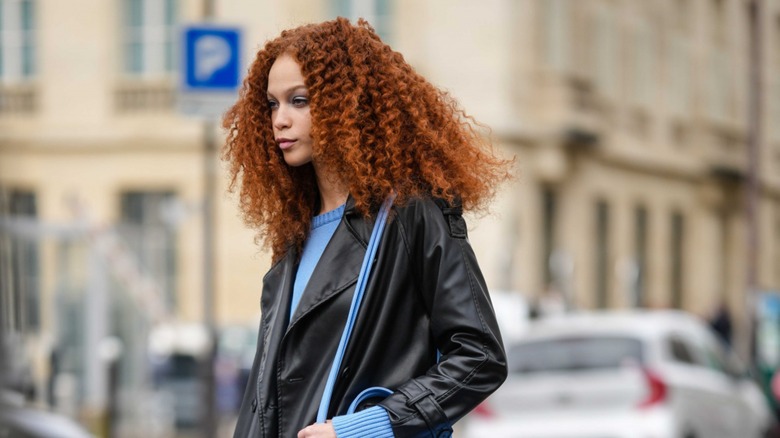 Edward Berthelot/Getty Images
Like any hair color trend, you can remix it to get your unique look. Those looking for an extra punch of color will want to add more copper tint to their hair to bring out more red and orange tones. This remix is perfect for those with lighter hair who will have an easier time lightening up their hair and manipulating their strands. This bright hair color is saturated and reflects more copper than brown tints.
Ask for orange highlights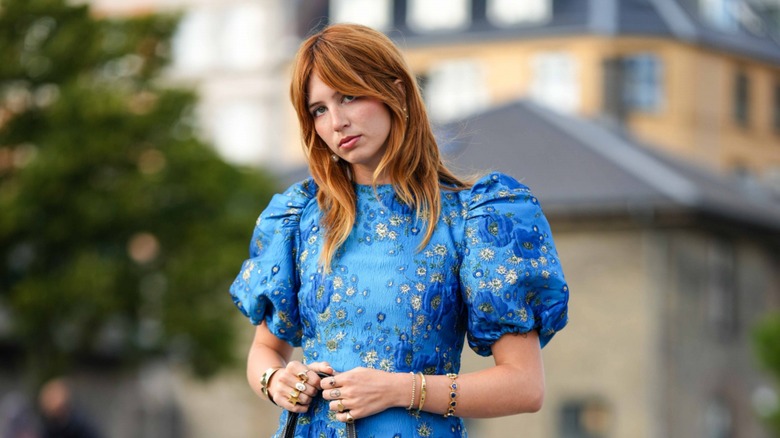 Edward Berthelot/Getty Images
As we saw with lowlights, highlights can add dimension and contrast to your hair. The lighter strands in your hair will brighten up and make it seem more delicate than the typical cowboy copper hair. Those not ready to let go of their summer blond hair color will find that a few highlights can keep the sun-kissed look with them year-round. This trick is perfect for those looking to keep some of their lighter locks without committing to the cowboy copper color.